2024 BMW M1000XR Prototype Revealed & 2024 BMW's!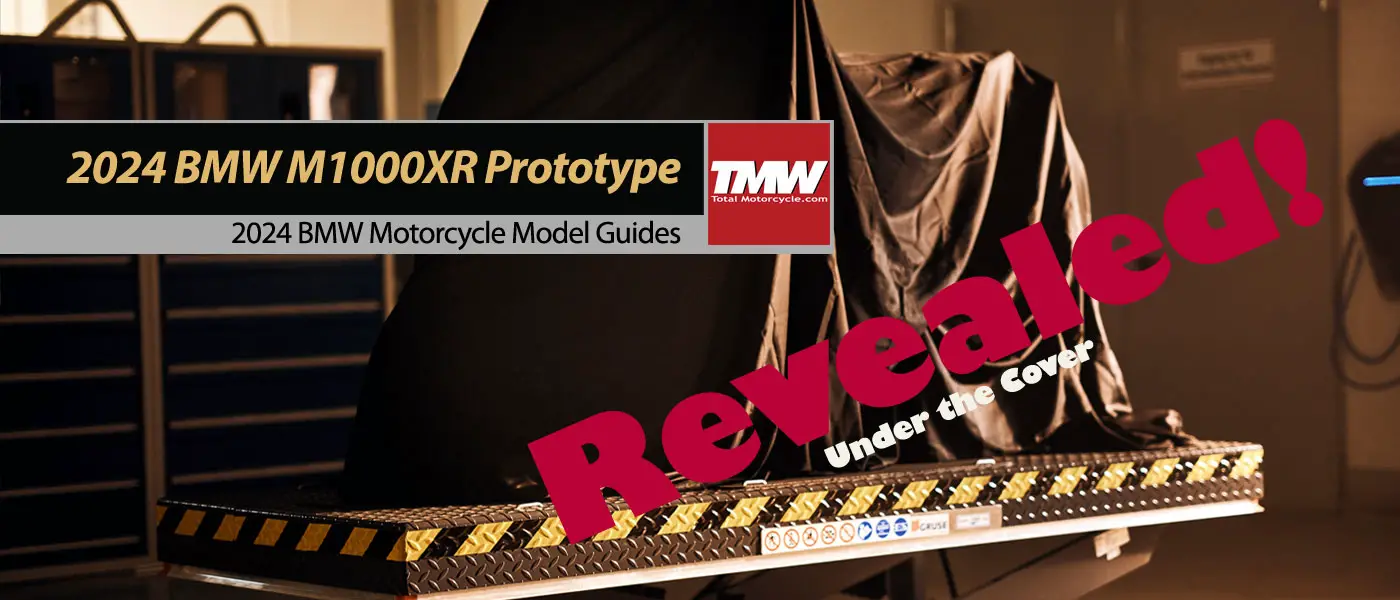 https://www.totalmotorcycle.com/2024-bm ... 2024-bmws/
New concept, prototype and spy shots are always exciting to be the first see first hand not only what could be coming but also what changes are coming! The new 2024 BMW M1000XR Prototype has been Revealed along with more 2024 BMW's for riders worldwide. Let's look into changes, new features and were BMW will be going in the near future. Welcome aboard and thanks for joining us here at Total Motorcycle!
First off, the BMW M designation is BMW's top end model and also the most expensive versions. From the cars, most gear heads know about the super high performance 2024 BMW M2, M3, M4 models, which also carry over into their MINI line of JCW (John Cooper Works) versions. Built for drivers can now be "Build for Riders" and 2024 BMW M1000XR is the third M model variant at BMW Motorrad following the 2023 BMW M1000RR 50 Years M, M1000RR M Competition, BMW M1000RR and BMW M1000R last year.
Second, BMW is celebrating their "100 Years of BMW Motorrad" anniversary year – and the almost 100-year tradition in motorsport – is a preview of a supersports motorcycle that masters the disciplines: country road, long-distance riding and racetrack use with equal aplomb at a level of performance previously unknown in this segment. The 2024 BMW M1000XR Prototype follows the recently announced new 2023 BMW R18 100 Years and BMW R nineT 100 Years specially designed for 100 Years of BMW Motorrad.
Special 2024 BMW M1000XR 100 Years features could include handlebar fittings, gear shift and foot brake levers, handlebar clamps, handlebar weights, mirrors, brake master cylinders, brake calipers, engine cover, cylinder head covers and intake manifold covers as well as a Akrapovič rear muffler.
Third, features! Everyone loves new features and direction that new models take. Take note of the M winglets that provide greater stability, benefit from a lower wheelie tendency and accelerate earlier thanks to the aerodynamic downforce. Drive, suspension technology and aerodynamics design was a key feature of the 2024 BMW M1000XR to ensure best possible contact between the wheels and the road surface. Advancements in Traction control systems regulate less and drive more power into acceleration while the riding position is more front wheel oriented to prevent wheelies.
Engine performance previously reserved for purebred superbikes is now a feature on a touring bike. Low engine weight (223 kg fully fuelled) delivers the highest performance (200hp) in the segment. Top speed of the M XR prototype is around 280 km/h!
All go and no slow isn't a good thing, so BMW developed better stopping as well. Featuring M brakes with radial hand brake pump for optimum braking performance was developed directly using the experience gained with the racing brakes on BMW Motorrad factory racing machines in the Superbike World Championship.
If you love concepts, then check out the newest CONCEPT ONES HERE, PROTOTYPE ONES and historical ones in our Total Motorcycle's BIG BOOK of Concept Bikes.
In addition to the latest 2024 BMW also check out the 3 just released 2024 BMW R18 Roctane, 2024 BMW R12 nineT and 2024 BMW CE 04 Vagabund Moto Concept below.
https://www.totalmotorcycle.com/2024-bm ... 2024-bmws/