Harley-Davidson 120th Anniversary Festival Budapest Guide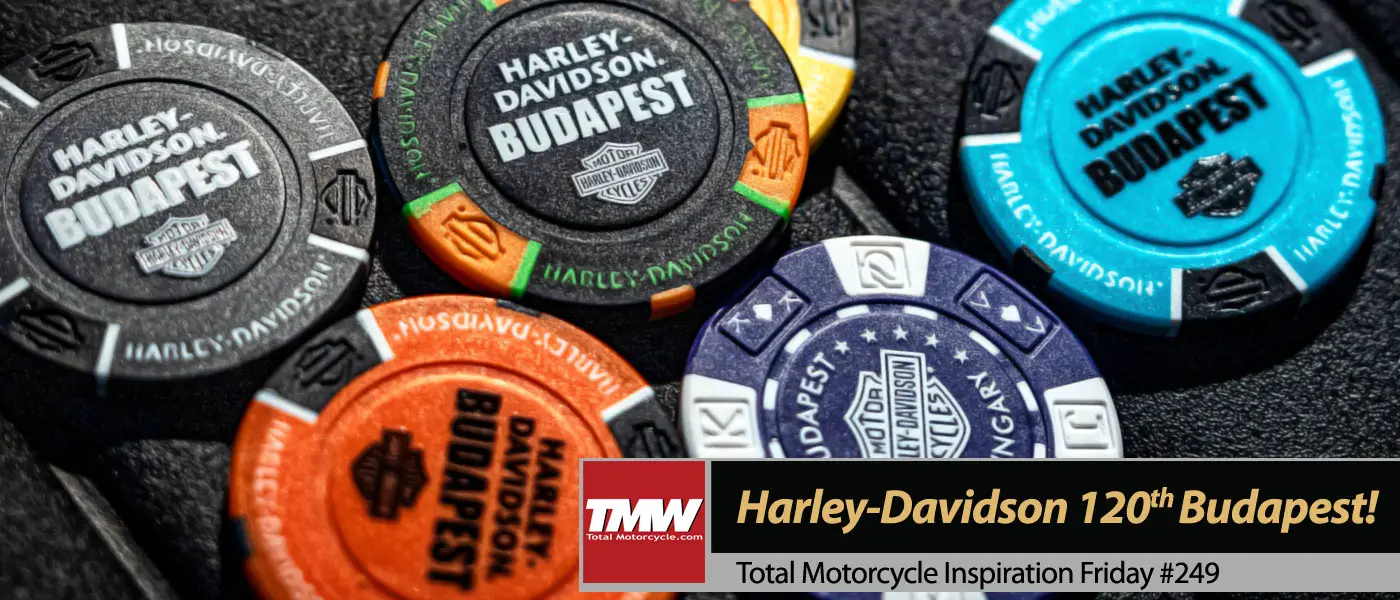 https://www.totalmotorcycle.com/inspira ... -budapest/
Welcome to Total Motorcycle's Huge Guide to the biggest Harley-Davidson festival even in Europe! Welcome to week #249 of Inspiration Friday: Harley-Davidson 120th Anniversary Festival Budapest. Taking place 100 days before H-D's Homecoming Anniversary event in Milwaukee, Harley-Davidson Budapest is massive. Big entertainment Stunt Shows, FMX Shows, Trials, Globe Of Death, Adrenaline Park, H-D Fashion Shows, Country Dance Show, Arcade Open-Air Cinema, Circus, Arm-Wrestling and even a Strongman Competitions are just the beginning. Want more? H-D is offering up incredible exhibitions like the H-D Expo, H-D Classic Bikes, Custom Bike Expo, Harley-Davidson Custom Bike Show and Classic Bike And Car Show. Still want more? Try the H-D Demo Rides, Livewire Demo Rides, H-D Jumpstart, H-D Adventure Riding Experience and even jump into the H-D Motorcycle Parade. Now, that's A LOT of activities!
Just like Late-Night TV, "But wait, there's more!":
Dozens of live music bands will be performing for riders around the clock: Basket Case, Big Gunz, Cry Free, Doors Emlékzenekar, Evermind, Floyd Experiment, Häxan, Heep Freedom, Hungarian Rhapsody, Inka-Hu2 Tribute Band, Iron Maidnem, Joe Cocker Coverband, Kiss Forever Band, Lead Zeppelin, Pengék És Halak, Reckless Roses, Stoned, The Blackbirds, Zz Copy, Dos Diavolos, Dynamite Dudes, Ed Philips And The Memphis Patrol, Harakyru Band, Kontor Horváth Acoustic, Lukács Gabi Feat New Project, Németh Juci És G Szabó Hunor, Rockmilady, Rockstars Not Dead, Takáts Tamás Blues Band, Tenderfoot, The Trousers, Weber Zsuzsi, Madarak, Hairy Groupies, Marcello And The Flaming Boopers, Pedrofon, Fekete-Kovács Kornél, Komjáti Áron Duo, Hangácsi Márton, Iván Szandra, Fekete-Kovács Kornél Duo, Lukács Gabi Akusztik, Don Attila Band, Don't Stop The Queen, Holló Együttes, Mo'gigs, Street Sixteen, Vadkelet, Várkonyi Attila – Dj Dominique, Wolfmother, Glenn Hughes Performs Classic Deep Purple, Airbourne, Larkin Poe, Danko Jones, Strange Kind Of Women, Anna And The Barbies, The Picturebooks, Edda Művek, Pokolgép, Kris Barras Band and The Darkness… whew!
That's a ton… but again, there's even more!
Tours, tours and more tours! Rides In to experience the Balaton Highlands Tour, The Great Hungarian Plain Tour, Eger Tour, Cserhát Tour, Dobogókő Tour, Vértes Tour, The Danube Bend Tour, Pan America Short Off-Road Tour, Pan America Long Off-Road Tour and Hungaroring-Domonyvölgy Tour!
How do you get to the Harley-Davidson 120th Anniversary Festival Budapest?
Total Motorcycle has several scenic Ride Routes for you all across Europe. West Route, North-West Route, North Route, North-East Route, South-West Route, South Route and South-East Route…. I mean, TMW has you completely covered!
Enjoy the Harley-Davidson 120th Anniversary Festival Budapest!
If you are looking at going to Harley-Davidson's Homecoming in Milwaukee, then we have you covered with our Guide to First Annual Harley-Davidson Homecoming 2023 and Inspiring Harley-Davidson Homecoming 2023 Routes as well!
https://www.totalmotorcycle.com/inspira ... -budapest/