Spring is Here: TMW's Spring Motorcycle Riding Guide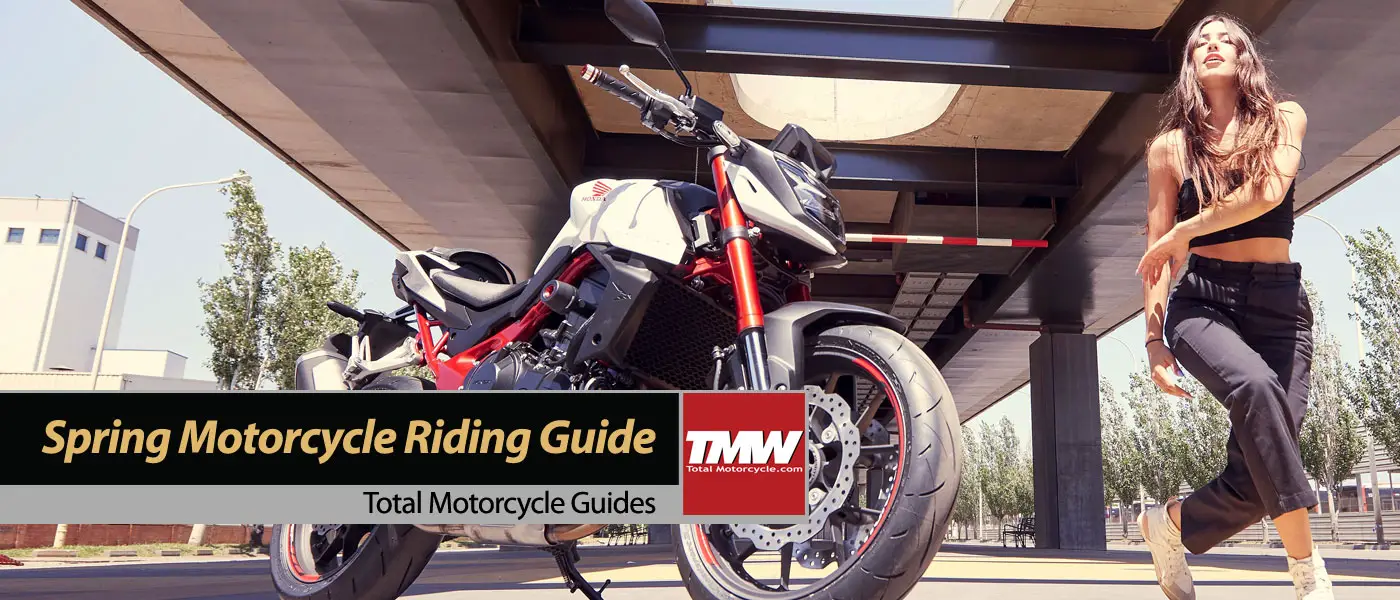 https://www.totalmotorcycle.com/spring- ... ing-guide/
Biker's…Start your Engines! Welcome to our Spring is Here: TMW's Spring Motorcycle Riding Guide back again for another great start to riding season!! Our Inspiration Friday's, 20th Beginner's Guide to Motorcycling Anniversary, Top 10 Tips for Spring Motorcycle Riding, Spring Riding Season Inspiration, plus Motorcycle Spring Riding Tips on Getting You and Your Bike Ready. It's gonna be a great read and a great start to the season. Put that battery back into the bike, say a small prayer to the motorcycle Gods and thumb that starter my friends; it's going to be another epic spring riding season.
Here for you, all in one spot and all in one page is our best Spring Motorcycle Riding Guide articles and don't forget to read our just updated 2023 Total Motorcycle's Beginner's Guide to Motorcycling 20th Anniversary Edition…. enjoy and keep the shiny side up.
Keep up to date with our latest motorcycle models, 2023 Motorcycle Model Guides and our Motorcycling Community Forums! And if you get bored after reading, we have 365 online games for you.
Motorcycle Spring Riding Tips on Getting You and Your Bike Ready
Spring riding. Nothing is more exciting than getting your motorcycle out after winters nap, starting the engine, putting your gear on, shifting it into gear and feeling the wind upon your face. But wait, you forget something! Did you check the condition of your bike? Is your gear still holding up? How about your riding skills after months off the bike? Gravel, salt and/or black ice on the roads? Are cars even looking for bikers right now? All these Motorcycle Spring Riding Tips, questions and more Total Motorcycle looks at, examines and takes a stab at answering for you in our Beginner's Guide to Motorcycling and our Beginning Bikers Forum. If you are looking at buying a new 2023 motorcycle or a used motorcycle we have you covered. Returning riders and experienced riders are encouraged to help out our new riders and pass along tips, tricks and advice you have learned over the years of riding. In the past 24 years our forums has been around we have answered over 450,000 questions and keep answering them to not only help you out but to support motorcyclists and motorcycling worldwide.
Don't forget Total Motorcycle not only has the biggest and best Motorcycle Model Guides from 1970 to 2024 , we also do gear, motorcycle and product reviews, and has the friendliest motorcycle community on the internet too! Total Motorcycle has helped over 315 million riders around the world get into and get ready to ride. Thank you for supporting us.
12 Motorcycle Spring Riding Tips
READ THE FULL ARTICLE. CLICK ON THE LINK BELOW!
https://www.totalmotorcycle.com/spring- ... ing-guide/