2023 Harley-Davidson 120th Anniversary Bike Celebration!
https://www.totalmotorcycle.com/2023-ha ... lebration/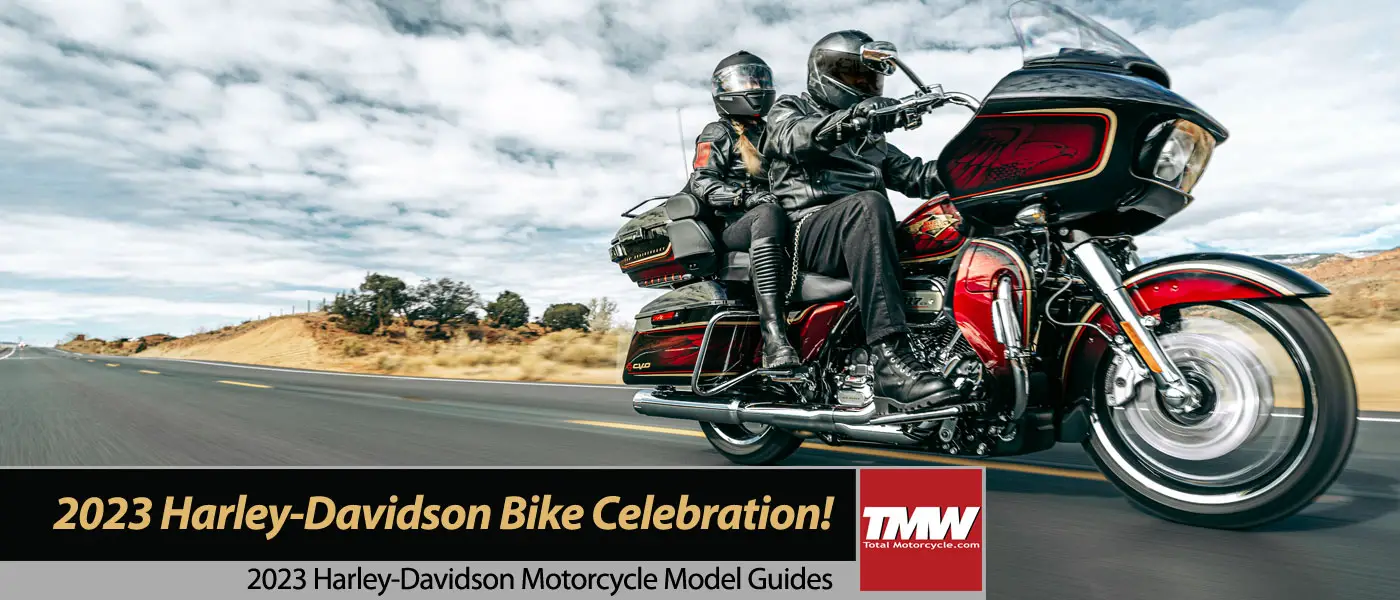 There few brands as genuine and unforgettable as Harley-Davidson. Total Motorcycle presents a combined Inspiration Friday (#229) with a special feature of our 2023 Harley-Davidson 120th Anniversary Bike Celebration Review Guides. Almost 40 new 2023 H-D motorcycle model reviews, with big features, massive photos and full international MSRP's and specifications exclusively for our 400 million TMW readers. No one does it better than TMW when it comes to motorcycle information, period.
Not only it is big news for latest 2023 Harley-Davidson bikes (with more 2023 H-D motorbikes to come later in the year), but also Harley is celebrating it's unforgettable year-long milestone 120th Anniversary as well! With that in mind, the very special 120th Anniversary Harley-Davidson models are all about style:
"The very limited-edition, super-premium CVO Road Glide Limited Anniversary model celebrates 120 years of craftsmanship with one of the most intricate paint schemes ever offered by Harley-Davidson. Panels of Heirloom Red are applied over a base coat of Anniversary Black, each outlined with a bright red pinstripe and a hand-applied gold paint scallop. Subtle details added within the panels portray the head and wings of a soaring eagle. The gold-plated tank medallion depicts an Art Deco rendition of the eagle, an iconic Harley-Davidson design element. Additional details include luxurious Alcantara seat surfaces with gold and red contrast stitching accents, gold-tone powertrain inserts and bright red rocker boxes and pushrod tube collars. Only 1,500 examples of this fabulous motorcycle will be produced for global distribution, each serialized with a laser-etched panel on the fuel tank console."
And for that Harley-Davidson cherry on top of the cake, 4 new models join the 2023 motorcycle line-up as well! Plus as Harley-Davidson 120th Anniversary celebrations rock the world expect exclusive in-depth coverage right here on Total Motorcycle as well.
Breakout is Back
The Breakout model returns to the North America model line, flexing more muscle and flashing bright new styling over its long-and-lean chopper profile
Road Glide 3
The all-new Road Glide 3 model combines the advantages of three wheels and a load of hot rod attitude with the comfort, convenience and style of the frame-mounted Road Glide fairing.
Exhilarating New Nightster Special Model
This new middle-weight contender amplifies the Nightster motorcycle riding experience with a host of style, convenience and technology upgrades.
Freewheeler Model Goes Dark
The Freewheeler model, an attitude-soaked, cruiser-inspired trike, gets a blacked-out restyle for 2023.
What a wonderful way to Kick off 2023 with new 2023 Harley-Davidson's in January!! Check out our 2023 Harley-Davidson motorcycle model guides as well as our past 2000 – 2022 Harley-Davidson Guides as well containing over a thousand H-D bikes.
Total Motorcycle would like to thank Harley-Davidson and our hundreds of millions of motorcycle riders who visit and support TMW for inspiring us to bring you this week's Inspiration Friday: 2023 Harley-Davidson 120th Anniversary Bike Celebration #229. Each week we bring you another Inspiring Motorcycle story to inspire you to get out and ride.
Join Total Motorcycle here and help us by joining Total Motorcycle's new YouTube Membership and $1/mo Patreon channels. Please help us help riders, support motorcyclists and motorcycling worldwide today.
https://www.totalmotorcycle.com/2023-ha ... lebration/