Inspiration Friday: Spring Riding Season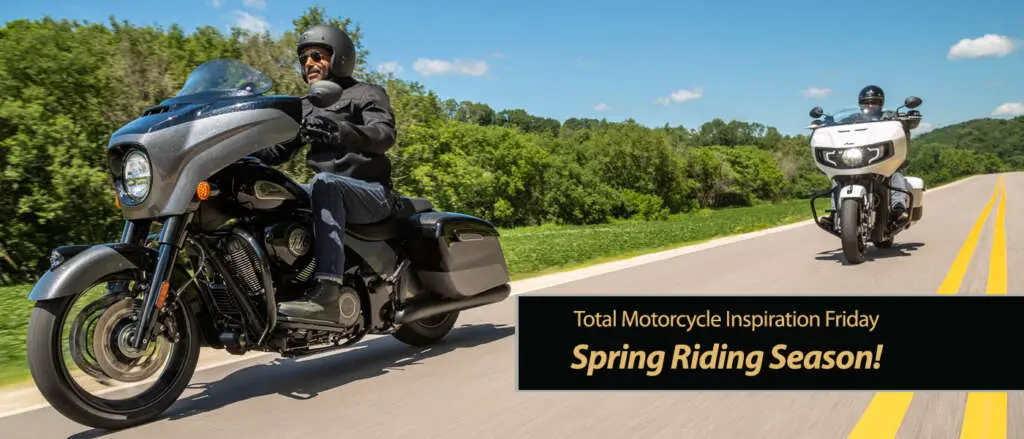 https://www.totalmotorcycle.com/inspira ... ng-season/
Warmer weather, longer days, cool breezes more sunshine. What more could you ask for? The feel and sound of a motorcycle rumbling down the road. Your motorcycle. Your ride. Your day is today. Welcome to Inspiration Friday: Spring Riding Season this week in March! Riding season is right around the corner and now is the time to get ready to rumble! While the salt, snow and ice melt away in the North and the rain and cold subsides in the South get your bike and you prepped to thumb that starter. Read on below for the best tips and time saving tricks…
Getting your Bike out
Firstly, did you store your motorcycle properly for the winter? Yes, will then you are well prepared to hit the road. What I like to do is change that oil and filter off the start as acids will accumulate in the oil over the winter if your bike sat for months waiting for nicer temperatures. If you took your battery out, charge it up to full now and go over your bike, check the tire pressures, coolant, oil, cables, bulbs, headlight, horn and most importantly and commonly forgotten, all the bolts are still tight! Did you lube and adjust your chain, belt or re-oil the shaft drive?
If you did not store your bike properly, and yes, we are all guilty of doing that, then not only do the above but not you'll have to check for rust and damage as motorcycles DO NOT like to sit idle for long periods of time. That battery is most likely bad, that gas will have to be drained as it's bad, those carbs (or fuel injectors) will need to be cleaned, check the tires are not sidewall cracked, rotted or have flat spots! Lube the bike all over, check for rust everywhere and address it now before it spreads.
I use the expression, TIME or MONEY, your choice. If you had the time to prep your bike right, less money, otherwise, more money because you didn't take the time. Makes sense right?...
https://www.totalmotorcycle.com/inspira ... ng-season/