Stop Thief! Location Tracking App - TMW Review
https://www.totalmotorcycle.com/reviews ... acking-app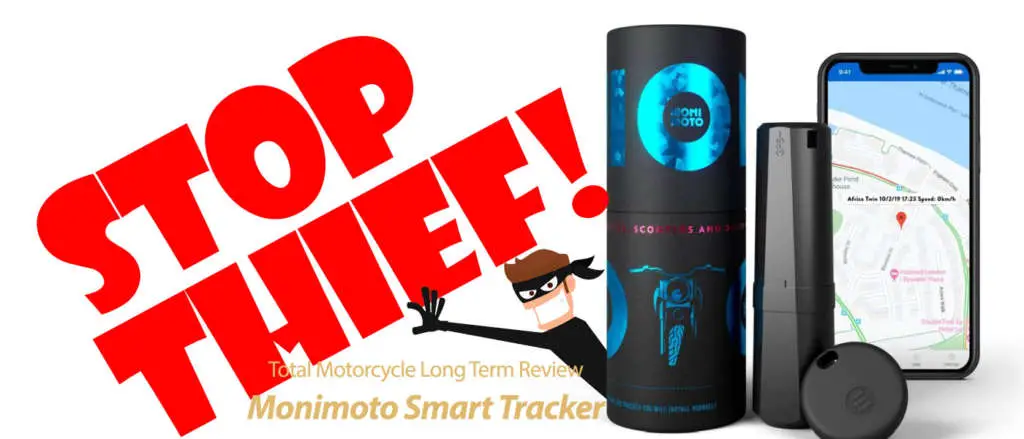 We all hate a thief, right? Having your bike stolen is always a traumatic event, but having safeguards can make it less so. The Monimoto Smart Tracker location tracking app is one such safeguard. This device uses a SIM card, GPS antennae, and a smart phone app to track your bike in real time if it's ever stolen. How did it perform for us? Total Motorcycle reviews, come find out…
he Monimoto Smart Tracker is a GPS tracker designed to help you recover your motorcycle if it's stolen. It uses a cellular connection driven by a SIM subscription to send coordinates to a connected app, and the app is available for both Android and iOS devices. The subscription is free for the first two months, and then $40 USD annually going forward. You're also welcome to shop around for a less expensive SIM subscription from your preferred provider, but $40 annual is pretty competitive.
The Monimoto consists of just three components. There's the transponder device itself, a small round key fob, and the app. The transponder uses an accelerometer to sense motion, and when it does, it searches for a signal from the fob. If Monimoto finds the fob, it goes "back to sleep". But if it doesn't find the fob, it sends a notification to the location tracking App and starts sending GPS coordinates, driven by Google Maps.
"If you're going to recover a stolen bike, you want to recover it immediately, before it's been messed with."
Read on...
https://www.totalmotorcycle.com/reviews ... acking-app