Inspiration Friday: Harley-Davidson's Long Way Up
https://www.totalmotorcycle.com/inspira ... ng-way-up/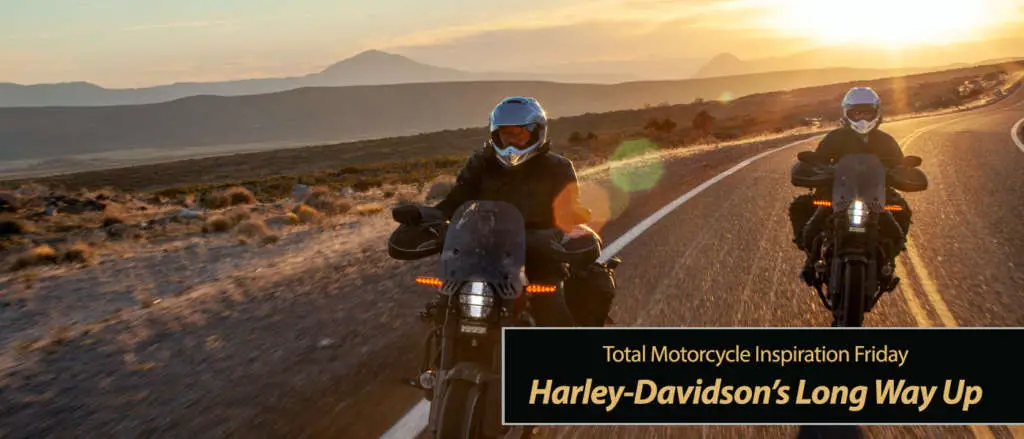 Be Inspired! Our Inspiration Friday: Harley-Davidson's Long Way Up goes above and beyond and unlocks motorcycle adventures wherever they may lead. From shred dirt roads, single track, and desert trails we highlight Harley-Davidson's over 13,000 miles of extreme off-road conditions on Harley motorcycles as they are ridden in the new series as they push riding boundaries to the edges of the earth.
Harley-Davidson stands for the timeless pursuit of adventure and at Harley-Davidson "we build machines that unlock adventure to find freedom for the soul." Come join Total Motorcycle and H-D as we go on an adventure together. Be inspired to explore, do, see and be more…always.
Also in the article (and photos) you'll get a sneak preview that the motorcycles were modified with prototype rotors, wheels, and tires from the upcoming 2021 Harley-Davidson Pan America!
Interested in The Long Way Up with with Ewan McGregor and Charley Boorman? We have that one on Total Motorcycle!
https://www.totalmotorcycle.com/ewan-mc ... ycle-show/
Are you a motorcycle fan? Of course you are! Then go on over and check out our 2021 Harley-Davidson Motorcycle Model Guide with the newest bikes, latest models and greatest features… but don't forget to read our Inspiration Friday: Harley-Davidson's Long Way Up articles below first.
https://www.totalmotorcycle.com/inspira ... ng-way-up/