Inspiration Friday: Harley-Davidson Battle of the Kings 2019 Winner!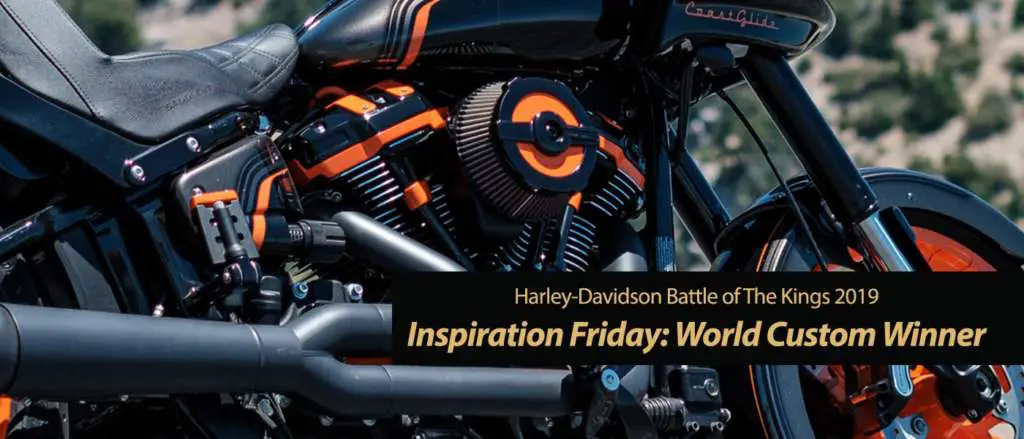 https://www.totalmotorcycle.com/inspira ... 19-winner/
Winner, Winner, Chicken Dinner! Total Motorcycle's Inspiration Friday brings us the Harley-Davidson Battle of the Kings 2019 Global Winner! The United States takes the Harley-Davidson World Custom Cup with their FXGTS Coast Glide; crowned the winner of the 2019 Battle of the Kings. Built by the team at Laidlaw's Harley-Davidson with UTI/MMI, FXGTS Coast Glide was chosen from over 270 custom builds in one fierce edition of the Battle of the Kings competition. Proving yet again what a little creativity, inspiration and riding spirit can build! Now, what is keeping your from building a custom bike or adding a few accessories to make you and your own motorcycle stand out?
Check out the other finalists right here: Inspiration Friday: Harley-Davidson Battle of the Kings Finals 2019 – Back again for yet another year (see last years coverage), of amazing custom Harley-Davidson motorcycles, gifted builders completing from 258 ENTRIES in 26 COUNTRIES and crowning 1 GRAND CHAMPION! We have the finalists right here, in full beautiful full-HD photos (yes, they were VERY hard to find and took me 2 hours of editing) with full descriptions on each. I hope this inspires you to create something unique for your bike!
If you love and are into Harley-Davidson motorcycles, then we have a real treat for you, check out our new 2020 Harley-Davidson Motorcycle Model Guide chock full of goodies for any Harley enthusiast.
Enjoy!
FXGTS COAST GLIDE – Laidlaw's Harley-Davidson® with UTI/MMI
MODEL :SPORT GLIDE CATEGORY :RACE
GOOGLE TRANSLATE
THE CUSTOM KING
When Laidlaw Crew Chief Keith Hurt builds a custom bike, he makes sure it's more than simply a collection of parts....
https://www.totalmotorcycle.com/inspira ... 19-winner/