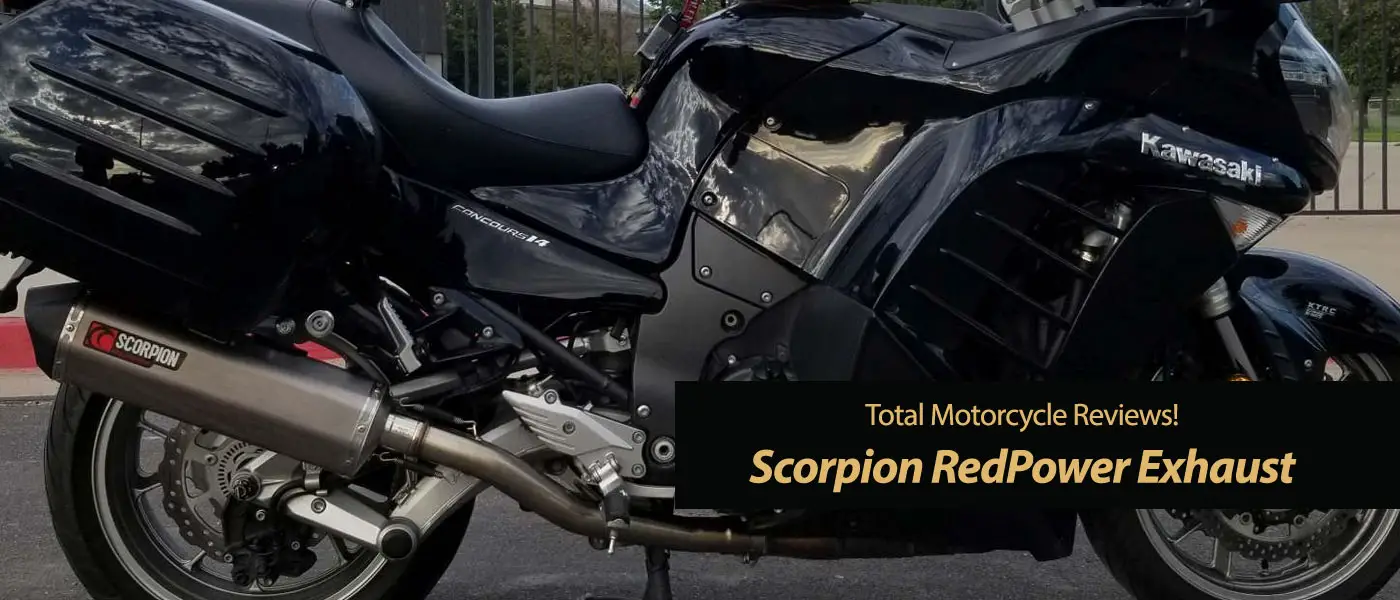 Read the entire review with photos and video here:
https://www.totalmotorcycle.com/review/ ... er-exhaust
When it comes to upgrading motorcycle performance, one popular option is exhausts. It's one of the first customizations owners make, and it's easy to understand why. In terms of complexity, cost, and potential gains, you really can't beat an aftermarket pipe. MotoMachines provided Total Motorcycle with the Scorpion RedPower slip-on for our testbed Kawasaki Concours 14. Read on to see what we thought of it.
Scorpion RedPower Exhaust by MotoMachines
Reviewed By: Eric Leaverton
Review Dates: July 21 2019 – August 21 2019
Reviewed On: 2011 Kawasaki Concours 1400
Price as Tested: $590.90 USD
Scorpion RedPower Exhaust Review Video
WHAT IS IT?
The Scorpion RedPower is a performance-oriented slip-on consisting of a separate tailpipe and silencer. You get a new clamp for connection to the catalytic converter, a new rubber bump foot for the center stand, and a spacer for the canister hanger. You'll reuse the existing hardware for the rear and middle hangers. Spring clips provide the connection between the tailpipe and canister. There's also a removable baffle to meet local emissions requirements.
The whole thing is hand-made in the United Kingdom. Other offerings by Scorpion include complete systems with headers, but for the Concours only the slip-on is available.
Kawasaki Concours 1400 pictured in profile with Scorpion RedPower exhaust pipe installed.
Scorpion RedPower Exhaust
Kawasaki Concours 1400 pictured in profile with stock exhaust installed.
Stock exhaust.
HOW'S IT LOOK?
The silencer is a distinctive hexagonal shape, with an eye-catching red inlay around the final port. The entire endcap is CNC machined billet of an exotic heat-resistant material, and there are stainless steel riveted bands at either end of the can. The overall effect is minimalist and clean. Just the facts, ma'am! It also comes in three finishes, and you could probably guess which ones they are: Stainless, carbon fiber, or titanium. Ours is titanium, which offers a nice contrast between those stainless bands and that black endcap. It's pretty, but you have to keep it clean. Any road grime or errant fingerprints are sure to be seen. When you do polish it up, it's bright and glinty and classy!
The tailpipe is welcomingly unremarkable. There's no vanity covers to provide extra weight, and all the welds are uniform and tight.
Subjectively, it's an attractive setup that doesn't draw unnecessary attention to itself. It doesn't remind me of Star Trek warp nacelles or The Predator's shoulder cannon, both of which are cool but don't belong on my bike. And it's not an aggressively simple coffee can clone that screams parts-bin either. As fitted to the Kawasaki Concours, the angle of upsweep matches the tail section nicely and the width of the can is in harmony with the width of the side cases. It's neither tucked in or turned out.
Closeup of the Scorpion RedPower exhaust from a low, rearward angle. Prominent is the bright red ring around the port. Pictured is the stock exhaust from a low, rearward angle. Prominent is the gray endcap and primarily triangular shape of the silencer.
Scorpion RedPower Exhaust Stock Exhaust
"I had to uninstall it briefly this afternoon. My fifteen-year-old daughter reinstalled it all by herself."
LET'S GET IT ON
Aftermarket exhaust systems for motorcycles are fairly easy to install, and the Scorpion RedPower was no exception. All I required was a 14mm open-ended wrench, a 3/8″ ratchet, and an assortment of metric sockets. The only thing even approaching a specialty tool was some hex bits, which I highly recommend. If you're still dithering about with Allan wrenches, go spend $15 and pick up some hex bits. You'll be glad you did.
Not counting the ten minutes to get those tools together, the installation took about half an hour start to finish. That includes removing the stock exhaust. It begins with loosening the clamp that holds the stock tailpipe to the catalytic converter. Once that's loose, there's a lower hanger bolt with a nut on the back end, which is where you'll need the open-ended wrench. Finally there's another bolt and nut combination holding the canister. One clamp, two bolts with backing nuts, a little wiggling, and the stock exhaust comes off.
As shop manuals like to say, installation is the reverse of removal. There is one extra bit, a little extension that moves the rear mounting point back a couple of inches. This was also the only part I was unsure of. Until you start to push and pull the components together, that little arm doesn't seem like it's going to clear the span. But it does. So no worries.
Scorpion RedPower Exhaust - TMW Reviews
HONEY, IS THAT US?
If I had installed the Scorpion RedPower immediately before embarking on a long road trip, I might never have known to write this section. As it was, I installed the exhaust on a Sunday and rode to work the entire next week, and so have something extra to add here. Commuters unite!
My commute is about six miles, takes about ten minutes, and features no less than ten intersections. One mile-long section is 55mph, all the rest waffles between 35 and 45. Traffic is light, but steady. All this is to say there isn't much opportunity to get up to normal temperature and stay there. Or up to speed. This is important because in the first 50 to 100 miles of the Scorpion's service life, there's a smell.
This is normal for exhausts. Welding compounds, packing oils, and scrubbing solvents all do a little "cooking off" when they enter service. Presented against the milieu of my stop-and-go commute, though, this experience was nerve-racking. At every stoplight, I'd catch an odor I normally associate with electrical fires. As soon as I could, I'd get down on the ground and inspect the length of the system to make sure nothing was melting. Nothing was, of course, and after the first few days it stopped happening entirely. But that slow-motion burn-in period was worrisome. Total Motorcycle Mike says his new 2013 Guzzi V7 smelled like mushroom pizza (Italian connection?) and for the first few weeks he had pizza cravings when riding.
"The exhaust note takes on a growl above about 4,000rpm. Bounce it off the rev limiter, and you'll be rewarded with an aggressive ripping tone…"
DOES THAT SOUND OKAY?
If this is the part of the article you've been waiting for, you're probably going to be disappointed. The Scorpion RedPower sounds great, but it's no pipe for a hooligan. There's no rumble, no pop, no rich baritone swell. In fact, with the baffle in, it's nearly indistinguishable from the stock pipe. With the baffle out – and really, who's going to leave it in anyway, amiright! – the exhaust note takes on a growl above about 4,000rpm. Bounce it off the rev limiter, and you'll be rewarded with an aggressive ripping tone without any of the thrash the stock pipe delivers. Satisfying, inspiring, but definitely not an exhaust to turn heads at Bike Night.
Pictures is the Scorpion RedPower exhaust at a wide distance. Prominent is the contrast between the finish, the endcap and the rivet bands that form the canister.
The titanium finish offers great contrast.
WELL PITTER PATTER…
In a word? Yes.
Yes, I observed an improvement in performance with the Scorpion RedPower. I don't have access to a dynamometer, and so couldn't do a scientific assessment. And I couldn't find any location to perform defensibly legal 0-60 runs. But I do have a local interstate with a posted speed limit of 80mph, so I did some roll-on runs. Sixth gear, 50mph, pin the throttle and time myself to 80mph. And the results are pretty definitive. With the stock pipe, my average time over two runs was 10.04 seconds. With the Scorpion, my two-run average was 8.51 seconds, 1.53 seconds faster. That doesn't seem like much, but to put it in perspective, that's a 15.2% improvement.
At least some measure of that accrues to weight reduction. The Scorpion weighs just 6 pounds, while the stock exhaust is a whopping 20 pounds. The 2011 Concours weighs 688 pounds, so 14 pounds is only a 2% reduction. It's a safe bet that a 2% weight reduction doesn't equal a 15% improvement in straight line acceleration, so there's more going on. MotoMachines advertises a 2HP bump with the Scorpion, from the stock 136 to 138. Dyno graphs are available on their website.
A final number to add to all this is 3.37%. That's the improvement in my average gas mileage, as reported by the onboard computer, since installing the Scorpion. It's been hovering at 44.5mpg since I bought the bike in May. Over the last 600 miles with the new pipe it's climbed to 46mpg. Is that a silly thing to track? Maybe. It's certainly not going to help save for college. But it is a verifiable case of doing more with less, and that's worth mentioning.
"15% improvement in straight line acceleration…and 3.37% improvement in my average gas mileage"
LET'S WRAP IT UP
Easy to install? Check. In fact, I'll tell you a secret. I forgot to weigh the Scorpion before I started writing this article, so I had to uninstall it briefly this afternoon. My fifteen-year-old daughter reinstalled it all by herself.
Looks and sounds good? Check. For looks especially. For sound, well, maybe it's my 40th birthday looming on the horizon. Or maybe I've just come a long way from the Vulcan 800 I started on a decade ago. But a bike doesn't have to be loud to sound good. This exhaust sounds great without alienating your neighbors.
Improves performance? Check. People will spend big money for 15% gains, and that's on internal components that take all weekend to install. Plug-and-play power like this is low-hanging fruit.
Acceptable price point? We haven't talked about that much yet. The Scorpion RedPower comes in at $590.90 USD. Other slip-ons for the Concours 14 start around $420 and go all the way up to almost $900. I love products at this price point, because they have something to prove going both directions. Can you justify the expense over the cheaper options? Or are you penny wise and pound foolish for buying something more modest? I think you know what I think. Check.
In the end, rating the Scorpion RedPower was easy. This is an Editor's Choice product if I've ever seen one, five stars and my compliments. Great work MotoMachines, you've got a keeper!
www.motomachines.com
Hey, thanks for reading clear to the end! Now tell me the truth, do you wish this article had included some concrete numbers from a dynamometer and some 0-100 times? Hey, us too! But shops don't fire up the dyna for free, and the only thing more expensive than renting a drag strip is the citation for freelancing that sort of thing. If you enjoyed this article, please consider signing up as a Patron today! Subscriptions start at only $1 a month, and you can rest assured your donation will go towards improving and amplifying our future content for yourself and your fellow riders!
WWW.PATREON.COM/TOTALMOTORCYCLE