THIS? OR THAT! on the Total Motorcycle Cool Wall
Week #378-379 of the Total Motorcycle Cool Wall
You just won a motorcycle, which one do you pick to take home with you and why?
Picking a free motorcycle from two great rides can be very difficult and it seems readers want more time to make their decision. So we are going to go with a two week format to give you, our readers, even more time to respond, debate and have a good time talking about the choices!
Last week's two week Cool Wall was incredibly close, in fact, end of the 1st and 2nd weeks ended in a dead tie even though we had even more votes! The tie was decided based on how many positive replies were given to each model, in the end, the 2018 Husqvarna Vitpilen 701 just squeaked by.
This week the 2018 Triumph Daytona 675 takes on the 2018 Husqvarna Vitpilen 701 winner from last week. Triumph is a stellar brand, their cruiser, dual sport and classic market is on fire, but there is one area that has largely gone unloved and that is the Triumph Supersport with just 2 models (R and non-R). So for the next two weeks TMW is going to give some love to the 2018 Triumph Daytona 675 and see if our readers will as well...
2018 Triumph Daytona 675 vs 2018 Husqvarna Vitpilen 701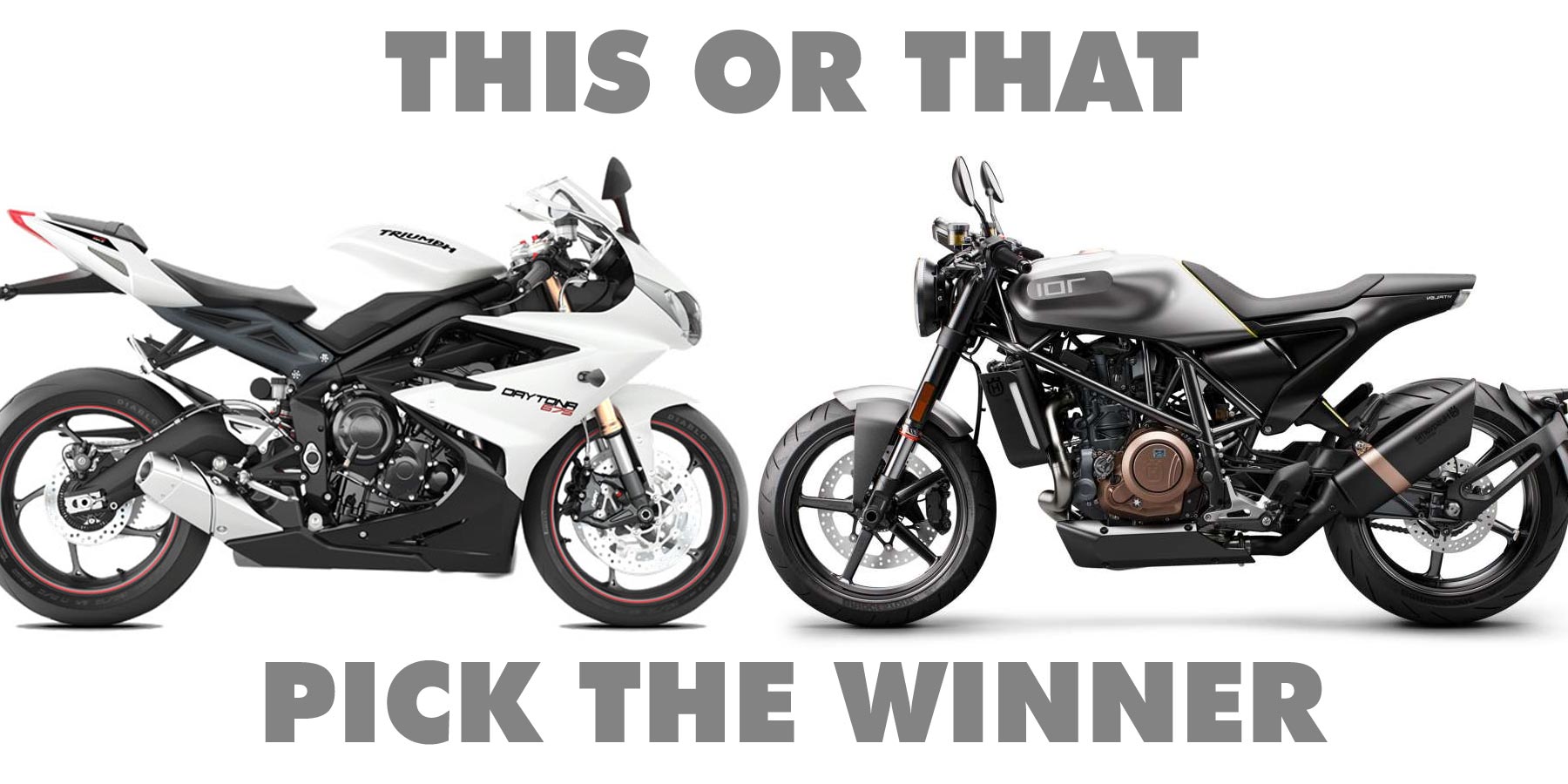 THIS:
2018 Triumph Daytona 675
Information and Photos click here: https://www.totalmotorcycle.com/motorcy ... 675-review
PERFORMANCE IS EVERYTHING.
2018 Triumph Daytona 675:
Apex after apex the Daytona 675 inspires complete confidence. Fantastic power, light weight, and easy to ride, our engineers ambition was simple: to create the most perfectly balanced motorcycle. An equal blend of torque, responsiveness, agility, poise and purpose. The result is a bike with class-defining power, performance and handling. A bike that will inspire total confidence. And looks every bit as good.
The Daytona 675's engine features twin injectors per cylinder, titanium valves, a 14,400 red line, and a spine tingling induction roar. It's fast on the track, great on the road and satisfying to own.
Faster, sharper, sweeter. Lap times tumble, twisty roads are tamed, the toughest corners are conquered by the world's most thrilling high-performance middleweight sports bike.
MEET YOUR WEAPON OF CHOICE
The Triumph Daytona 675 delivers a pure adrenalin rush on road or track. The race-winning three-cylinder engine, with an electrifying blend of midrange drive and screaming top-end power, is perfectly balanced with a precisely calibrated chassis for extreme agility, control and confidence.
Both models come with switchable ABS as standard, but the Daytona 675 R adds high performance Öhlins suspension, radial Brembo monobloc brakes, a quickshifter, styling enhancements, race-tuned agility and superb steering response to its formidable arsenal of talents.
OR THAT:
2018 Husqvarna Vitpilen 701
Information and Photos click here: https://www.totalmotorcycle.com/motorcy ... 701-review
A POWERFUL URBAN ICON.
2018 Husqvarna Vitpilen 701 Review on Totalmotorcycle.com:
The VITPILEN 701 is an immaculately designed street bike that offers a new perspective on urban motorcycling. Driven by a powerful single-cylinder engine, this compact and agile motorcycle is expertly crafted to deliver minimalist styling with exceptional performance and reduced to the bare essence of what a motorcycle should be. Created to suit the unique, progressive lifestyle of modern motorcycling, it delivers a more thrilling, honest and real bike experience.
The Husqvarna SVARTPILEN 701, a dark street explorer that is free of excess and reduced to its simplest form. This bike aims to appeal to an entirely new generation of motorcycle users. It's for those less interested in the hype and hyperbole of modern day motorcycling and who prefer a simpler, timeless design approach. Its technologically advanced 4-stroke single-cylinder 692.7 cc engine is housed in an incredibly stripped down but progressive layout that offers excellent performance. It doesn't need to be pigeon-holed or categorised – it just needs to be ridden. It is so simple and obvious that just by looking at it, any free-thinking rider should know exactly what it is intended to do. Ultimately, it's as approachable as a motorcycle can be, it's honest, and is there to be ridden by anyone wanting a raw and exhilarating riding experience.
A progressive street roadster that was designed to reflect the attitude and styling of a more modern and freethinking breed of rider. The design solution was to create a naked street bike to mark Husqvarna Motorcycles' logical return to street motorcycling. This design driven, yet high-performing, motorcycle reveals the potential of the brand's future vision. Its uniqueness is not limited to the aesthetics, although this will be instantly notable from the raw, natural and intuitive experience of riding it. Something fresh in the world of motorcycling was long overdue and using this as motivation, the brand set out to create a motorcycle that captures the timeless thrill of the ride by creating something functional, practical and simple.
Forget everything you know about contemporary street motorcycles, the VITPILEN range is innovative and progressive. Developed with a fresh perspective, reduced, pure and without industry influence, these motorcycles challenge all current design trends and use a clean, smart and less complicated way of creating a motorcycle. The simple yet progressive design approach is a thought provoking paradox where simplicity, ease-of-use and functionality meet innovative design and attention to detail.
A PURE AND AUTHENTIC RIDING EXPERIENCE
The VITPILEN range is a definitive and bold statement, which exhibits Husqvarna Motorcycles´ never-ending quest to pioneer new territory. Simply put, the VITPILEN aims at stripping away all unnecessary gimmicks and presents a motorcycle in its purest form. Their uniqueness is however not limited to aesthetics, as the designers set out to create a motorcycle that captures the thrill of the ride which is instantly felt in the raw, natural and intuitive riding experience.
The winner of this week's THIS OR THAT will go on and fight the challenger next week. The overall winners will be determined how many weeks they can beat the competition.
Enjoy!
Mike