THIS? OR THAT! on the Total Motorcycle Cool Wall
Week #375 of the Total Motorcycle Cool Wall
You just won a motorcycle, which one do you pick to take home with you and why?
Last week we had a new champion emerge, the 2018 Harley-Davidson Heritage Classic 114 – 115th Anniversary, can it beat out our new bike this week... the special, limited edition 2018 Ural Baikal?
2018 Ural Baikal - vs - 2018 Harley-Davidson Heritage Classic 114 – 115th Anniversary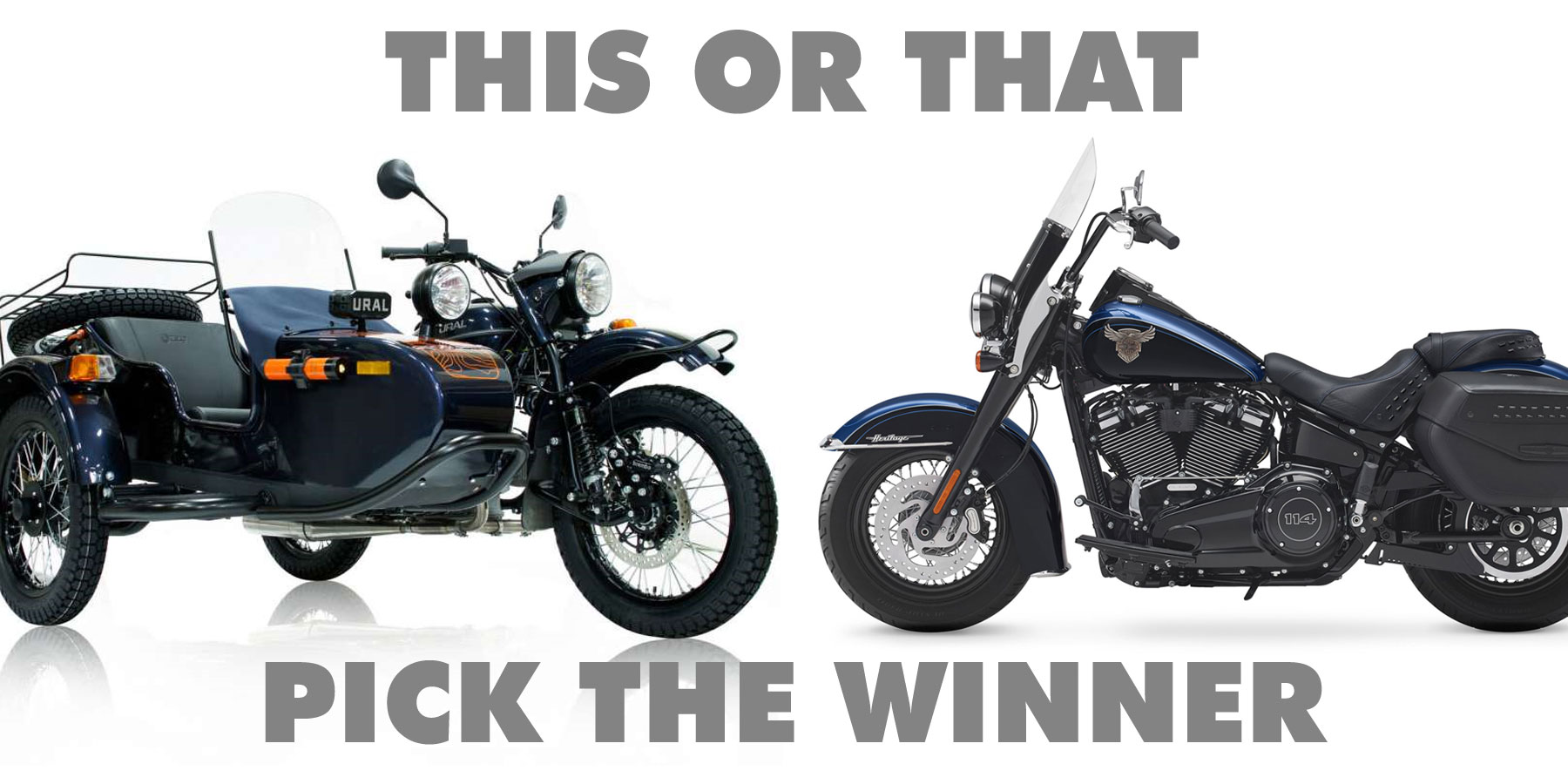 THIS:
2018 Ural Baikal
Information and Photos click here: https://www.totalmotorcycle.com/motorcy ... kal-review
Ural Baikal LE comes in new Baikal Blue metallic colorway with Yamal orange interior accents.
Standard equipped with our legendary on-demand 2 wheel drive and sidecar mounted spare wheel, this Ural is ready to take you far beyond the marked trails. Cut through the ice, literally, with the side mounted high carbon steel hatchet. Keep your vodka in the VSSL x Ural compact flask and light your campfire with Titan storm-proof matches.
Baikal LE features full protection with ceramic undercoating on the sidecar tub and interior of all 3 fenders. Combined with the standard issue sidecar windshield your bike and co-pilots will be full protected from the harsh gusts of Siberian winter.
Bring a friend and bring good music along – your Baikal has all weather proof portable Ural x Braven speaker installed ready for the road ahead!
The Ural Baikal Limited Edition was inspired by the world travelers who have crossed Lake Baikal's frozen 400 mile surface on 3 wheels. Located in the heart of Russia, these riders inspire the next generation to look beyond the map, and layer up.
Total Built: 45 Units Worldwide
Available: October, 2017
Inspired by the Ultimate Ride Challenge
Each winter, 500 miles southeast of Irbit, Russia, home of the Ural factory, the world's largest freshwater lake freezes creating over 400 miles of barren ice fields. Adventure seekers from across the globe navigate to discover one of the world's most demanding rides, including the legendary semi-annual Ice Run.
In 2010, our friends Hubert Kriegel and Chinzo crossed Lake Baikal on their Ural sidecar in the middle of a particularly brutal Russian winter. They lived on Baikal for 2 weeks to complete their adventure battling -40°F wind chill and shifting snow drifts.
"Living on the frozen Lake Baikal I found my ultimate ride challenge. I survived relying on my Ural sidecar with my co-pilot Chinzo." – Hubert
The Lake
Lake Baikal is the world's largest and oldest freshwater lake. Located in the heart of Russia, Baikal contains 20% of the planet's fresh water, enough to provide the world population drinking water for 40 years. Baikal is 400 miles long and the deepest continental body of water in the world with a maximum depth of 5,315 feet.
The average winter temperature is -6°F (-21°C) creating over 12,000 square miles of solid ice, thick enough to support cars and of course, sidecar motorcycles.
OR THAT:
2018 Harley-Davidson Heritage Classic 114 – 115th Anniversary
Information and Photos click here: https://www.totalmotorcycle.com/motorcy ... ary-review
Bikes don't get any truer to their roots than this. The 115th Anniversary Heritage Classic 114 is the original outlaw motorcycle decked out for those who want to do the 115th Anniversary big. Limited-edition and exclusively numbered.
The Heritage Classic motorcycle used to be a homage to '50s chrome nostalgia. Take a look at the new one, and you'll see it's anything but that.
IT'S THE NEW VINTAGE
Dark classic style with a modern edge, from the full fenders to the blacked-out Milwaukee-Eight® V-Twin engine.
BUILT FOR FAST GETAWAYS
Reduced weight, awesome acceleration, and totally reinvigorated ride.
THROW A LEG OVER AND RUMBLE OFF INTO THE SUNSET
Harley-Davidson Softail Story – The next custom revolution
Authentic innovation meets true Harley-Davidson soul in the reinvented Softail® family. The most powerful, agile, and responsive cruisers in Harley-Davidson history feature a lighter and stiffer frame, high-performance suspension and the smooth, unrelenting torque of a fully counter-balanced Milwaukee-Eight® V-Twin engine. Each Softail® model has a distinctive look and attitude that stays true to the roots of Harley-Davidson® custom motorcycle design.
The winner of this week's THIS OR THAT will go on and fight the challenger next week. The overall winners will be determined how many weeks they can beat the competition.
Enjoy!
Mike