THIS? OR THAT! on the Total Motorcycle Cool Wall
Pick One. One will leave as Champion, the other in shame.
Week #373. Laaaaaaaaaaaaaaaaadies and gentlemen, may I have your attention!
The 2006 Ducati GT1000 (a 12 year old motorcycle bested), two time returning champion takes on the engineer's dream bike, the legendary 2013 Bimota Tesi 3D E. (Just don't get me started about what happened with Bimota sale and "junkification".)
DING, DING.
Let's have a clean fight and no hitting below the airbox.
2006 Ducati GT1000 - vs -2013 Bimota Tesi 3D E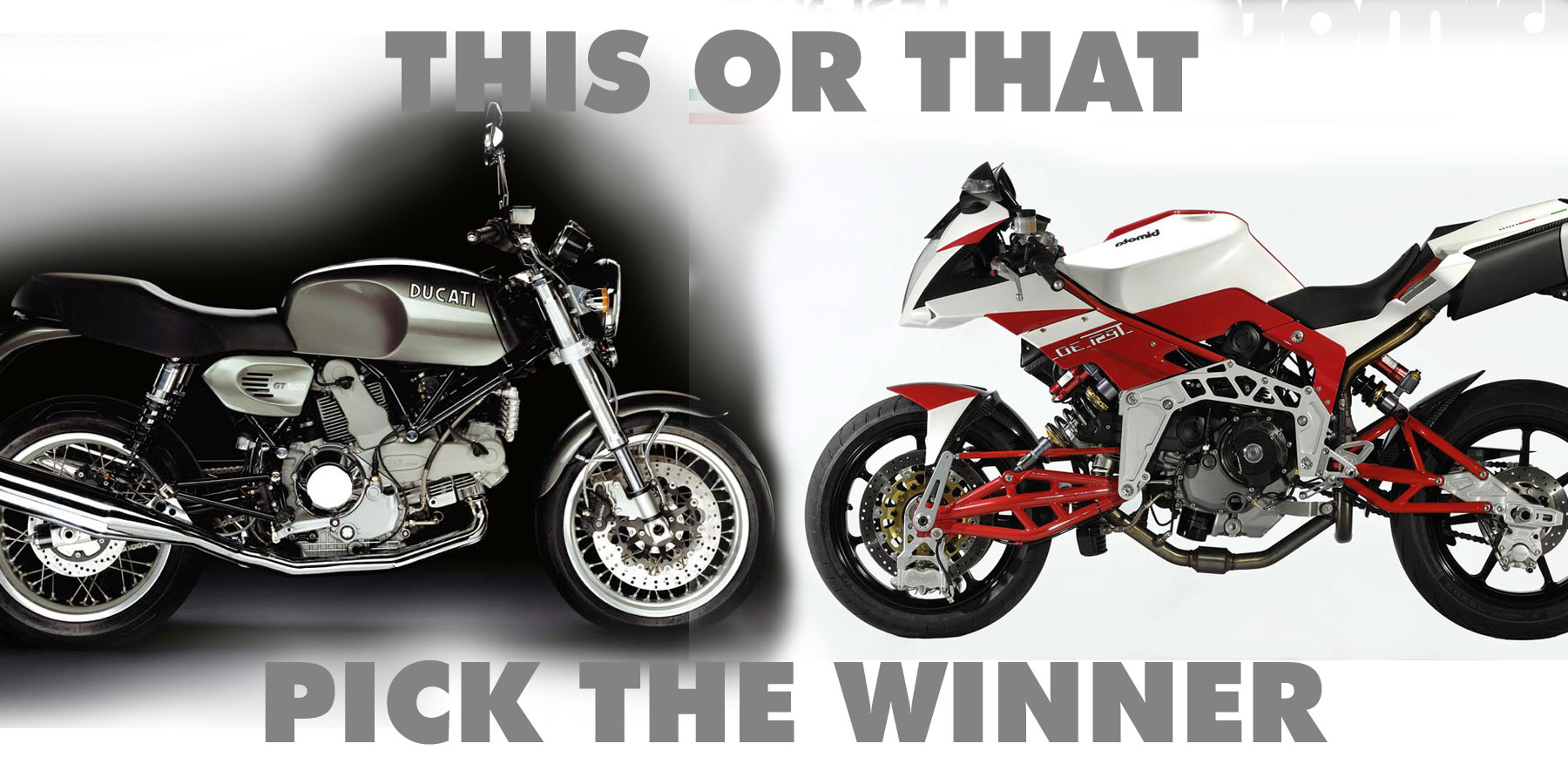 THIS:
2006 Ducati GT1000
Information and Photos click here: https://www.totalmotorcycle.com/photos/ ... ati-GT1000
CLASSIC STYLING WITH MODERN PERFORMANCE
Back in 1971 the GT was a bike to be ridden every day, it combined sport bike and touring features in a balanced and beautiful Italian package. With a dual seat and single headlamp, it was an essential motorcycle, much like today's "naked" or "traditional" motorcycles. It was a commonsense motorcycle, but its beauty was uncommon. The L-Twin engine was left fully exposed to flaunt its elegant features. Dual chrome silencers swept rearward accenting the attractive lines of the bike. Everyday performance was never so well executed. Until now.
Although classically styled, the 2006 GT1000 is engineered to deliver modern Ducati road performance. With its comfortable two-up riding position and confident handling, it is perfect for the daily commute or a weekend trip to the mountains. Powering the GT is the 1000 DS engine, the most advanced, most powerful Ducati air-cooled engine ever.
In the Gran Turismo Tradition
OR THAT:
2013 Bimota Tesi 3D E
Information and Photos click here: https://www.totalmotorcycle.com/motorcy ... ta-Tesi3DE
An outstanding experience
Bizarre, futuristic, but overall hard-hitting. The 2013 Tesi sums up an idea turned into an engineer's masterpiece.
From Pierluigi Marconi's project (named after his own graduation thesis) to the actual Tesi 3D, realised thanks to Andrea Acquaviva and Enrico Borghesan's work, the philosophy of the project is never changed.
The TESI is able to enhance the rider's confidence and cornering ability, letting him know since the very start a whole new potential of decent handling. No load transfer, faster entry speed and corners "like it's on rails" no matter the speed level.
It is a very accurate bike, that thanks to lack of load transfer allows a harder braking than any machine of previous generations.
Combining the virtues of a naked motorcycle with sport bike features, praised for its riding position and compactness.
The winner of this week's THIS OR THAT will go on and fight the challenger next week. The overall winners will be determined how many weeks they can beat the competition.
Enjoy!
Mike