THIS? OR THAT! on the Total Motorcycle Cool Wall
Pick One. One will leave as Champion, the other in shame.
Week #372. Laaaaaaaaaaaaaaaaadies and gentlemen, may I have your attention!
In a surprise upset, the 2006 Ducati GT1000 (a 12 year old motorcycle bested) the returning champion (2018 Triumph Bonneville Bobber Black)... Does this mean the 'Hipster Douchebag's' (thanks markdcoco) are winning or whining? Well, we shall soon see, this week, I am throwing in an odd-ball sportbike in the mix... the 2018 Zero SR, electric, modern, silent....
DING, DING.
Let's have a clean fight and no hitting below the airbox.
2006 Ducati GT1000 - vs -2018 Zero SR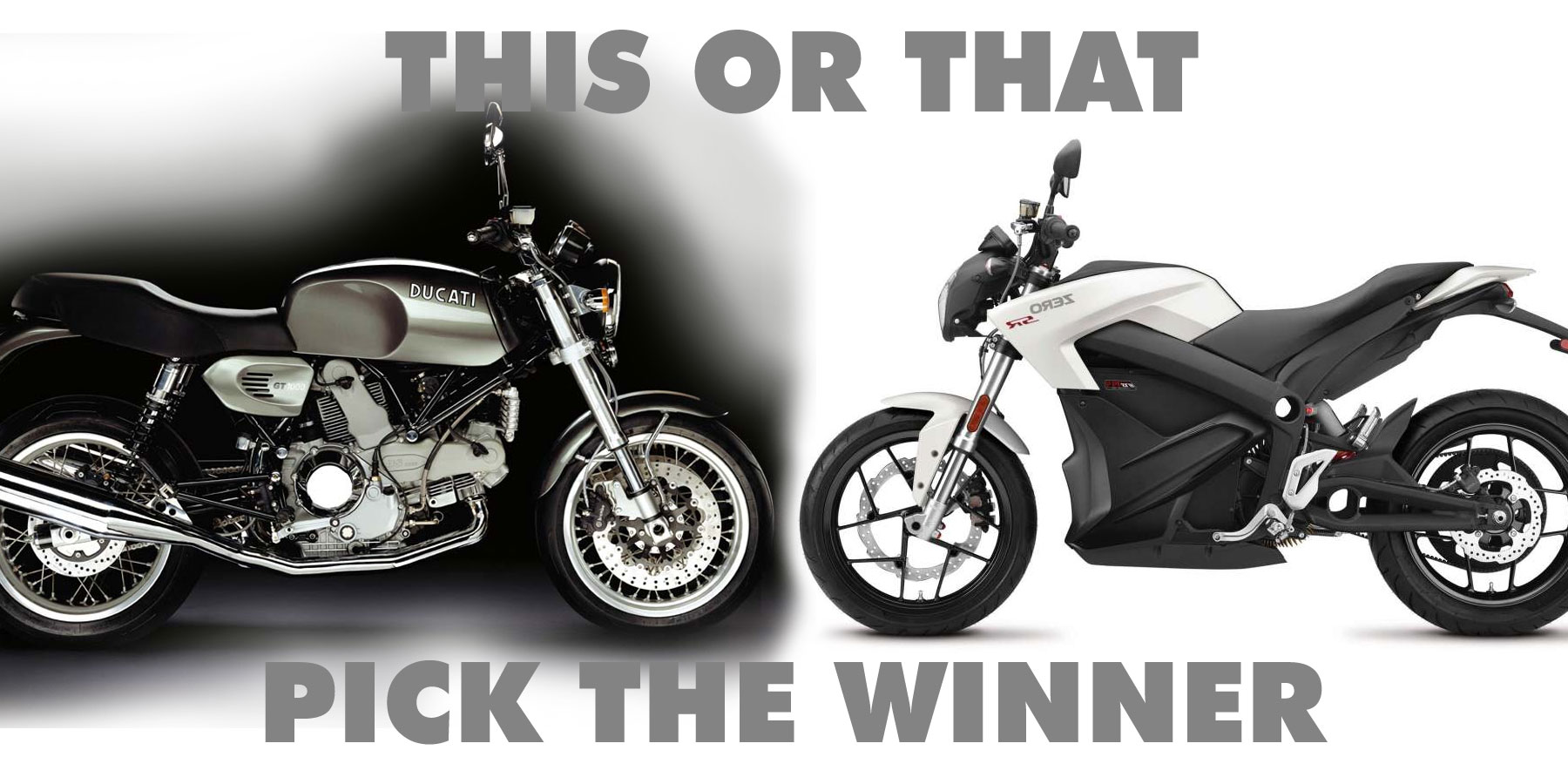 THIS:
2006 Ducati GT1000
Information and Photos click here: https://www.totalmotorcycle.com/photos/ ... ati-GT1000
CLASSIC STYLING WITH MODERN PERFORMANCE
Back in 1971 the GT was a bike to be ridden every day, it combined sport bike and touring features in a balanced and beautiful Italian package. With a dual seat and single headlamp, it was an essential motorcycle, much like today's "naked" or "traditional" motorcycles. It was a commonsense motorcycle, but its beauty was uncommon. The L-Twin engine was left fully exposed to flaunt its elegant features. Dual chrome silencers swept rearward accenting the attractive lines of the bike. Everyday performance was never so well executed. Until now.
Although classically styled, the 2006 GT1000 is engineered to deliver modern Ducati road performance. With its comfortable two-up riding position and confident handling, it is perfect for the daily commute or a weekend trip to the mountains. Powering the GT is the 1000 DS engine, the most advanced, most powerful Ducati air-cooled engine ever.
In the Gran Turismo Tradition
OR THAT:
2018 Zero SR
Information and Photos click here: https://www.totalmotorcycle.com/motorcy ... -sr-review
What street riding is meant to be. Stunning acceleration at any RPM, sharp lines and sporty ergonomics transform your daily ride into a thrill. With an aerodynamically efficient riding posture that helps deliver up to 223 miles in the city and 112 miles on the highway, the Zero S offers the highest range in the Zero lineup.
2018 Zero SR ZF14.4 Power Plant
Maximum torque, performance and range.
Upgrade to Zero's fiercest power plant, the Zero SR is quick enough to out-accelerate a Porsche 911. It produces 116 ft-lb of torque and can run at higher sustained top speeds using an enhanced motor and higher amperage motor controller.
Range (mi): 179 city / 90 highway
New for 2018
Zero Motorcycles designs and builds the most technologically advanced electric motorcycles on the planet at its California headquarters. Zero continues to lead the industry in electric motorcycle innovation with its 2018 model line by delivering up to 6x faster charging and 10% more range with the ZF7.2 and ZF14.4 power packs.
The winner of this week's THIS OR THAT will go on and fight the challenger next week. The overall winners will be determined how many weeks they can beat the competition.
Enjoy!
Mike