THIS? OR THAT! on the Total Motorcycle Cool Wall
Pick One. One will leave as Champion, the other in shame.
Week #371. Laaaaaaaaaaaaaaaaadies and gentlemen, may I have your attention!
Last week the 2018 Honda Gold Wing Tour was defeated to the retro classic 2018 Triumph Bonneville Bobber Black; thus I needed to give the 2018 Triumph Bonneville Bobber Black a retro classic challenge, enter the rare 2006 Ducati GT1000! I know alteast 1 member of our community that has owned one (looking at you High_Side). Did you know they made the GT1000 from 2004 to 2010?
Let's have a clean fight and no hitting below the airbox.
2006 Ducati GT1000 - vs - 2018 Triumph Bonneville Bobber Black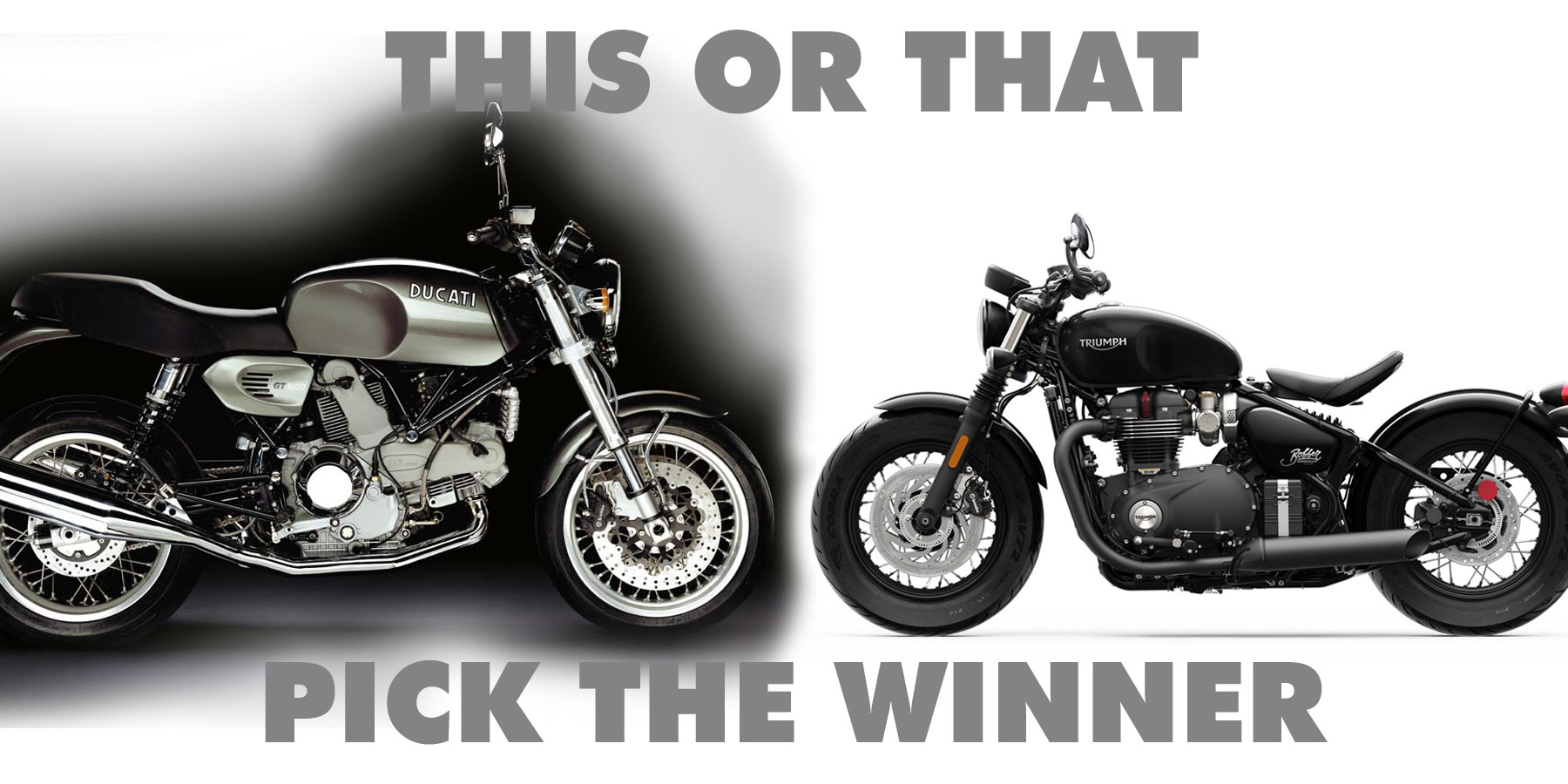 THIS:
2006 Ducati GT1000
Information and Photos click here: https://www.totalmotorcycle.com/photos/ ... ati-GT1000
CLASSIC STYLING WITH MODERN PERFORMANCE
Back in 1971 the GT was a bike to be ridden every day, it combined sport bike and touring features in a balanced and beautiful Italian package. With a dual seat and single headlamp, it was an essential motorcycle, much like today's "naked" or "traditional" motorcycles. It was a commonsense motorcycle, but its beauty was uncommon. The L-Twin engine was left fully exposed to flaunt its elegant features. Dual chrome silencers swept rearward accenting the attractive lines of the bike. Everyday performance was never so well executed. Until now.
Although classically styled, the 2006 GT1000 is engineered to deliver modern Ducati road performance. With its comfortable two-up riding position and confident handling, it is perfect for the daily commute or a weekend trip to the mountains. Powering the GT is the 1000 DS engine, the most advanced, most powerful Ducati air-cooled engine ever.
In the Gran Turismo Tradition
OR
THAT:
2018 Triumph Bonneville Bobber Black
Information and Photos click here: https://www.totalmotorcycle.com/motorcy ... ack-review
2018 Triumph Bonneville Bobber Black:
STUNNING CUSTOM STYLE – beautifully styled minimalism with a distinctive stripped-back look. Elegantly engineered floating single seat pan, wide flat bars and Bobbed hard tail. Category defining capability and rider technology, for maximum control and comfort. A genuine Bobber ride – without compromise.
Following the overwhelming success of the Bonneville Bobber – the fastest selling motorcycle in Triumph's 115-year history, the company has taken the model to new heights for the 2018 model year, with the darker, meaner and stronger Bonneville Bobber Black.
STRIPPED. BOBBED. BONNIES
The Bonneville Bobber range is now even bigger with the introduction of the ALL NEW MEANER AND HIGHER SPECIFICATION BONNEVILLE BOBBER BLACK. Innovative, thrilling and beautiful, our Bonneville Bobber's are thoroughbred custom classics that cleverly combine elegant engineering and category-leading capability, with an unparalleled heritage and thrilling hot rod ride and sound.
Both the Bobber and Bobber Black are beautifully hand crafted and deliver all the hallmarks of a genuine Triumph Bobber with timeless Bonneville DNA, stripped-back style, engineering innovation, low seat height, unique detailing and classic Bobber silhouette.
At the heart of each model you'll find a category-leading, high-torque Bonneville 1200cc engine with a dedicated Bobber tune, for more torque and power lower down than the Bonneville T120. This is all backed-up by a dynamic, agile riding experience, delivered by high specification suspension and a host of rider-focused-technology, including Road and Rain Riding Modes, switchable traction control, torque-assist clutch, heated grips, ABS, an immobiliser, a high 10,000 mile/ 16,000km first major service interval and, on the Bobber Black, an intuitive single button cruise control.
ALL NEW BONNEVILLE BOBBER BLACK
The winner of this week's THIS OR THAT will go on and fight the challenger next week. The overall winners will be determined how many weeks they can beat the competition.
Enjoy!
Mike