2018 9 Bike Super Cruiser Comparison on the Total Motorcycle Cool Wall
I want to thank Harley-Davidson indirectly for suggesting this week's special 2-Week Cool Wall. With the launch of the new 2018 Harley-Davidson motorcycle lineup they have merged the Dyna and Softail line into one new super-softail line with new frames, design and 107 and 114 engines.
With that, Harley-Davidson also released to the media their MY18 Product Reference Guide, in it's secret pages, is their "COMPETITIVE COMPARISON" of their new motorcycles versus the competition.
I chose the new 2018 Harley-Davidson Breakout 114 as the 2017 Harley-Davidson Breakout was Harley-Davidson's 2nd most popular model for 2017 with 1552 models sold. (#1 was the Street 500 at 1605).
So, if faced with the choice, which bike would YOU ride?
You can only vote for 3 bikes.
So choose wisely. Let's see if Harley-Davidson really will come out on top.
Vote, discuss and have a great time! - Mike
For MORE information and Photos click on each motorcycle
2018 Harley-Davidson Breakout 114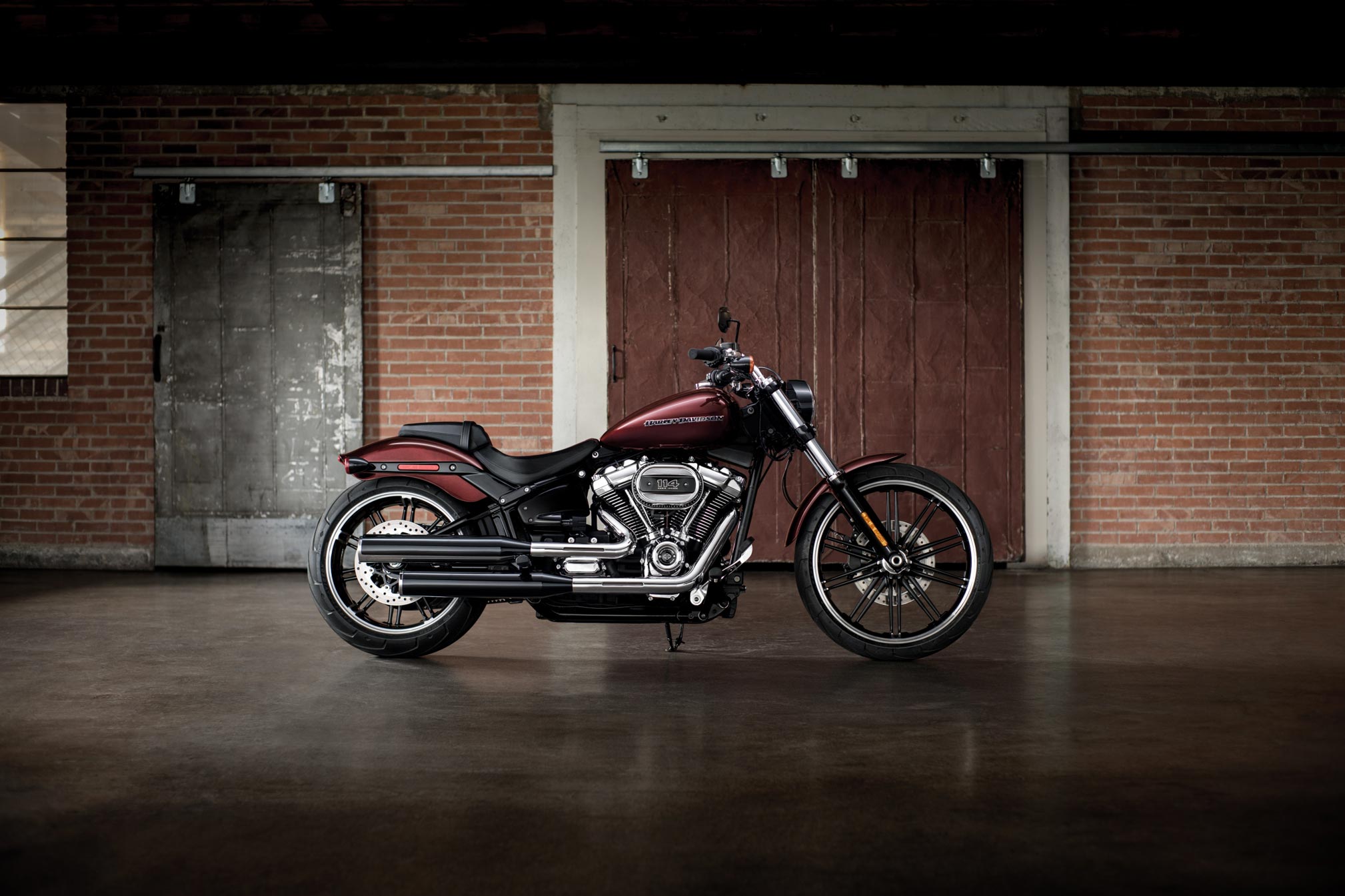 https://www.totalmotorcycle.com/motorcy ... 114-review
Devour asphalt with real street muscle. This Breakout model comes with the new Milwaukee-Eight 114 engine.
The all-new Breakout® model takes the idea of long, lean, asphalt-devouring muscle to the modern edge. The new smaller tank lets the Milwaukee-Eight® engine stand out. The 240mm rear tire looks like it was born to leave a fat patch on the pavement. The all-new suspension lets you put maximum power to the street. And you'll feel the difference the 35lb weight reduction makes the instant you twist the throttle. You also get more lean angle and agility than you ever imagined in a bike carrying this much dragster attitude and style. Available in 107 and 114 engine displacements.
WANT TO STAND OUT? THIS IS FOR YOU.
Dragster attitude and aggressive style with a new smaller tank that lets the Milwaukee-Eight® engine stand out like a flexing bicep.
LEANER AND MEANER
Now 35 pounds lighter, you'll feel the difference the instant you twist the throttle.
2017 Honda Gold Wing F6B
https://www.totalmotorcycle.com/motorcy ... ng-F6B?d=1
A Way To Go Everywhere…
Maybe you want a touring bike that's like nothing else out there. Maybe you want a cruiser that's not a cookie–cutter clone. Maybe you just want a bike that's big enough to take you wherever you want to go, and do it in comfort and style, with plenty of class and independence.
If that's what you're after, Honda's Gold Wing F6B is your kind of bike. Big, smooth, powerful. The Gold Wing F6B uses technology gathered from our own Honda Gold Wing, a bike that's set the standards in Luxury Touring for the last 40 years. But the F6B is lighter, trimmer and leaner. You're going to find that it's perfect for around-town rides, shorter trips or weekend getaways. You're also going to find that it will blow away just about any conventional cruiser in terms of looks and commanding presence—not to mention on-road performance.
You asked for it, so here it is. And the F6B is still available in two trim levels—standard and deluxe with a Matte Pearl White. With plenty of storage capacity and with many of the Gold Wing's comfort and luxury features, the F6B is ready to take you wherever adventure calls. Isn't it about time you answer?
2017 BMW K1600B
https://www.totalmotorcycle.com/motorcy ... K1600B?d=1
The new K 1600 B: emotion and fascination with 6 cylinders in the exclusive
Bagger style…
The presentation of the "Concept 101" concept study as part of the Concorso d'Eleganza Villa d'Este in spring 2015 was an impressive new chapter for BMW Motorrad in the history of BMW Motorrad Concept Bikes.
This BMW Motorrad interpretation of motorcycling on endless highways, the dream of freedom and independence and the embodiment of "Grand American Touring" now becomes reality in form of a series version of the new K 1600 B bagger.
As a high-performance, highly emotional and exclusive motorcycle, the new K 1600 B with the familiar 6-cylinder in-line engine and supreme 118 kW (160 hp) output, like the "Concept 101" study that preceded it, already embodies the motto of the "Spirit of the Open Road". It is synonymous with elegance, power and luxury on two wheels and transforms every road, every tour and every moment into a particularly intense experience.
The characteristic streamlining with a low rear section and masculine colour scheme make for relaxed dynamic elegance.
2017 Moto Guzzi Eldorado
https://www.totalmotorcycle.com/motorcy ... dorado?d=1
THE MODERN AND LUXURIOUS HEIR TO THE UNFORGETTABLE "850" THAT MADE ITS FORTUNE IN THE STATES MORE THAN 40 YEARS AGO BOASTS NEW TECHNICAL CONTENT AND OUTFITTING. ELDORADO, WITH A STRONG AND UNIQUE TRADITION, IS THE BEST EXAMPLE OF THE HERITAGE RANGE AVAILABLE FROM THE MOTO GUZZI BRAND…
Eldorado is a luxurious motorcycle on the cutting-edge of technology which, powered by the largest V Twin ever manufactured in Europe, is a perfect interpretation of the most genuine Guzzi spirit. Eldorado is a true flagship in the bike world, embodying a splendid tradition in an increasingly solid present. And it does so looking decidedly to the future: chromium inserts and finely crafted details combine with LED lights and come together in classic lines that bring Moto Guzzi into a new dimension where refinement speaks Italian.
Moto Guzzi Eldorado: back to the future
2017 Yamaha Raider
https://www.totalmotorcycle.com/motorcy ... Raider?d=1
HE ULTIMATE CHOPPER-INSPIRED CUSTOM…
The Yamaha Raider®, part of the Star® Cruiser Line, is the ultimate marriage of chopper-inspired style and incredible 1854cc air-cooled V-twin performance.
You are looking at a special generation of custom cruisers. A breed that stands apart. Check out the incredible attention to detail. From front to back, the Raider is loaded with "custom" inspired parts. Stretched out fork, fat rear tire, low seat and an aggressive, slammed riding position. The Raider features more black parts than the S version. The Raider not only looks good, it offers an incredible riding experience too.
///Power
High-performance, 1854cc (113 cubic inch) air-cooled, long-stroke, OHV, 4 valves per cylinder, 48°, V-twin powerplant produces massive torque and class leading acceleration from very low rpms.
2017 Indian Chief Dark Horse
https://www.totalmotorcycle.com/motorcy ... -Horse?d=1
PROOF MACHINES HAVE SOULS…
Embrace the darkness with the 2017 Indian Chief Dark Horse, the baddest, boldest bike on the road. With the endless power of the award-winning Thunder Stroke 111 engine, end-to-end matte black finish and just a touch of chrome, every other bike on the road seems tame. Featuring ABS, remote key fob for keyless ignition, electronic cruise control, a dry weight of 751 pounds and starting at just $17,499, the Indian Chief Dark Horse® has it all – including a seriously bad attitude.
Dark. Powerful. With its matte-black finish and blackedout details, there's no ignoring the Chief Dark Horse®. Every square inch of this bike was designed to not just make a statement – but leave a permanent mark.
The blacked-out look is backed up by the distinctive Thunder Stroke® 111 V-Twin engine, high-resolution Anti-Lock Brakes and standard electronic cruise control.
Accessories include even more black, including exhaust systems, highway bars, trim, and a passenger seat and pegs, as well as more touring friendly items such as leather saddlebags and a backrest/cargo rack.
All it takes to announce your arrival is an authoritative twist of the throttle.
2017 Kawasaki Vulcan 1700 Voyager ABS
https://www.totalmotorcycle.com/motorcy ... er-ABS?d=1
THE KING OF KAWASAKI CRUISERS…
Designed for those riders who set their sights beyond the horizon, the Vulcan 1700 Voyager offers everything needed for comfortable long-distance touring with or without a passenger. Offering a metric alternative to V-Twin tourers, the Vulcan 1700 Voyager combines Kawasaki reliability with the performance, comfort and amenities that long-distance touring riders demand.
THE VULCAN® 1700 VOYAGER® ABS IS THE PINNACLE OF POWER AND LUXURY ON THE OPEN ROAD. A 1,700cc FUEL-INJECTED ENGINE WITH CRUISE CONTROL COMMANDS THE ROAD, WHILE A HOST OF PREMIUM TOURING AMENITIES GIVES YOU AND YOUR PASSENGER THE COMFORT TO GO THE DISTANCE.
The 2017 Kawasaki Vulcan® 1700 Voyager® ABS motorcycle is a fully equipped touring cruiser with plenty of storage space, technology and functionality, as well as elegant styling that merit a closer look.
2017 Suzuki Boulevard M109R BOSS
https://www.totalmotorcycle.com/motorcy ... R-BOSS?d=1
Unparalleled Performance and Gorgeous Styling…
This is the performance cruiser other bikes wish they were. The dark and muscular M109R B.O.S.S. has a powerful V-twin engine using some of the largest pistons in the industry — a bike that will get your adrenaline flowing whenever you ride. This 109 cubic-inch engine is wrapped with aggressive blacked-out styling that includes slash-cut mufflers, drag-style bars, a supplied solo seat cowl, and a distinctively shaped headlight nacelle that's uniquely Suzuki. This bike is not just about looks as stout inverted forks, a hidden single-shock rear suspension, and an ideally designed saddle delivers responsive handling and an exceptionally comfortable ride. Performance never looked so good, or so dark.
Go ahead and admit it, you want to be the owner of the most stylish bike on the block. Lucky for you, the Suzuki Boulevard M109R B.O.S.S. grabs attention everywhere it goes. An incomparable black color scheme coupled with aggressive styling scream in testament to the M109R's power. If looks aren't enough to sell you on this bike, then let the 1783cc V-Twin engine convince you. Tuned to produce massive torque from idle to red-line, the Suzuki Boulevard M109R B.O.S.S. will keep you smiling and styling through your journeys to come.
Without question, the M109R B.O.S.S. delivers unparalleled performance and gorgeous styling to own the night.
2018 Triumph Thunderbird Storm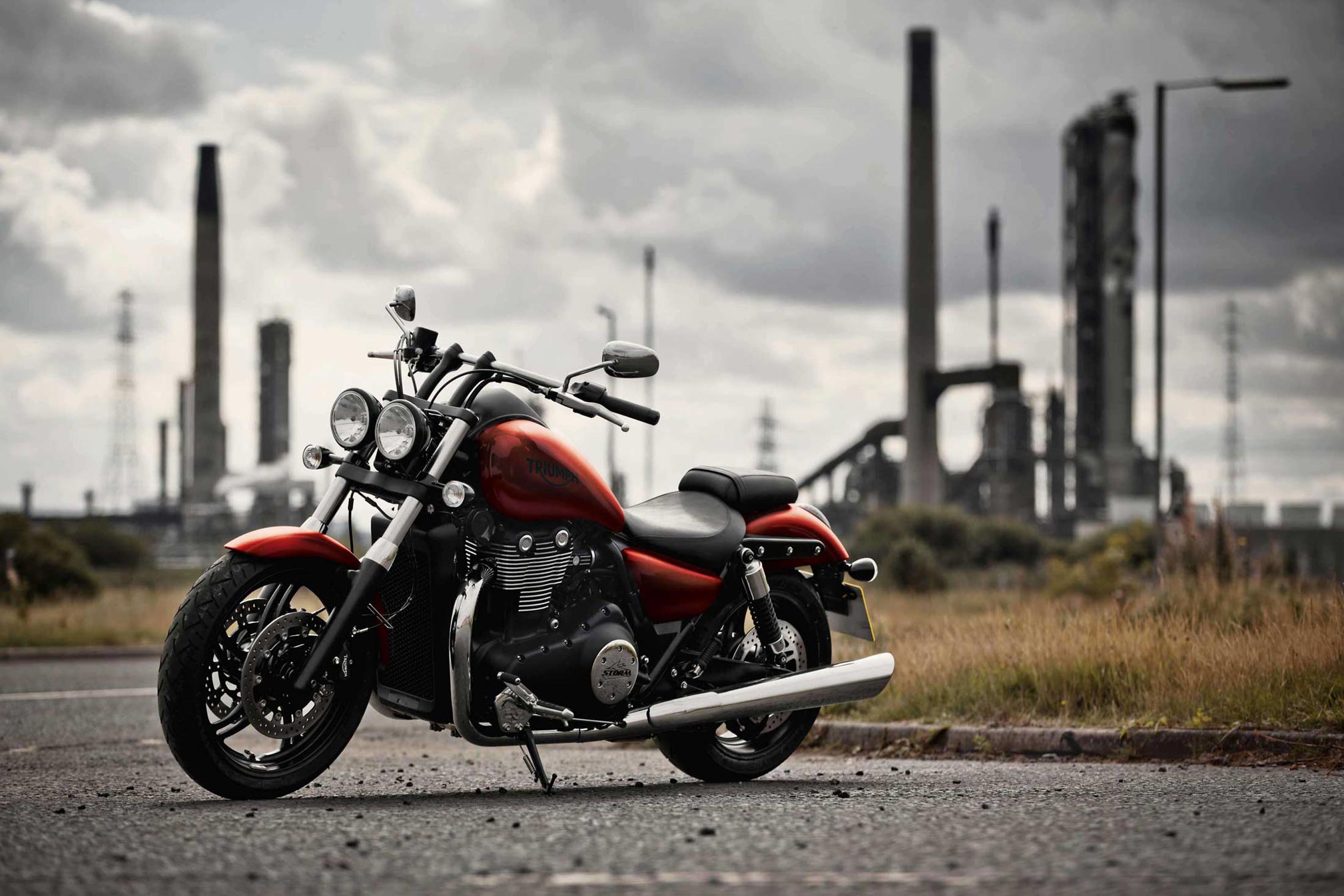 https://www.totalmotorcycle.com/motorcy ... orm-review
2018 Triumph Thunderbird Storm:
We squeezed 102cc more from the muscle-bound parallel twin engine so that it packs an even bigger punch. Still laid-back but underpinned by serious power and the best handling in the class. This is a cruiser with a dark side.
•ABS
•Adjustable suspension
•Belt Drive
•Liquid-cooled
•Self cancelling indicators
To the onlooker, Triumph Cruisers could be mistaken for being just about pure classic cruiser style. But one ride tells you that our cruiser motorcycles are about surprising levels of agility and performance in a bike that can deliver an engaging ride every day. They just happen to do it with that pure classic cruiser style.
Which bike would YOU want to ride? You can only vote for 3 bikes. So choose wisely.

Vote, discuss and have a great time! - Mike

For MORE information and Photos click on each motorcycle