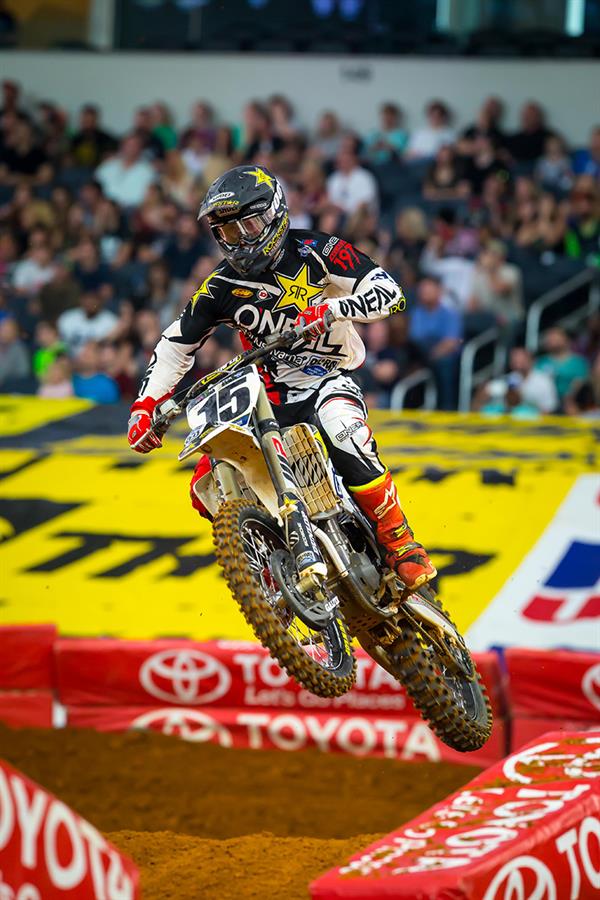 The Rockstar Energy Husqvarna Factory Racing team had a great day at the Arlington Supercross on Saturday, held at AT&T Stadium in Arlington, Texas - the sixth round of the AMA Supercross Series. While Martin Davalos put in hard work to overcome an early-race incident in the 250SX West class, teammates Jason Anderson and Dean Wilson had amazing rides and finished third and fifth, respectively, in the 450 class.
Jason Anderson was fifth at the start of his heat and was holding strong until he collided with a crashing Malcolm Stewart causing his bike to fly off the track. This took him out of the race and forced him to line up for the 450 semi. He started eighth in the semi and put his focus on chasing down riders to put him in a transfer position. He was all over Jimmy Albertson in the fourth lap before making the pass stick and nabbing the final transfer spot. He then set his sights on Vince Friese and made a close pass high on the berm for fourth where he finished. Anderson had a decent start in the 450 main before the red flag came out, forcing a restart. He got a mid-pack start and was in 7th by the end of the first lap. He made the pass for sixth and continued to charge. He made his way into podium territory after multiple riders had issues and held his ground to the finish, eventually finishing third. He is currently fifth overall in 450 rider point standings.
"I qualified well all day," said Anderson. "It was a good day. I felt good and it was definitely a step in the right direction. I feel like I need to be on the podium every week. I had a rough few weeks, but I'm 100% healthy now with my arm. I just put in some good laps in the main. I had an incident in the heat race when I got hit by another bike and my bike ended up doing a 1080 - so I had to take it back to get repaired. I was able to come back and make it in the semi. Then I got a decent start in the main, put head down and moved forward and got into third. I was all by myself out there, and just rode it home for a podium. I'm really looking for that win - I know I can win - and that's the goal for next week."
Dean Wilson pulled a top-ten start in his heat and was seventh by the end of the first lap. He finished sixth and would have to earn his transfer spot via the semi. He started fifth in his semi and made some nice moves to overtake third by the fourth lap. He held strong and put on a solid ride to finish third and earn a spot in the 450 main. Wilson started in the top-10 in the main after a red flag and a restart, and came out of the first lap in eighth. He held strong as multiple riders were forced out of the race due to crashes and tech problems, and inherited the fourth-place spot with 9:30 to go right behind teammate, Jason Anderson. He put on an amazing ride, holding off Ryan Dungey for the majority of the race and finished fifth after an epic battle. He is currently ninth overall in 450 rider point standings.
"The night didn't start off amazing, but it ended up being really good," said Wilson. "It took a little while to get going in the heats and semis, but then in the main I got a decent start and just tried to ride smooth and consistent every lap. I ended up with a fifth, which I'm over the moon about. It's almost like a win to me just because it's been a rough couple years - so I'm stoked."
Martin Davalos started in the back of the pack in his heat, but immediately started putting in work to move through the field. He was 13th by the end of the first lap and continued to push - making it to seventh by the fourth lap. He put in a great ride and made an impressive charge aboard his Husqvarna FC 250 to knock off three more positions and finish fourth, earning a spot in the 250SX West Main. He got a good start in the main but cased the triple on the first lap and slammed into the tuff blocks, which put him at the back of the pack. He regrouped, navigated into 14th by the fourth lap, then worked his way into the top-10 by lap six. He continued to put on a great ride and finished the race in seventh. He is currently fourth overall in 250SX West rider point standings.
"I would say the night went alright," said Davalos. "It's just that during the main event Hill got checked up before the triple, and I was committed to it, and just decided last minute to not do it and just cased it pretty hard. I wanted to pull off. My back was out and my thumb was messed up so I was just trying my hardest to get some points. I did my best and got seventh. Luckily I'm going into a break so I can work on everything and recover a little bit. Hopefully I can do some 450 rounds, if not I'll be ready to battle until the end."
Anderson and Wilson will now make their way to the U.S. Bank Stadium in Minneapolis, Minnesota for the seventh round of the series, to be held next Saturday, February 18. Davalos will take a break as the 250SX East series commences and teammate Zach Osborne hits the track for the first time this year.
Arlington Supercross Results:
250SX West Main Event:
1. Justin Hill
2. Austin Forkner
3. Aaron Plessinger
…
7. Martin Davalos – Rockstar Energy Husqvarna Factory Racing
250SX West Rider Point Standings:
1. Justin Hill - 138 points
2. Aaron Plessinger - 117 points
3. Shane McElrath - 113 points
4. Martin Davalos - Rockstar Energy Husqvarna Factory Racing - 106 points
5. James Decotis – 91 points
6. Austin Forkner – 90 points
7. Dan Reardon – 72 points
8. Kyle Chisholm – 60 points
9. Jeremy Martin – 55 points
10. Phillip Nicoletti – 54 points
450 Main Event:
1. Marvin Musquin
2. Cole Seely
3. Jason Anderson – Rockstar Energy Husqvarna Factory Racing
…
5. Dean Wilson - Rockstar Energy Husqvarna Factory Racing
450 Rider Point Standings:
1. Ryan Dungey - 129 points
2. Marvin Musquin - 11 points
3. Cole Seely - 111 points
4. Eli Tomac - 100 points
5. Jason Anderson – Rockstar Energy Husqvarna Factory Racing - 85 points
6. Davi Millsaps - 83 points
7. Cooper Webb - 71 points
8. Chad Reed - 64 points
9. Dean Wilson – Rockstar Energy Husqvarna Factory Racing - 64 points
10. Broc Tickle - 65 points