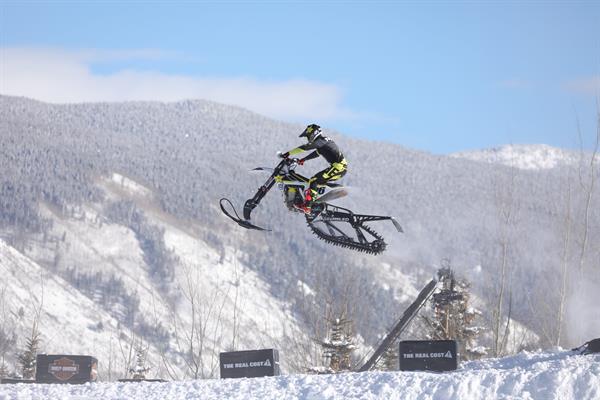 IMPRESSIVE RUNNER-UP RESULT FOR THE ROCKSTAR ENERGY HUSQVARNA FACTORY RACING RIDER IN ASPEN
With the first ever Snow BikeCross competition for Winter X-Games taking place last Friday in a snowblanketed Aspen, Colorado, Rockstar Energy Husqvarna Factory Racing's Colton Haaker raced his Timberseld-equipped FC 450 machine to a strong runner-up result.
Qualifying proved to be challenging for riders due to the altitude and cold climate. The snowmobile course was redesigned for the event with a tight motocross feel. Rockstar Energy Husqvarna Factory Racing's Colton Haaker qualified fourth aboard the Timberseld-equipped FC 450, yielding a fourth gate pick. Also racing alongside Haaker on a similar Timbersled-equipped FC 450 machine was X-Games veteran, Ronnie Faisst.
In the main event, Haaker got a sixth place start and pushed hard to make it out of the blinding snow. By lap five Colton was running in fifth and quickly made his way into fourth. Halfway through the race, Haaker found himself involed in a battle for the runner-up spot with Axel Hodges. Making the pass Colton was then able to ride smoothly. Putting in consistent laps he held onto second all the way to the finish thus earning for himself an X-games Silver Medal.
Rockstar Energy athlete and Husqvarna supported rider Ronnie Faisst started towards the back of the group. He rode hard on his Timbersled-euipped FC 450 and was able to make a couple of passes. Faisst finished in 11th place.
Final Results - X-Games Snow BikeCross
1. Brock Hoyer (Yamaha) 14:15.115
2. Colton Haaker (Husqvarna) 14:27.071
3. Cody Matechuk (Yamaha) 14:38.794
…
11. Ronnie Faisst (Husqvarna) 14:30.990