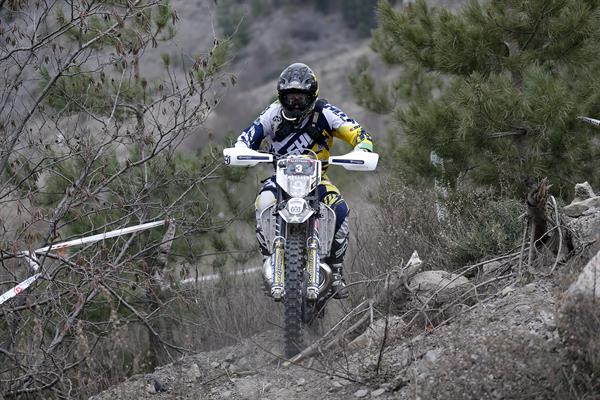 Graham Jarvis has claimed victory at the 2017 edition of the Ales Trem Extreme Enduro – his first ever win at the event held in Ales in the south of France. Finishing on top of the podium at the end of a brutal seven-hour main race Jarvis placed ahead of Spaniard Mario Roman and South African Wade Young.
As he has done so many times before Jarvis was in no rush to establish himself as the rider to beat, completing the first of three laps together with team-mate Billy Bolt, Jonny Walker, Alfredo Gomez, Mario Roman, Wade Young and Pierre Pallut. With two hours of racing under his belt Jarvis then battled against Walker, Roman and Young as event organisers increased the intensity levels.
Lap three started with rapidly fading light and Jarvis initially giving chase to Walker. But with Walker taking a wrong turn Jarvis was then joined by Roman. Working their way towards the finish Jarvis seized his chance to secure the win under the cover of darkness. Capitalising on a mistake by Roman, Graham put his experience to good use and in sneaking ahead he went on to secure a well-deserved win.
In his first international Extreme Enduro event as a member of the Rockstar Energy Husqvarna Factory Racing team Billy Bolt made an impressive start to the event by placing third in the opening day's night time Endurocross style prologue.
In the main race Billy was well placed among the top seven at the end of the opening lap. Completing the second lap without problems, the young Brit frustratingly failed to reach the finish after twice running out of fuel. Managing to get going the first time, thanks to the support of some of the event's amateur riders, with just three kilometres remaining, and in total darkness, Billy's race came to a premature end.
Graham Jarvis: "That was such a tough race. It's great to finally pick up a win here at Ales Trem, but that has to be one of the hardest days of racing I've done for a long, long time. The first two laps were long and demanding but it was the extreme stuff that they put in on the third lap that was the deal breaker. There were two or three places where we had to get off and push. At one point I wasn't sure if we were going to get to the finish. Thankfully, we made it. It was very close at the finish. Mario rode really well and it could have gone either way. Riding in the dark wasn't expected, and certainly made things interesting. It was tough, but awesome to win."
Billy Bolt: "As frustrating as it is not to have finished after twice running out of fuel, I'm pleased with the way I rode. I don't think anyone expected the race to be as tough as it was, especially the third lap. For the majority of the race I was battling with the main pack, so I am happy with that. Together with third in the Prologue there's plenty to be happy with. I wasn't the only one to run out of fuel. Onwards and upwards now preparing for the next event."