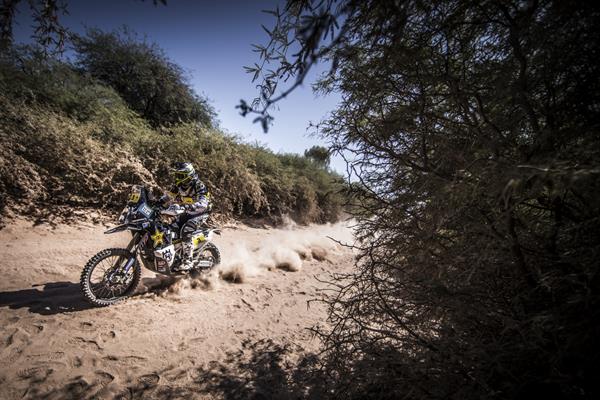 ROCKSTAR ENERGY HUSQVARNA RIDER NOW IN RACE RHYTHM
The Chilean rider, crowned FIM Cross Country World Champion in October, this year rides with the hopes of the South American rally fans and is aiming to improve on his podium third place from the 2016 edition. He is committed to stay in close touch with the lead riders throughout this two-week long epic and above all to deliver consistent results.
Quintanilla also has something of a 'home' advantage in an edition of the rally that sees riders competing at altitudes above 3500 meters throughout the first week, and in extremes of temperatures. The first two days have been hot and humid as they traveled from Asuncion in Paraguay into the north or Argentina. On Tuesday they headed west from Resistencia to San Miguel de Tucuman, a total distance of 803km, of which 275 km was the timed special.
Quintanilla said it had been a long day. "We started at 4.30 in the morning with 420 km of liaison, and that was difficult. But then we started the special and it was really fast for 150 km, with some dangerous parts with water. I started very well and then I caught up to another rider at 60 km. Then I had to ride in the dust until I got past him at the 130 km mark. After that I rode alone and I felt really good with the bike and with the road book, and I think it was a good day. Now we are in the race rhythm so its good for tomorrow and the days after."
Once in the clear and riding alone, Quintanilla turned up the gas after the third checkpoint and came home in sixth in the stage and overall.
Rockstar Energy Husqvarna's Pela Renet, contesting his second Dakar Rally finished the stage in 21st position with a deficit of 12.27 minutes. He maintains the same position overall and is currently 13.09 minutes off the leading time.
In Stage Two Riders again experienced temperatures in the high 30s Celsius, a factor that Renet mentioned after completing the stage: "It was really warm today. I was also not feeling too confident at the beginning but as the stage went on I felt better and better. In the end I can say I'm happy with how it went. I'm not sure what to expect tomorrow but I think it's going to be a tough one."
Stage Two (Resistencia-San Miguel de Tucuman): 803km, 275 km Timed Special)
1. Toby Price (AUS), KTM, 2:37.32 h
2. Matthias Walkner (AUT), KTM, + 3.22 min
3. Paulo Goncalves (PRT), Honda, + 3.51
6. Pablo Quintanilla (CHL), Husqvarna, + 4.48
21. Pela Renet (FRA), Husqvarna, + 12.27
Overall after Stage Two
1. Price, 3:07.17 h
2. Walkner, + 2.39 m
3. Goncalves, + 2.54
6. Quintanilla, + 4.26
21. Renet, + 13.09