Product:
Brake! LED Taillights
Product Type: Saftey
Manufacturer: Gizmo Mill -
Seems to gone out of business.

Product Rating: 9 (out of 10)
Retail Price: $115.00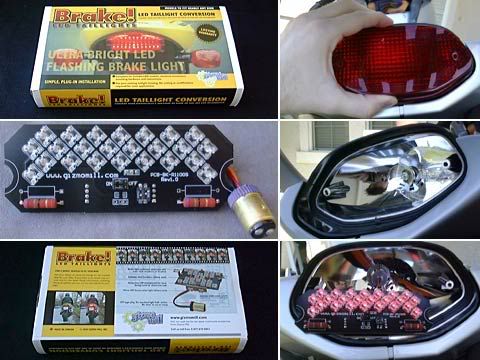 Visibility is a key element in motorcycle safety. Since they are smaller motorcycles can be difficult to see. Many motorcycle accidents are the result of drivers not seeing the motorcycle. All too often drivers in their cars, trucks and SUVs are not even looking for motorcycles. As a rider it's your responsibility to make yourself seen. If the other drivers are not looking out for you, then you have to what you can to communicate your presence.
There are a number of ways you can make yourself more conspicuous out on the highways. Brightly colored clothing, using your high beam during the day, always using your turn signals are a number of ways you can communicate your presence to other drivers. Technologies such as headlamp and taillight modulators have been around for some time and were created for the safety of the rider.
There are a number of different taillight modulators on the market and there are also many different LED brake lamp replacement units available. Gizmo Mill has taken these two ideas and brought them together in a unique and engaging manner.
When properly implemented LED taillights are brighter and more visible than traditional incandescent lights. LED lamp modules also consume less power and produce less heat than traditional bulbs. The brighter LED lamps are alone one benefit of the Brake! kit. The real enhancement that Brake offers is with it's strobe effect. When the rider applies the brake, the module strobes for several seconds, and then stays on like a regular brake light. It's very visible and its behavior makes it unmistakable to other drivers that you are preparing to stop. The module offers three settings for the duration of the strobe effect and compatibility with ABS braking systems.
Installation of the Brake! kit, couldn't be easier. The LED conversion kits fit your existing taillight housing without any cutting or permanent modifications to your bike. You don't even need to snip any wires in most cases; it simply plugs into the existing light bulb socket. To make the kit even better the LEDs are designed specifically for the automotive industry, and are rated to last over 100,000 hours.
The kit is constructed very well and comes with well detailed and professional installation manual. I was able to complete the installation in less than 15 minutes. I am very impressed with this product and I would recommend it to anyone looking a good safety modification for their bike. Gizmo Mill has a number of kits for specific bikes as well universal fit kits.
Was this review helpful to you? Please post and let us know.