Product:
q-JAYS
Product Type: Earphone
Manufacturer: Jays
URL:
http://www.jays.se
MSRP: $179 (Excluding VAT) Street: $229 USD

This is the third in a series of reviews I am writing about audio products suited to the motorcycle rider. If you haven't yet read
my introduction
, you may want to take a moment to read it before you get into this review.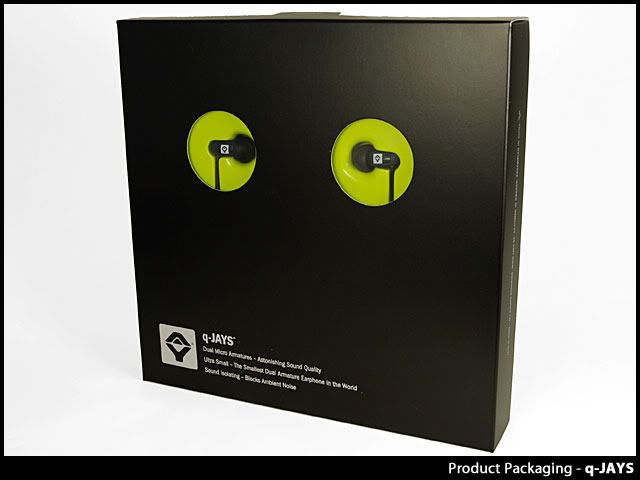 Founded in 2006, the company simply known as Jays is the manufacturer of these earphones. Headquartered in Sweden, Jays launched the q-Jays in 2007. In addition to the q-Jays, their product lineup includes three other earphones and two full sized headphones. Compared to their other products, the q-JAYS are the smallest and lightest earphones Jays has to offer. In fact these earphones are currently the smallest earphones available, period.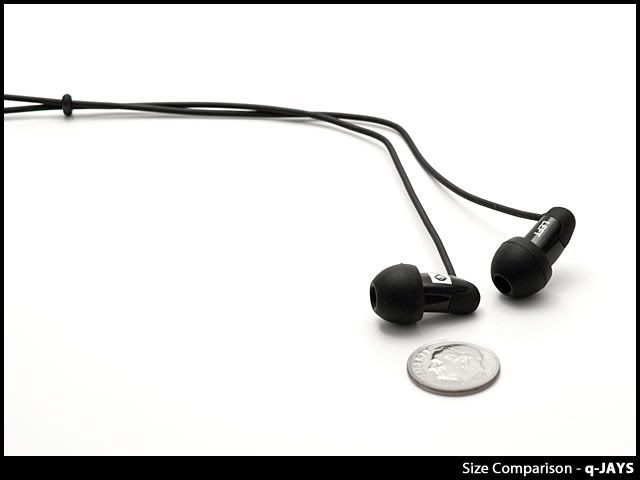 Off the Bike
I want to start this review with one simple statement; The q-JAYS sound simply fantastic. The q-JAYS started drawing me in from the moment I began listening to them. I knew I was listening to something special during my first session with these earphones. I found myself wanting to audition the q-JAYS with more and more tracks in my collection. I quickly went through many of my favorite tracks while thinking to myself, "Oooh, I wonder what that song will sound like." This had me jumping from track to track listening to passages that I know and love. What cemented my instant admiration for the q-JAYS was the discovery of a new musical element in one of my top rated tracks. In a deliberate half second pause near the beginning of "You Make my Dreams" by Hall & Oates I noticed the decay of the effect applied to the note just prior to the pause. Keep in mind this is a track that I have listened to many, many times before and this was the first time I ever noticed this element of the music. When an audio product reveals something new in a track you have been listening to for years, you know you have something special.
The q-JAYS are something special indeed and for good reason. The q-JAYS employ a dual armature design. In other words, there are two independent drivers for each ear. Having two unique drivers in each earphone allows the q-JAYS to deliver precise treble, rich midrange and deep bass. Like a two-way speaker that uses an independent tweeter for treble and woofer for bass, the designers and engineers have managed to squeeze both a tweeter and a woofer into these diminutive earphones. In fact the dual micro armatures used in the q-JAYS are the smallest in the world.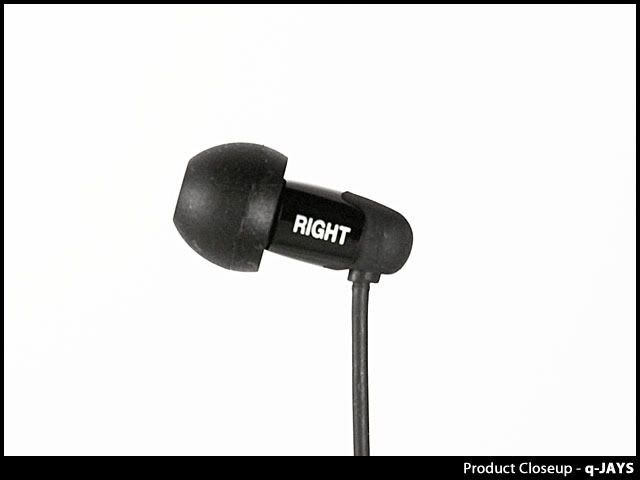 Describing how something sounds inevitably leads to comparisons. I can only compare the q-JAYS to other earphones and headphones that I have already experienced. My collective experience with headphones and earphones up till this point is still somewhat limited. However, I can tell you this... The q-JAYS are the most expensive earphones I have ever tested. While a higher price tag doesn't always mean a better product, in this case I can say that it does. In terms of sound quality, these are the best earphones / headphones I've had the opportunity to audition.
Now that you know how the q-JAYS sound allow me share some additional details. Jays includes a full set of accessories with these earphones. In addition to the earphones Jays includes a stereo splitter, airline adapter, carrying case, replacement filters, two different extension cables, foam ear tips and seven (yes seven) sets of additional silicone ear tips in sizes ranging from large to extra-extra small. While the package is quite complete, I do have one or two complaints.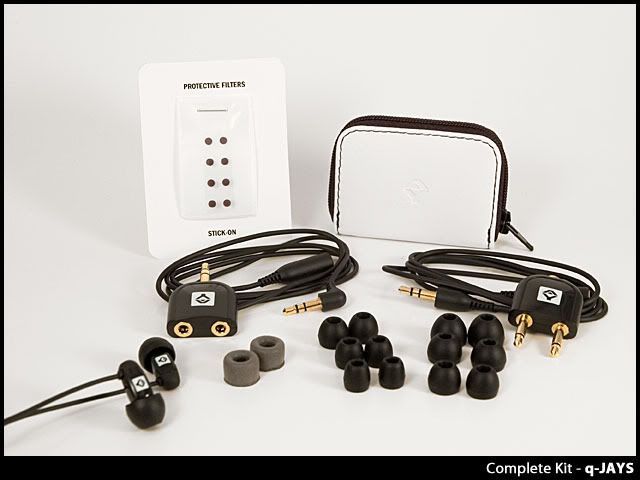 First of all, while the carrying case looks fashionable with it's white leather exterior and plush bright green interior, it's barely useable. The case is so tiny I found it difficult to store the earphones and one extension cord inside the case. I imagine the designers wanted to reinforce the tiny size of these earphones with a tiny case. Had they made the case even just a little bit bigger, it would be much more useful. Also absent from this package is a shirt clip. I found myself missing this accessory when I was riding. It's nice to have your earphones attached to something so they don't accidentally fall to the ground at say, a gas station. Finally, it would have been great if the q-JAYS came bundled with an inline mic/mute controller for use with cell phones and late model iPods. Jays does make an inline controller for the iPhone called the m-JAYS but it's only available as a bundle with the j-JAYS earphones and costs about $90. If you need one of these controllers there are other products you could pair with the q-JAYS.
On the Bike
The q-JAYS don't have any hard edges and that makes them very comfortable to wear under a full face helmet. All the corners and edges on the body of the earphones are smooth and rounded. With the cheek pads of a full or 3/4 face helmet pushing against your ear, a larger earphone or one with sharp edges could cause some discomfort. Due to their small size, I didn't have any problems with the q-JAYS getting dislodged from my ear when putting my helmet on, another problem that is common with larger ear buds.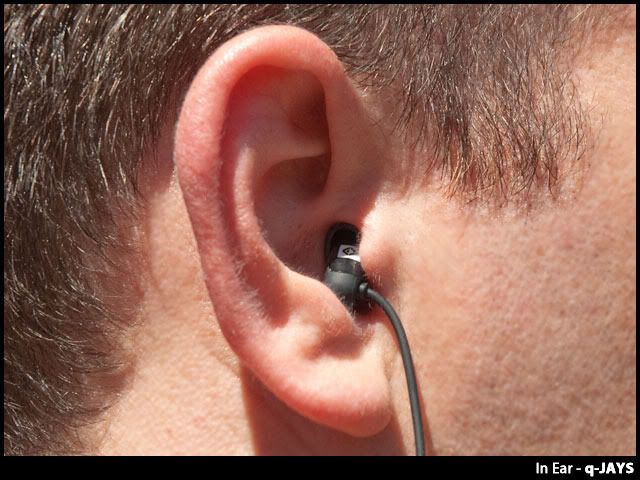 The single flanged silicon tips offered decent isolation but I personally would like a bit more. The foam tips improve the isolation from outside noise but I prefer the feel of the silicon ear tips. At speeds up to 70 mph I found the silicon tips offered enough isolation that I could still hear the music over the wind noise but a tri-flange tip would block out more noise. While I prefer more isolation some riders may appreciate a little less so that they can feel a bit more connected with their bikes and their surroundings.
The q-JAYS are rated at 39 Ohms which means that I had to turn up the volume on my iPhone a little bit louder than a with an earphone rated at 16 Ohms. This did not effect the overall output as the q-JAYS are efficient at 95 dB. What does all this mean? Simply put, the q-JAYS are plenty loud enough for motorcycle riding.
I have found that bass response tends to drop off on a motorcycle as wind noise increases. At faster speeds the low end of a track seems to disappear. While testing the q-JAYS I didn't find this to be any different. There was still some perceived loss of bass as the wind noise increased. Proper insertion of the earphones and a good seal will help with this. Overall, the sound quality of the q-JAYS remains in tact while riding.
Conclusions
Their tiny size, comfortable fit, and impressive sound make the q-JAYS and excellent choice for motorcycle riders. However, I'm afraid their higher price tag may be a turn off for some buyers. For those with a discerning taste in earphones, the dual armature design truly delivers an excellent balanced sound. I find it amazing that earphones this small can sound so good. Should you decide to purchase the q-JAYS you won't be disappointed. They are really a treat to your ears.
Pros
Excellent sound quality
Comfortable fit on and off the bike
Great selection of included ear tips
Cons
Expensive
No bundled shirt clip
Included case too small
Product Rating
7 (out of 10)
Testing Details
I tested the q-JAYS with the built-in headphone jack on my Apple Macbook Pro and with the iPhone 3G. I did not test the q-JAYS with a headphone amp because most riders will use these earphones connected directly to an iPod or another MP3 player. Listening tests were conducted with both CD Audio files and files compressed with lossless compression formats such as FLAC and Apple Lossless. Riding tests were conducted while riding a stock 2005 Yamaha FJR 1300 with a 5 cm taller Givi brand windscreen. The windscreen was typically positioned about midway in the adjustment range. While using the included silicon tips, at slower speeds below 45 miles per hour typical wind noise rejection was good. At speeds between 45 and 75 miles per hour isolation was decent but some wind noise was heard. At speeds above 75 MPH, wind noise began overpowering the music.
References
q-JAYS Page on the Jays Website -
http://www.jays.se/products/earphones/q-jays.html