Product:
ER6i (a.k.a. 6isolator)
Product Type: Earphone
Manufacturer: Etymotic Research
URL:
http://www.etymotic.com/
MSRP: $139

If you haven't yet read
my introduction
, please take a moment to look at it before you get into this review.
This is the first in a series of reviews I am writing about audio products suited to the motorcycle rider. Even though, the Etymotic Research 6i earphones were not designed specifically for motorcycle riders, many will find them to be a great solution. In fact, I have discovered a number of riders are already using the 6i earphones.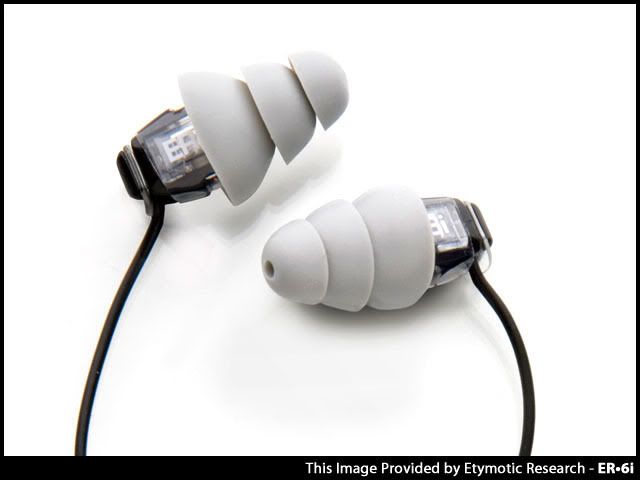 Etymotic is an ancient Greek word meaning "true to the ear." Developing "true to the ear" products has been Etymotic Research's mission since 1983. In addition to noise-isolating earphones Etymotic also produces products for hearing professionals and high quality hearing protection products for musicians or anyone who needs hearing protection.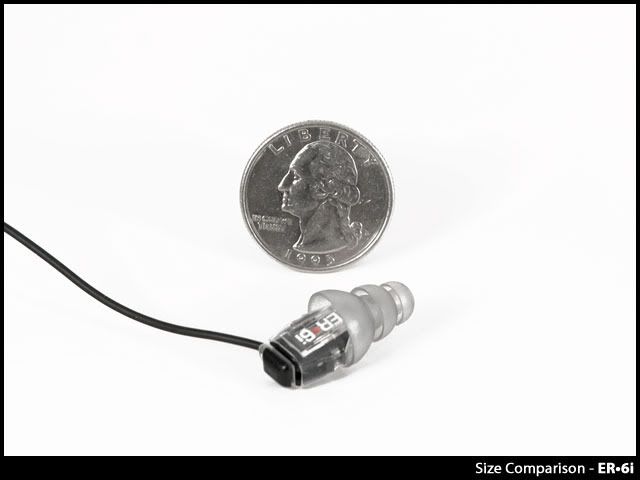 The 6isolator are high-fidelity in-ear earphones. They differ from typical earbud style earphones, like those included with the Apple iPod and other portable MP3 players, in that the earphone is designed to be inserted into the ear canal. This difference is what allows the 6i earphones to offer greater isolation from outside noise. It's the 6i's ability to isolate external noise which make them a good candidate for motorcycle riders. Etymotic claims the 6i offers 34-36 dB of noise isolation. Typical disposable foam earplugs offer 29-33 dB of isolation. In other words, the 6i earphones offer a great deal of isolation and hearing protection.
The 6i earphones weigh in at less than one ounce and can be purchased with a white or black cable. The five foot cable terminates with a typical 3.5 mm angled stereo plug. The 6i earphones are rated at a low impedance of 16 Ohms. The low impedance rating means that they can be driven easily with the lower power headphone amps commonly found in computers and portable players. Etymotic also includes three sets of ear tips, a set of replacement filters, a filter changing tool, shirt clip and a carrying pouch. Some buyers may find the $139 MSRP a little steep for a pair of earphones. Let me assure you the 6i earphones offer a much nicer listening experience than earbuds you can pickup at the checkout counter of your favorite electronics retailer. Additionally, you will find street prices are much lower than the MSRP.
Off the Bike
I'm not going to go into great detail on the sonic qualities of the 6i in this review. There are already plenty of great reviews of the 6i which you can easily find online by typing ER6i into your favorite search engine. Let me also remind you that listening experiences are very subjective. What sounds great to one listener dosn't always sound so great to another. Having said that, I tested the 6i earphones off the bike and compared them to four other headphones in my collection. While testing I listened to several different high quality lossless audio files from many different musical styles. Sonically I found the 6i earphones to be accurate without sounding too clinical. The 6i are capable of producing a great range of frequencies from low bass notes to the highest highs. While the 6i do deliver low and deep bass frequencies without any problem I'm afraid some buyers will find them a bit lacking in the bass department. When I compared the 6i to a pair of Sony Fontopia MDR-EX51LP, I found the inexpensive Sony earbuds produced more bass. The Sony earbuds are however nowhere near as accurate as the Etymotic. Sony probably artificially boosted the bass response at the expense of accuracy.
Fitting the 6i earphones takes a bit of practice and more patience than your average earbud. My recommendation to any potential buyer is this, "Don't give up on these earphones too quickly." Try using the 6i for a short period of time at first and then increase your exposure by gradually extending your listening time. Etymotic includes two sizes of 3-flange silicon eartips, foam eartips and glider eartips. The glider eartips are the ones that look like little mushrooms. Try all of the different tips to see which ones you prefer.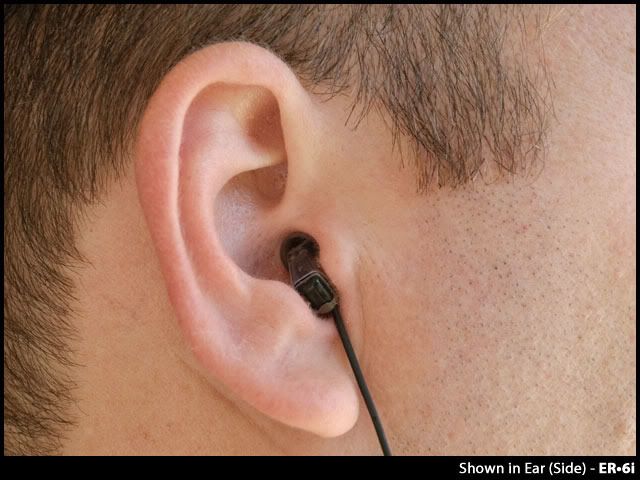 When it comes to learning how to insert the 6i into your ears, read the manual first and follow the directions. Etymotic also has a short but informative video on their website on the proper insertion technique which I recommend. Getting a proper fit with the 6i is crucial to get the best performance from these earbuds especially when it comes to the bass response. If you do not get a proper seal you will not get the full range of sound and the bass response will be quite weak.
After a few trial runs over the course of a few days I found a drastic change in the comfort of these earphones. Initially, I found the 6i difficult to insert and somewhat uncomfortable to wear. Now I can easily insert the earphones and after a few minutes they almost disappear to the point where I forget I'm wearing them.
This is my first experience with earphones that insert into the ear canal. I think part of the experience was simply learning the anatomy of my ear. For example when I insert the 6i into my ears I point them forward towards my face and slightly up. Before wearing the 6i I just assumed my ear canals pointed inward. I also believe that my ear canals are slight different from the right side to the left. My left ear canal is a bit smaller than the right. Another aspect to achieving the proper fit is isolation. If you don't properly insert the 6i you will not get the full isolation from outside sounds that the 6i earphones have to offer. An improper fit results in a diminished frequency response range. As a result I have settled on using the gray 3-flange eartip in my right ear and the smaller clear 3-flanged eartip in my left.
On the Bike
One of my personal goals as I mentioned in a
previous posting
was finding a earphone that I could use while riding that would also offer some hearing protection from the dangerous sound levels often present on a motorcycle. According to one study, common noise levels while riding a motorcycle regularly reach 90 dB(A). At that level the CDC recommends you limit your exposure to just two and a half hours per day to prevent the possibility of hearing damage. That rules out any kind of motorcycle touring. By wearing hearing protection you can reduce your exposure to harmful noise levels and therefore increase your permissible exposure time. As I mentioned earlier Etymotic claims that the 6i deliver anywhere between 34 and 36 dB of isolation. I don't have any scientific method of testing this claim but I will say they seem to offer about the same level of isolation as a pair of disposable foam earplugs I tested. The manufacturer of the foam earplugs claims 32 dB of noise reduction. A little less than than the 6i earphones.
Going with the assumption that 90 dB is the common noise level while riding a reduction of just 5 dB to 85 dB would be enough to increase your permissible exposure time to 8 hours. So even if the 6i were only able to deliver half of their claimed level of reduction you would be in the clear for safe all day motorcycle touring. Of course, this also assumes you don't crank the volume of your music up to unsafe levels. Of course, noise levels are different on each type of motorcycle. Some helmets will be quieter than others. Different windshields and faring designs will effect noise levels as well as different engine and muffler types.
The size and fit of earphones is another important factor for riders wearing full or 3/4 face helmets. If the earphone is too large it will either be uncomfortable while wearing under a helmet or it will become dislodged from the ear when pulling your helmet over your head. Prior to receiving the 6i my earphones of choice for riding were the Sony Fontopia earphones I mentioned earlier. They would frequently get pulled out of place by the foam cheek pads in my full face helmet. I'm happy to report this is not a problem with the 6i earphones.
Conclusions
I just completed a 4 day motorcycle vacation with a group of 16 friends. Over the course of the four days I logged 1080 miles on my odometer and we averaged about 6 hours of riding per day. I wore the 6i earphones the entire time. During the course of the trip the earphones never became dislodged from my ears under my helmet and never broke the seal in my ear canal. The level of isolation the 6i offered was excellent! It was this isolation that allowed me to listen to music at significantly lower levels. The combination of isolation and lower listening levels reduced the ear fatigue I commonly experienced after the end of a long day of riding while wearing other earbuds under my helmet to zero.
Another problem I often experienced with other earphones worn under my helmet was pain and discomfort. A helmets cheek pads will interfere with larger earbuds that stick out too far from your outer ear. The cheek pads will rub on the earbuds when you move your head and cause them to shift in your ear. This will either break the seal or put pressure on your ear. Either way this can become uncomfortable or downright painful in a short period of time. The 6i do not extend beyond my outer ear at all. Therefore, they don't rub on my cheek pads and I never experienced any discomfort.
When I take into consideration all the factors: sound quality, noise isolation, comfort, fit, bundled accessories, construction, and price I can honestly say the Etymotic Research 6i earphones are a great solution for motorcycle riders. I also believe that with online prices for these earphones hovering at $75 - $80 the ER6i represent a good value for the money. While these prices may still seem expensive to individuals who are used to paying $10 - $15 for earbuds I believe you will find the ER6i earphones are well worth the additional expense. I have no problem recommending this product to other riders.
Pros
Excellent fit and no interference with full face helmet padding
Excellent isolation from external noise
Good selection of bundled eartips allowing you to find the proper fit

Cons
Bass response a bit weak for some styles of music
Takes a bit of time to properly insert into ears
Product Rating
9 (out of 10)
Testing Details
I tested the 6i earphones with the built-in headphone jack on my Apple Macbook Pro and with the iPhone 3G. I did not test the 6i with a headphone amp because most riders will use these earphones connected directly to an iPod or another MP3 player. Listening tests were conducted with both CD Audio files and files compressed with lossless compression formats such as FLAC and Apple Lossless. Riding tests were conducted while riding a stock 2005 Yamaha FJR 1300 with a 5 cm taller Givi brand windscreen. The windscreen was typically positioned about midway in the adjustment range. At slower speeds below 45 miles per hour typical wind noise rejection was excellent. At speeds between 45 and 75 miles per hour isolation was still quite good but some wind noise was heard. At speeds above 75 MPH, moderate levels of wind noise were able to be heard.
References
Earphone Insertion Video on Etymotic Website -
http://www.etymotic.com/ephp/er6i-eiv.aspx
ER6i Page on Etymotic Website -
http://www.etymotic.com/ephp/er6i.aspx
CDC / NIOSH Publication on Noise Exposure -
http://www.cdc.gov/niosh/docs/98-126/chap1.html#11