The Apple iPod, love it or hate it, there's no questioning the iPod is more popular than any other portable media player (PMP) on the market. The iPod holds a massive 70% of the market share for portable MP3 players. Building on the success of the iPod and iTunes, Apple launched the iPhone in June of 2007. It was trial by fire for the iPhone which was was released into and already competitive smartphone marketplace with the likes of Palm, Research In Motion's Blackberry and a number of Windows Mobile smartphones. The iPhone was late to the game so Apple had to get it right if they were going to compete.
Now in it's third incarnation, there's no doubt that the iPhone is a popular smartphone option. Gartner, a leading technology research company, recently reported that Apple's share of worldwide smartphone sales reached 10.8 percent in the first quarter of 2009. Almost 11 precent of the market from a company that's only been in the smartphone game since mid 2007 is a great achievement. The success of the iPod and iPhone is undeniable.
Regardless of how successful the iPod and iPhone may be, it's obvious the designers and engineers at Apple where not thinking about motorcycle riders when they built these devices. Safely controlling a device like an MP3 player while in motion on a bike can be somewhat of a challenge. A gloved hand isn't nearly as nimble as a bare finger.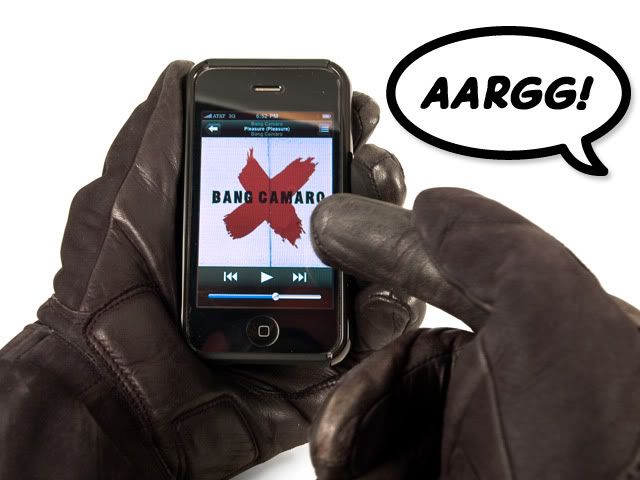 With the exception of the third generation Shuffle, all of the current iPods and iPhones have at least one control feature that can not be operated without a bare finger. The click wheel on the iPod nano and the iPod classic both use a touch sensitive ring to navigate through the menus and control the volume. The click wheel works much like a touchpad commonly found on a laptop. You can't operate the click wheel through the fabric or leather of a motorcycle glove. The iPod touch and and iPhone use a more advanced touchscreen but for riders the result is the same. The touchscreen can't be operated while wearing a glove.
To complicate matters further Apple continues to make changes to their product line. Many third party accessories designed to work with older iPods no longer work with the latest iPods or the iPhone. Right now it seems that the accessory manufacturers are still trying to catch up with the latest changes Apple has implemented in their product line.
I suppose it would be easy to just simply dismiss the iPod and iPhone as products suited for a motorcycle rider but I'm willing to bet there are plenty of riders out there that already own an iPod or an iPhone. For those that already own one and for those who are thinking about buying one of these übergizmos, I thought it would be nice to introduce you to some products that can make using these devices while riding a possibility.
In the coming weeks I'll be posting a few articles and product reviews which take a look at equipment for listening to music while you ride. I'll look at this equipment through the eyes of a rider. I'll share with you what works and what doesn't, all from a riders perspective.
First, I'll be reviewing some helmet friendly earphones. I will also be looking at a product that gives riders tactile controls they can use in conjunction with the latest iPods and iPhones. In other words, old fashioned buttons you can use to control your iPod or iPhone, even while wearing gloves. Finally, I'll give you some ideas on how you can extend the usable battery life on these devices so you're tunes don't run out before you do.
Update 9/19/2009
The first two reviews are now published. Here are direct links.
Etymotic Research 6i Earphones Review
Griffin Navigate Controller for iPhone and iPod

Stay tuned, there's more to come.