To continue the saga:
I was gifted a complete '92 CB750 Nighthawk with the top end apart. The PO said he stripped out a plug thread and instead of repairing it, he bought a used cylinder head. Well I'm putting the bike together and now it's time to put on the head. Both heads have all the valves still installed. Do I need to lap the valves if they haven't been apart?
Also, the "refurbished" head has evidence of detonation, I think I know why that bike was parted out! This is the refurb head that doesn't have the stripped plug threads, but it does have this damage on one cylinder: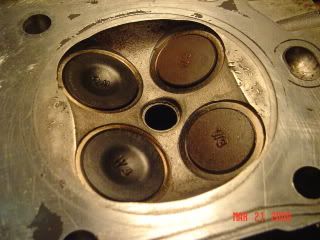 I can fix the original head with a helicoil, if chasing the threads with a tap doesn't work.
Is this head in the picture decent to run?