Site Supporter - Platinum

Posts: 4528
Joined: Fri Nov 28, 2003 2:05 pm
Sex: Male
Years Riding: 41
My Motorcycle: Multistrada, SuperDuke 990, Africa Twin
Location: Calgary AB, Can
Hanson wrote:Great photos.... thanks so much for sharing.

Safe Travels,
Richard
And thank you for the kind words.
---
Site Supporter - Platinum

Posts: 4528
Joined: Fri Nov 28, 2003 2:05 pm
Sex: Male
Years Riding: 41
My Motorcycle: Multistrada, SuperDuke 990, Africa Twin
Location: Calgary AB, Can
Now it's really been about 15 months since I completed this trip and admittedly the details are becoming a little hazy as time passes on. This is the very reason that I started this "blog" back in 2006 in order to help me remember all of the great roads, and the ups and downs of each trip. There has been many times where I have ended up standing where I had stood before, but not realized it until I am there again in the moment. I also have memories of great roads from trips past, which I cannot find and often spend years looking for them! So for that reason - I need to do better

And I'll get after posting details from the past 15 months worth of rides over the next couple of months

One of my first detours once I entered Colorado was in to a place called Lake City. There was a interesting bridge across a man-made lake that then meandered up the hill. I initially thought about just riding it for a few miles before heading back to my previous road but once up the hill I was rewarded with a great twisty road across the rolling countryside. It was nothing like I expected to find on this part of the trip and it kept me enjoying it, and perhaps pushing the big Viffer a little harder than I should have been for many miles. As the road tightened up and trees began to line the way my interest peaked and caused me to want to go the complete distance in to this little town. Is was a cool little place and I am glad I made the trip, but after a short look around and a stop for fuel I was back headed for my previous destination. This time however the VFR seemed to be a little more comfortable on the rolling twisty road and license threatening fun ensued. Overall, a great detour. Fortunately for me, no handcuffs or jail time occurred for my little indiscretion...


A quick shot of the man-made lake at the exit for the road to Lake City......interesting enough to lure me in.

The tail end of the road at Lake City - but looking back where I had arrived from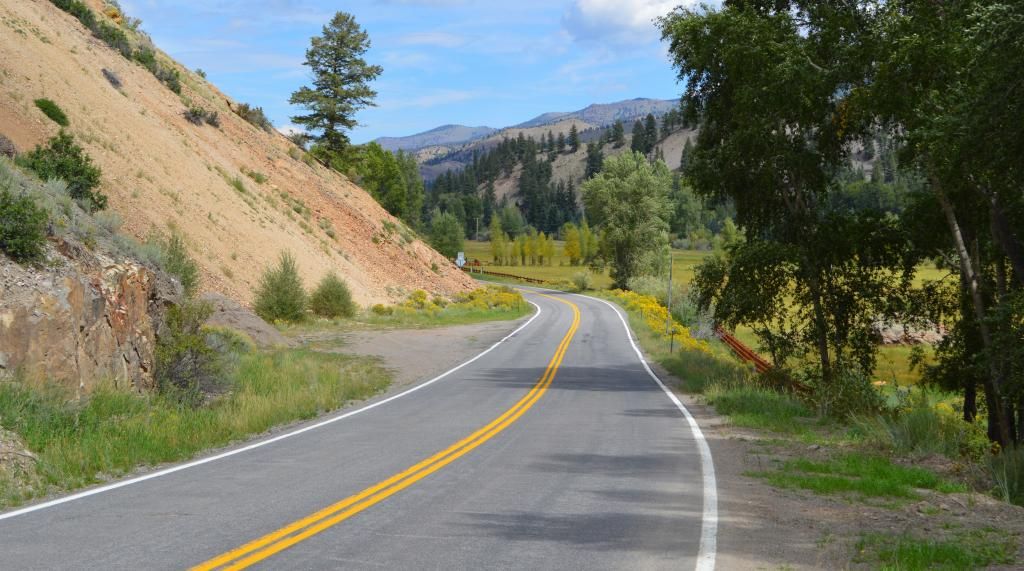 The city limit sign says "Lake City - Elevation 8671 feet(!)". It doesn't feel like this kind of altitude on this warm early September day, and it certainly didn't feel like I had climbed a long ways to get there. But, as I would soon find out, all of Colorado is at a high elevation and often it doesn't feel like you have climbed that far only to find out you are at 12000'. Where you do notice this however is when you are off of the bike and going for a short hike!
I suppose that this would be THE "Lake" in Lake City Colorado....
Seems someone else had a similar idea.....on a not so similar bike.

To be continued....
---
Moderator

Posts: 10182
Joined: Fri Apr 22, 2005 4:28 pm
Sex: Female
Years Riding: 16
My Motorcycle: 2000 Yamaha V-Star 1100
Location: Vancouver, British Columbia
The lake at Lake City looks idyllic.
---
Site Supporter - Platinum

Posts: 4528
Joined: Fri Nov 28, 2003 2:05 pm
Sex: Male
Years Riding: 41
My Motorcycle: Multistrada, SuperDuke 990, Africa Twin
Location: Calgary AB, Can
The slow realization of the additional time I spent in Moab was starting to take hold, and I had to face this reality when I considered my time remaining. Should I take another southern swing down to visit the Canyons of the Ancients and cut some of the mountain passes out as a result? Not this time, but definitely the next.

Decision time it is. I got in this mess by taking extra time in Moab.....and it was completely worth it! Next time though I will be turning south right here!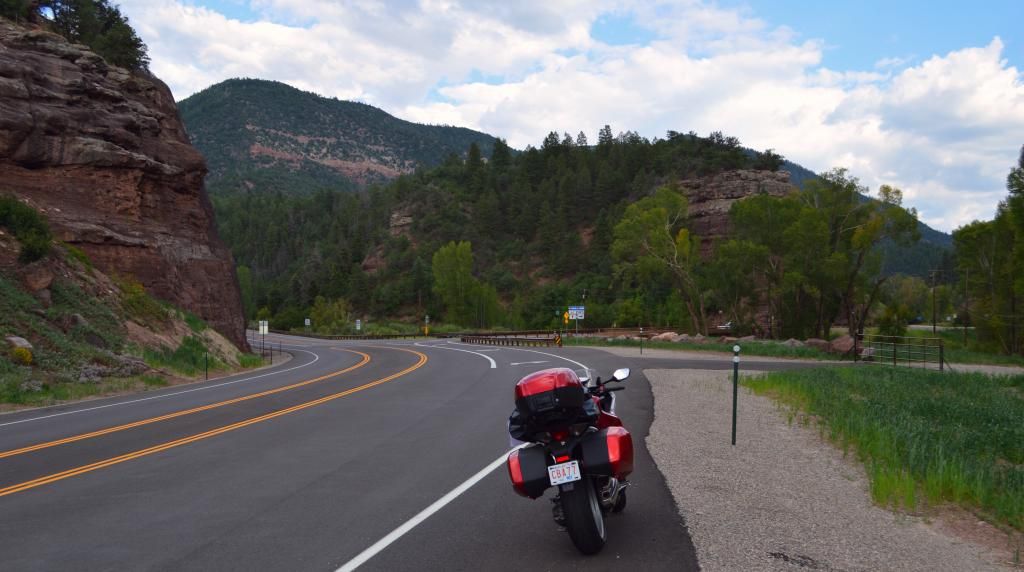 The next couple of days were spent cruising as many mountain passes as possible, seeing back roads, small towns, and meeting some of the nicest people that I have met while traveling in the USA. It makes a compelling argument to want to live there. It just so happens that we have a US office in Denver.......hmmmm....
As I head towards these mountain passes I get a nice short rain shower that cuases me to stop just long enough to close the vents on the Tourmaster suit. My reward for doing so? This great little rainbow:
Part way up Independence pass I stop to take in the view. While I would later get a shot from a higher vantage point, an elderly gentlemen and his wife offered to take a picture of me with my bike following a thorough discussion on the Honda and VFRs in general. It seems you really do meet the nicest people on a Honda - if these two were any kind of an example.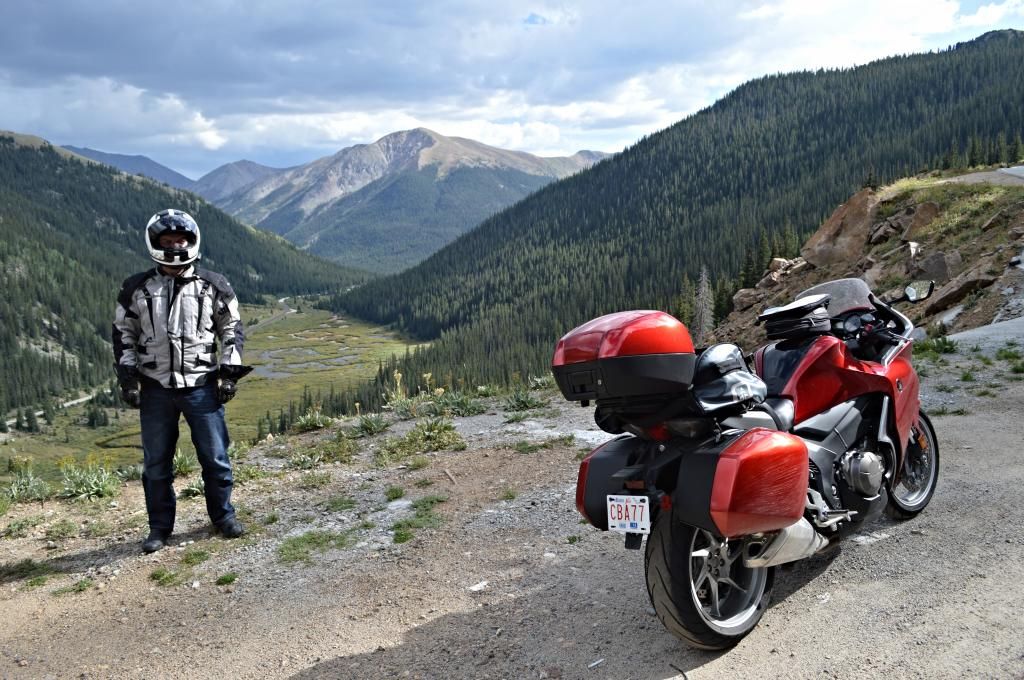 A little further up the pass I get a better picture of the big Viff. Although it took me a long time to come around on the looks of this bike, in the flesh it really is a nice looking ride. The pictures fail to do it justice in my opinion. One of the things I will miss about that bike (but more about that later). For now I actually take a little time to just enjoy the view:
At this point it she has seen a lot of rain - still looks good in pictures though....
With the ever present threat of rain above I manage to get a picture with decent light of the famous "Independence Pass elevation 12095' ". I feel as though I have arrived at my destination for this trip, however there were many more passes to come! (I also have a shot with the VFR in front of the sign but my
bike-in-shot
average is running a little high at the moment

)
I have to say it again - the really curious thing about these massive Colorado mountain passes is that you really don't
feel it
on the way up. Because you also start much higher than some of the passes in the Canadian Rockies the feeling is that of something much more modest. The lack of straight edged rock walls also leaves the impression of going up a really big hill, rather than a mountain. Not that there is anything wrong with that - it just wasn't exactly how I pictured it...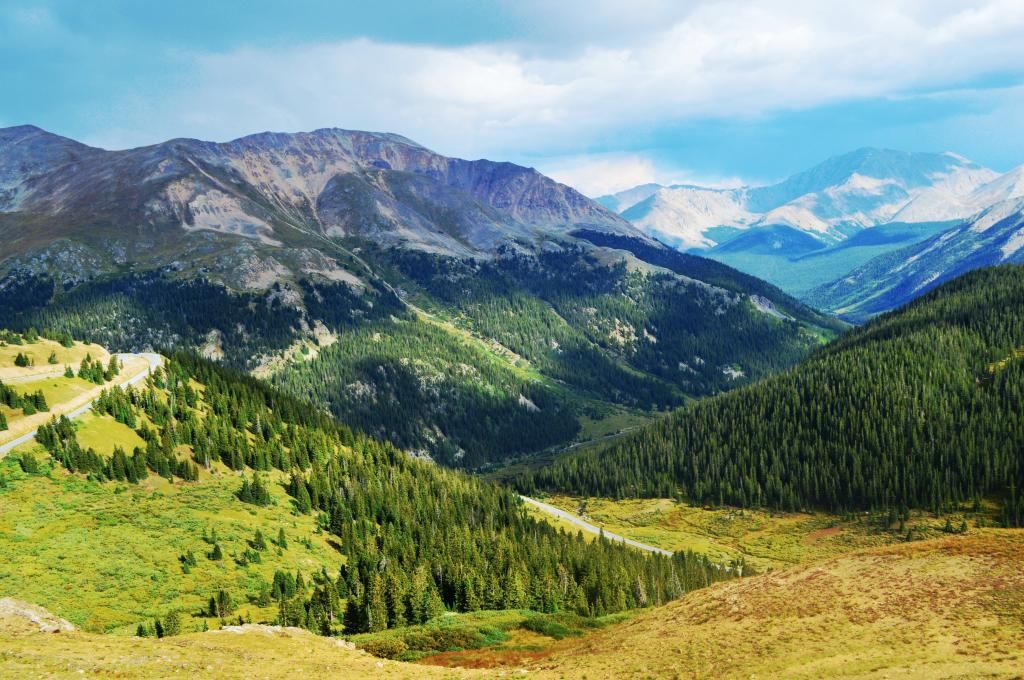 To be continued....
---
Site Supporter - Platinum

Posts: 4528
Joined: Fri Nov 28, 2003 2:05 pm
Sex: Male
Years Riding: 41
My Motorcycle: Multistrada, SuperDuke 990, Africa Twin
Location: Calgary AB, Can
When I arrive at Mount Evans I receive the worst news of the trip. It seems that in all of my lack of planning, I failed to find out that they close the top piece of the mountain after labour day. I am all of a few days short of the mark

. The big disappointment that this was to be the grand-daddy of them all, and I saved the biggest and baddest for last. The good news was that I could still go up to the lake at 12830' and check it out.

Again a lot of this kind of road with no sharp cliffs to bring home the fact that I was traveling up the highest paved road in North America....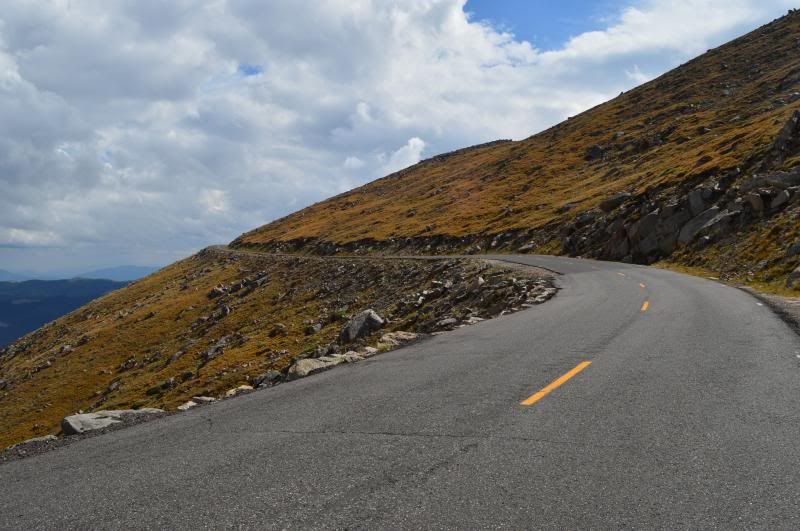 When I arrive at the top I am greeted with this very cool little pathway and a pretty little lake. I consider going around the barrier and making a run for the top but apparently they really frown on this kind of thing around here....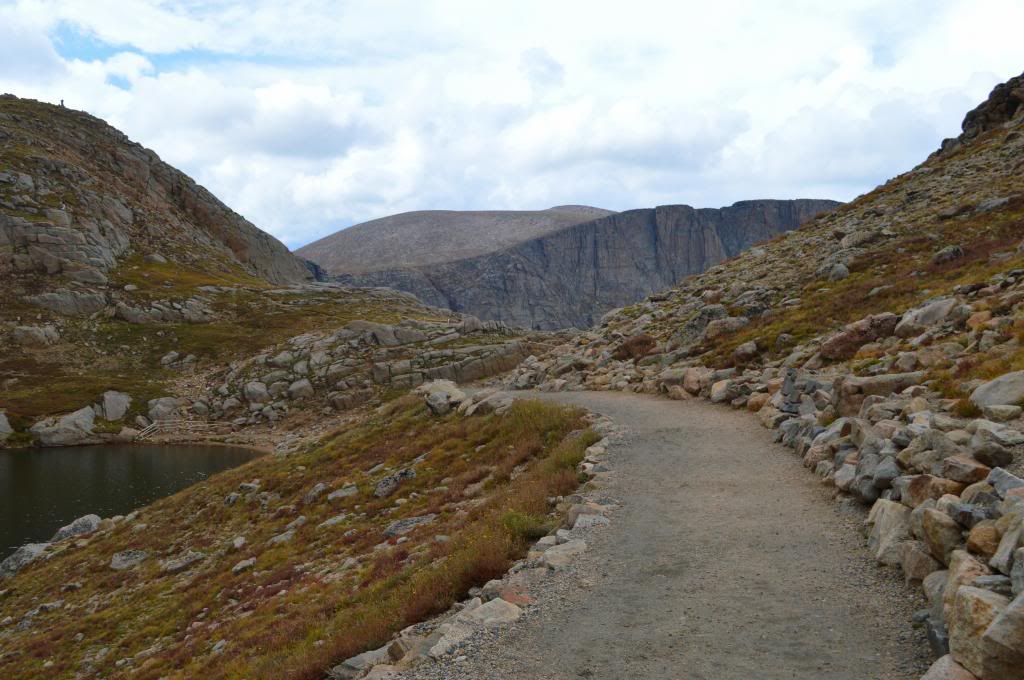 Ummmm, Uh-oh
While I am standing high up on Mount Evans I can't help but notice this peculiar cloud overhead. I should have considered the potential of such a strange looking beast while I was standing at 12800' but I'll blame the lack of oxygen for my extremely poor judgement. If you think back to the the Colorado floods of September 2013, well, this cloud was the very start of it - and once it started to rain, it did not stop! Well, sort of didn't stop - it very quickly turned to snow as I hurriedly tried to get the hell off of this mountain. A mix of freezing rain, snow, and almost zero visibility had me a little more worried than I have been for along time on a motorcycle. I feverishly tried to balance the need to not slip on the icy roads, and not over ride my very limited vision, with my need to try to ride the hell out of it before I could not ride any further - and yes it was that bad! It seemingly took forever but eventually I rode out of the snow, and have never been so glad to ride in rain in my life! As I took shelter at the first gas station as I left the park I pondered my options:
1.) Go east to Denver and get caught in the afternoon rush hour traffic, all while riding in this torrential rain.
2.) Head north over Berthoud pass for the most direct but higher elevation ride home.
Being on a very constrained schedule made me opt not for the delay of rush hour traffic, and instead chose the Berthoud. I would very soon start to second guess this decision as I took the seemingly endless ride up the mountain in the driving rain at near freezing conditions. The second guessing came in to play and the bike nearly turned around to head for Denver, but the constant thinking that I am almost there kept me going. It's difficult to imagine that it was quite this bad when you see the picture of the summit below but as fate would have it I got just enough of a break from the rain to get a picture.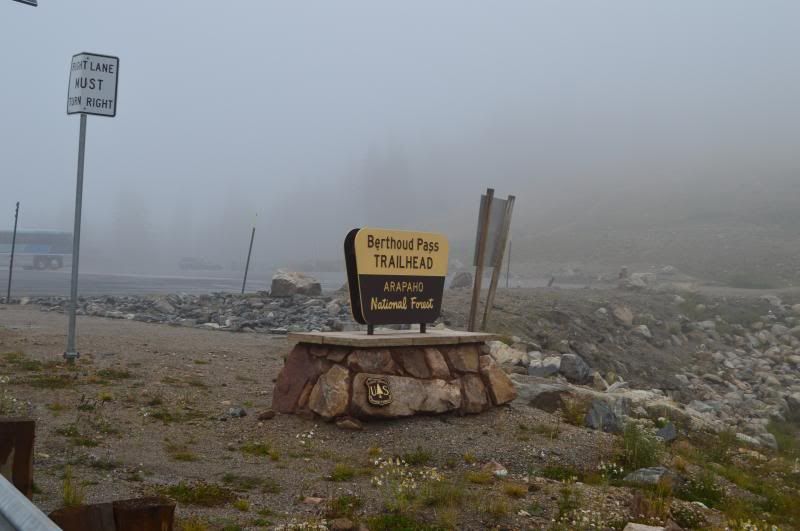 Somewhere between the Berthoud Pass and Montana, there was a whole lot of Wyoming and even more rain. What was missing was a place for gas and just as scarce was a place to sleep. I was cold when I left Colorado and it was already getting late in day at the time. Now I am getting miserable and the sun is going down. The one town on the map that gave me hope ended up having two houses and an old windmill.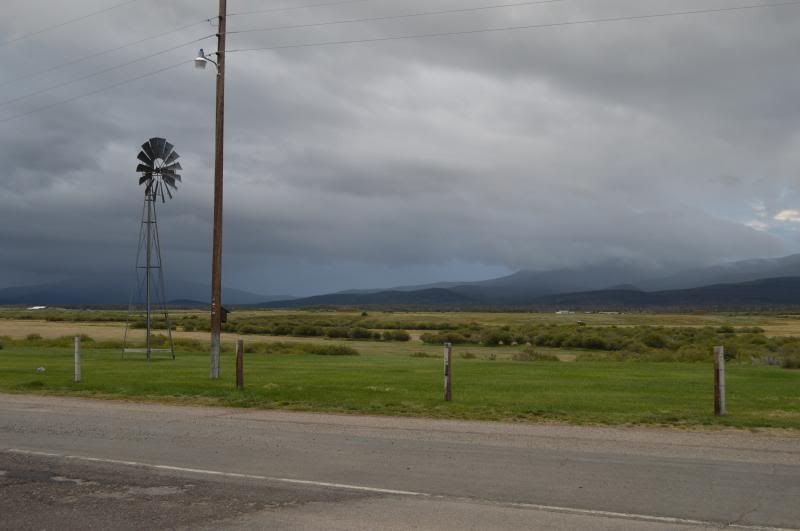 With the Viffer on fumes, the temperature cold and the time getting late a little oasis of a town appeared in the middle of nowhere Wyoming. I can't think of another time when I have been so glad to be done for the day. From here it would be a two day blast across speed liberated Montana and speed constrained Alberta. I get to spend these two days reflecting on how lucky I was to have finally pulled this off. Utah and Colorado were something much more than I expected - I can't wait to go back!
---
Site Supporter - Platinum

Posts: 4528
Joined: Fri Nov 28, 2003 2:05 pm
Sex: Male
Years Riding: 41
My Motorcycle: Multistrada, SuperDuke 990, Africa Twin
Location: Calgary AB, Can
It seems a lot of water has passed under the bridge since my last update. The big VFR did a lot of things well but just wasn't the inspiring ride that the older smaller bike was. It excelled at lightening fast straight line speeds but honestly was a flawed handler at a 90% pace. While it was in for a valve adjustment a first year 2010 Multistrada came up on Kijiji with 1000km on the clock and I knew I had to make it mine. Visions of gravel road adventure danced in my head and shortly thereafter the VFR had a new home with a new happy owner.
The Multi on a mid-winter back-road ride
The Multistrada has proven to be an great sport-touring beast. It's amazing how well it handles with a neutral riding position and the seat is far and above anything else that I have ridden. If it only had electronic cruise control it would be the best distance bike that I could imagine. The fairing is effective enough, but this is the one area where the VFR1200 had it beat. The adjustability however is much appreciated, allowing me to quickly raise or lower the shield on the fly (well, it is supposed to be parked) through a range of four inches. After installing a radiator guard and lower header protection I was off to explore some gravel on my new "adventure bike".
While the stock 80/20 (road/off-road) Pirelli Scorpions were effective enough on the street the bike proved to be absolutely scary on a gravel road. With the weight up high and the stock tires feeling liek bowling balls on the gravel it proved to be a slow going white knuckle affair. Honestly I think that stock vs. stock just about any lower sport bike I had could handle gravel better than this thing. I had suspected this going in, as the Multi came stock with 17" wheels, and sporting ride on the street was still a priority for me, but I really had no idea how bad it could be. If I am honest though, although I grew up dirtbiking and riding gravel, it had been years, and my sport-bike riding style would take a while to readjust back to riding with the front end loose like you do on a dirt-bike. Still, I wanted the bike to be better, cue the Continental TKC80s in the spring of 2015.

Even the bike shop where I had them put on had reservations. There was the wtf and holy f$#! when they saw the tires and felt the bike rumble as the knobbies passed beneath it as they rolled it out of the shop. One look by me and I had flashbacks to when I was 11 years old and had ventured on to a paved road on my XL100 with full knobbies only to crash about 3 minutes in when I found out just how bad knobbies and pavement mix. Luckily however I had done my research and while people lie almost as much about their tires as their love life on-line, TKC80s were getting rave initial reviews in their 17" sizes. Just the same, I rode it like a grandmother and only slowly eased up to the street limits. The ease at which the abs kicked on, and the bikes tendency to break the rear wheel loose vs. wheelie served to remind me to keep my enthusiasm in check on the street.
The TKC80s on dirt and gravel though were a revelation. While there was no getting away from the fact that this was a street bike in adventure bikes clothing, confidence could be had. No longer was I riding on marble covered ice, but I now had something that I could work with. The number of roads available to me just tripled and this put a smile on my face on just about every ride. I could now ride down an easy cut-line, and pretty much every kind of gravel and while this was no dirt-bike, it took me back to the freedom I had when I was 14, with a Yamaha DT200 that I road illegally thanks to my dad plating it and cutting me loose on the farm. Pretty great stuff.
The only trouble in the mix was the first year troubles that come with an Italian motorcycle. The rear brake and clutch require almost constant bleeding, and these problems were magnified when I finally took it back to the local dealer here in Calgary and got reminded of the modern Ducati service experience. I had originally composed a diatribe of my negative experience with the service manager for this blog, but it was frustrating enough that I ultimately didn't want to poison these pages with the negative experience. It was negative enough however that I (temporarily) concluded that it outweighed my love affair with Ducati's and my frustrations led to a knee jerk reaction: I drove across town and put money down on a recently shown prototype - the Honda Africa Twin. For a guy who does the bulk of his own maintenance the dealer experience at Ducati should not have caused me to throw in the towel so easily and ultimately I found a much better option for service locally who weren't hell bent on screwing their customers. I highly recommend Motorrad Performance in Turner Valley Alberta for anyone requiring Ducati service in the Calgary area.
I didn't know it at the time, but the Africa Twin was over a year away for delivery and I continued to enjoy the Multi for the remainder of the summer and it continued to remind me of just how incredible of a machine it was almost every time that I rode it.
---
Site Supporter - Platinum

Posts: 4528
Joined: Fri Nov 28, 2003 2:05 pm
Sex: Male
Years Riding: 41
My Motorcycle: Multistrada, SuperDuke 990, Africa Twin
Location: Calgary AB, Can
*Note - my reluctance to take my nice canon camera off-road led me to use my phone for the pictures in this post. I'll be looking for something a little better for my off-road rides in 2017!
As the year kicked off I was keen to do some gravel road exploring, and not knowing when my new Honda would arrive, I kept a set of knobbies on the Multistrada. Obviously it is well beyond the original mission for the bike but surprisingly it worked quite well - as long as it wasn't serious cut-line riding. Some of my favorite guys to ride with belong to my local riding group and have recently retired from working but are just ramping up on their riding time. These guys set the bar high on how to do retirement right and honestly I'm quite jealous of the year that they had. On any beautiful day I would text one of them to see if they wanted to go riding when I finished work and often they were already out there.
In order to get them together for a ride with this working stiff I would have to organize something on a weekend that would be new to everyone but close enough that we could cover it in a day, or perhaps two separate day rides from home. With the help of Google Earth I started zeroing in on the Porcupine Hills in southwestern Alberta. It's an interesting place over 100km in length with a major highway on the east side and a busy two lane highway to the west. The hills themselves appear relatively small (although they are not) as they sit in the shade of the Rockies to the west and without a paved road crossing them, many semi-local people such as us Calgarians never bother to explore them. This seemed like the perfect spot to go get lost and look for a little adventure so with a route that illustrated roads
almost
going through and trails
appearing to connect
the missing bits we were off for adventure. There was even a little village called Lyndon that appeared on the map at near maximum zoom so it couldn't be too far off the beaten path...or so we thought.....
Paul is all smiles on his new GS as we stop to take in the view of the Rockies about 5 minutes in to "Northern" Skyline Road
"Santa" Craig and the boys gaining elevation on an old logging road that would feel like a freeway compared to what was to come....

[/i]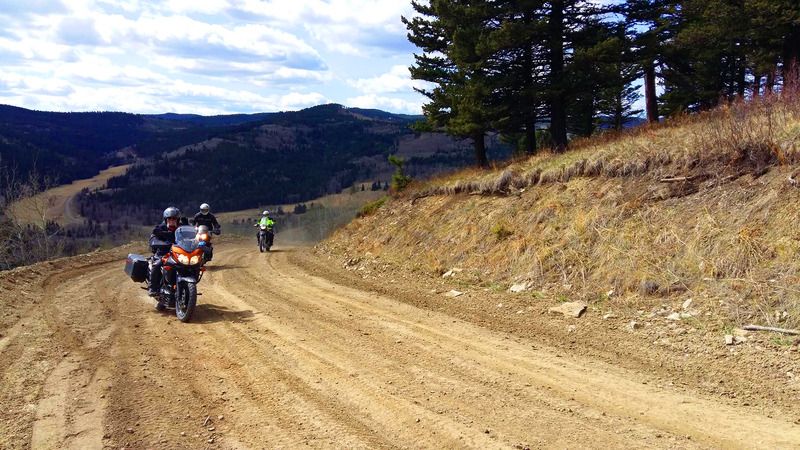 Kevin pauses while leading on his 690 KTM to let everyone catch up as the road deteriorates to mud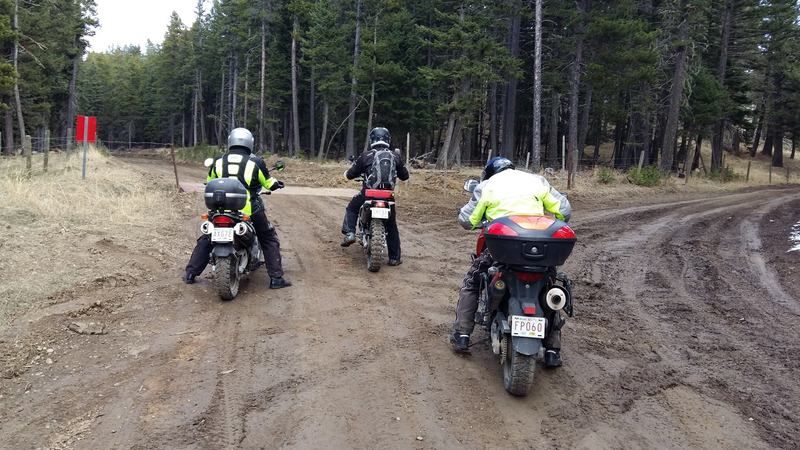 As we approached the top of the hills the trail became extremely greasy but the optimist in all of us decided that it was likely not going to be a deal breaker and it would add to the fun. Suddenly one of our best riders inexplicably fell as we were crossing one particularly nasty mud-holed stretch so we pause to take a break. As it turns out he was just the first of several low fendered bikes that would have their front wheels lock due to build up of clay. Fortunatly for myself the straight up knobby tires I had to endure on the ride down the highway to the hills were the ticket in this situation and managed to clear the mud just enough that I didn't have any problems. The bikes with the semi-knobs or solid ridge around the center of the tire were not so lucky but are almost certainly better off the other 98% of the time.
Ken "Malkovich" and Paul share a laugh as we wait to see what the commotion is all about ahead on the trail at the beginning of what would be a couple hours of mucking around...
Photo Credit - Paul: Once away from the mud our troubles were not over. We fabricate make-shift tire floss out of tie wraps to clear the caked on mud from under the V-Strom's fender.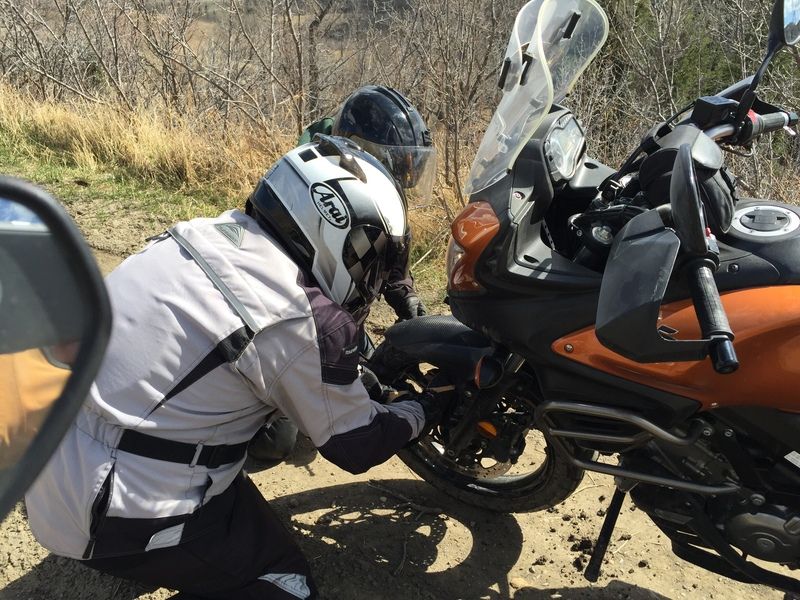 Photo Credit - Paul: With the mud finally behind us we pass the ranch that apparently made up the village of Lyndon on google and reach a civilized road.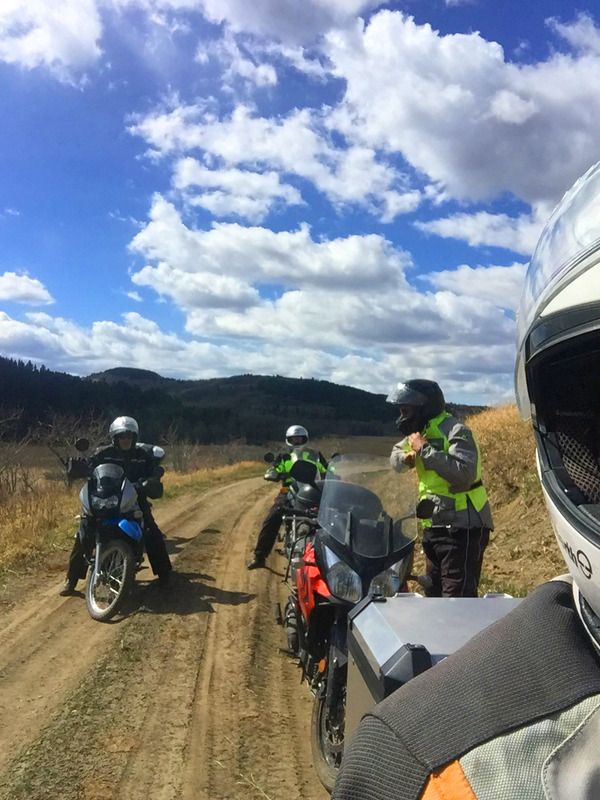 And then - the second day....

In order to get to the back roads of the Porcupine Hills southwestern Alberta a good portion of pavement must be travelled. As our ride was in early June twice on this day we found ourselves in a cattle drive as the ranchers moved their livestock to the hills for the summer....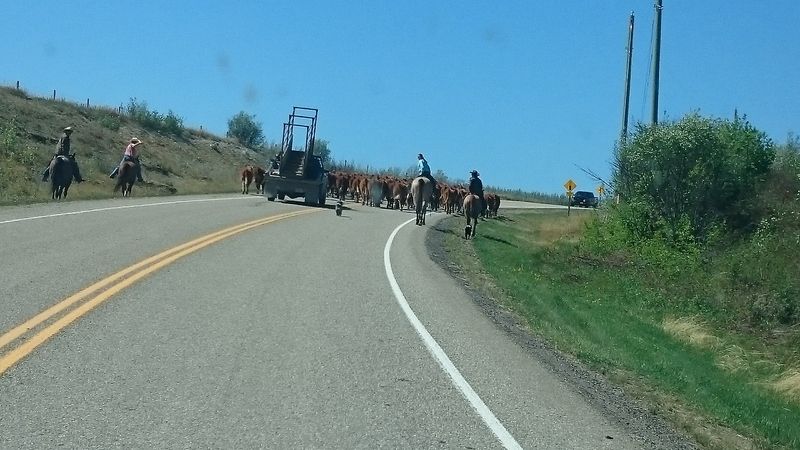 Just 30km in to our second run at the Porcupine Hills and we are already down two soldiers. One had a flat with a tubed tire and without a kit to fix it on any of us, another buddy ran to get his truck. We regroup at the corner of Township Rd 141A and Range Rd 13B and prepare for some of "the good stuff"...
For our second day we would take Skyline Road south to some trails that again, looked like they may connect where google said the road ends. Despite the troubles of our first day, everyone agreed that it was a great time and we were all looking to explore the hills a little further. Ultimately however the route I had planned led to some big-adventure-bike-limiting cow trails and a day-changing steep
dirt-bike-only
drop that only the CRF250 that was with us was willing to endure. With the route replotted and a short period of being not "lost" but perhaps directionally confused, we found a beautiful route out along the southern peaks of the hills.
It didn't take long on that first day to find a great view along the top of skyline road.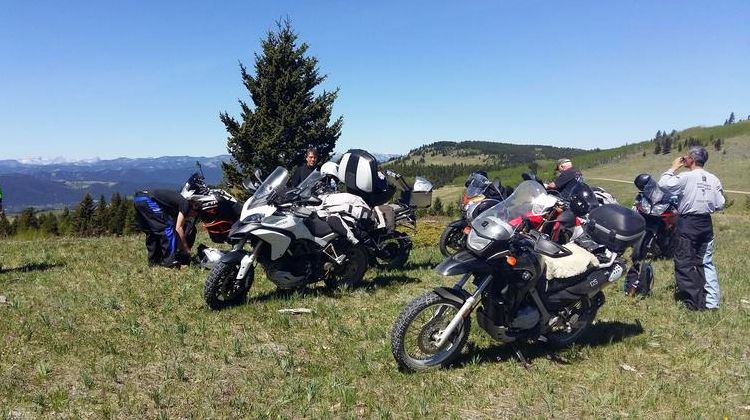 Shortly after the picture above was taken we find ourselves on a big-bike-challenging cow trail complete with large ruts and mudholes. As I was the guy who had planned this route I was beginning to feel the tension that comes with being responsible for making sure guys have fun but don't damage their expensive toys. Despite some of the crazy conditions I never heard anyone complaining which was great because I wouldn't have blamed them if they did!

The boys take a break after a mud-hole crossing...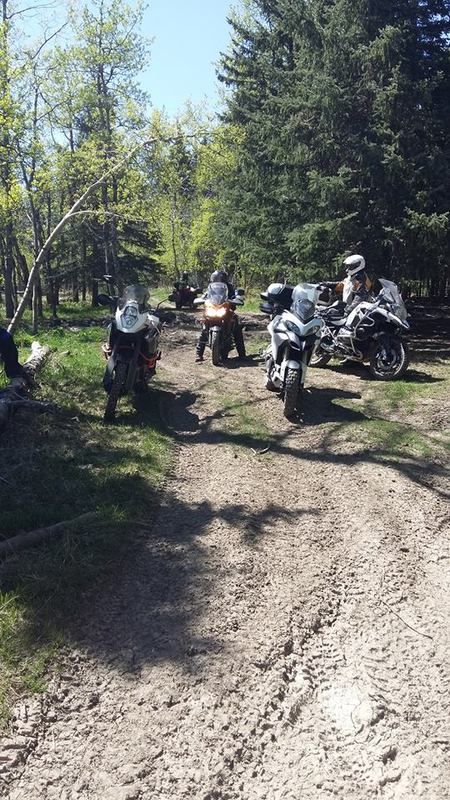 I had to keep reminding myself that the cast 17" wheels on the Multi were at risk as I bounced over ruts and rocks keeping up with the 1190 KTM Adventure R on this route to nowhere. I had dropped the pressure down to 26lbs and while the grip of the TKC80s was impressive the small diameter of the wheels caused them to get redirected by every rock and rut along the way. Ultimately however we reached an end point where the trail down the hill was too much for 500lbs + Adventure bikes and we would have to turn back. The reward however was a great view.

Tom takes a look easterly beside an unmarked grave.....perhaps the last rider of a big adventure bike that tried to get down this hill???
After retracing our steps, some confusion and ultimately asking some ATV riders for direction (who thought we were nuts for riding where they were riding), we ultimately found ourselves on good road and back to the eastern side of the hills to start the ride back home. Another great day with no injuries, only one flat tire, and good friends.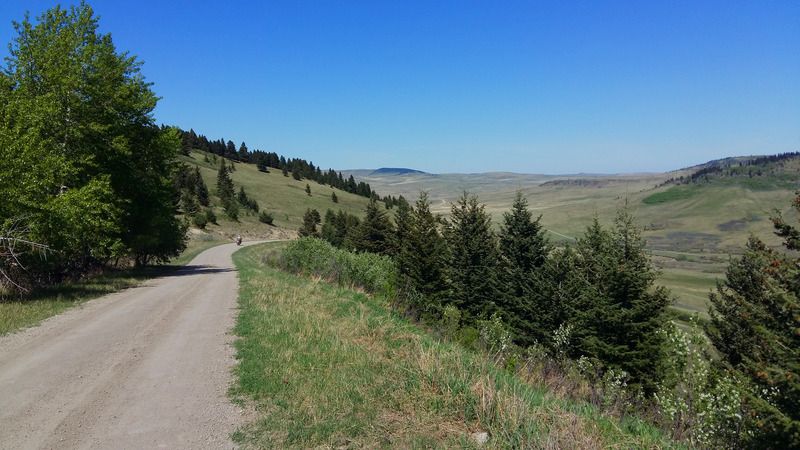 ---
Site Supporter - Platinum

Posts: 4528
Joined: Fri Nov 28, 2003 2:05 pm
Sex: Male
Years Riding: 41
My Motorcycle: Multistrada, SuperDuke 990, Africa Twin
Location: Calgary AB, Can
Posting a hello to see if any forum people are still around? Its been years but it used to be great fun discussing rides in here! So please say hello if you are still around....
CHEERS!
High_Side.
---
Administrator

Posts: 29669
Joined: Sat Nov 22, 2003 1:00 pm
Real Name: Mike
Sex: Male
Years Riding: 32
My Motorcycle: 2013 Moto Guzzi V7 Stone
Location: Winnipeg, Manitoba
NEW 2024 Motorcycle Model Guides
2023 Motorcycle Model Guides
Total Motorcycle is official Media/Press for Aprilia, Benelli, Beta, Bimota, BMW, Brammo, Buell, Can-Am, CCW, Ducati, EBR, Harley-Davidson, Honda, Husqvarna, Husaberg, Hyosung, Indian, Kawasaki, KTM, KYMCO, LiveWire, Moto Guzzi, Moto Morini, MV Agusta, Norton, Phantom, Piaggio, Polaris, Ridley, Roehr, Royal Enfield, Suzuki, Triumph, Ural, Vespa, Victory, Yamaha and Zero.
---
Site Supporter - Platinum

Posts: 4528
Joined: Fri Nov 28, 2003 2:05 pm
Sex: Male
Years Riding: 41
My Motorcycle: Multistrada, SuperDuke 990, Africa Twin
Location: Calgary AB, Can
Thanks for the welcome Mike, I hope you and Andrea have been well. And congratulations on the traffic too, as I know how much work you put into the site.

Looking back, I have countless adventures that I haven't covered here yet, but wasn't sure if anyone was watching. I'd love to post more trips if anyone is interested.
---