Inspiration Friday: Allure & temptation of Ducati's Darkness Tour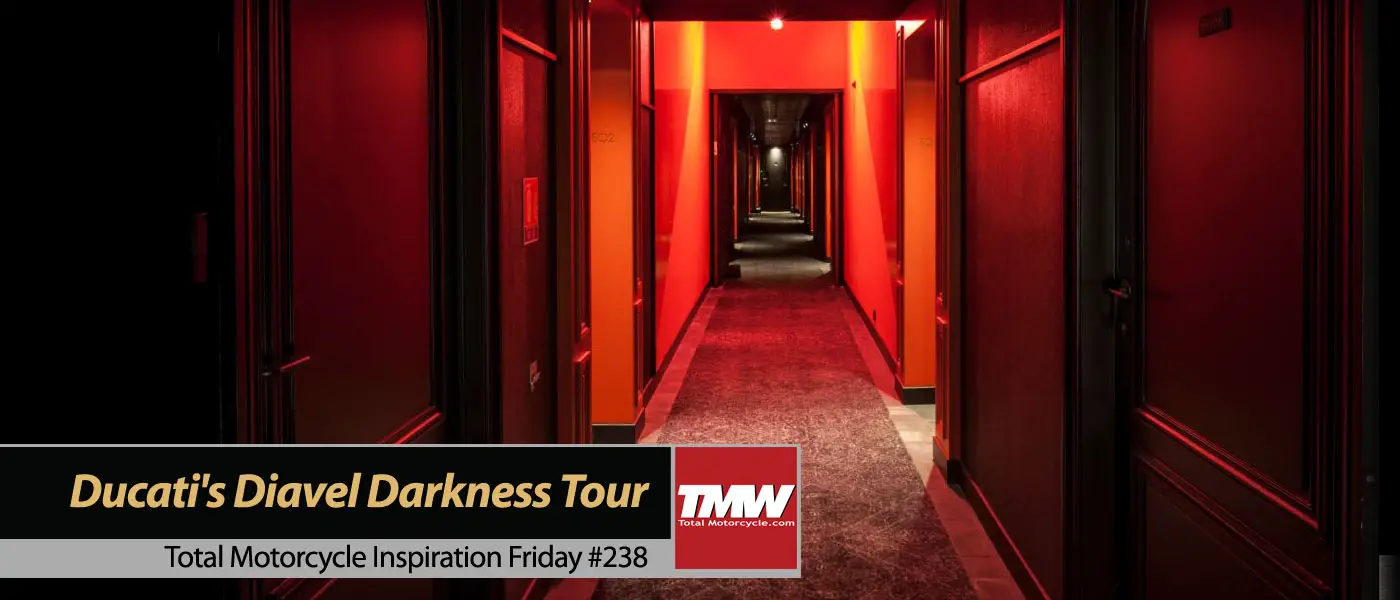 https://www.totalmotorcycle.com/inspira ... ness-tour/
Enrobe yourself into the delicate sensation of the Diavel. Venture into the dark. Alluring refined atmospheres of sophisticated taste will define your pilgrimage through unmistakable metropolises venues of Amsterdam, Paris, Brussels, London and New York City. Bewitched Moonlight Studios (New York City), suggestive Sinner Restaurant (Paris), tantalizing TheMerode Club (Brussels), captivating The Gherkin (London) and ravishing Klibansky Gallery (Amsterdam) await you. Your torch is lit to descend into Ducati's darkness…
Welcome to the inspiring dark side of Inspiration Friday: Allure & temptation of Ducati's Darkness Tour, week #238 on Total Motorcycle.
Before you go into the darkness, make sure you equip yourself with our 2023 Motorcycle Model Guide and 2023 Ducati Motorcycle Model Guides. Both will offer up the tome of knowledge you are seeking.
2023 Ducati XDiavel Nera
Total Motorcycle would like to thank Ducati, Moonlight Studios, Sinner Restaurant, TheMerode, The Gherkin and Klibansky Gallery as well as our hundreds of millions of motorcycle riders and enthusiasts who visit and support TMW for inspiring us to bring you this week's Inspiration Friday: Allure & temptation of Ducati's Darkness Tour. Each week we bring you another Inspiring Motorcycle story to inspire you to get out and ride.
Join Total Motorcycle here and help us by joining Total Motorcycle's new YouTube Membership and $1/mo Patreon channels. Please help us help riders, support motorcyclists and motorcycling worldwide today.
2023 Ducati XDiavel Nera
Ducati Design Stars Around The World With The "Diavel V4 Design Nights"
The new Diavel V4 takes center stage in New York, Paris, Brussels, London and Amsterdam with a series of exclusive events
With its muscular and unmistakable design, spectacular lighting system and the four-outlet silencer, the Diavel V4 is designed to convey boldness and attract attention in any environment
Andrea Ferraresi, Ducati Centro Stile Director: "The Diavel family is the perfect expression of the unique design philosophy Ducati applies to each of its creations"
Diavel V4 is available in Ducati Red or in Thrilling Black
Ducati design is taking center stage around the world with a series of international events dedicated to the new Diavel V4. After winning over the experts thanks to the enjoyability of its performance and the riding dynamics between the curves of Jebel Hafeet at the Riding Première held in the United Arab Emirates, the unmistakable style of the Diavel V4 has been the protagonist in metropolises such as Amsterdam, Paris, Brussels, London and New York City with the "Diavel V4 Design Nights".
During these five exclusive evenings, Ducati presented one of this season's most eagerly awaited new models to an audience of invited guests, keeping a special focus on the design of a family of motorcycles which over the years has become a true style icon. The locations of all the events were selected with an emphasis on a refined atmosphere and sophisticated taste. The Moonlight Studios (New York City), the Sinner Restaurant (Paris), The Merode Club (Brussels), The Gherkin (London) and Klibansky Gallery (Amsterdam) were ideal venues to enhance the unique personality of the Diavel V4.
https://www.totalmotorcycle.com/inspira ... ness-tour/