THIS? OR THAT! on the Total Motorcycle Cool Wall
Week #376 of the Total Motorcycle Cool Wall
You just won a motorcycle, which one do you pick to take home with you and why?
Ok, so what you are all telling me you like the weird, odd-ball, fringe type bikes? Well, then this week you get your wish:
Last week's unique odd-ball vs this weeks new comer!
2018 Ural Baikal - vs - 2018 Husqvarna Vitpilen 701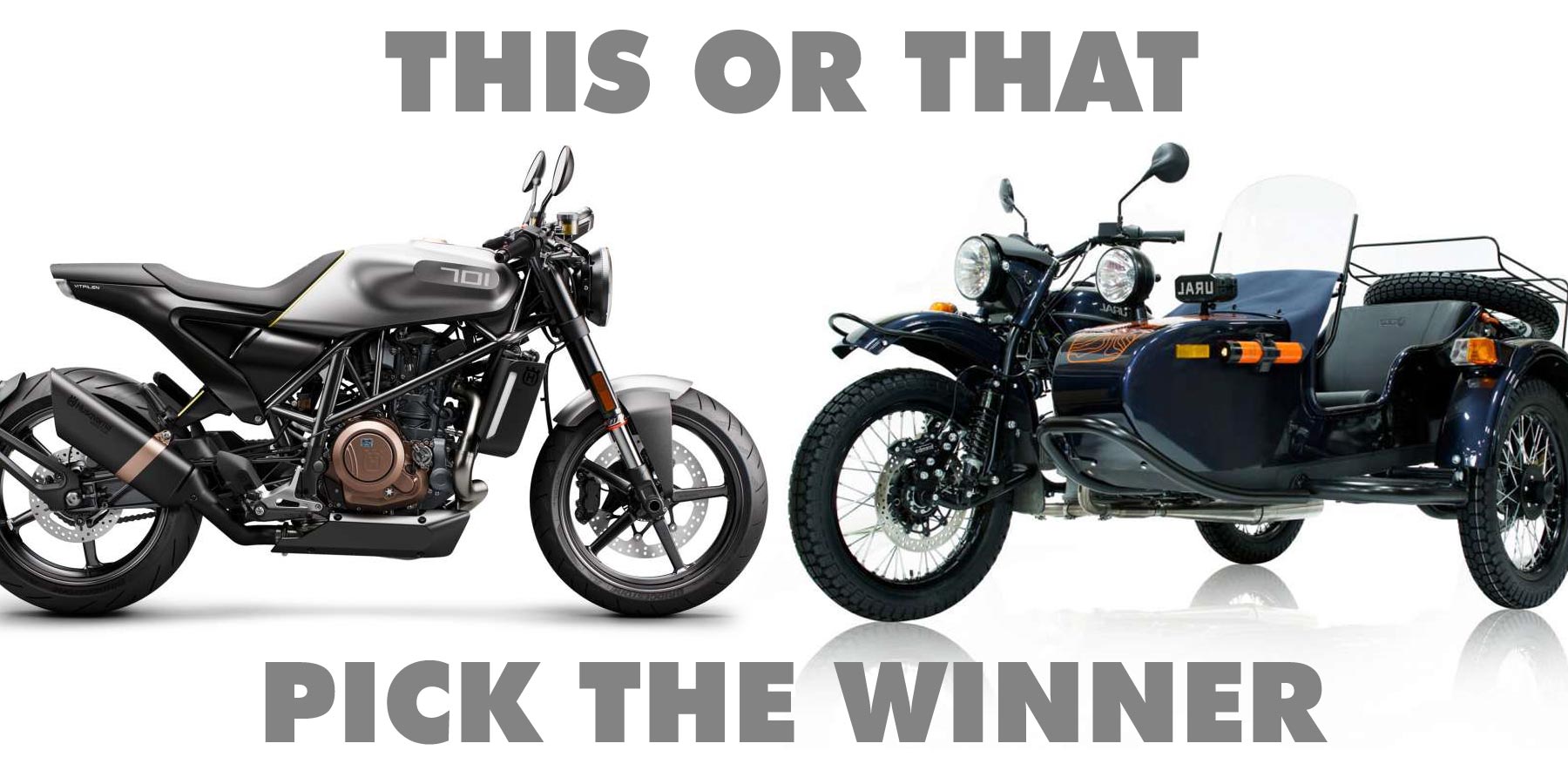 THIS:
2018 Ural Baikal
Information and Photos click here: https://www.totalmotorcycle.com/motorcy ... kal-review
Ural Baikal LE comes in new Baikal Blue metallic colorway with Yamal orange interior accents.
Standard equipped with our legendary on-demand 2 wheel drive and sidecar mounted spare wheel, this Ural is ready to take you far beyond the marked trails. Cut through the ice, literally, with the side mounted high carbon steel hatchet. Keep your vodka in the VSSL x Ural compact flask and light your campfire with Titan storm-proof matches.
Baikal LE features full protection with ceramic undercoating on the sidecar tub and interior of all 3 fenders. Combined with the standard issue sidecar windshield your bike and co-pilots will be full protected from the harsh gusts of Siberian winter.
Bring a friend and bring good music along – your Baikal has all weather proof portable Ural x Braven speaker installed ready for the road ahead!
The Ural Baikal Limited Edition was inspired by the world travelers who have crossed Lake Baikal's frozen 400 mile surface on 3 wheels. Located in the heart of Russia, these riders inspire the next generation to look beyond the map, and layer up.
Total Built: 45 Units Worldwide
Available: October, 2017
Inspired by the Ultimate Ride Challenge
Each winter, 500 miles southeast of Irbit, Russia, home of the Ural factory, the world's largest freshwater lake freezes creating over 400 miles of barren ice fields. Adventure seekers from across the globe navigate to discover one of the world's most demanding rides, including the legendary semi-annual Ice Run.
In 2010, our friends Hubert Kriegel and Chinzo crossed Lake Baikal on their Ural sidecar in the middle of a particularly brutal Russian winter. They lived on Baikal for 2 weeks to complete their adventure battling -40°F wind chill and shifting snow drifts.
"Living on the frozen Lake Baikal I found my ultimate ride challenge. I survived relying on my Ural sidecar with my co-pilot Chinzo." – Hubert
The Lake
Lake Baikal is the world's largest and oldest freshwater lake. Located in the heart of Russia, Baikal contains 20% of the planet's fresh water, enough to provide the world population drinking water for 40 years. Baikal is 400 miles long and the deepest continental body of water in the world with a maximum depth of 5,315 feet.
The average winter temperature is -6°F (-21°C) creating over 12,000 square miles of solid ice, thick enough to support cars and of course, sidecar motorcycles.
OR THAT:
2018 Husqvarna Vitpilen 701
Information and Photos click here: https://www.totalmotorcycle.com/motorcy ... 701-review
A POWERFUL URBAN ICON.
2018 Husqvarna Vitpilen 701 Review on Totalmotorcycle.com:
The VITPILEN 701 is an immaculately designed street bike that offers a new perspective on urban motorcycling. Driven by a powerful single-cylinder engine, this compact and agile motorcycle is expertly crafted to deliver minimalist styling with exceptional performance and reduced to the bare essence of what a motorcycle should be. Created to suit the unique, progressive lifestyle of modern motorcycling, it delivers a more thrilling, honest and real bike experience.
The Husqvarna SVARTPILEN 701, a dark street explorer that is free of excess and reduced to its simplest form. This bike aims to appeal to an entirely new generation of motorcycle users. It's for those less interested in the hype and hyperbole of modern day motorcycling and who prefer a simpler, timeless design approach. Its technologically advanced 4-stroke single-cylinder 692.7 cc engine is housed in an incredibly stripped down but progressive layout that offers excellent performance. It doesn't need to be pigeon-holed or categorised – it just needs to be ridden. It is so simple and obvious that just by looking at it, any free-thinking rider should know exactly what it is intended to do. Ultimately, it's as approachable as a motorcycle can be, it's honest, and is there to be ridden by anyone wanting a raw and exhilarating riding experience.
A progressive street roadster that was designed to reflect the attitude and styling of a more modern and freethinking breed of rider. The design solution was to create a naked street bike to mark Husqvarna Motorcycles' logical return to street motorcycling. This design driven, yet high-performing, motorcycle reveals the potential of the brand's future vision. Its uniqueness is not limited to the aesthetics, although this will be instantly notable from the raw, natural and intuitive experience of riding it. Something fresh in the world of motorcycling was long overdue and using this as motivation, the brand set out to create a motorcycle that captures the timeless thrill of the ride by creating something functional, practical and simple.
Forget everything you know about contemporary street motorcycles, the VITPILEN range is innovative and progressive. Developed with a fresh perspective, reduced, pure and without industry influence, these motorcycles challenge all current design trends and use a clean, smart and less complicated way of creating a motorcycle. The simple yet progressive design approach is a thought provoking paradox where simplicity, ease-of-use and functionality meet innovative design and attention to detail.
A PURE AND AUTHENTIC RIDING EXPERIENCE
The VITPILEN range is a definitive and bold statement, which exhibits Husqvarna Motorcycles´ never-ending quest to pioneer new territory. Simply put, the VITPILEN aims at stripping away all unnecessary gimmicks and presents a motorcycle in its purest form. Their uniqueness is however not limited to aesthetics, as the designers set out to create a motorcycle that captures the thrill of the ride which is instantly felt in the raw, natural and intuitive riding experience.
The winner of this week's THIS OR THAT will go on and fight the challenger next week. The overall winners will be determined how many weeks they can beat the competition.
Enjoy!
Mike