THIS? OR THAT! on the Total Motorcycle Cool Wall
Pick One. One will leave as Champion, the other in shame.
Week #374. Laaaaaaaaaaaaaaaaadies and gentlemen, may I have your attention!
The 2006 Ducati GT1000 (a 12 year old motorcycle bested), and TRHEE TIME returning champion takes on the new for 2018, 114 cubic inch big bad boy nostalgic Harley-Davidson Heritage Classic Tourer, in 115th Special Anniversary garb no less! Can Harley-Davidson's heavy weight defeat the lithe Ducati GT?
DING, DING.
Let's have a clean fight and no hitting below the airbox.
2006 Ducati GT1000 - vs - 2018 Harley-Davidson Heritage Classic 114 – 115th Anniversary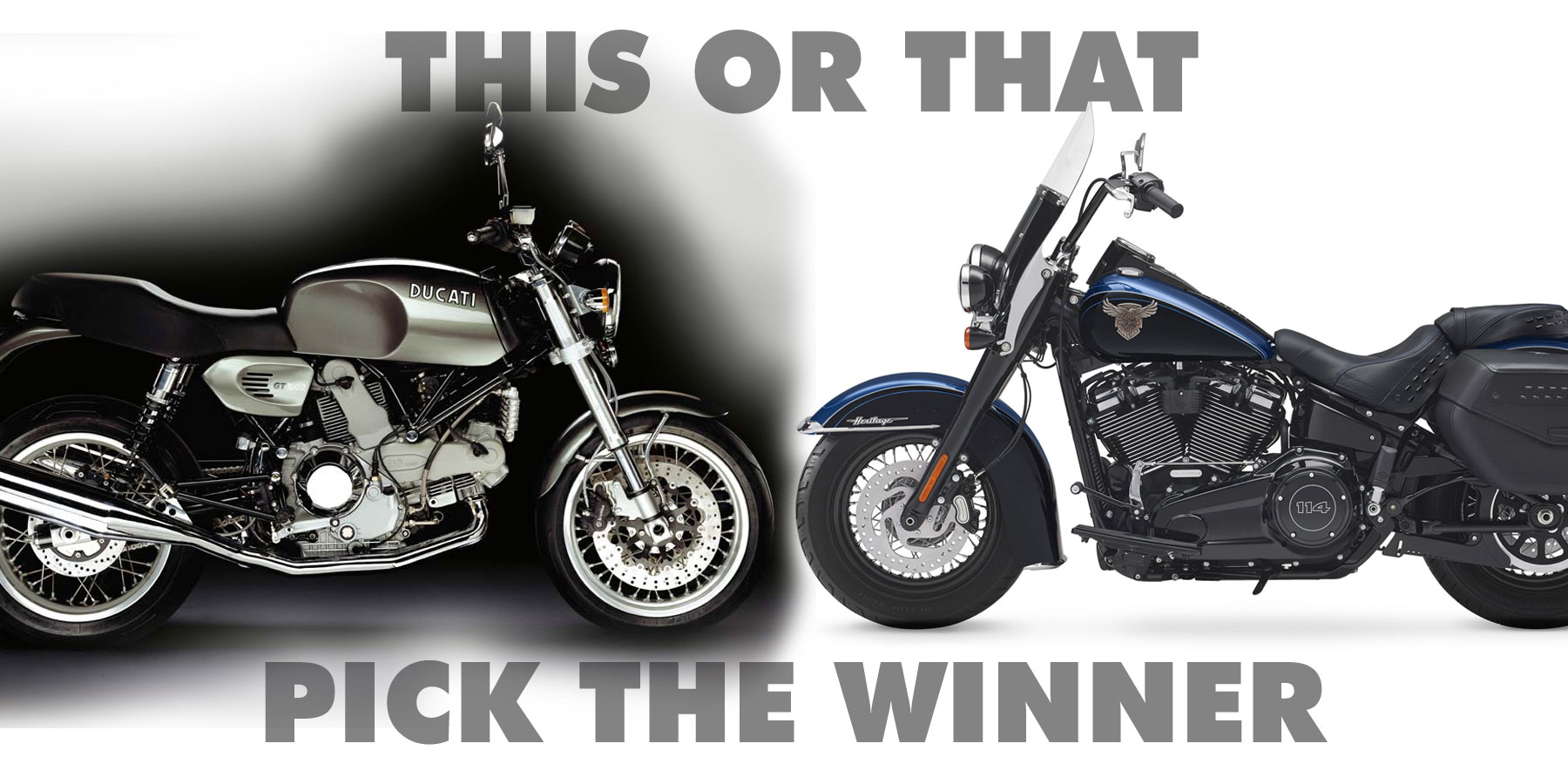 THIS:
2006 Ducati GT1000
Information and Photos click here: https://www.totalmotorcycle.com/photos/ ... ati-GT1000
CLASSIC STYLING WITH MODERN PERFORMANCE
Back in 1971 the GT was a bike to be ridden every day, it combined sport bike and touring features in a balanced and beautiful Italian package. With a dual seat and single headlamp, it was an essential motorcycle, much like today's "naked" or "traditional" motorcycles. It was a commonsense motorcycle, but its beauty was uncommon. The L-Twin engine was left fully exposed to flaunt its elegant features. Dual chrome silencers swept rearward accenting the attractive lines of the bike. Everyday performance was never so well executed. Until now.
Although classically styled, the 2006 GT1000 is engineered to deliver modern Ducati road performance. With its comfortable two-up riding position and confident handling, it is perfect for the daily commute or a weekend trip to the mountains. Powering the GT is the 1000 DS engine, the most advanced, most powerful Ducati air-cooled engine ever.
In the Gran Turismo Tradition
OR THAT:
2018 Harley-Davidson Heritage Classic 114 – 115th Anniversary
Information and Photos click here: https://www.totalmotorcycle.com/motorcy ... ary-review
Bikes don't get any truer to their roots than this. The 115th Anniversary Heritage Classic 114 is the original outlaw motorcycle decked out for those who want to do the 115th Anniversary big. Limited-edition and exclusively numbered.
The Heritage Classic motorcycle used to be a homage to '50s chrome nostalgia. Take a look at the new one, and you'll see it's anything but that.
IT'S THE NEW VINTAGE
Dark classic style with a modern edge, from the full fenders to the blacked-out Milwaukee-Eight® V-Twin engine.
BUILT FOR FAST GETAWAYS
Reduced weight, awesome acceleration, and totally reinvigorated ride.
THROW A LEG OVER AND RUMBLE OFF INTO THE SUNSET
Harley-Davidson Softail Story – The next custom revolution
Authentic innovation meets true Harley-Davidson soul in the reinvented Softail® family. The most powerful, agile, and responsive cruisers in Harley-Davidson history feature a lighter and stiffer frame, high-performance suspension and the smooth, unrelenting torque of a fully counter-balanced Milwaukee-Eight® V-Twin engine. Each Softail® model has a distinctive look and attitude that stays true to the roots of Harley-Davidson® custom motorcycle design.
The winner of this week's THIS OR THAT will go on and fight the challenger next week. The overall winners will be determined how many weeks they can beat the competition.
Enjoy!
Mike