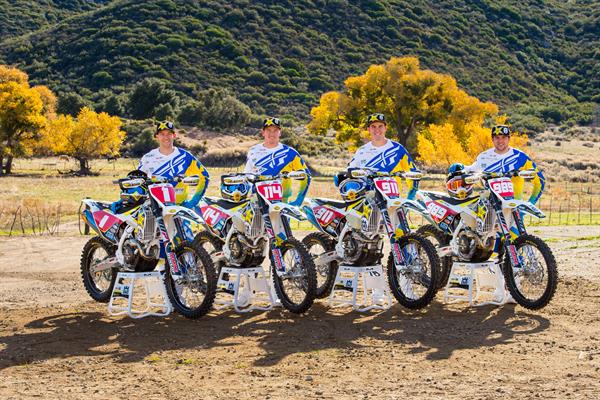 Rockstar Energy Husqvarna Factory Racing is pleased to announce their 2017 offroad team featuring Colton Haaker, Josh Strang, Jacob Argubright, and Thaddeus Duvall.
Winner of both the 2016 AMA Endurocross and FIM SuperEnduro Championships, Colton Haaker looks ahead to defending his hard-fought titles. Currently competing in the 2017 FIM SuperEnduro Championship, Haaker will soon head to Aspen, Colorado to compete in the Winter X Games from January 26th to 29th. From there he will prepare to defend his AMA Endurocross Championship title.
Competing alongside each other in the Grand National Cross Country and National Enduro Series are Josh Strang and Thaddeus Duvall. Duvall joins the team after claiming a historical ISDE World Trophy Team win for the USA last year, as well as being crowned 2016 Full Gas Sprint Enduro Champion. He brings skill, knowledge, and character to an already successful team. Josh Strang will continue his run for GNCC gold after placing as championship runner-up at the end of the 2016 season.
Representing the Rockstar Energy Husqvarna Factory Racing team in the west coast desert series is Jacob Argubright. Argubright is heading into 2017 having finished second overall in the AMA National Hare and Hound series.