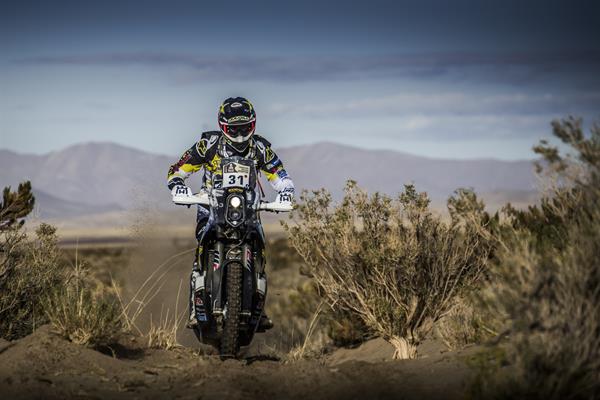 ROCKSTAR ENERGY HUSQVARNA RIDERS FIGHT RAIN, COLD AND ALTITUDE IN STAGE FIVE
Rockstar Energy Husqvarna factory rider Pablo Quintanilla wrapped up a shortened fifth stage of the 2017 Dakar Rally on Friday in seventh place, enough to retain overall second on a day that confused and confounded riders with difficult conditions and navigation. The shortened stage, called off because of very bad weather, went to British rider Sam Sunderland, who is now the overall leader.
-->
Quintanilla had briefly inherited the overall lead overnight when Spanish overall leader Joan Barreda was hit with a one-hour penalty for a rule infringement. The Chilean rider said prevailing conditions has made it a very tough day. Former Dakar rally forays into Bolivia have been brief overnight affairs but this year the country is a major player, resulting in riders not only having to contend with unfamiliar territory but also riding at altitude on the Bolivian Altiplano. The day's bad weather added another layer of difficulty.
Quintanilla: "Today was very a tough stage. We started in the morning with a mountain piste, and with rain and fog. Then we had some tricky navigation and some rivers where I took a bad exit and lost some minutes trying to find the right way. It was not the best day for me but sometimes in the Dakar you don't have good days. The important thing is to be consistent and try to fix the navigation mistake as soon as you can. Today I made a mistake and lost some minutes but what is important is I caught all the waypoints. We have to keep racing because we have many kilometres and a lot of stages to go." Rain is forecast in this part of Bolivia way beyond the weekend, and Quintanilla said this would make the tracks very dangerous.
Less fortunate was Quintanilla's factory teammate Pela Renet of France, who on Thursday was one of the few riders who seemed to be coping well with the difficult navigation in this year's 9000 km epic. Like so many others riders, he got lost trying to locate a waypoint and finished the day almost 46 minutes behind in 34th. The French rider said he was frustrated and disappointed but added that it was important to stay calm and concentrated for the next stage.
Renet: "Generally the day was good but I had so much trouble to find the waypoint at the 152 km. I was turning around and searching for a long time, about 45 minutes. It was one small mistake but it cost me a lot of time and enough to give me a bad position today. But I'm still in the race and there's still a long way to go." Despite the mistake, Renet remains at eighth in the general standings.
Riders now have to tackle another long ride Oruro north to La Paz, where in Sunday they have the one scheduled rest day, a chance to catch their breath and take a resume of the first week. They also have to plan tactics for the second week and to carry out vital maintenance on the bikes. Saturday's stage six is another daunting 786 km with 527 km of timed special. In fact, it is the longest stage in the 2017 edition.
Stage Five: Tupiza to Oruro, Bolivia): 692 km, 447 km timed special. Note two-part special shortened after the opening sector
Provisional Results: May change if penalties awarded overnight
1. Sam Sunderland (GBR), KTM, 2:21.51 h
2. Paulo Goncalves (PRT), Honda + 7.07 min
3. Adrien Van Beveren (FRA), Yamaha, + 7.29
7. Pablo Quintanilla (CHL), Husqvarna, + 18.12
34. Pela Renet (FRA), Husqvarna, + 45.44
Overall after Stage Five
1. Sunderland, 15:22.05 h
2. Quintanilla, + 12.00 min
3. Van Beveren, + 16.07
8. Renet (FRA), Husqvarna, + 54.45