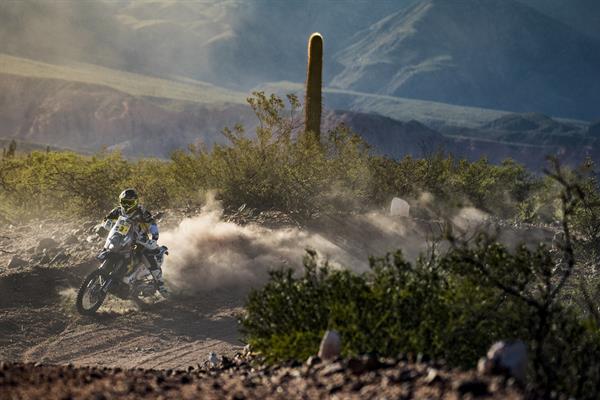 STRONG STAGE FOR ROCKSTAR ENERGY HUSQVARNA RIDERS
Difficult navigation, fesh-fesh – the fine, powder-like dust that can hide a multitude of obstacles, dry river beds and altitudes up to 5,300 meters all combined to deliver one of the toughest days yet in this 9,000 km, two-week long epic.
Faced with difficult navigation and some new features of the navigation rules, many riders experienced difficulties in the first 70 km of the 780 km stage, which included a two-part, timed special of 364 km. Renet, however, who started back at 20th, kept a clear head and full concentration when it really counted and ultimately delivered his best stage result, in this, only his second Dakar Rally for the factory team.
Quintanilla also stayed composed and stuck to his game plan to be diligent and consistent. He is now fourth in the overall standings 15.56 minutes off the lead of Joan Barreda, who was the stage winner on Wednesday. More importantly, Quintanilla is just over a minute behind third placed rival, Paulo Goncalves of Portugal. Renet meanwhile takes a quantum leap from 20th to eighth in the overall reckoning but there is much more to come as the rally heads north on Thursday into Tupiza in southern Bolivia.
Renet: "It was a really good day but there are still nine more to come. This morning the navigation was very tricky for the first 70 km, but I tried to make it the best I can. Everything went perfectly and I got to all the way points. I know a lot of riders had problems today and I was surprised to find out at the finish line that I was third. That's good for my team and good for my mechanic who works very hard for me. It's also good for my confidence and for my future."
Quintanilla: "Today was very difficult, especially in the beginning with about 50 km of piste. I made some mistakes and I lost plenty of time. There were a lot of stones and vegetation and it was very hard to follow. But this is the first day of the real race and we will have more days like this, so anything can happen."
Thursday's stage four, another 521 km, with 416 km under the clock, promises to be equally challenging and will be another day at altitude as riders travel north into Bolivia. It promises to be technically difficult and includes tackling sand dunes at 3500 meters. To add another layer of difficulty, rain is forecast for their destination.
Stage Three (San Miguel de Tucuman – San Salvador de Jujuy): 780km, 364 km Timed Special)
Provisional Results: May change if penalties awarded overnight
1. Joan Barreda (ESP), Honda, 4:22.41 h
2. Sam Sunderland (GBR), KTM, + 13.29 min
3. Pela Renet (FRA), Husqvarna, + 16.30
4. Pablo Quintanilla (CHL), + 17.02
5. Paulo Goncalves (PRT), Honda, + 17.20
Overall after Stage Three
1. Barreda, 7:35.30 h
2. Sunderland, + 11.20
3. Goncalves, + 14.42
4. Quintanilla, + 15.56
8. Renet, +24.07