My father, being in the salvage business, is a pro at finding barn queens. His last bike (A Honda CM400 I believe, he sold it when I was about 8-9) was a barn queen. He does not believe in buying a new bike simply because you can find bikes so cheaper if you just know how/where to look.
I had a hard time believing this, but I'll just out and say it:
He was right.
Let me trace back: Around early Sept 2007 I was in MSF after signing up around June. Immediately after this I was looking for bikes. When the MSF came around I was on the line between cruiser/sport. I liked the look and feel of SOME cruisers (I don't like sitting too far back or having the handlebars too high up or my feet in front of me, doesn't give me the feeling of being in control), and I always rag on most of the sport riders I see.
For instance, just today there were about 20 sportbike riders blasting down my 30 mph hilly, twisty back road at about 60 mph with nothing but a T shirt, a Helmet (req. by MA state law, thankfully), shorts, and, you guessed it, sandals. However, I do like the sporty look, I'll give it that much.
So I guess somewhere along the line I realized I'm more of a standard rider.
So around October, after searching for a bike for a month to no end (didn't have the time, I was stuck in Oneonta, NY at a jobsite), my dad calls me up one day and tells me he may have found me a bike. It's a 1976 Honda CB360T with roughly 2600 miles on it. This was impressive, as it was last run in 1979 when the previous owner's wife decided she didn't want him to ride anymore.
So he parked it after only putting it down at low speed in gravel (scuffed the left grip, broke the clutch lever and mirror), but left no damage other than that. It was left from '79 til' early March 2008 in a heated garage that doubled as a workshop, where the tank received a few dings and scratches from being walked into with 2x4's.

He was making a sale to this guy, and instead of all of the payment in cash, he snagged the bike for about $750 worth of lumber. Joke's on the previous owner, we deal in lumber and its more common than money for us.
So for the next... sept oct nov dec jan feb.... six months I was bothering him incessantly about when we were going to pick up the bike. I was anxious and wanted to start riding as SOON as spring hit. By February I had ordered most of my gear, and was getting antsy. So after bothering him enough, we finally set aside one morning to go down and get the bike.
March 2nd, 2008:
The guy lived in The-Middle-Of-The-Woods, CT, and there was still a foot of snow on the private road to get to his driveway (hooray 4x4 diesels). So we get there, check out the bike, lift it into the back of the truck (hell with ramps), tie it off, and jet. Needless to say at this point I am ecstatic.
The idea is for me to use it as a starter bike, and then eventually my dad will take it for his use as a main bike. He doesn't believe you need anything more than 400cc on a bike, so he'll be right at home on a 360.
Here are a few pictures from that day:
Mileage, instrument cluster. Nothing spectacular, but remember this is a 70's bike. I'm very curious as to why the redline doesn't extend to 12. As was pointed out in the bike day thread I posted a while back, perhaps once I get it past the red line I start traveling through time?
Left side. Look real close at the tank and you can see the dent/scratches. Other than that it was basically dirty and needed a good cleaning.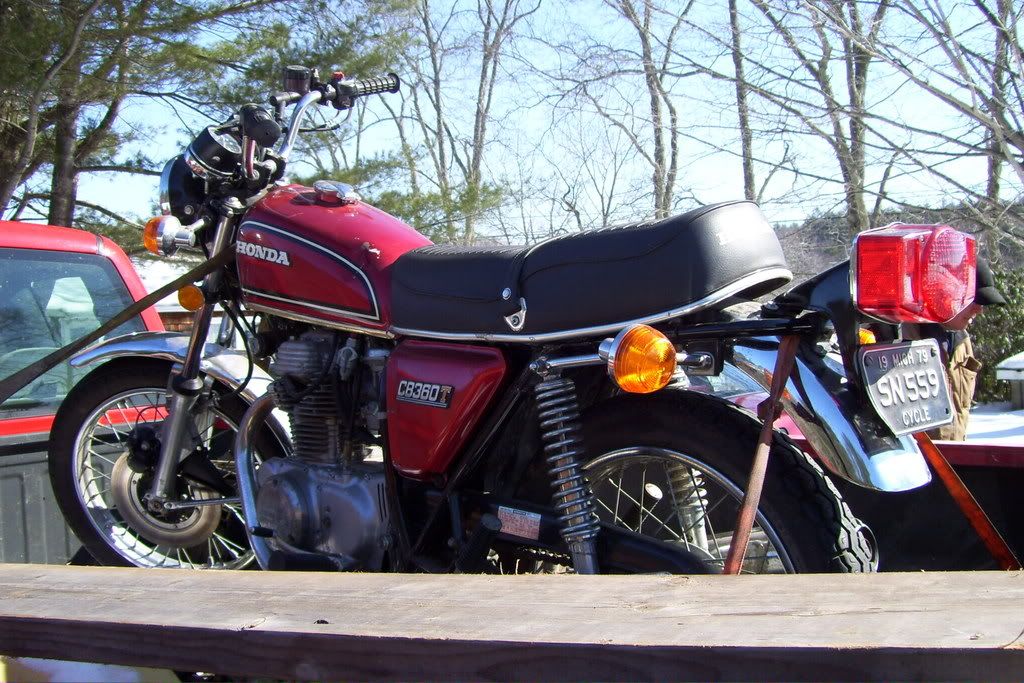 Right side. I notice I hate the way the stock seat looks without a sissy bar.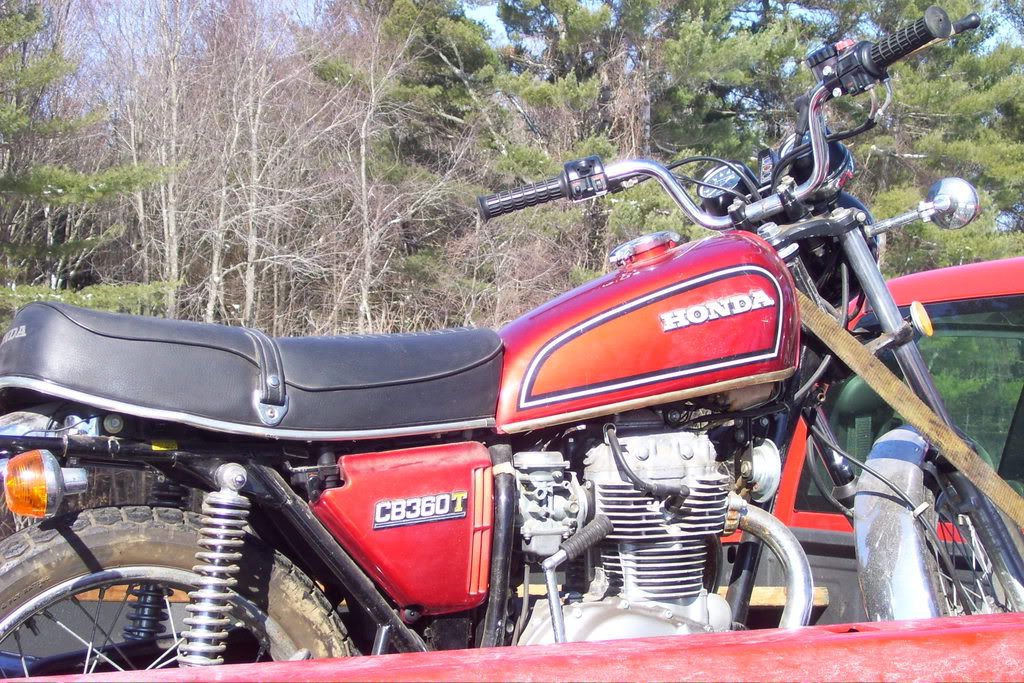 All in all, that was all a really productive day. At this point it just had to go to the shop and get wrenched.