Up until now this had been the first day and a half of touring that I had ever done on the sportbike-for-geezers VFR that I picked up on ebay last year. I've been addicted to twins, specifically my VTR1000 Honda, and then Jens Ducati for many years and the 750 cc of V-four furry hadn't been lighting my pants on fire. The bike
is
super-comfortable, the degree of which I hadn't really understood until a couple of big days in the saddle. On these roads however, my VTR would have been effortlessly faster and light years more fun. I have been hopelessly familiarized with the old twin after so many years and miles together and feel perfectly comfortable riding it to the limit. The VFR up to this point had not been so willing. After the stop at Hells Canyon I took the lead and started off at a comfortable pace, trying to find the sweet spot where this bike likes to operate and adjust my body position to make the transitions more stable. The road itself was near perfect for the VFR and soon fun was happening. Keeping it singing around 8000rpm and being ultra smooth on throttle transitions seems to be the key. This stretch of road was an absolute blast and once again it was too good to stop for photographic evidence. Finally I was starting to get on with this old beast. As the road opened up past Halfway, near Richland we stopped to grab a pic. Conveniently, the police picked this moment to pass us going the other way up the road, probably responding to a call of motorcycling hooligans travelling at stupid speeds.....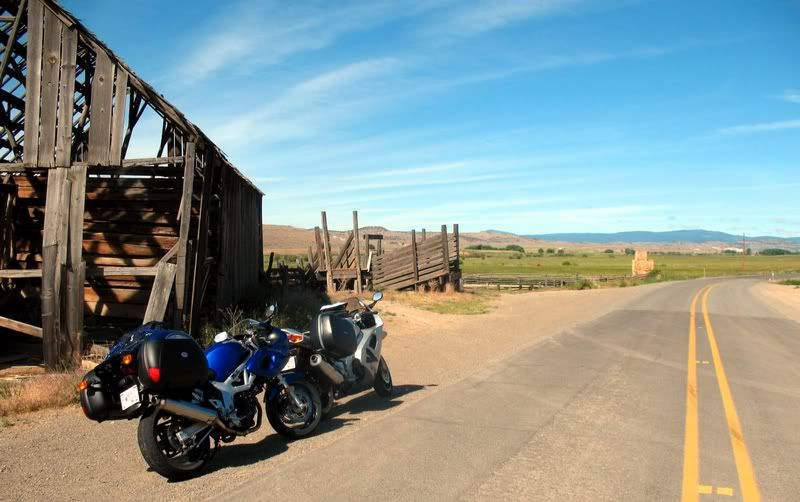 From here on we head out to Baker City were we check in to a motel near the highway. The landscape is flatenning out and we fear that we are in for a great road dry-spell as we plan to cross Oregon to head for the coast the next day. These fears are compounded as one of the several Gold-Wing riders also checked in was gushing about the great twisties that he had found on
Interstate
#82. We thought buddy, you
REALLY
don't know what you are missing. There
are
no twisties on the Interstate......
So close
to motorcycling nirvana and painfully unaware. We started to tell him about Hells Canyon and he appeared disinterested. This slow detour would likely cut in to the seriously big miles he hoped to accomplish the next day.