Originally posted: Mon Jun 06, 2005 12:54 pm
VENICE RUN!
I'll apologize for the lack of pictures, my brother was given specific instructions to get the camera back from my mom before we left. He failed to follow through, so I've only got the pretake off shots... I'm asking around for pictures from some of the other riders. I'll post any if I get them.
Yesterday was the Retreads Annual Venice run. For those that don't know Retreads is a 40+ motorcycle club (gang?) that has chapters over much of North America. Meetings are held on the 1st and 3rd sunday of every month, on nice days planned rides are availible to go on. My Aunt and Uncle are both members, so I've been allowed on occasion to go as their guest. I think I've been on 4 or 5 trips total. Everyone there is really nice, and there are some great ride leaders. Every one is careful and there's no hotrodding, thank goodness.
You've all heard the Hells Angel's motto, "Live to Ride, and Ride to Live." Well the Retreads follow a slightly different philosophy... "Ride to Eat, and Eat to Ride." All of the planned rides have an eventual food related destination. On this particular trip we were to head from Edmonton to Venice. A small town about 2 hours, or 200 km North East. Every year there is for lack of a better word a pasta cookout at the local church, $8 for all you can eat spaghetti with meat sauce, BBQ chicken, salad, and deserts. The money raised is used to fund any church events for the whole year. If they have a good year, they have a lot of events, if they have a bad year, well they don't do a lot.
Apparently the Retreads have been going for years, as we had a spot reserved for all of our bikes 14 in total. Though we all had to pay for parking... we ended up fitting 14 bikes into a space where only 2 cars would fit... and payed $2 per bike

But that's beside the point.
It's been a really crappy couple of weeks, competing low pressure fronts and winds out of the North have created a cloudy, windy, rainy, miserable past 5 or 6 days. And it was with some trepidation that my friend, brother and I geared up for the trip. The skies were foreboding to say the least, lots of dark heavy clouds hanging above our heads. It definately looked like rain was to be the order of the day. Undaunted... well slightly daunted I overcame my fear of riding two up, and threw my brother on the back. Off down the yellowhead we shot 30km to the breakfast meeting. With clouds overshading us the whole way. Fortunately for my nerves my brother was to switch off to the goldwing upon arrival at breakfast. I would be free for the vast majority of the trip. Riding two up with him was... different, he felt the need to lean into the turns, and hard. I never had the chance to tell him to stop, no red lights and pretty high speeds, so I'd let him do the turning, then turn just arrested his turn with an opposite one of my own. It was an interesting experience. But I told him what he was doing wrong at breakfast, and it wasn't an issue.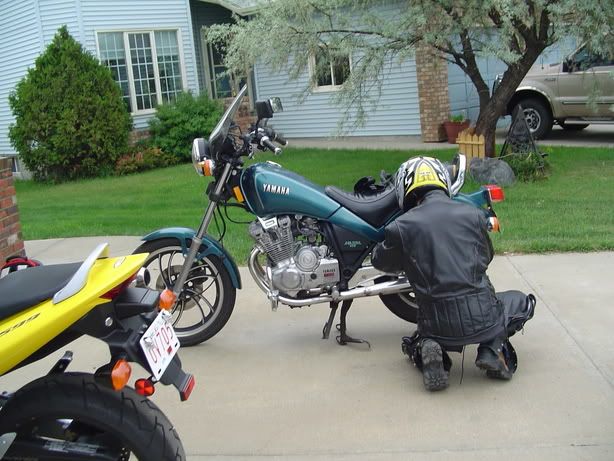 Faced with the comment "chains need to be oiled?" I was forced to slap some on his. *note* he had just had his chain replaced and was told it was o-ring sealed and that it shouldn't need oiling... damn techs, anything to make a buck.
Here I am getting ready to back off the driveway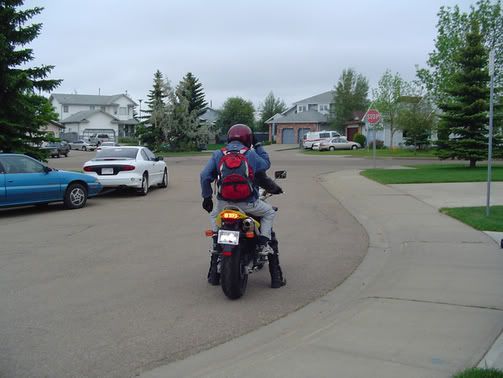 After refueling for the true trip we pulled into the area that was commandered by the rest of the riding club. I've never felt so small in my life. Confronted with a handful of goldwings, v-star 1100's, valkyries, a shadow 1100 and everything else you could think of... all fully outfitted for touring hard bags, windshields, and everything from CB radios to hand warmers... my '04 Honda 599, and my friends '82 Yamaha Maxim400 felt dangerously outclassed.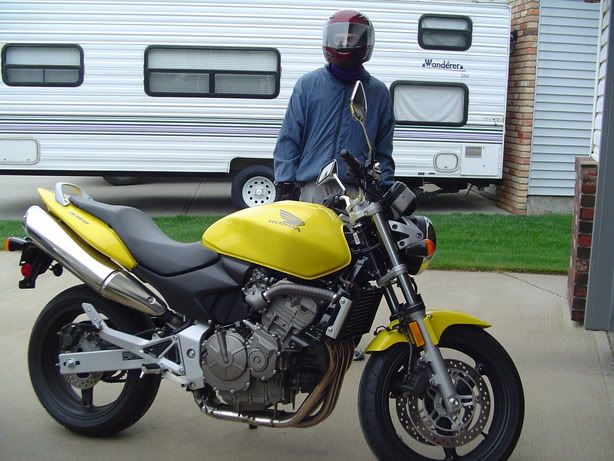 Honda 599 with my Bro in the background, he has leathers on under the rain gear
My friends Maxim with him on the left and me on the right
However Russell did summon the nerve to supply the comment that "this was motorcycle parking and even two wheeled cars, like that goldwing were not allowed to park here."
Inside for breakfast and to wait for my aunt and uncle to show up. Riding a v-star 1100 and an 05 goldwing (I think it's 1800). Both beautiful bikes, though they make me feel small, lol. There was a 50/50 draw that none of us won, and some fun jokes. Apparently two tablespoons of picklejuice will cure leg cramps brought on by motorcycling. Yelling, Russell, "what do you rub it on?" No, you're supposed to drink it, straight out of the jar. Russel under his breath, "or you could just try not being old."
As we sat and ate my view of the window proved to be most fortuitious. For it appeared that something was changing. The only way I can describe it is to say that it appeared as if the hand of God had swept down and lifted the clouds away as a person would lift the soap bubbles off a sinkfull of dish water. Over the course of 45 minutes the cloud cover burned away and we were left with glorious sunshine. Much thanks were given to higher powers.
We went outside for the standard milling around talked bikes for 10 or 15 minutes and slowly got everyone kitted up. We fell into a loose line, and our leader took off. At the speed limit of course. I have to say he was an absolute pleasure to follow, good route, and he made a point of using hand signals to let us know what was going on. He'd hold his hand out at his side when we should be slowing down. Pointed directions, left or right as well as using turn signals, and would hold up a hand with 1 finger straight up to indicate we should switch to single file (for big trucks). He made a careful point of discussing the route with my friend and I as we would be the limiting factors as far as speed and range were concerned.
I have to say though that riding with an older group does have its disadvantages. While there is a good amount of level headedness there is also cautious to a fault. Because of our order in pulling out, a goldwing got stuck between me an my friend. A goldwing with a very old rider... a goldwing that preferred to do 20 under the group speed and stay WAY back. He would occasionally speed up but he still kept enough room between him and my friend that we could have fit two full busses between us. Needless to say as soon as the opportunity presented itself I popped around him and took off. Fell into staggered pattern behind my buddy and had a blast. The guy on the wing spent most of the time as a speck in our mirrors, but maintained CB contact... or so I'm told so we didn't worry about loosing him. But riding behind him sure made me nervous.
I cannot be sure of the final route as I spent more time just enjoying the view. But I can say that there were a lot of wide arching turns towards the end as the road wound around hills. It was a TON of fun, and the 599 outhandled even my wildest imagination. I had to actively restrain myself from taking the turns to tight, as the bike was just made to turn.
The seat though... was pretty bad, a 1/2 inch of padding is not designed to accomodate a rider for 5 hours on a bike. I spent a lot of time shifting around. I would huddle up to the very front of the tank sitting straight up and down, then after 20 kliks I'd move to the middle making me lean forward a little, then I'd move to the back of the riders portion leaning forward. I'm starting to think an OEM seat might be in the works, but I'll wait and see if I can get used to this one first.
Sunshine, twisty roads, good food, and good riding mates, the day was a blast. I put exactly 441.8 km on my bike pushing me to a total of just over 1200. And my 1000km tune up isn't scheduled until the 15th... Uhoh. Guess I'll have to take it easy until then.
The windscreen that I ordered didn't make it in for the trip so I got to experience high speed windblast over an extended period of time, but it was worth it. One of the best rides I've ever been on.
Everytime I get back on this bike I become more and more amazed at how it handles, what it can do, and how much fun it can be. The entire trip I was actively taking care to not accelerate to fast, either my bike pulls a lot harder, or everyone else didn't want to go like I do

. It's got excellent range with a theoretical distance of 340km, though I don't care to test that. It seems to be even better when I'm doing highway riding, as I was getting about 22km to the liter instead of the 20 I was getting for city riding. I'm loving this bike.