Well, I've just rolled in from a great week on Vancouver Island and other parts of B.C. I left in the rain, rode out of the rain an hour later and had 4000 spectacular k.m. over the next seven days. Jen "lent me" her Ducati for the trip and I never got the chance to raise it up (we've got a lowering kit on it) before I left. This proved to be an issue in the tight stuff where I got to work on removing the ugly catalytic converter in every tight corner. I was starting to build a case for aftermarket pipes

Hiway #1A near Johnson Canyon (Banff Alberta)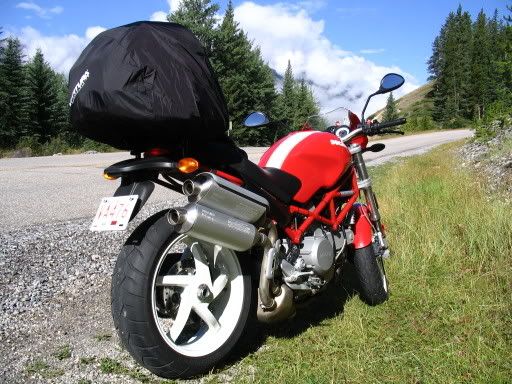 The above pic was taken about 1 hour from home. It was cold as hell and despite how the picture looks it was still threatening rain. I had decided that in the 1/2 hour prior to stopping that I would cut a tiny hole in my rain suit to allow my electric vest to work (suddenly after 30 years I get one of these and can't live without it.....

) I chose to make the whole in the back near my butt to minimize the chance of water getting in. After fishing the wire through, getting all my stuff back on, getting on the bike, the wire had disappeared back in to the suit. As I am standing here at the side of the road trying to find the now-missing hole, fishing the wire through the hole for a second and third time with my rain suit around my knees, I am cursing and bitching up a storm. I was conscious of listening for approaching cars and how it would look with my "pants down" fishing wildly for something in the crotch area but I never heard the oncoming gang of thirty and forty something women approaching from behind me. The first I heard of them (but not them of me) was a "nice bike" comment as they went sailing by up the hill. They were laughing their aszes of as the rode by.......
I made it to Kelowna late that afternoon feeling like I could take another 4 hours of riding with no trouble at all. This Monster was a big reprieve for my wrists that have grown to despise long distance riding on my VTR. The seat is a great improvement, and the gas range kicks "O Ring" on my regular bike as well. I missed my tank bag (no scratchies on Jens Monster...) and hard bags but the new Ventura set-up is light years better than soft saddlebags...It's not too handy to access with the rain cover though....
The next morning I left Kelowna early with hopes of catching some side roads on my way to jump the ferry to Vancouver Island. I took the 97C from to Kelowna to Merritt as a start which is a high-speed freeway that runs for several miles up and over a mountain range. There is an animal control fence and glass smooth pavement and the average speed seems to be around 140km/hr! (I did my best to bring up that average
) It was not that many years ago that the pavement in B.C. was in horrible shape all around and it looked at though it was just going to get worse. Somewhere along the way they figured it out however, and have even began to take it too far by
straightening them
:shock: This is great for the super-slabs but slowly each year they are un-kinking some of the greatest secondary roads as well. Such is the price of progress.....
Once I got to Merritt I escaped the super slab and took the back road (hwy #8) up to Spence's Bridges. It was here that I finally made friends with the Ducati on the medium sweepers, recent asphalt and lack of traffic. The scenery on this road has a real old-west kind of feel to it, even down to having an eagle soaring over-head as I slowed to take a picture. It probably feels like deserted emptiness to the people who pass through here often but to me and the Duck it felt perfect.
Stopping to take a couple of pics on hwy #8 to Spence's Bridges...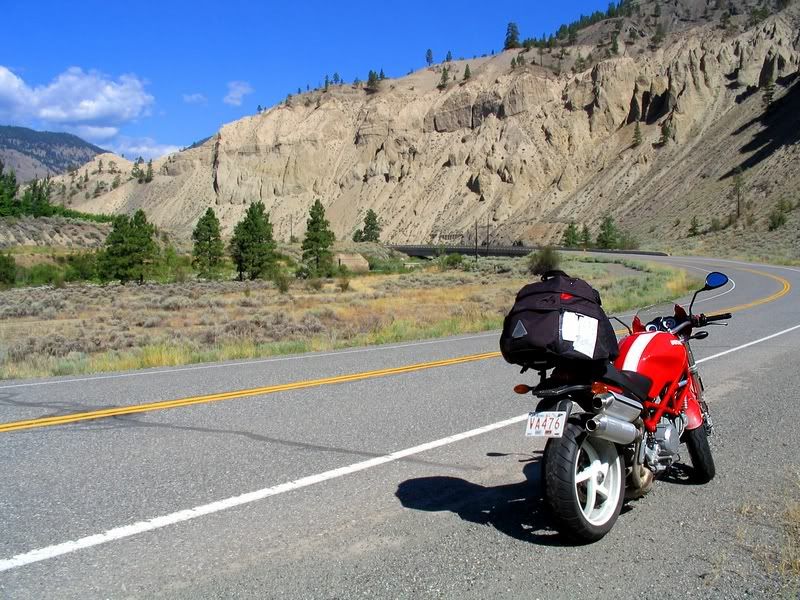 From here I hook up with the old hwy #1 down towards Hope for the Hells-Gate / Fraser River Canyon run. I hadn't been on this road since I was a kid in the back of mom's station wagon and it proved to be much more fun on the Duck. The pavement is mostly pretty good with some nice curves and the raging yet scenic Fraser river running along side. There are still some great tunnels that were blasted through the rocks back in the 1950s and '60s that give this road lots of character. I'm nearly out of gas and somehow managed to miss the only station in Spence's Bridges. There are a couple of more along the way that have died a slow death in the years since the Coquihalla Hwy went through, and I finally make it to Boston Bar running on fumes....
Scenes from along the Fraser Canyon....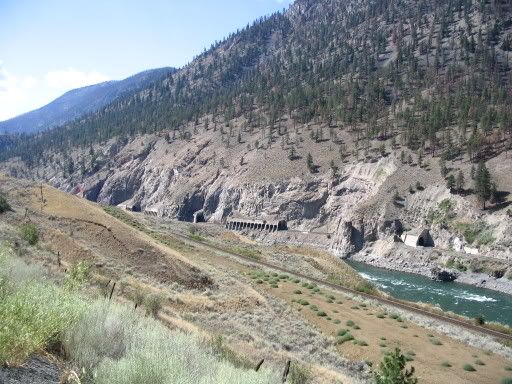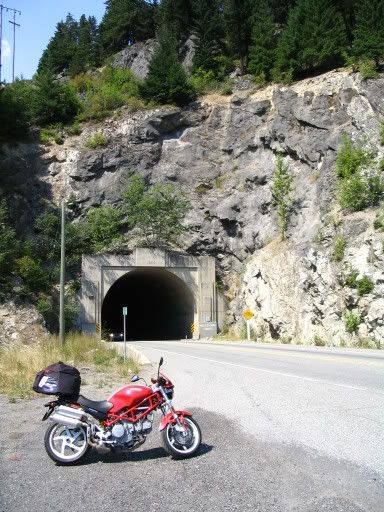 From here I can't avoid hwy #1 and I jump back on for the drone through the Greater Vancouver area. As I get to Richmond the traffic stops as the same two lanes (in each direction) that couldn't handle the traffic fifteen years ago can still not handle it today. I wonder aloud in my helmet how the hell the same province that straightens all of the back-roads could over-look upgrading the most used piece of pavement that it owns. There are no pictures here as this is hell on hot pavement. As I watch the odd bike fly up the park-lane I decided I would have to do the same if had nay hope of catching my 5p.m. ferry at Horseshoe Bay. Another Gold-Wing rider came along for the ride as we tried to keep moving forward. This went on for several miles and I still would be in that damned line if I hadn't pissed off all of those cage drivers

I make it to the ferry just in time for boarding.......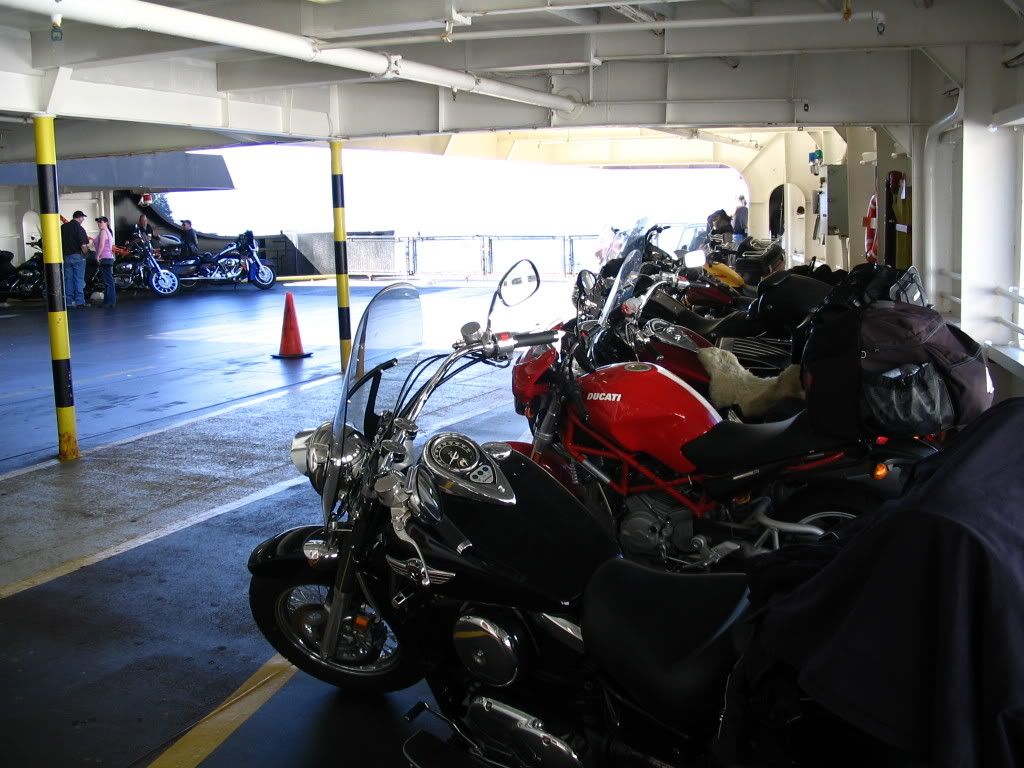 The bikes on the ferry included everything from Beemers to Harleys and I help one older-than-me (ahem) lady block up her brand new VTX- Honda. She had been riding for 30 years and yet somehow didn't feel the need to be a jack-ass like some of the straight-pipe equipt, non-Asian made motorcycle riders that accompanied us on or crossing. Note to all: Revving the sh!t out of your bike with straight-pipes for ten minutes before the ferry docks only proves that you are immensely over-compensating for your small dick. The older lady on the Honda has earned my respect by being genuine, respectful and the real-deal. You sir are an attention starved loser hoping that Vance and Hines can sell you the attention that you couldn't get in High-School. You sir are a Jack-Ass (and there is almost always more than one on every B.C. ferry) end of rant.
The ride up to Campbell River turns out to be a retina scorcher as I am riding right in to the evening sun. I take the super-slab (#19) and save the costal #19A for another day.
To be continued