Garmin has an amazing assortment of units. They've been in the biz for the longest of any company selling units (except maybe Magellan), and have a lot of really consumer friendly features. The _76C units are known for their big, easy to read, even in sunshine, display screens.
Most GPS units come with some sort of cradle for the dashboard and can be easily carried on your motorcycle. Here's a picture of my Rockster's "dashboard:" XM RoadyII on the left, my cell phone in the middle (no longer carry the phone), and my Garmin 276C on the right.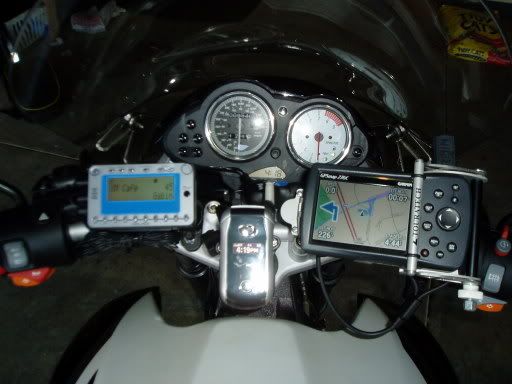 I bought my 276C with a "car kit" which included a dashboard cradle and power/speaker cord.
The pictured GPS cradle is an aluminum Touratech mount (Cyclegadgets.com) and latches securely around the GPS housing - don't try to use the plastic GPS cradle on the motorcycle, they've got a distressing tendency to let go on unexpected bumps... leaving your GPS in pieces on the highway. The other mounts are from Cyclegadgets.
All the geegaws are attached to my bars with the RAM mounting system (also from Cyclegadgets.com). I've got an Autocom helmet sound system, so I can hear the XM and GPS, and talk to my pillion, or my hubby on his bike. (Used to have the cell phone in the link up as well but haven't bothered linking up my newest phone).
There is a web site that will actually help you decide which GPS unit best suits your needs, might be on the cyclegadgets site.
flw wrote:
On the bike, I would like to power it up only when I pull over due to battery length but run off of the dc adapter of the cage when there. No voice needed.
My older unit has an internal battery with a life of about 10 hours. My guess is that newer units will have improved battery life. Beyond that, it is easy to save battery life by shortening the screensaver timeout and by turning off the unit when you don't really need it, ie on long sections of familiar roads or few turns.
By only turning it on when you stop, you miss one of the most useful features of a GPS: turn by turn directions, as well as the "find" feature: Need gas? food? ATM? and..... if you get stuck in unexpected traffic: DETOUR.
P