My Belated Birthday Ride:
I came into this world on Aug 16th 1983 and as a result people feel the need to celebrate the fact. Modest guy that I am, I cannot possibly imagine why. Well actually, the real celebration is for my Mom's Birthday Aug 16th 19....73 (shhhhhh). Yeah, we were born on the same day split by... 10 years... It's my story I'm allowed to be inconsistant if I WANT! Go write your own story if you want true accuracy. This keeps me in one piece.
So, like I was saying I got to celebrate my birthday, however because of the hours that I'm required to work for my job it isn't going to be a very good birthday. I start work monday night at 7 pm, and finish up at 7 am on tuesday (the 16th) then start again at 7pm on tuesday and finish at 7 am on wednesday. I'll be going back on Sat at 7am. That's right 12 hour rotating shifts, the bane of any humans existance.
Knowing full well that I wasn't going to be a pleasant person to be around on tuesday, wed or thursday(recovery day) I made arrangements to meet up with my Aunt and Uncle on Friday for a day long ride. I had jokingly offered to let my Uncle Gordon wash my bike. Since, when we were chatting on the phone he was telling me about his bike care regimen. I was in for a surprise.
I woke up bright and early on Friday morning and looked outside, sunshine, I LOVE it, looks warm, looks dry, it's going to be a good day. Absolutely perfect for a ride, so I grab the phone and make a quick call to my Uncle to let him know that I'm going to be heading his way shortly. On my way out the door Dad asks me to pick up his hat that he left there last time we went over. That's easy enough to do.
I pop myself onto the yellowhead and scream up to full speed for the ride from Sherwood Park to Spruce Grove. Once I get there I miss the turn as usual, but that's to be expected, I can never remember which subdvision he lives in until I've gone past it.
Okay circle back and pull onto the gravel driveway and scare myself silly with the slipping and sliding. I hate riding on gravel. But I make it safely to the concrete pad where I'm told to line my bike up to be washed next. Keep in mind I was expecting to go for a ride, not to be washing bikes. But Uncle Gordon has just hosed down my Aunt's V-star 1100, and put a coat of wax on his 05 Goldwing, so we need to wait for a while. As long as we're waiting we should clean my bike to. It's tough to argue with that logic, though I'm relatively happy with the way my bike looks now.
So I pull off the tank bag and wheel myself into place. We soap it down and go to work. He spent a lot of time on my back wheel, turns out that my chain lube had been flinging off and landing on the wheel which then had black dirt sticking to it. My wheel is black, I didn't notice. Though it looks a lot cleaner with the garbage scraped off.
After we get everything washed and dried we're called inside for lunch, and loot. I'd come out thinking we were going on a ride to celebrate my birthday, turns out I'd actually gone out there to get my birthday present (and Dad's hat). My Uncle Gordon and unt Janet had gotten me all of this stuff.
From left to right:
Microfiber cleaning cloths
Meguiar's Scratch-X
Mastercraft rubber wrench (for changing oil filter)
Sottex synthetic drying towel
Meguiar's Gold Class wax
Jobmate carry all
Everything I need to take care of my bike the right way.
So back out the garage to learn how to use everything. Uncle Gordon took the time to point out how much damage the tankbag had actually done to the paint. All kinds of little nicks and scratches. So first we took a little of the scratch-x polish and worked that into the marks which smoothed them out quite a bit.
Then we started to wax. He took the wax and I had a microfiber cloth. He'd slap on a layer and I'd take it off. All I can say is this stuff is amazing, it goes on easy and it just lifts away afterwards. My experience with wax prior to this stuff was Turtlewax ultra hard. Now when I put that stuff on, it was the work of half an hour to fourtyfive minutes of hard scrubbing to get it off. But the Meguiar's just slides off. We put on 6 coats in 1/2 an hour for all my paint work.
The nice thing about my bike is that it distinctly lacks chrome, so I didn't have to polish it at all

. But I helped wax and polish the v-star and goldwing. It was actually pretty relaxing. Wax on wax off and all that

. Shades of the kung-fu kid or whatever it was called...
After we finally got all the cleaning out of the way I set about strapping all my new stuff onto the bike and we were off. Stop for a quick fill up and away we go. My Aunt had to attend to a meeting so she wouldn't be joining us, but we were off none-the-less.
North and West, in search of twisties, the more the better. Alberta is pretty flat, and the roads are pretty straight, but Uncle Gordon had been through there before so he knew all th good roads. We made it out to some sleepy little town where it seems like everyone is either really old or really young and decided to stop for a drink. I had orange juice he had coffee. And we got STARES. All the old people looked a the big scary bikers (hahahahahahahaha college student and engineer) like we were some sort of hooligans. But I guess we cannot really blame them hehe.
After we'd had our drinks we took off again. Uncle Gordon like to lead, and I don't mind following, but at some point we managed to find grasshoppers, lots of them, for several km actually. It went something like this. Travelling at 100kmh through some pretty nice turns my Uncle would lead on the inside and come upon the grasshoppers really quickly, I'd keep pace just a little ways back. The bugs didn't realize he was there until he passed, then they would jump... and I'd go through them.
I don't know how many of you have been hit with grasshoppers before, but I'll assume most, and then describe it anyway. It's like getting hit with a rock. They were bounching off my knees, hands, chest, helmet, arms everything, and it HURT. I could feel my poor clean bike shuddering under the repeated impacts and constant abuse. I solved the problem quite readily by pulling forward until I was just behind him. This meant they jumped into my bike, but couldn't get high enough to hit me... still it was sad to see all that cleaning go down the drain. Then again, that's why we have bikes right?
We worked our way back to Spruce Grove where where Uncle Gordon turned off, and I continued East to Sherwood Park. Along the way I happened to check my milage. I'd gone 300km since my last fill up. And my idiot light had not come on. Typically it comes on about the time I hit 200km. But Uncle Gordon rides pretty conservatively compared to myself, so that might account for the difference in gas mileage.
However, I was concerned. 300km is the maximum theoretical range for my bike, so I spent the rest of the ride home wondering if I was about to run out. I didn't, actually when I'd stopped to fill up, I'd only used 12.34 liters... for a reported 306 km on the trip meter. WOW! That's really really good mileage, and a really cool thing to know.
Remember the grasshoppers? This is what greeted me when I got home.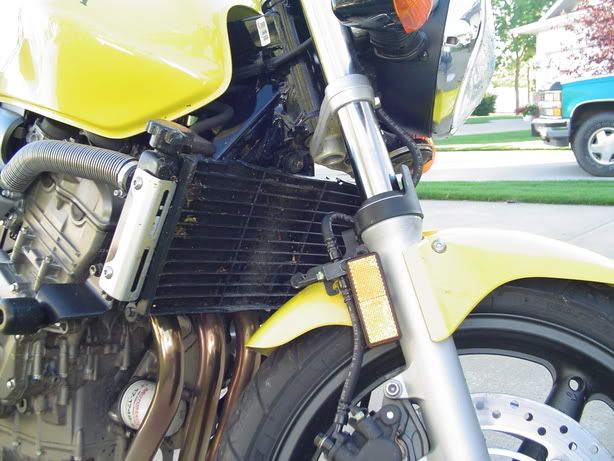 You can see bits of bug imbedded in my rad, smeared across the mudguard and beaten into the tank. Suffice to say my leathers looked even worse. So I hauled out the hose and soap and went back to cleaning.
About that time, my friend gave me a ring and asked if wanted to go for a ride. You remember Russell? How could I say no?
He showed up in fine form.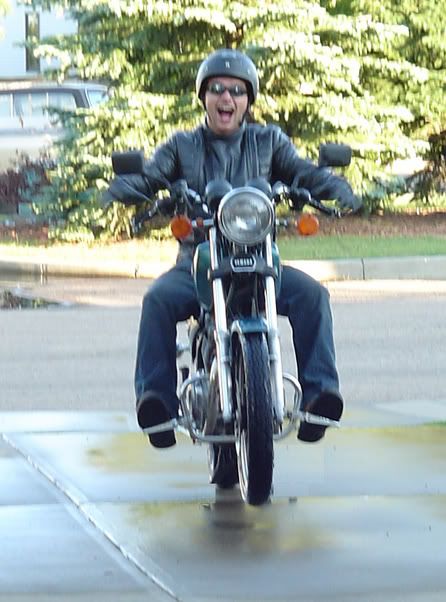 It ended up being a short ride around town with him followed by a movie. But was still a lot of fun.