I'll start by saying to anyone who is Canadian and happens to be reading this, HAPPY THANKSGIVING!!!
And this... this has been the best thanksgiving I can remember. Epic one might even say.
It all started yesterday (sat) morning around 9:00 when I recieved a phone call from my best friend Russell. We're going to Stettler to meet his friend for lunch. She lives in Regina now, but came back for Thanksgiving and to go wedding dress shopping. Russell had arranged to bike 1/2 way so I was asked to oversee the operation of meeting in the middle (Stettler). Basically with temperatures being what they are he didn't really feel safe heading out on a solo ride. And me? Well I love putting KM's on the bike, so I couldn't not go! Besides Taren is a friend from a while back and it'd be nice to see her again. Plus we get to meet her Fiance

The basic plan was leave Sherwood Park at 9:30 and arrive at Stettler at 12:00 we'd grab a quick lunch and exchange some photos and then head back to Sherwood Park. Plans Change.
Anyways, 9:00 I get the phone call that says are you ready to go? I'm not, but I'm putting on my layers to do so. 2 pairs of socks, fleece lined jeans, chaps, 1 t-shirt, 1 long sleeved t-shirt, 1 windbreaker, 1 heavy hoody, 1 leather jacket, 2 pairs of gloves, a necky and my mp3 player. I also has some extra clothes in my tank bag.
The temperature was well lets be honest it was below freezing when I pulled out of my driveway but with all my layers it wasn't too cold riding through town to Russel's house, of course I was only doing 60, and it was stop and go traffic, soooooo what did I know.
9:30 and we're flying down highway 21 at 120km/h. Normally when I ride with Russel we do 110, cause his bike tops out at 120... but apparently he had it pinned the whole way. Half an hour into the ride I start to get cold. Really cold. REALLY REALLY COLD. Fourty Five minutes and I'm starting to consider turning around, this isn't worth it. At this point I start to notice something, I'm halucinating heat sources, the sun actually feels warm through all of my gear... at least where it's shining on me, but at that ambiant temperature coupled with that speed, any energy at all that hits me is going to dissapear into nothingness before I can possibly realize it's there. But I swear the sun was warm. That scared me more then a little. After an hour I stopped feeling cold, I was the cold, the cold was me. We were one and the same two entities inhabiting a single body, I can't explain it any better then that.
At this point we're about 12km out of Camrose (our first scheduled stop) and Russel starts pulling over.
Typically Russel leads on our rides, because I have a bad habit of cruising at 140km/h. So he gets to set the pace.
I think to myself, "Wonderful, he's cold too, lets stop and warm up." Nope, he's out of gas. 12km is long hike

I'll apologize in advance to everyone that knows this. I'm writing this post for multiple forums, and TMW is the only one that has any bikers on it. But all bikes, scooters included have what is called a reserve. Basically under normal use the bike pulls gas from the top XX liters of the tank, leaving the two liters in the bottem untouched. This is handy because 2 liters = 40km, usually enough to get to the next town and fill up. This is controlled by the petcock which can be found along the bottem left side of the tank.
So we pulled over and he switches to what he thinks is his reserve and spends 2 minutes trying to start it. I spend two minutes with my gloved hands clapped to the side of the engine, trying to restore feeling to my abused digits. At this point I pull up alongside him, and politely suggest that he turns it to reserve instead of off. Funny how things like that work.
We pull into Camrose and gas up and buy some batteries, meanwhile I'm sucking heat off the tank... sooooo cold. It's warmed up to about 4 degrees now, weeeeeee, still feels below zero while we're at speed. We'd considered stopping for a coffee, but decided we didn't have time.
A quick change to some heavier gloves and it's time to go again through Camrose on highway 13 to highway 56 which we take South to Stettler, those of you who have read my blog previously will realize that this is an exact copy of the route Whytegryphon and I took, the goodies never cease to amuse. I cannot say things were much warmer, but we did arrive safely in Stettler.
Now, it's abotu 15 minutes to noon, and we were supposed to meet in front of the Zellers. Stettler is a VERY small town, so we basically got on what I'd call mainstreet and rode from the East end to the West end. We saw EVERYTHING, BUT a Zeller's. We pulled into the very same Tim's that Whyte and I had visited so long ago and ask for directions.
"Is there a Zeller's in town?"
"No."
"uhhhhhh, WAS there a Zeller's in town?"
"yes, it's that empty building behind you."
So we got some coffee, called her cell and sat down to wait. Remember how we decided not to have coffee in Camrose because we didn't want to be late? Well we were 10 minutes early, and they were 5 minutes late. Ohhhhh how I missed that coffee.
Hurray, hugs all around, introductions and the works then to Smittys restaurant for lunch. Taren kindly bought for us because, "we rode all that way through the cold just to visit her." It took her and her fiance (BIG GUY) to keep us from paying our part of the bill. Apparently bikers aren't as scary as they used to be. At this point we're invited for Thanksgiving dinner at her mom's place in Consort.
For those of you not keeping track we're currently about 150km south of home, and Consort is another 150km East of Settler. Putting us 300 km away from home in temperatures that are flirting with freezing. But having gone this far we cannot not go further. We're going to be put up for the night, so we may as well go.
So we talk quickly with Brad who agrees to keep it under 120 for the duration of the ride so's we can keep pace. Apparently 100 on his speedo = 120 on ours, because he wasn't doin no 100. Chilled but not frozen we arrived in Consort for dinner, it's only 3:00 so we pull out the poker chips and play a free game. I quickly lost my shirt, but what else is new? Russel won of course. As the only one of us who actually plays more then once a year.
After losing at poker we pulled out monopoly (yeah, we're losers). But I was kicking "O Ring"! When we got close to supper time I owned everything from the first railroad to free park (1.5 sides) with hotels on everything. I was making a minimum of $500 per person per time around the track. At this point someone said, "I'm hungry lets call it a draw."
"WTF? No, I don't want to call it a draw, I'm winning!"
So it was a draw.
Dinner was not your traditional thanksgiving feast, we had fondue. Home raised angus steak (ohhh myyyyy GODDD! sooooooooooooo good), chicken, mixed veggies, cooked spring rolls, avacado dip, chocolate fondue with fruit. Everything was amazing. I managed to miss out on dessert by stuffing myself with steak and veggies. Really really good food.
I managed to lose $10 in poker afterwards, tried outlbuff Russ, turns out a King high (with nothing) beats the "crumb" outta my Jack high (with nothing). All in is not a good idea when you're trying to bluff apparently. *roll eyes* at least I wasn't the first one out. We watched some football and everyone headed for bed. I lucked out and got a bed... well, technically I got a boxspring. No mattress. You learn to sleep with your weight evenly distributed, really tough, and requires you to be really tense all night. Not a LOT of fun, but fun non-the-less.
Breakfast was 3 cups of coffee and 1 peice of banana bread and around 10:30 we headed North on highway 41 to Whitefort? I dunno, the final target was Vermillion, we have another friend there and seeing as it's the same distance no matter what route we take, we may as well stop in and say "Merry Turkey Day." So we stopped for gas in whitefort? and carried on North. It was a lot warmer then the day before so we had a lot more fun. Plus there were some nice twisties and we got a couple of good passes in. The hills around there were REALLY pretty. I was thinking about stopping for a couple of pictures, but decided it was better to just push on.
We arrived in Vermillion and probably freaked out the neighbours. We rode up, rang the doorbell, tried the door, wandered around back, knocked on some windows, banged on some walls generally did our best to make it known we were there. Turns out she wasn't... no one was, so a note was left in her door letting her know that we were in the neighbourhood. Though we had to ride 200km to be in the neighbourhood. We're expecting an e-mail in a couple of days. Possibly with a heart attack attached.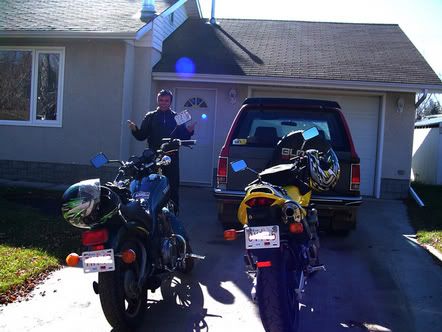 From there it was a quick Jaunt to the West to get home and arrive safe and sound. I've left out a lot, but I ahve to say it was an absolutely amazing weekend, and I wouldn't have given it up for anything, despite nearly losing various body parts to extreme low temperatures.