Reynolds Museum:
This year the Reynolds Museum in Wetaskiwin is hosting one of the biggest public collections of bikes in North America. Assembled from all over there's everything from the #01 Honda Rune to the bike that Doris rode solo around the world, and everythin in between. Of course this is a once in a life time opporunity, since after it gets closed down it's highly doubtful that it would be possible to get all these bikes back together.
Bikes Redy To Go
The last week has been singularly rough. Tons of rain, thunderstorms, hydroplaning and hail. However it seems that no matter what happens every second sunday is beautiful. I cannot fully explain it, but I'm not going to complain. This weekend was no exception, and there was a meet to go to. As usual I set out from my house around 8:00 AM, what an ungodly hour to meet the Retreads for a breakfast meeting. My Aunt and Uncle are both members and take me along as their guest. I have been riding with them every trip for the last few weeks and greatly enjoying it. While I am not officially a member, nor will I be old enough to join up for at least 19 years I have made enough friends that simply showing up will have someone adopt me as a guest. At least, that was my theory, which was put to the test. My Aunt and Uncle are out east for the next few weeks on a motorcycle adventure of their own.
So, like I said, braving the potentially inclemental weather I set out alone at 8:00. I arrived at the same time as Gerry and Denise. You'll recall that Gerry was the pleasant fellow who directed me and my friends down that gravel road last year. Definately going to have to give him a hard time.
They adopt me and we head in to breakfast together, the usual meeting stuff goes on, while I enjoy my breakfast. Not being a member of the club I get to ignore most of it

General chitchat fills the air as we wait to get the ride underway.
After everyone finishes breakfast and the club business is taken care of we all get ready. Split into two groups and headed out. With heavy metal blasting into my ear and a fair bit of trepidation (Gerry is leading the group I'm in so I'm expecting gravel) we set out. Excitment fills the air, and the roar of 4 other bikes joins the general fray. This is going to be a good time.
As usual Gerry performs his magic on the roads of Alberta. As if he's taken the straight line of ribbon that makes up Alberta's roads between thumb and forefinger and flicked his wrist he magically creates twisties out of nowhere. How he manages to do that, I'll never understand.
Following a series of backroads that I could never remember, let alone recreate we made our way South and West out of Edmonton. Carving through all the turns we could find.
Because of traffic lights we get split up on occasion, after the second time I come to the decision that I being immortal and thus more willing to take risks will ride drag. I'll admit it might not have been a smart decision, the guy who was in the back had a CB, but he also had a passenger which basically means he had to be more conservative then I did. That and I'm riding a crotch rocket as opposed to the cruisers everyone else is on means that I might be able to keep up a little better at things like yellow lights.
It was a good theory, but we got split up once more, though highway miles and some careful passing took care of that.
Somehow we arrived at the intersection of Sec Highway 795 and Twn RD 472A where Gerry turns off onto gravel. NOOOOOOOOOO! Okay, well it turns out it was a parking lot and not a gravel road. But I was scared regardless. We ended up at Pipestone Cafe and Country Antique Shop. Which was like an antique shop, cafe, and general store all rolled into one. A quick cup of coffee, and slice of pie (for some) and we were back on our way. Though the 2 other customers certainly seemed surprised to see 9 bikers walk in. Just sitting around talking was a lot of fun.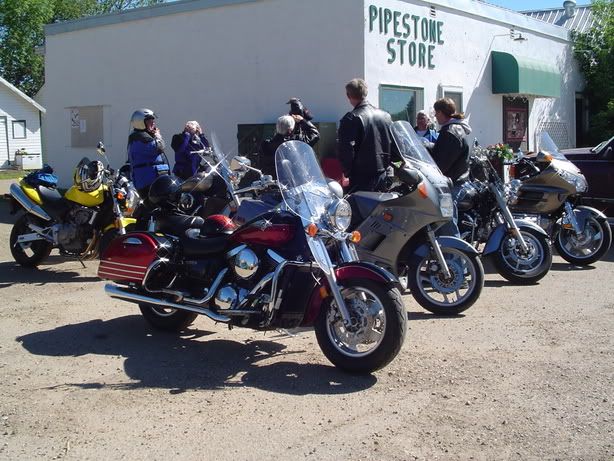 From there it was a quick jaunt to the museum. Seconds after we pulled up another young guy on a Yellow Honda 599 pulled up BESIDE ME. I've never seen another one in Edmonton that wasn't at the dealership, so we had to talk for a bit. He's put about 1600km on his. And we're in total agreement, it's an AMAZING ride. Tons of fun! We went inside where we got to see about 100 different bikes, all of which were beautifully restored. It was awe inspiring to wander around and look at what people used to ride. It was terror inspiring to wander around and LOOK AT WHAT PEOPLE USE TO RIDE.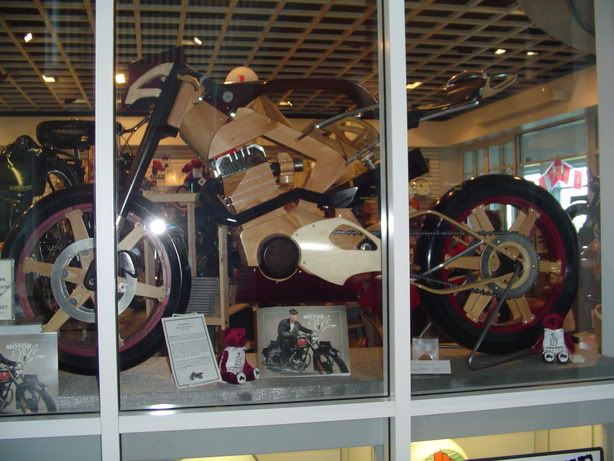 Having seen the show before with BuzZz who had actually thrashed the crap out of a lot of the later models shown I was armed with some knowledge that few of the other riders had. That made it even more fun

I also got to sit on the very first Honda Rune that ever rolled off the assembly line. That's right this is 001.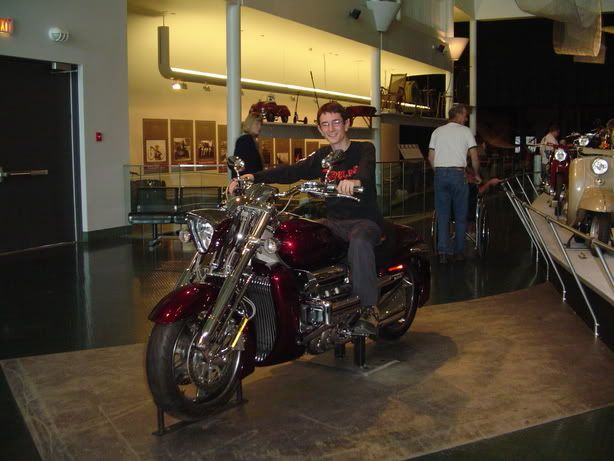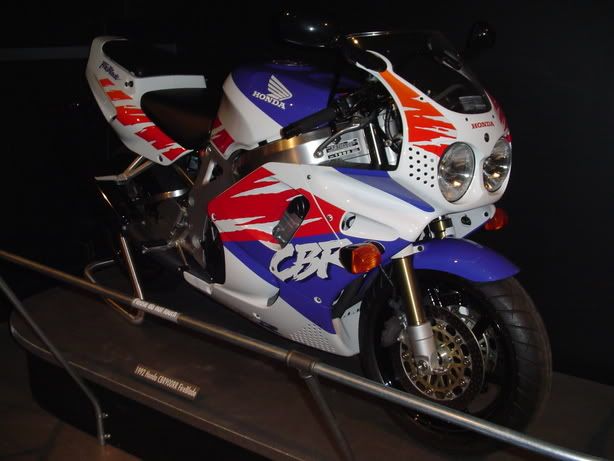 After wandering for a couple of hours we had lunch and decided it was time to head home. Only 4 bikes to go, the rest had taken off on their own. We hoped. Two bikes stopped at the next town over while I followed the third through Leduc and watched them turn off towards Edmonton while I continued East to highway 21, which I thought was rangeroad 330 (it's actually 320) so you can imagine my surprise when I hard braked from 140km/h to turn onto 330 and found gravel instead of highway. Back up to speed in a couple of seconds and kept on to the highway. I arrived home safe and sound, and loved every second of it.