Whirlwind West Virginia... ("Wild Maggie" Put to Rest)
June 15, 2005.
Well, I did a whirlwind trip down to
Seneca Rocks, WV
for The Chain Gang (f650 forum) West Virginia Jailbreak, at Yokum's campground. There was another agenda as well...
I departed Reisterstown at about 4:30 pm Saturday with a full tank of gas in the Rockster, my tent and sleeping bag on the back and a smile on my face. According to the GPS the trip was gonna be about 220 miles, nearly 4 hours.
Its funny how just last summer, 4 hours on the motorcycle was daunting and not to be considered for a single day's ride, and here I was gonna do it AFTER WORK Saturday, and coming home on Sunday.
I had a couple intentions with this ride... one was to meet some of the folks I'd been conversing with online, another was to log in some big items for the BMWBMW club scavenger hunt (one item is Seneca Rocks, WV). The bigger reason perhaps, was to 'conquer' Wild Maggie, the curve that I went down on on my f650CS, in July 2004 (see
http://forum.motorcycle-usa.com/?f=17&m=84932
).
The temperature was HOT setting out, but I had on my UnderArmor and summer riding gear. I rode I-70 westward to try to make the best time. Kept seeing riders coming at me with raingear on and headlights. Clouds were coming at me... At Hancock, I pulled into a bank drivethru to think about putting on my raingear.
While having a drink of water, I observed that the front seemed to be moving northward and I decided not to bother and continued. I took I-68 then onto two lanes somewhere outside of Cumberland, I believe.
The last leg of the ride was in the dusk - as the 'forest rats(deer)' are notoriously coming out !!Eeek!!! But the ride was uneventful. I arrived at Yokums at about 9:30 pm. I pulled in, said hello all around and set up my tent. When I tried to phone home on my cell - - - duh, NO SERVICE valley's too deep. So I had to ride up to the office and see if I could find a pay phone to let hubby know I'd made it. I knew he'd figure there wasn't service, but I still wanted to check in. He wanted to regale me with tales of Clifford's transmission-ectomy - removal of trashed transmission on his BMW R1100RS. I had to cut him off. We said our goodbyes.
I returned to at last relax and join the fun at "Planet Orange." Great bunch of folks! Live bluegrass music. Beer, BBQ and we were camping right next to the New River so there was natural white noise to drown out fellow camper's snoring, etc.
Having been awake since 6am, I turned in 'early' - about 1am. I zipped into my tent, put in the earplugs, wrapped a t-shirt sleeve around my eyes and slept until nearly 9am. Man that felt good.
In the morning, the sun was shining... I was one of the first few awake.
Here's a shot of my bike in front of Jailbreak HQ early Sunday. You can just see one part of Seneca Rocks in the haze to the right of the tree branches.
"Planet Orange" WV Jailbreak headquarters.
I later learned that some of the others were awake until 3:30 am.
I greeted those awake and inquired about breakfast plans... then sucked down a Clif Mocha (caffiene laden power goo) packet and packed up my tent and gear. My intent was to get in another scavenger hunt item or two WITHOUT the weight of my side cases and gear, before I headed back home.
The host, Ken Hait and a couple of the other early risers were riding up rte 28 for breakfast. I was still packing up and said I'd meet them there. I finished packing and piled all my stuff together... by this time the air was STEAMY... Did I mention that nearly EVERY turn off and turn in in West Virginia has a coating of gravel on top of the asphalt? You canNOT just squeeze the brakes and turn. You gotta pay attention.
I head up 28, and manage to blow past the restaurant (the guys didn't know the name, just said look for the motorcycles out front).
I realize my error and think to myself, "The road is practically deserted, it is wide enough to turn around on..." I slow, look where I'm trying to go. But THEN I focus on the narrow GRAVEL shoulder, and the steep grassy drop off beyond...
You guessed it: Front wheel goes ONTO the gravel shoulder, and down the slope a bit, and OVER my baby went (toward the road, not the drop, fortunately). She tilted up onto the left cylinder head, and the handle bar bumped the pavement. I stand up, cuss in my helmet and hit the kill switch. I'm about 100 yards from the restaurant. Grrrr.
The front wheel is down the slope where the surface is damp and grassy, PLUS there is the gravel. Gryndl weighs over 500 pounds. Pretty well the max I can lift with my legs. I realize that to stand her up, I've got to get Gryndl vertical, WITHOUT dumping her down the hill onto the other side. Not worth the risk.
Ah, F@ck it! I pull off my helmet and walk to the restaurant. The guys are just digging into a really tasty looking country breakfast. I apologize for interrupting and ask for help. All three get up. These guys are great! With a bit of discussion, they had Gryndl upright in short order with much - "it happens to everyone, don't worry about it."
I ordered a magnificent cholesterol and carb laden breakfast and listened to the guys tell tales of their off road ride, on Saturday. At last we finished breakfast and the guys headed back to camp, while I planned to get a look (and pic) of Seneca Rocks before loading up.
Seneca Rocks are unbelievable... if you get a chance to see them, do. The ride down there is worth it as well. This photo doesn't do them justice, but you get the idea.
After this pic, I made my way back to camp.
The camp access road is a sorta steep slope with, you guessed it, a gravel surface. Further into camp it becomes all gravel - that I can deal with. Coming from the south, I have to make a tight right turn. Probably not a problem by itself, BUT there was a pick up truck sitting there, waiting to come out.
I was doing well, not panicking. I dropped speed, was just gonna ease my bike around that curve, but I spotted the GRAVEL and thought I was still going too fast. I put BOTH feet out (which meant I couldn't use the rear brake) and squeezed the brakes just a LITTLE bit (or so I THOUGHT)....
OVER WE WENT!!! "Sh!t!!" I hollered into my helmet. Fortunately we landed on the grass. The guy driving the truck leaped out before I could even look up. He thought the bike landed on my leg - thank god for that boxer engine. He stood the bike up. I got back on and headed into camp. I had to tell the guys that I'd now dropped Gryndl on the other side too... the dirt ground into the back of the mirror proved that.
I helped knock down the big portable carport that had been headquarters. I loaded up my gear, thanked everyone and said my goodbyes, then headed out. Northbound again on 28. Destination: Parsons, WV and 219.
I asked the GPS to take me home by the fastest route, but looking at the route, that seemed to result in adding about 30 miles to the ride. I rerouted by 'shortest' route which looked reasonable... Along the way, on Rt 52, I found another scavenger hunt item:
An added bonus is that this is also the Eastern Continental Divide. The sign in the background indicates this is the Randolph County line as well.
A bit further on, the GPS indicates a left turn... I make it, and the road is narrow, but paved. I continue a half mile or so and the pavement becomes a single lane gravel track. Too narrow to turn around in... I continue. After a mile or more, the 'me' arrow goes off the pictured road line... I don't give this much tought, it has happened before. THEN the road widens into what looks like a tiny gravel cul de sac, with a closed gate to one side. Grrrr. Well at least I have room to turn around. So, I retrace my path, back to 52 and continue north.
Next, the GPS indicates that I need to turn on rt 72. Ah, HA! This road I know. This is the 'short cut' from one side of the valley to the other... I travelled it several times in cages while being shuttled by the nice ladies of the WOW chapter when I was injured last summer. COOL!! IT is 20 miles long, narrow and twisty - there is a sign at the turn off that states "Not suitable for large trucks" 72 has some unbelievable switchbacks and goes through BEEYOUTIFUL and remote countryside (sorry, no pics- I was RIDING!).
I kept my speed down, ever watchful for gravel in turns, and allowed any cars that came up behind me to pass. I was in no rush and wanted to enjoy the scenery.
At last, 72 comes out on 219 just outside Parsons. I took a breath and headed up. 219 is a well travelled roadway. With truck lanes on the uphill grades. Nearly every curve has a posted speed limit sign, from 50mph down to 20 mph. Soon, I recognized the approach to Wild Maggie. I had my speed right and carved my way around it without any trouble at all. I kept expecting the curve to "tighten up," decrease in radius, but it was almost a disappointment. It was just a turn, followed by another turn, and another. A few miles on, there was a rest area. I pulled in and parked. I pulled off my helmet and assessed what I'd done.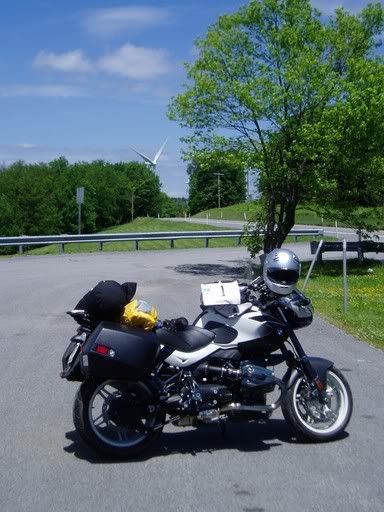 I stood there, drinking some water and listening to the whoosh of the generating windmills, and thought to myself, this curve was no more challenging than any other 20mph curve I'd encountered in my 2 days of riding West Virginia roads. I wanted very much to share my victory with someone... It was a magnificent sunny afternoon and I'd claimed victory over a demon of my past.
A few minutes later, a half dozen cruisers rolled into the rest area. Two women riding pillion and 4 men. All were in tshirts, jeans and beanie or 3/4 helmets. Me in my full gear and full face helmet, with a loaded for travelling BMW, were of little interest. They eyed me and I eyed them. We nodded at each other in acknowledgement, but didn't exchange words.
I went to find a refill for my water bottle and when I came back outside, the cruisers were getting back on board to continue their ride. We nodded again in parting, and they thundered off.
When it was quiet, I phoned home and spoke to Chaz in the midst of his Transmission Project. He was excited for me, but mentally involved in his task... I understood.
I pondered, and came to the conclusion that if only I'd seen the 20mph curve speed sign, I would have had my entry speed right and the wayward truck would not have been an issue - or the entire situation could as well have turned out much uglier also. I must have glanced at my instrument cluster at the instant I breezed past that sign.
I was about to put my helmet on when an older gentleman - 60 something I'd guess - walked up to me and admired my bike. He said he'd been wanting a BMW for some time but that the nearest dealer to him was over an hour away. I tried to explain that they don't require much dealer care... ah well.
I feel that I've written the final chapter of my Big Crash and can put that book on the shelf.
I asked the GPS to route me home, checked my WV map for confirmation and started homeward. The GPS and I had some disagreements - at one point I ended up heading back toward Seneca Rocks on 42 instead of NE as I needed to travel.
I wind my way northeast, finding my wheels on Rt 15 and then Rt340 . . .
For the most part the rest of the ride is uneventful.
At about 7:30pm, I pulled into the parking lot of the Frederick, MD Waffle House. I park in what looks like a 'decent' parking space - in view of the inside of the restaurant.
BUT the space is sloped...
Too much of a slant for the side stand to do its job. I shoulda reparked then, but I was tired. Instead, I used the center stand. As I was eating, it occured to me that I SHOULD repark. So, I attempt to do so. . .
With the side cases loaded and the pillion seat packed as well, I've got to drive off the stand. I do, and when I grab the brake to stop the rebound, the bars musta been turned a bit....
"Oh, no! oh, Sh!!!!!TTT!!!!" Down we go.
I try to save it, but I've got just barely enough strength left to keep her from slamming the asphalt...
TIPOVER. Again. I stand up, hit the kill switch and have a look. Poor Gryndl is leaning against the curb, on the right side.
With the bags and stuff on board, I don't have a prayer of righting her without unloading everything. So, I do the logical thing and go back inside and eat my dinner while I ponder my next move, cursing my stupidity for taking that space in the first place.
In a few minutes, I look outside, and a pickup truck with two 20-something guys inside comes into view. They drive slowly by my upended bike, and park in front of the Waffle House. WooHOO! I get up and stop them at the door, with a plea for assistance. They willingly oblige. In no time my baby is upright and reparked in a LEVEL space. I thank them profusely and offer to buy their dinners.
I finally arrived at home at about 8:30 pm. A loooong day. Frustrating in some ways and rewarding too.
It took some emory paper and a moment of time to get the worst of the roughness out of the right side case. (Since I bought them used, I can always say the previous owner did the damage ).
P