Ride 113007 Justin Texas
Today started out a little on the weird side. First my dog decided to jump up on my bike as if she wanted to go for a ride. I know she really does not like the sound of the bike when it starts. Not that it is loud she just does not seem ok with it while it's running.
Here she is… Ready to go. NOT!!!!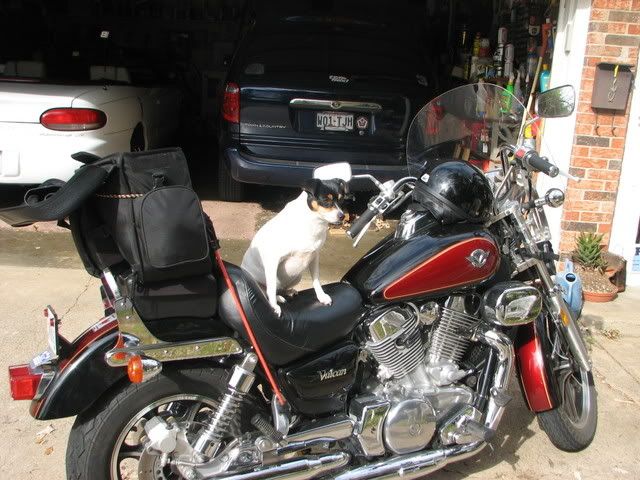 I wanted to go for a ride earlier in the day, but between this site and work I took care of a little business and then before I knew it noon happened. I had to get gas so while filling up an elderly man asked me for instructions to what I thought he said a Honda dealership. Since I was riding I assumed a motorcycle dealership and after talking with him awhile I quickly realized that he had no idea of where to go. I offered to drive up that way and he could follow which he readily agreed with. So I ride all the way up to Grapevine with him following pull into the dealership parking lot and he does not stop but keep following me through the parking lot on to a side street. I thought he wanted to say thanks so I stopped and backed up. Sure enough he wants to go to a Toyota dealership. I about fall off my bike. Not knowing where one is I look at his map again and tell him how to get where the map is and the fact that he can follow me once again down the highway to about the half way mark. My friends were supposed to meet me at my house at 1 PM and it is now about 1240 PM. So I take off once again with him following and when I take my exit so does he. So once again I stop at the same gas station to see what is up now. He explains that he is not from around here and wanted further instructions. So I told him to stay on the HWY and exit at 121 south. We take off, I turn left to go home he goes on the hwy. I hope it all worked out well for him.
So I called the ole boars and 3 came out for a ride. Here we are ready to go. As usual the plan changed as we rode and they were late, it is now nearly 130PM.
This is the four of us, right to left, TC, Phillip, me, and Paul in my driveway.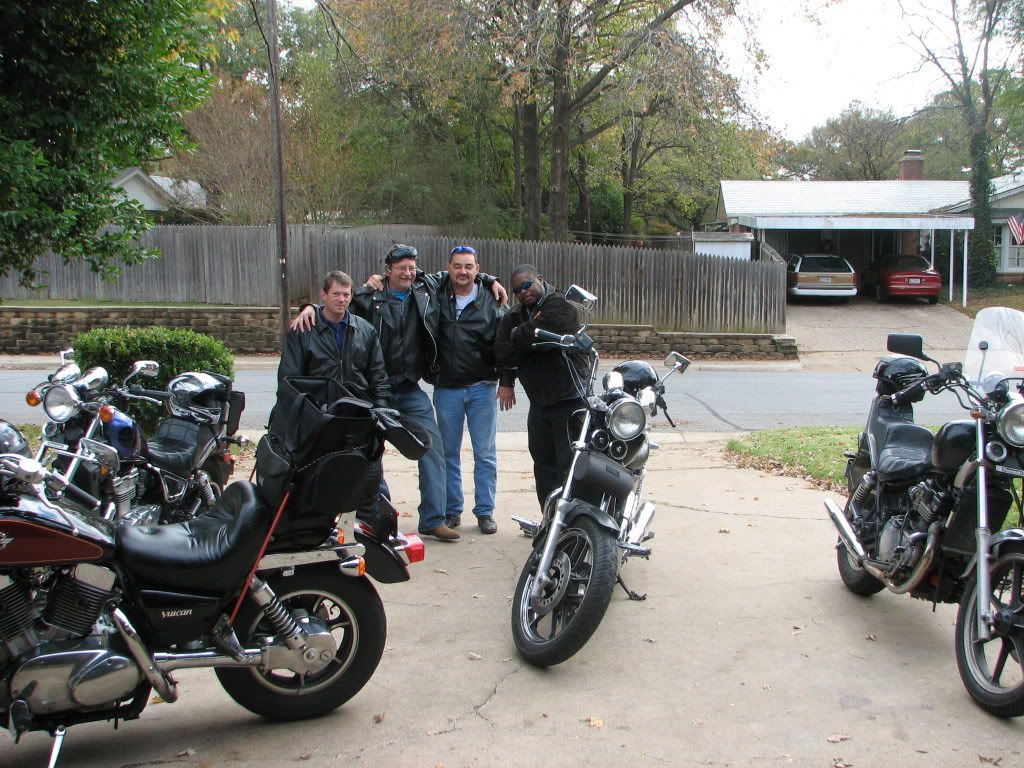 We were going to ride the 1171 but first decided to get some late lunch over at Chilies in Roanoke.
Right to left is Phillip, Paul, TC.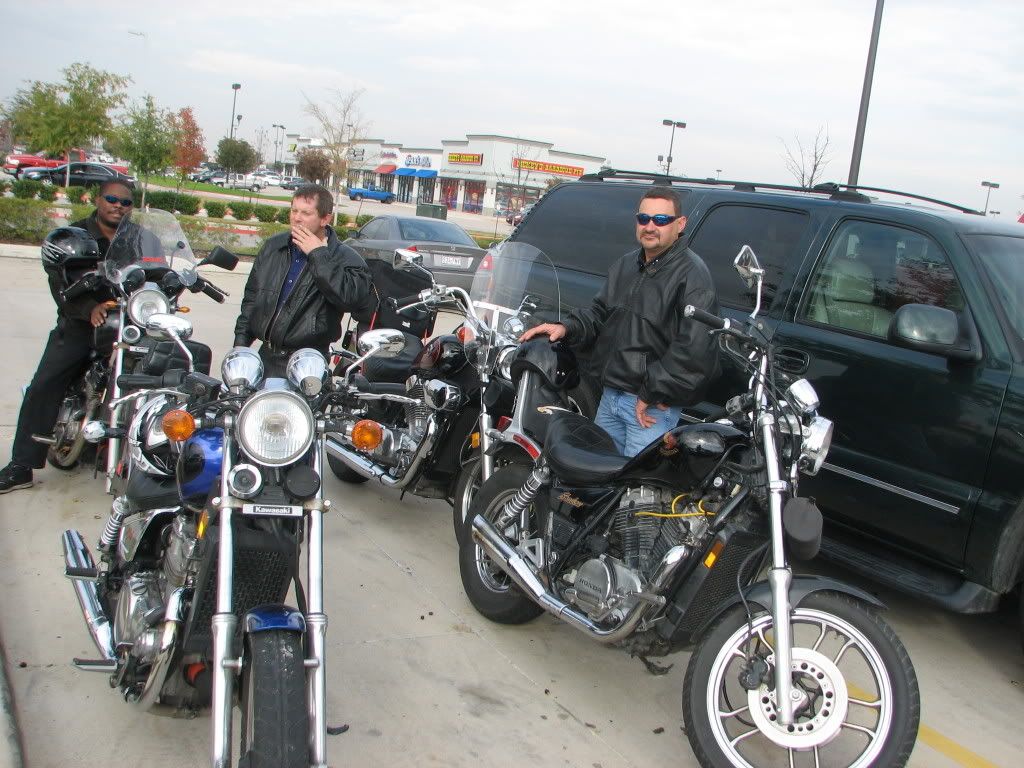 We take off up 377 until a small road and Philip has us turn left on it. It was a fun road to ride, a little twisty and nice scenery.
We stop in Justin Texas. Here is a picture Phillip took of us at the Justin Boots store.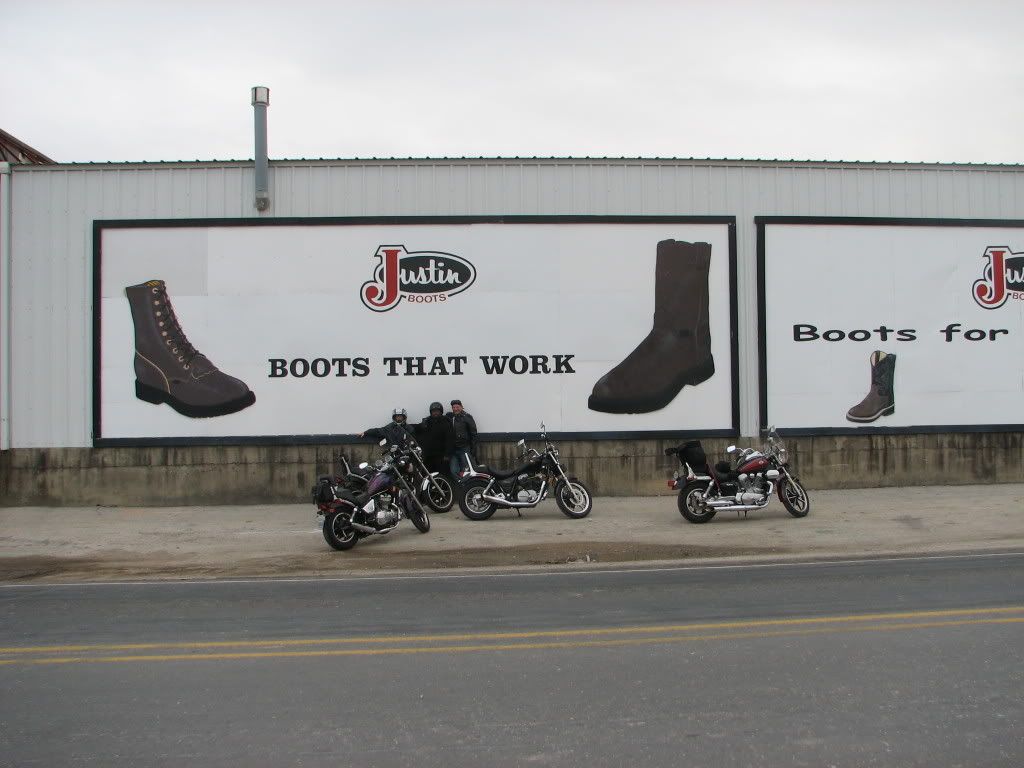 From there we decide to head home. Phillip is leading and sure enough in good ole Phillip fashion we miss our 114 turn off and he takes us the back way home. We get caught in traffic and end up zigging and zagging all the way home. It was a nice ride so
it was more funny then anything else. On 1709 we stopped at a light and two women with 3 or 4 kids in the back seat kept looking at us so I waved at them and they loved it. They kept waving at us and you could tell they just loved it. We decided to end our day at Dukes as normal. They have some lights up now as you can see. These guys love their cell phones.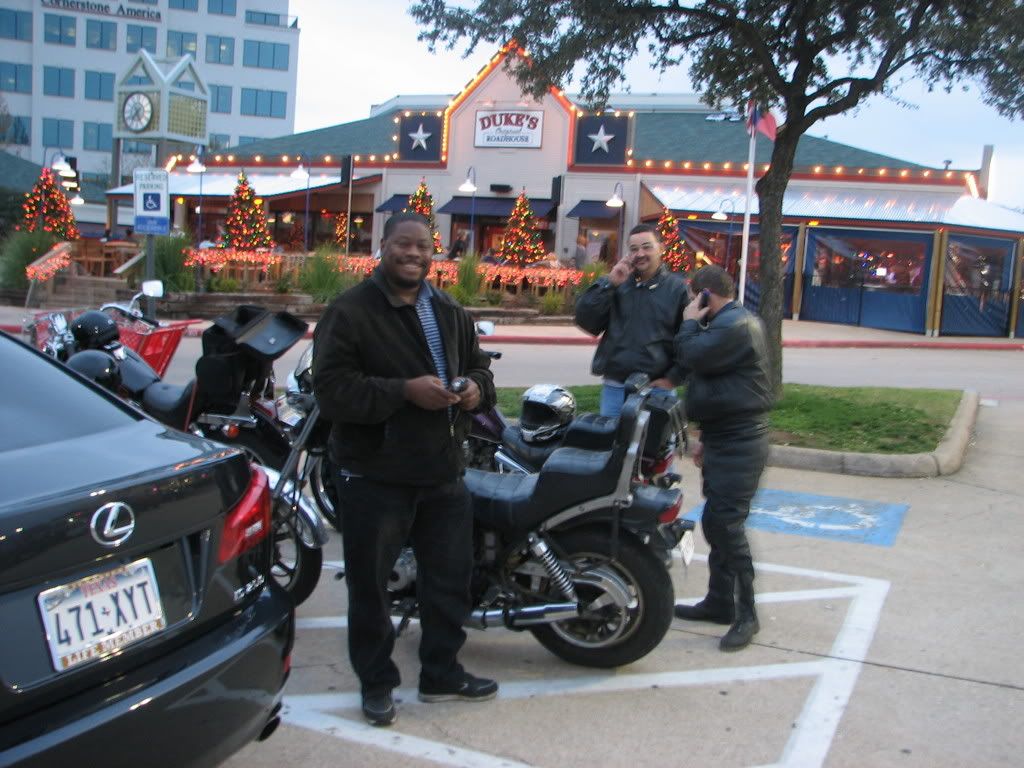 _________________
Keep the wheels on the road.
If you want check my blogg at this site.
http://www.totalmotorcycle.com/BBS/view ... sc&start=0