Today I went to the Classic Bike Show in Tsawwassen and took a lot of pictures. Amazingly there were
THREE, NOT ONE BUT THREE
Vincents there. I was in heaven, I've been in love with the Vincents ever since I sat on a Black Prince years ago, wasn't allowed to ride it mind you, but I did get to sit on it.
The show was held at the local ice and curling rink just a block and a half from my home. So I walked down there and met up with my mate Jeremy.
The entry fee was only C$8 and to be honest, the best part of the show was outside, lots of interesting bikes rode in. As with the bike show two years ago, I had only planned on spending a couple of bucks on coffee and not buying anything. And like the bike show back then, that plan went out the window.
When I broke my arm back in December, I was wearing my riding jacket which of course was cut off me. I found a local gear tailor and cut a deal. I am getting a made for measure leather jacket with armour and spine protection along with reflective piping for C$399 plus tax. Put half down and will pick up the jacket on May 14th, my 49th birthday.
I was hoping to get a Triumph Sprint ST this year, but given the current economic climate, decided to wait and ride the Sabre for one more season, so this new jacket will be my birthday present to myself. For my 50th, I'll see about treating myself to the Sprint.
Anyways, enough of my rambling, its the bike pictures you want to see, so here we go.
First up my mate Jeremy, looking as dazed as usual.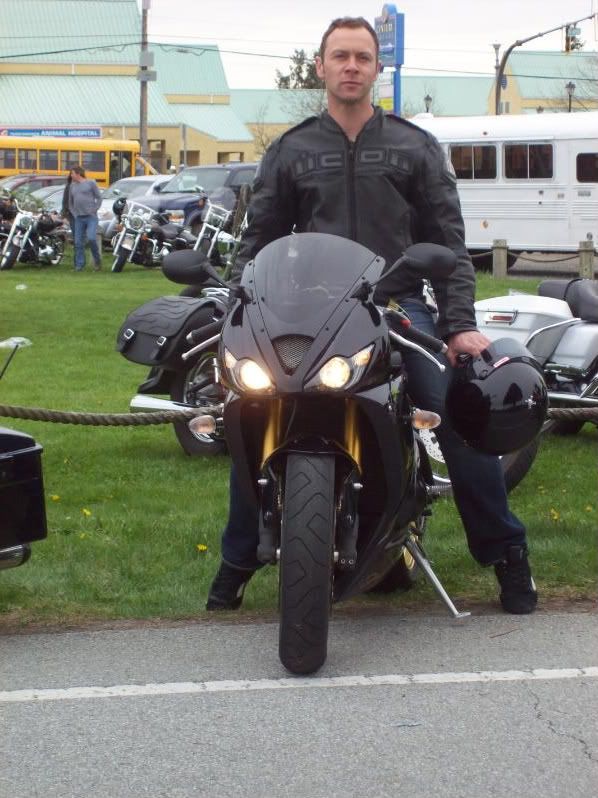 And now him "waving" good bye to me as he buggers off home.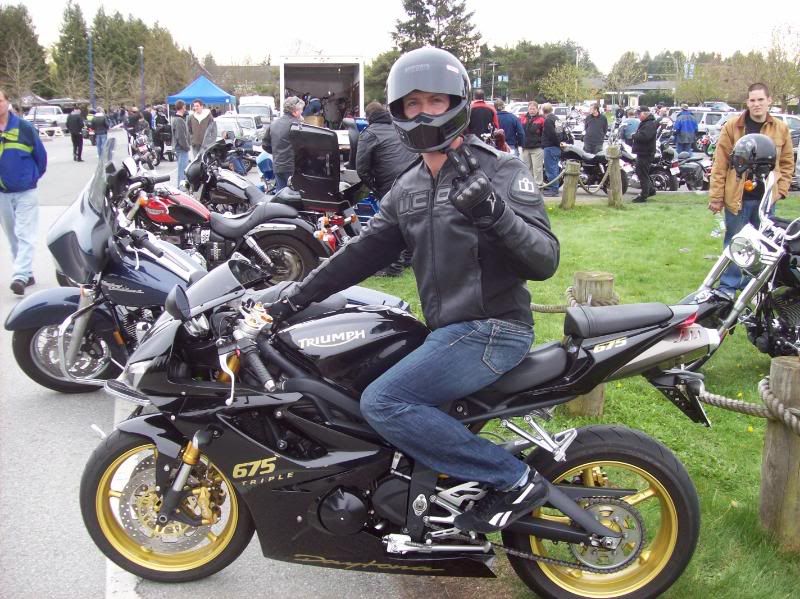 Here are the Vincents....be still my beating heart.
First up, a 1947 which was for sale....sigh, why couldn't of my lotto numbers come up this weekend?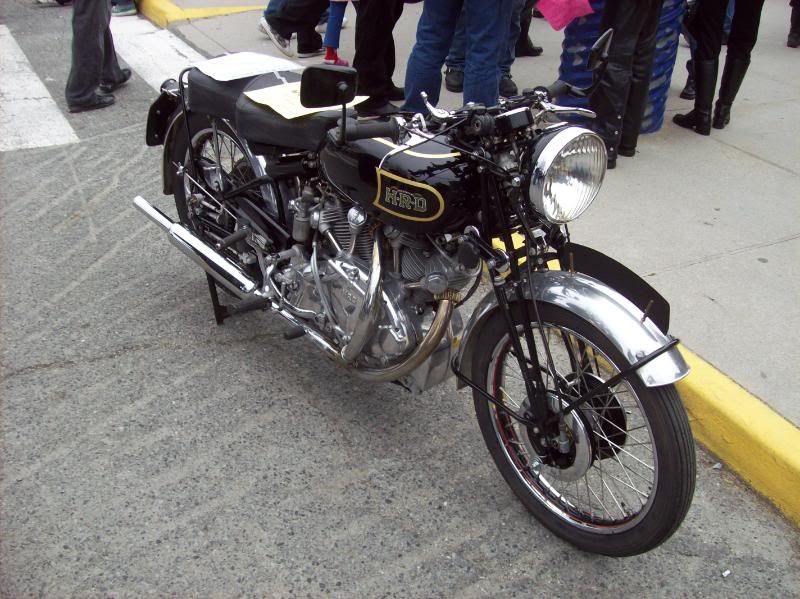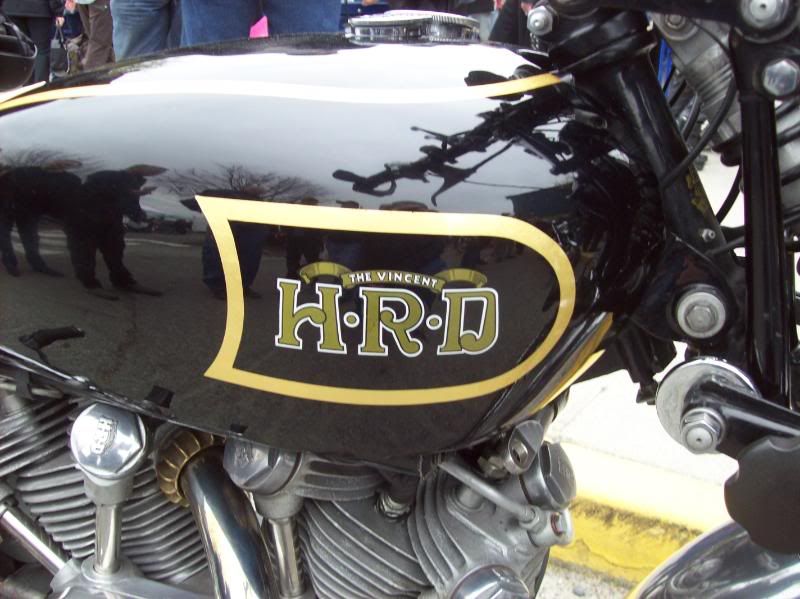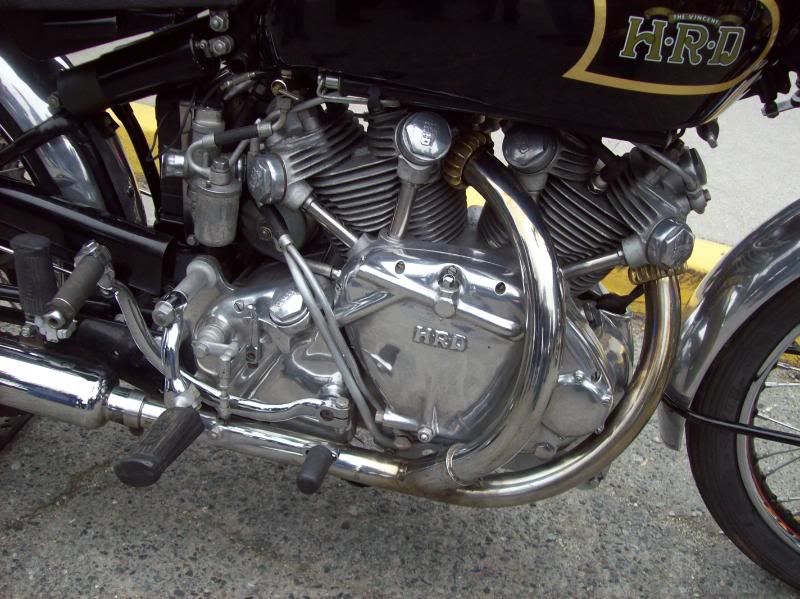 Look at the plumbing on this motor, a work of art and no doubt a right biatch to work on. I am told that these engines were powerful enough to push these bikes up 150 MPH!!!!!!!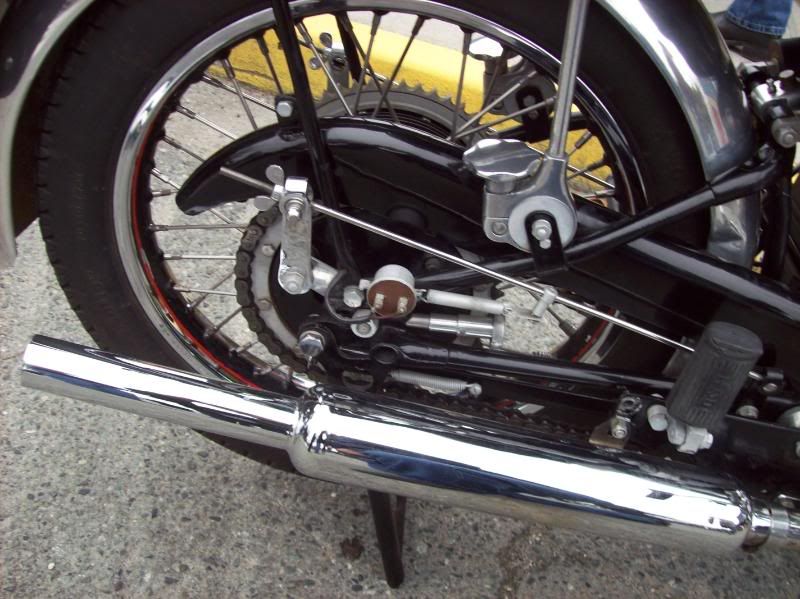 Final drive assembly. Not sure why, but there is an unused sprocket on the left side of the rear wheel and all three had them. Perhaps someone can tell me why.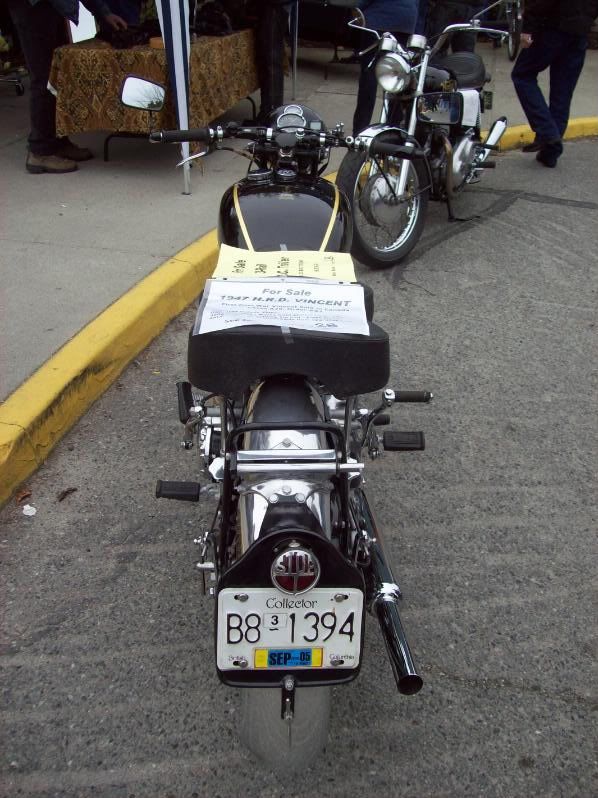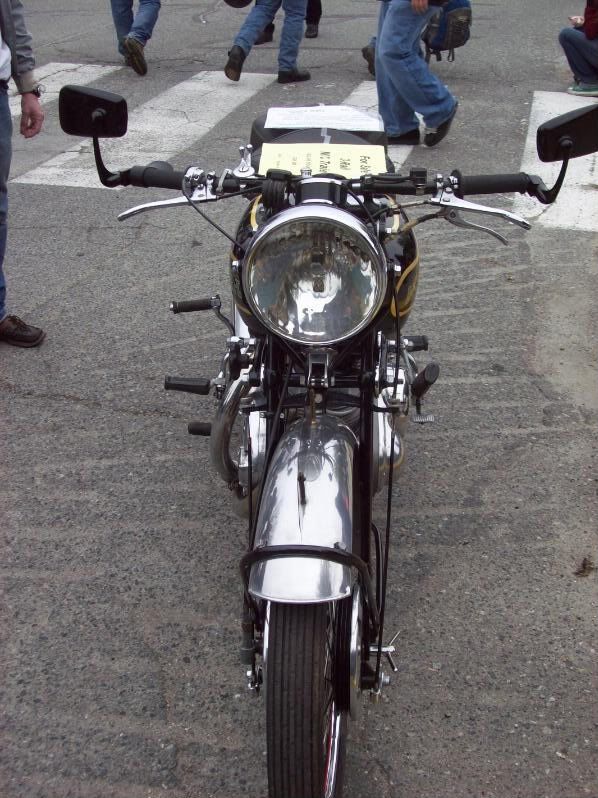 Massive bloody headlamp eh?
Vincent number two, didn't catch which year it was.
Only thing I have against this one is the after market muffler, just looks so wrong.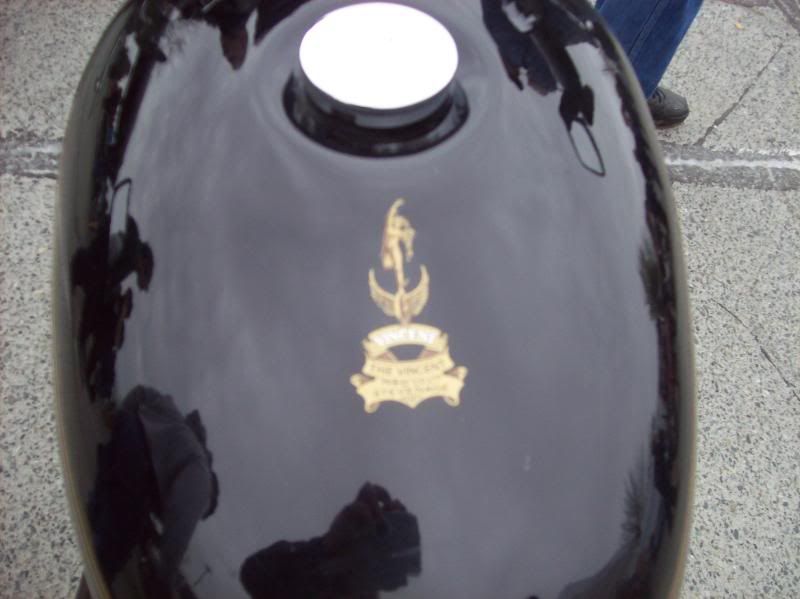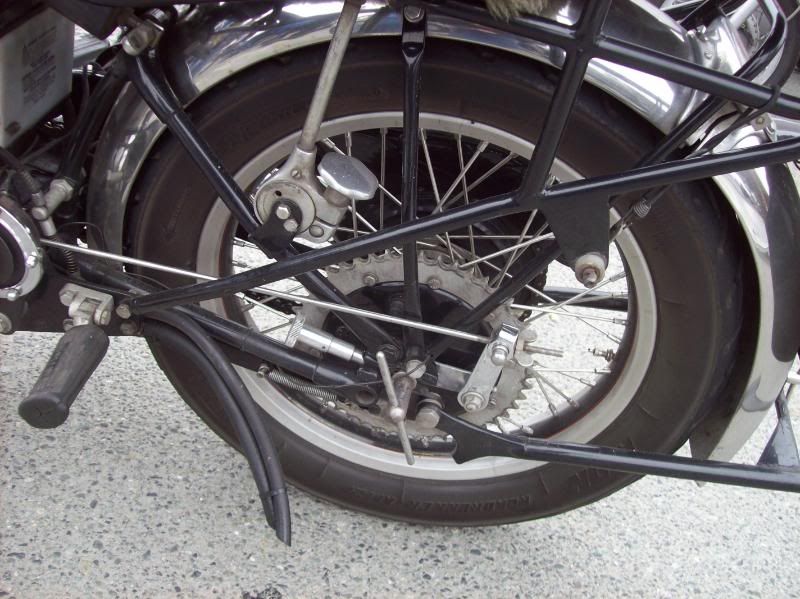 The third Vincent.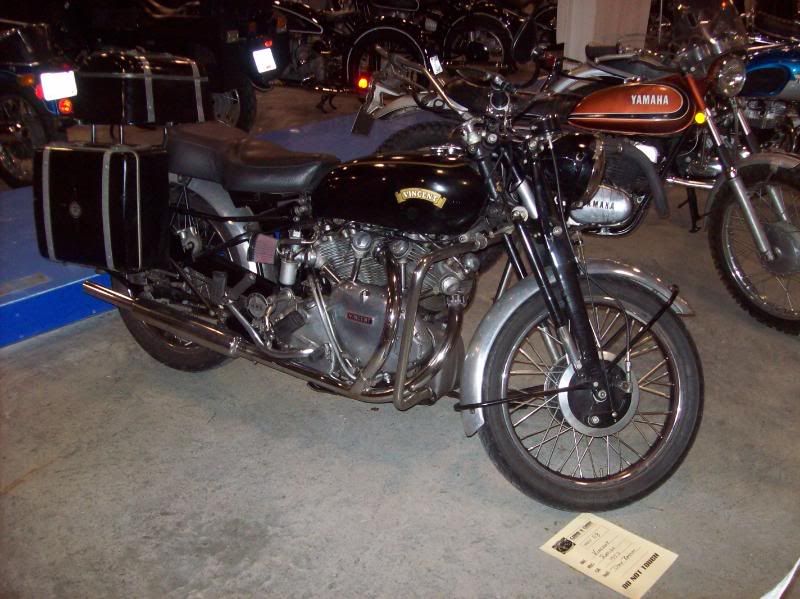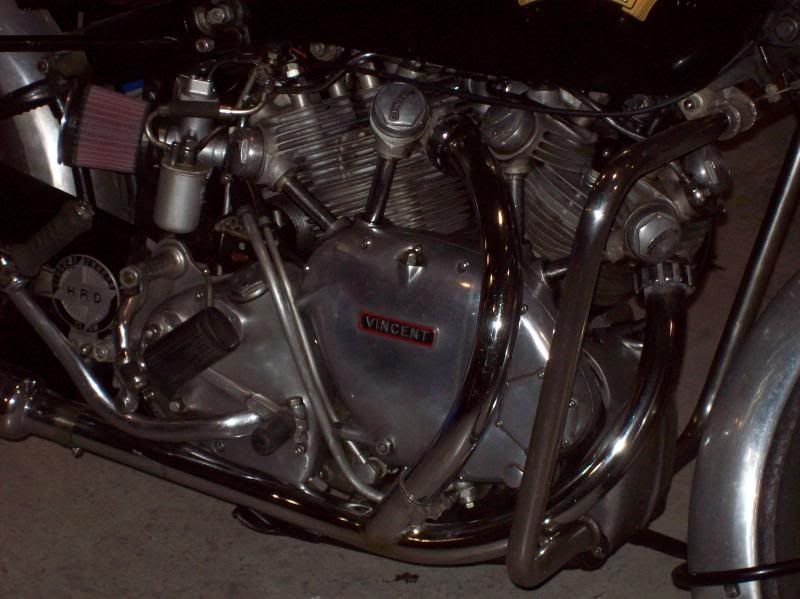 Another nice shot of the plumbing.
Here is the show stealer, a 1936 Indian. When it rode in, there was a mass surge of hairy arsed bikers armed with cameras towards its. Had it been in the judging, I figure it would of walked away with top honours.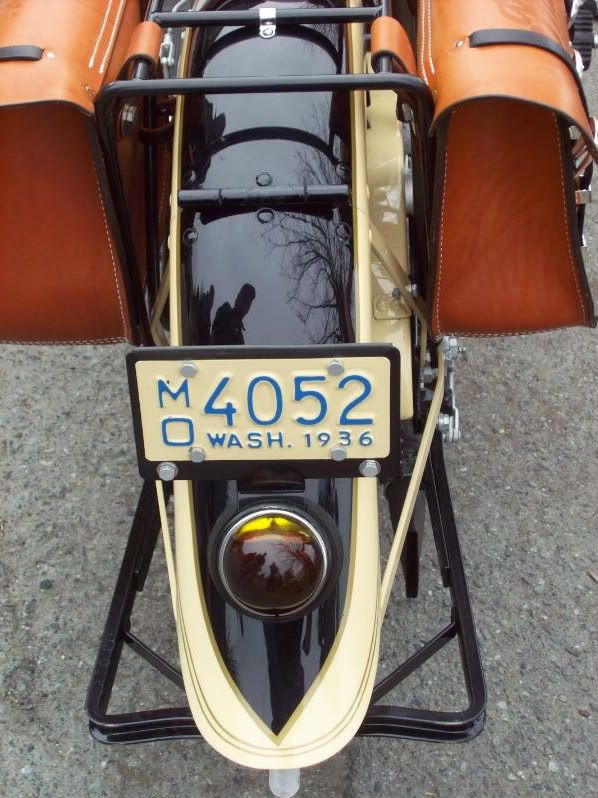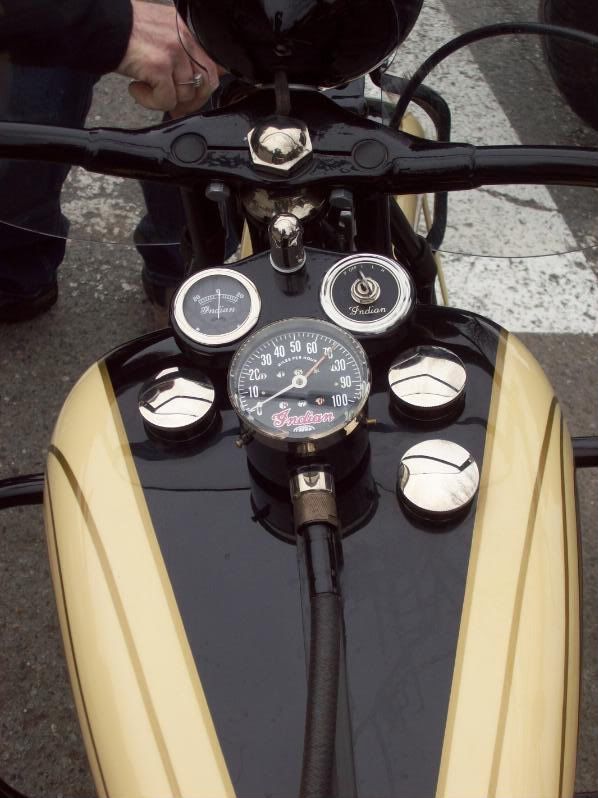 Love the gauges on this, really workman like.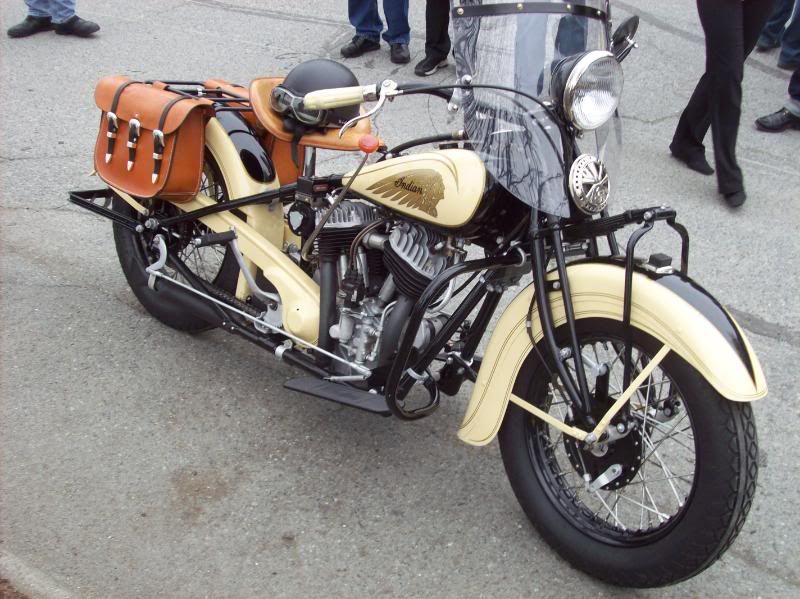 Look at the front suspension, half a leaf spring, unreal.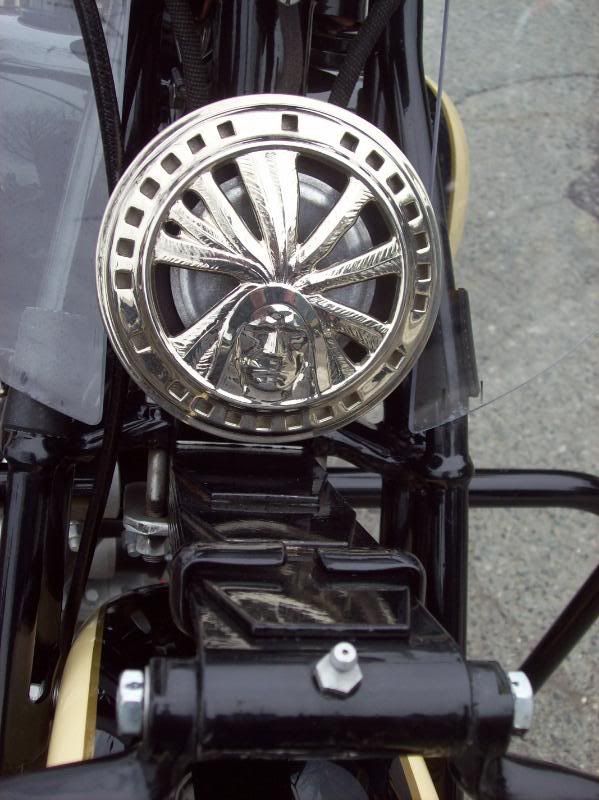 Indians weren't just a utilitarian form of transportation, they were rolling works of classic art, and that is what I think really set them apart from Harley Davidson. Look at the detail of the grill on the horn, beautiful.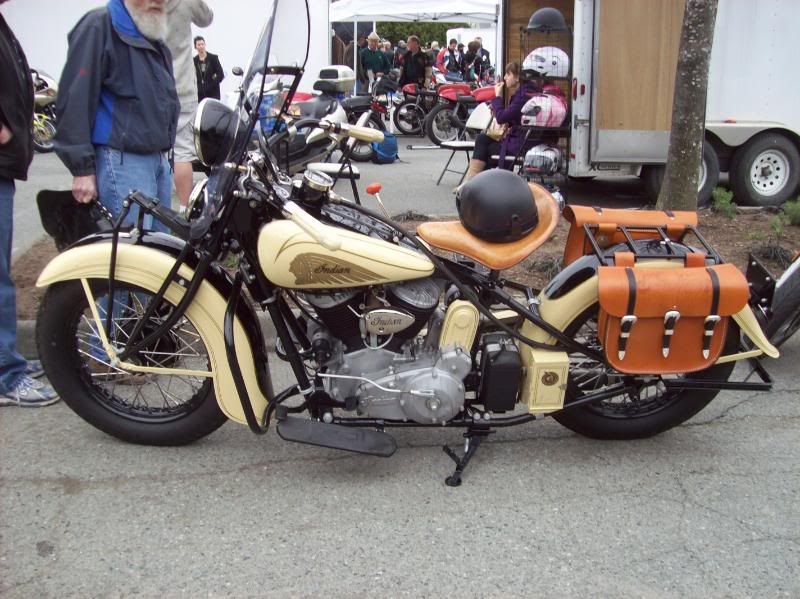 This Honda CX500 Turbo came in with the Indian, later a CX650 Turbo parked beside it, but sadly I didn't get any photos.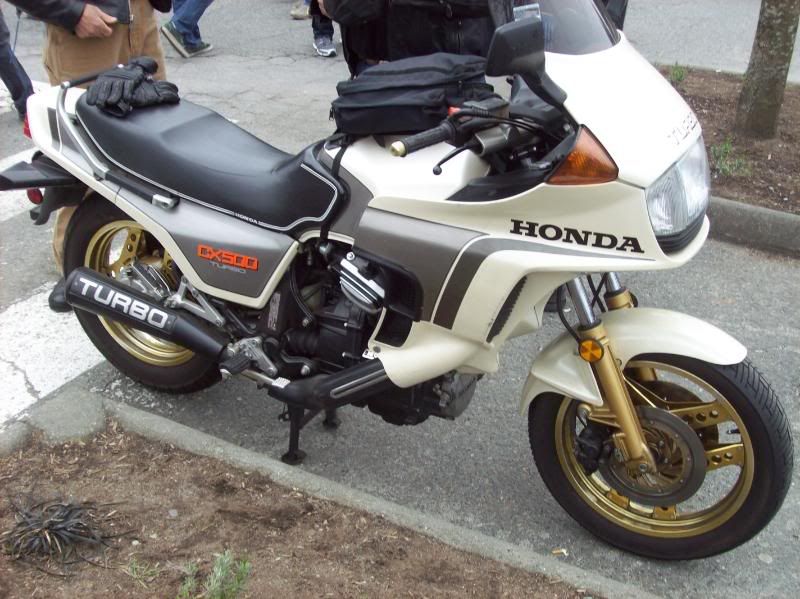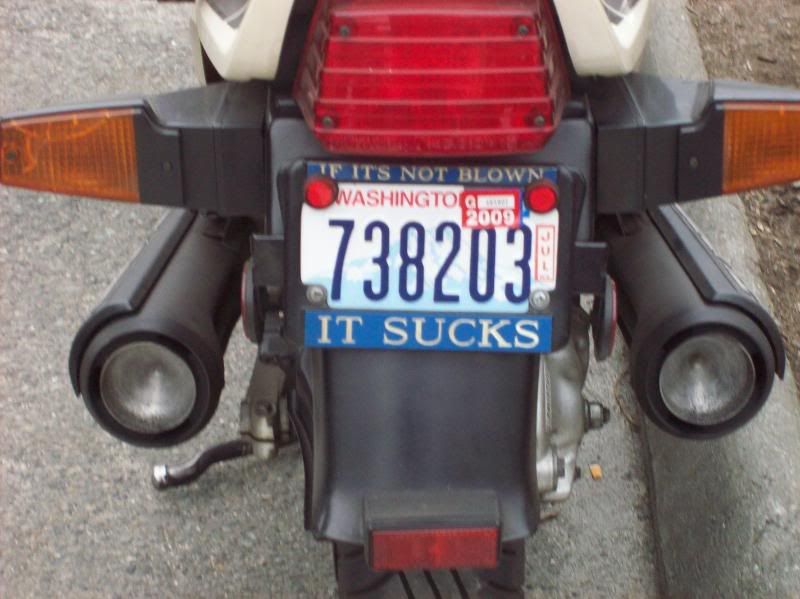 I think the guy's plate holder says it all don't you?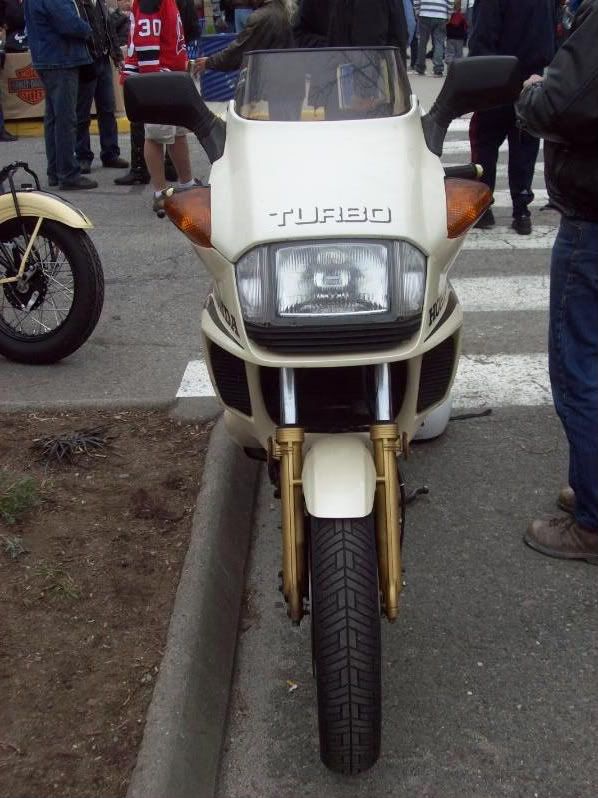 Something about the windscreen and fairing of this bike reminds me of the front of the cockpit of a WWII fighter for some reason.
The first bike that I ran across that interested me was this AJS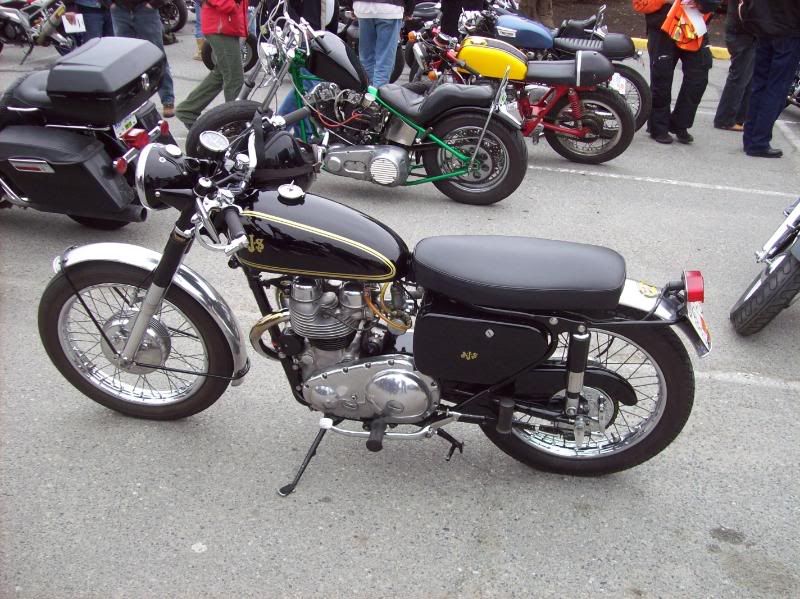 Note the gear indicator?? How do you read that at speed?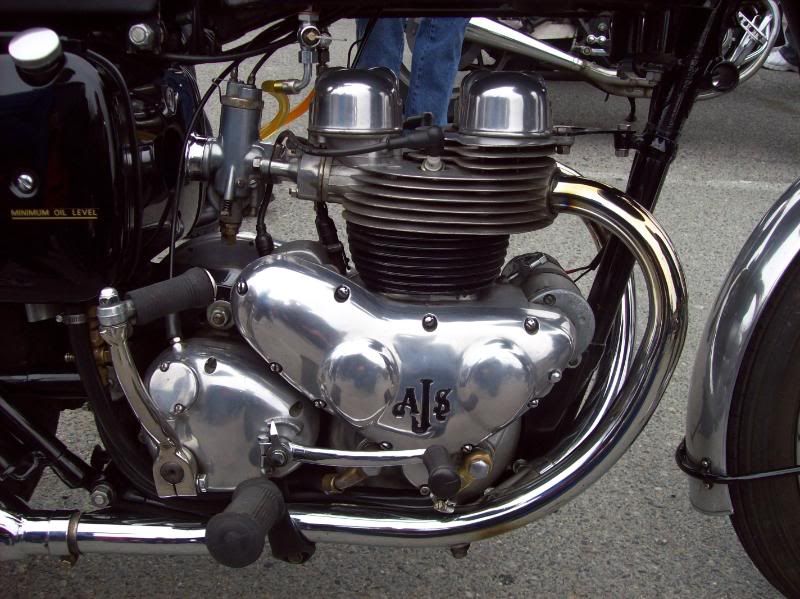 Look at the engine, so simple, everything easy to get at.....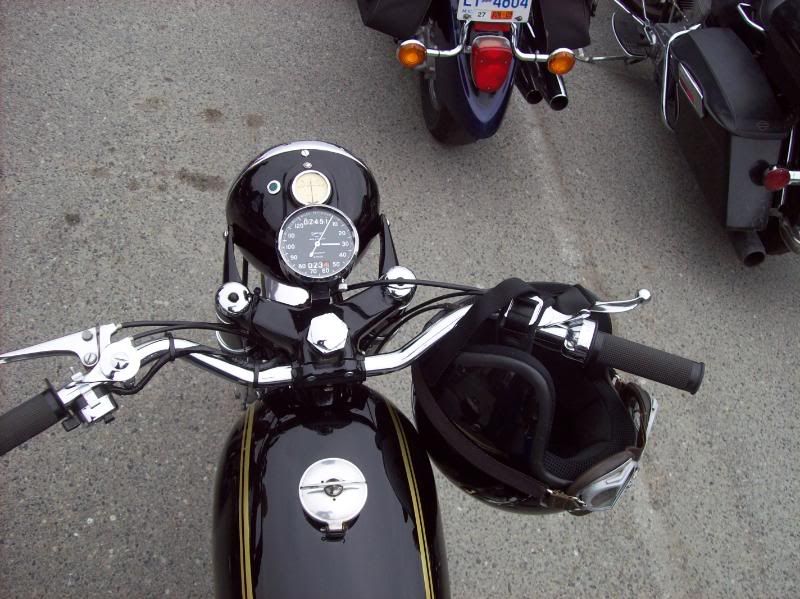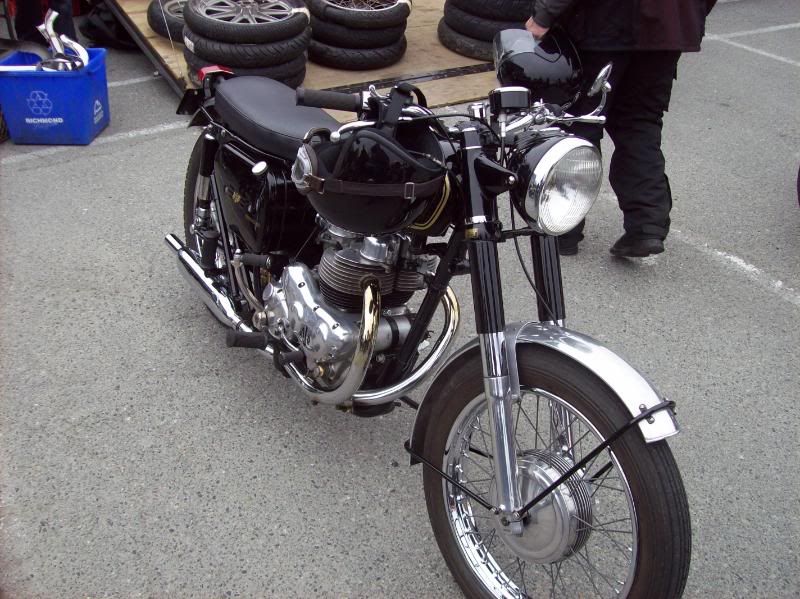 A 1942 Harley Davidson. Owner said it an ex-Canadian Army bike and used during the Second World War. Not sure about that, I thought that the CEF used mainly Triumph and Nortons just like the BEF. Anyways, its a pretty good example of the bikes our Grandfathers went to war on.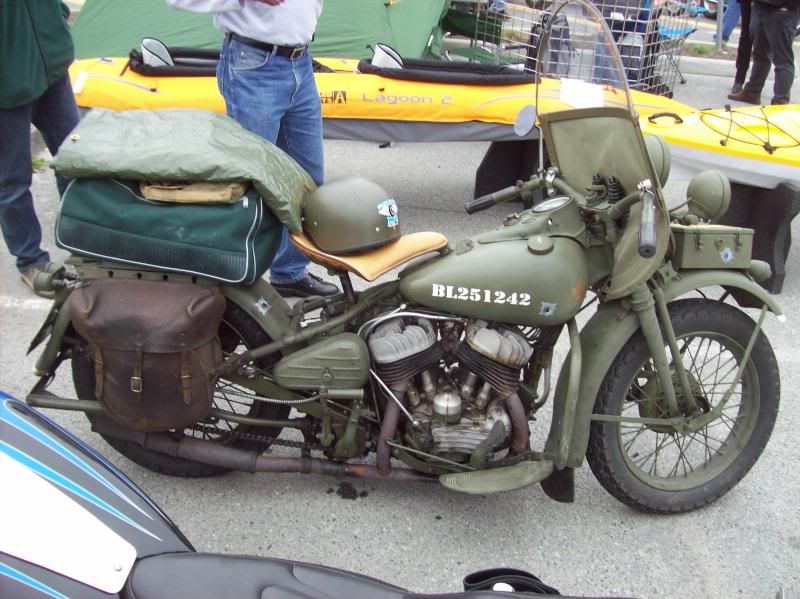 Not sure why the guy felt he needed to put bullet hole decals on the bike, but he did.
A 1957 Ariel. A sweet looking bike, looks very clean and polished by the standard of its day.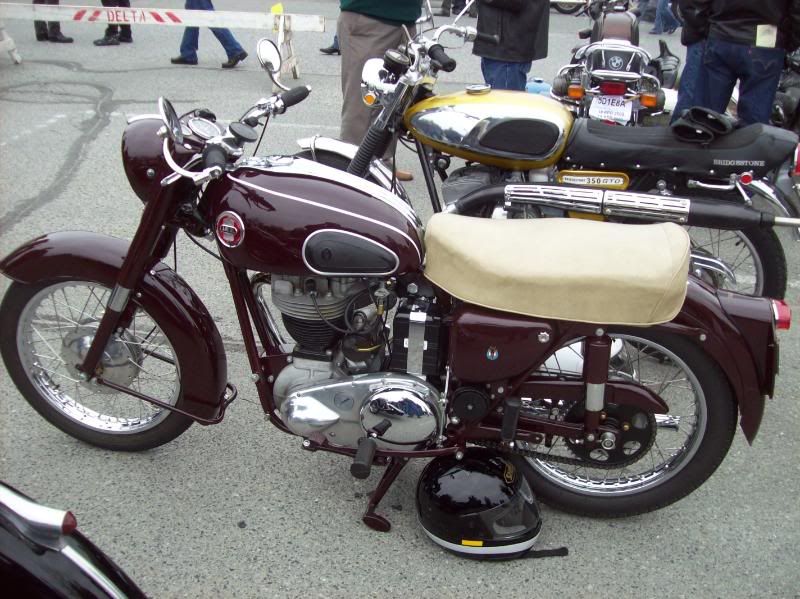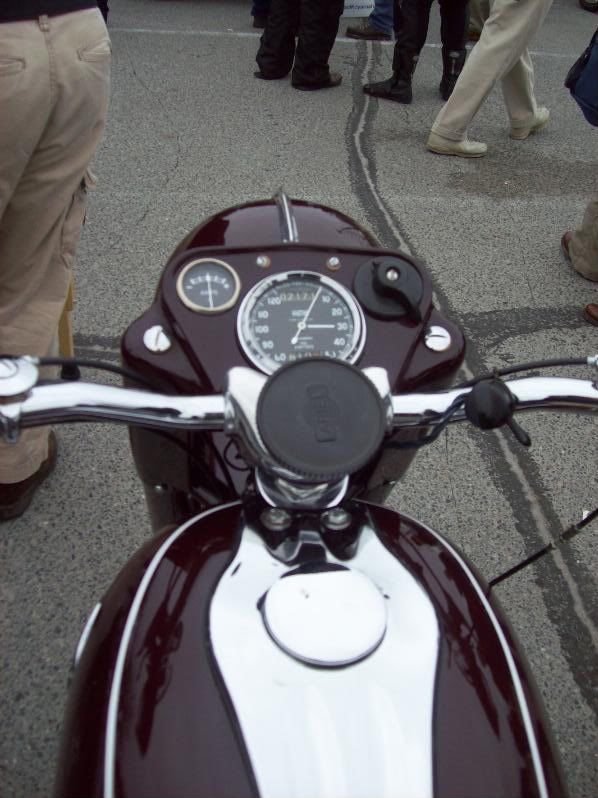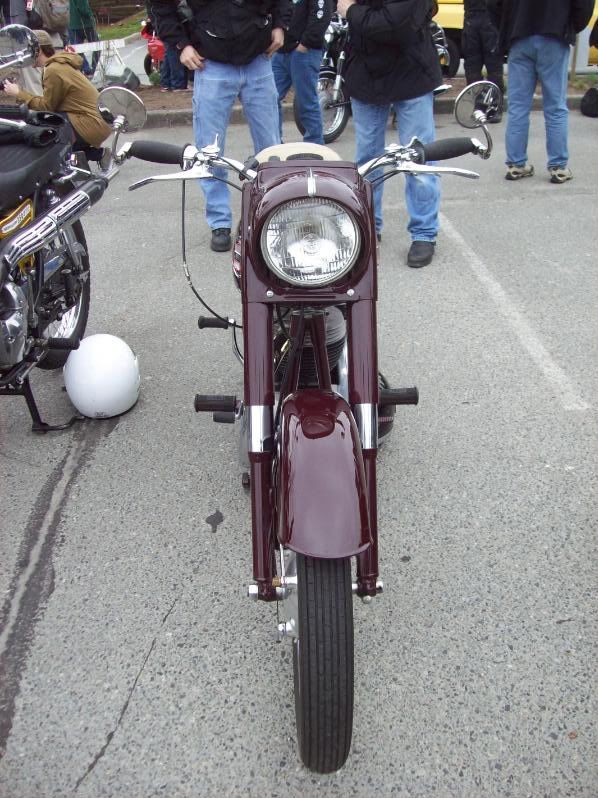 Here's a rarity, a Bridgeston 350 GTO scrambler. Apparently these bikes were produced for a short while by the Bridgestone Tyre Company, personally I have never heard of them before.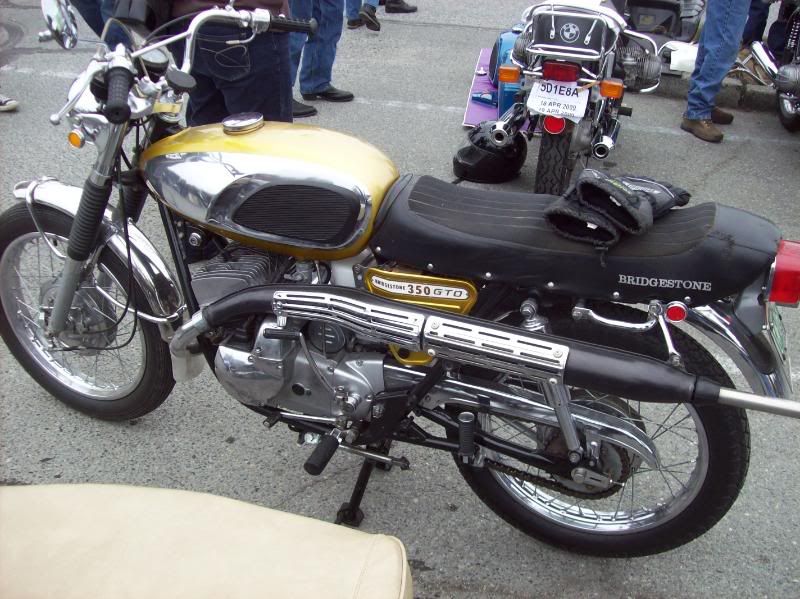 They also produced the GTS or R model, identical to the GTO but with the pipes lower down.
A nice example of an old Velocette.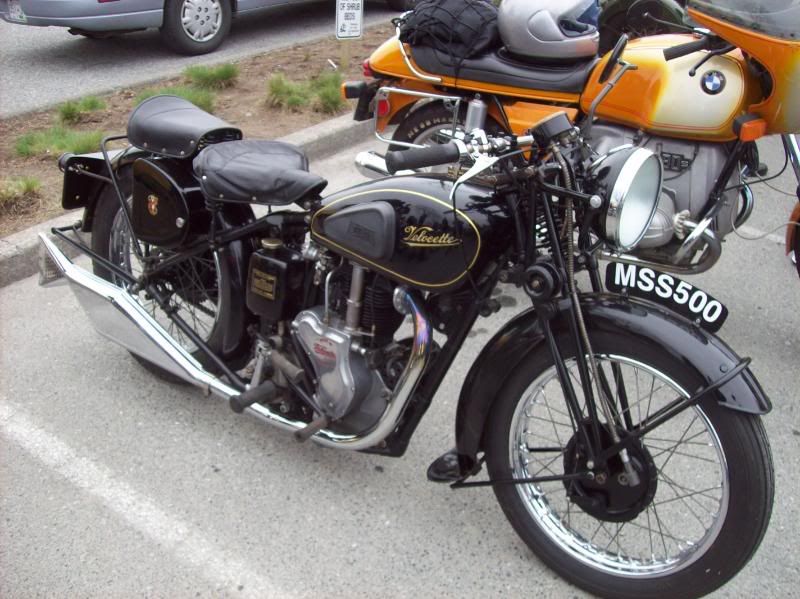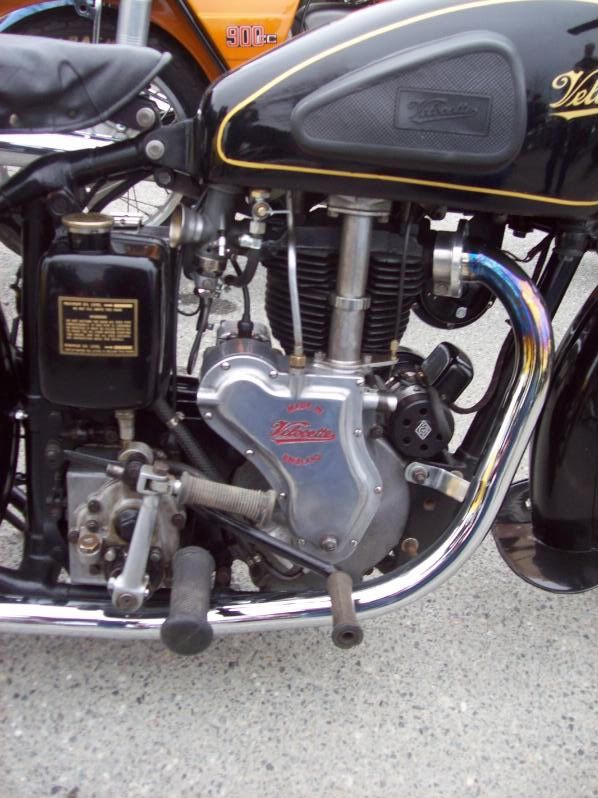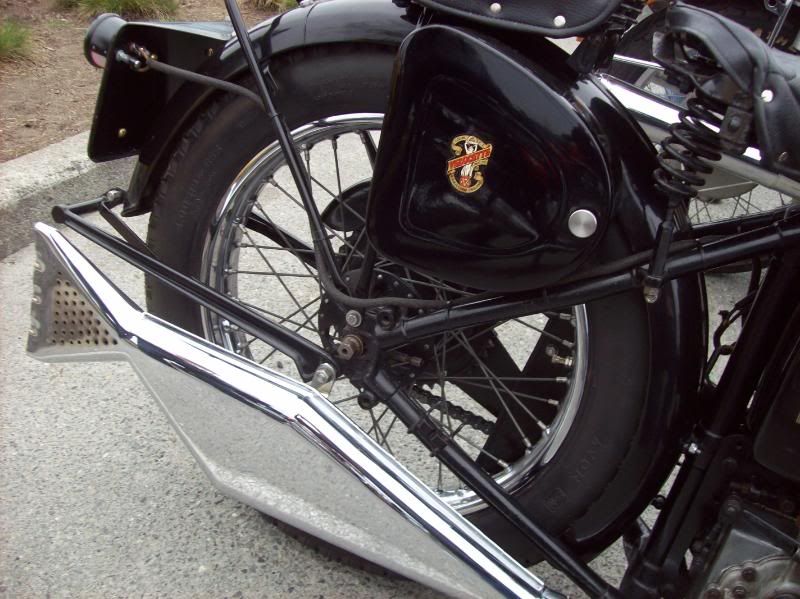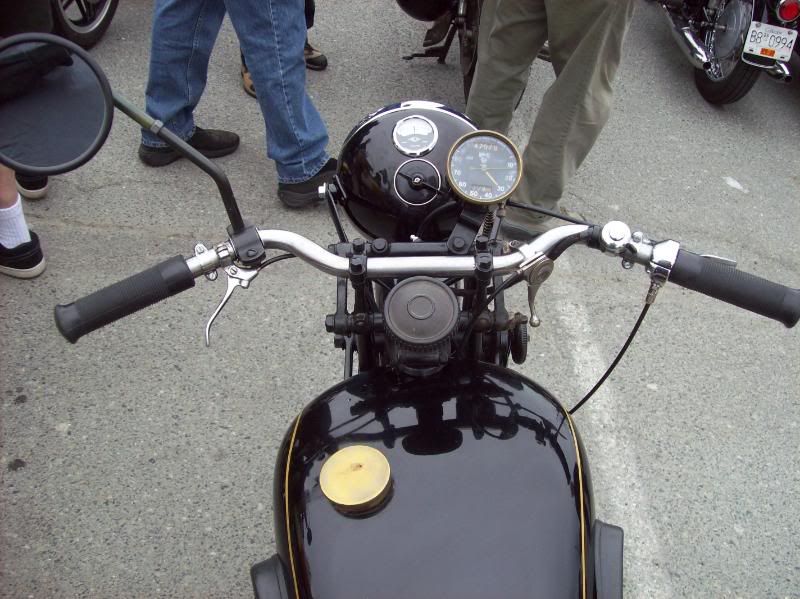 One for the scooter crowd.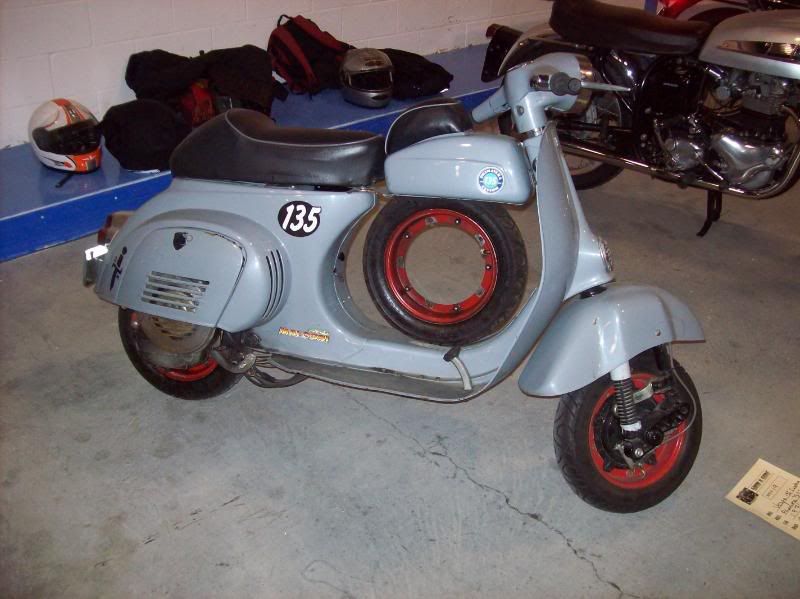 A reproduction of a 1919 Excelsior. Gives us an idea of what our Great Grandfathers rode when they wanted to let their inner hooligan out.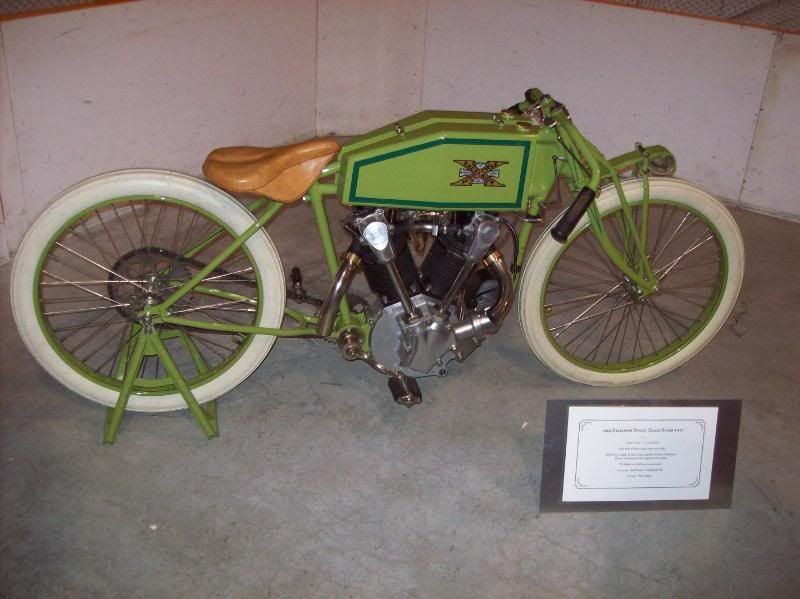 And finally, arguably one of the most important if not
THE
most important and influencual bikes of the modern era, the 1969 Honda CB750 inline four. This is the bike that changed the face of motorcycling as we know it and was the bike that drove the final nail into the coffin of the British Biking industry, until the recent resurrection of the Triumph brand. And it was the bike that pretty much relegated Harley to its current niche market of lumbering cruisers.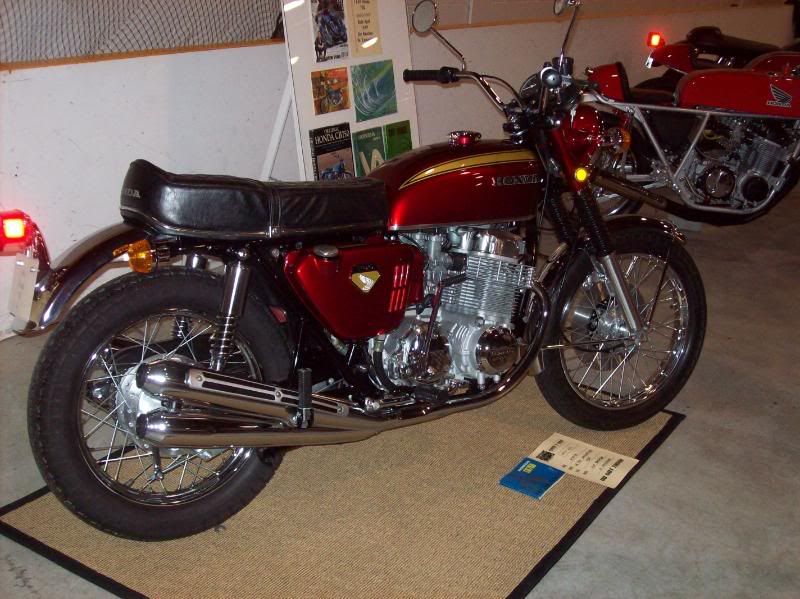 Many of the bike shown here actually rode into the show, it was a blast watching and listening to them depart, I only wish I had brought my camcorder with me instead of the digicam.
Till later,
Your friendly author,
Ceemes