Late yesterday afternoon, I got the Sabre back, and yes it's official, I am a N00b.....it is actually a V45 750cc model and not the 1100cc V65 model I originally claimed, it even says so on my insurance papers.
Silly me, actually listening to a salesman and not checking the engine stamp out for myself. Doooh!!!!!!
In retrospect, this is probably a very good thing considering I have been out of the saddle for almost 14 years, and the V45 has more then enough power to carry me around and yes, startle me once in awhile, so perhaps its best that I have it instead of the real beast of a V65. Plus, it gives me a target for my next bike. Yup, I am already thinking about the next bike.
Anyways, All Bike in Richmond called me late Saturday afternoon, telling its was ready and good to go. Also told me to bring either cash or my cheque book since they didn't take Debit or Credit cards. Who in this day and age doesn't use Debit or Credit cards? No matter, they do damn good work, so if they really want to be "Old School" when it comes to being reimbursed, who am I to complain?
They put in new springs and seals in the front forks, replaced the steering head bearings, set the rear shock/suspension, tuned the engine and gave it an oil change (got the good synthetic oil put in), put on a front tire and gave the bike a once over looking for any potential problems.
With all the front end and suspension work done along with removing that unholy abortion of a fairing, she handle like a completely different bike. Smooth, agile, responsive and holds a true tight line in the corners.... no longer waddles or wobbles around like a drunken sailor.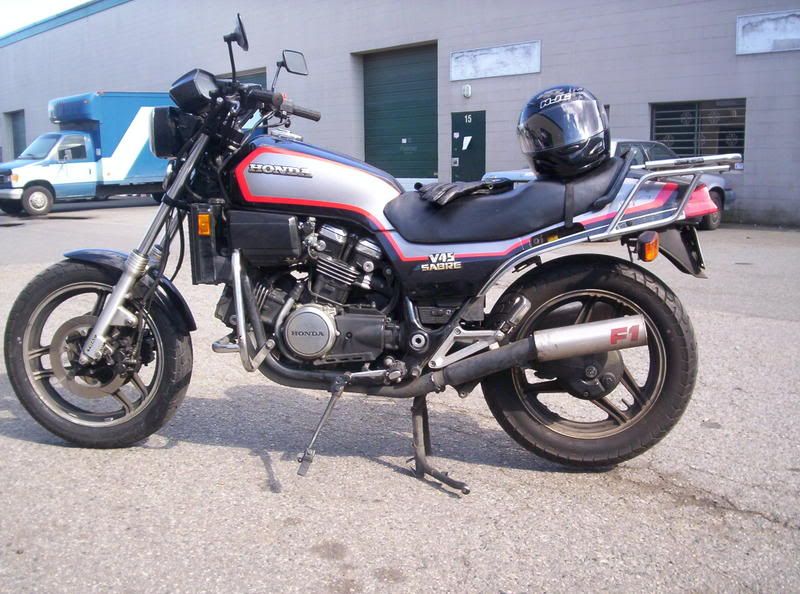 So, I grab my gear, pack my old reliable BCIT backpack with various items, ie digital camera, MP3 player, cheque book and other sundry items, including my favorite travel mug, off I go to pick up the bike and spend the next few hours tooling around as we get a few for each other.
With great care and due diligence, I leave the nightmare that is Richmond BC traffic, get on Highway 99 South and head toward White Rock. Take the Pac Highway exit and head to my next destination, Bent Bike in Langley to pick up a right side cover. They had one available, off an '83 model, and while it does not match the Sabre's paint scheme, it will at least protect the battery from the elements.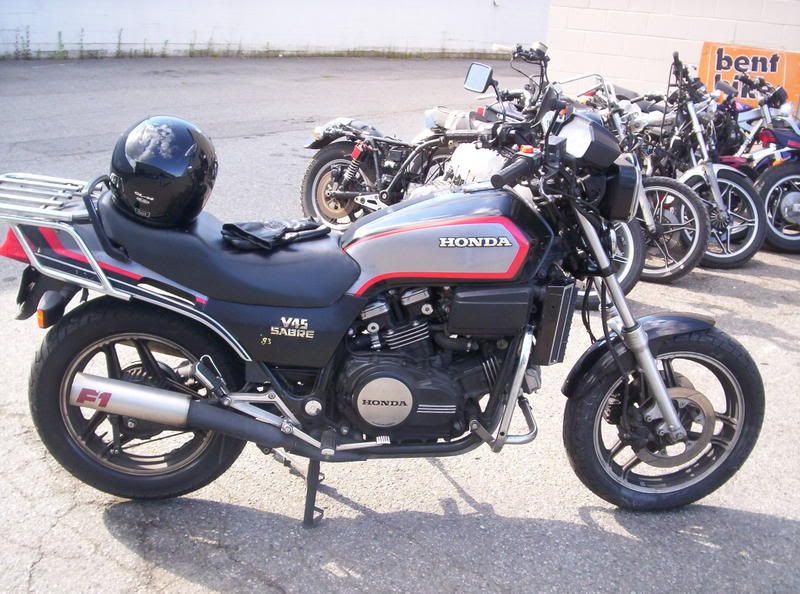 Bent Bike is one of those odd shops where you can find damn near any part, off of any bike of any year, its a real treasure trove for those of us who have a thing for the "classic" rides.
And for you hardcore classic BSA, Harley and Ducati fans, here is a few pictures of some of Bent Bikes treasures to make your drool and look for your cheque books.

A '42 Harley, for sale of course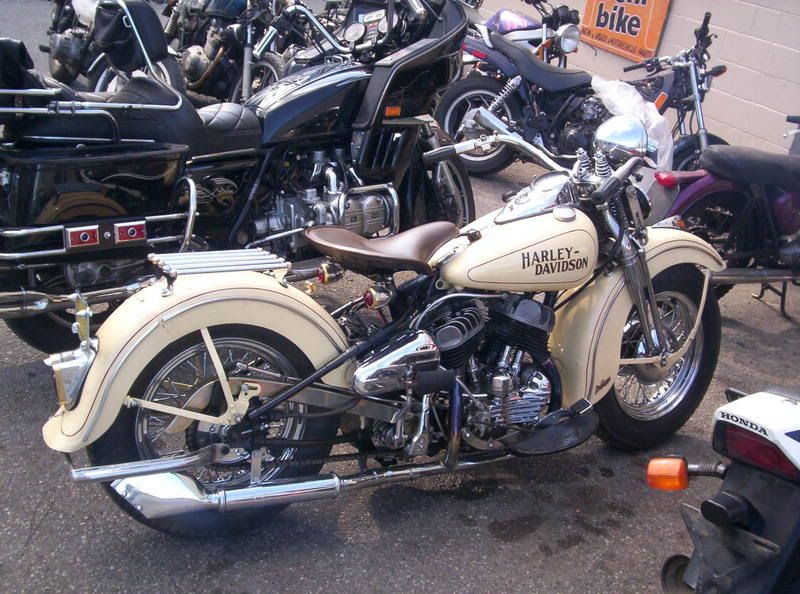 A pair of '60 somethings BSA's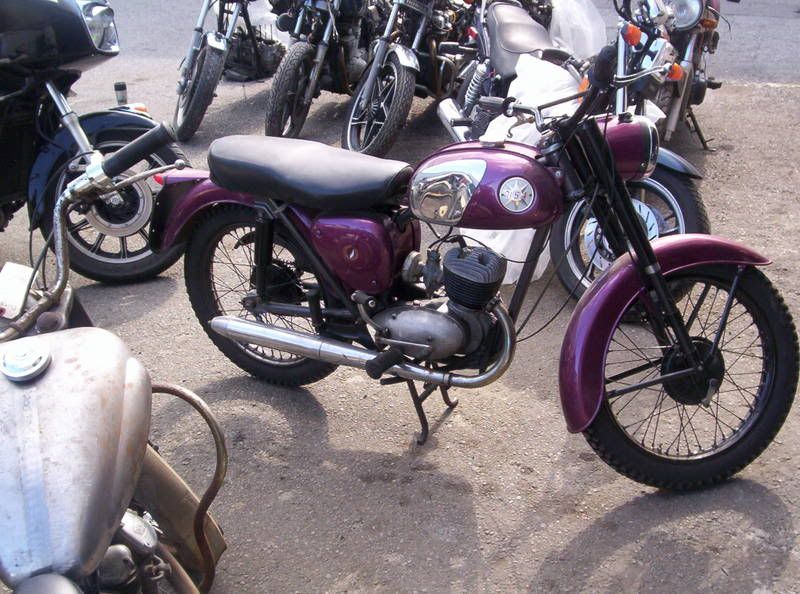 And a '60 something Ducati that may require a little work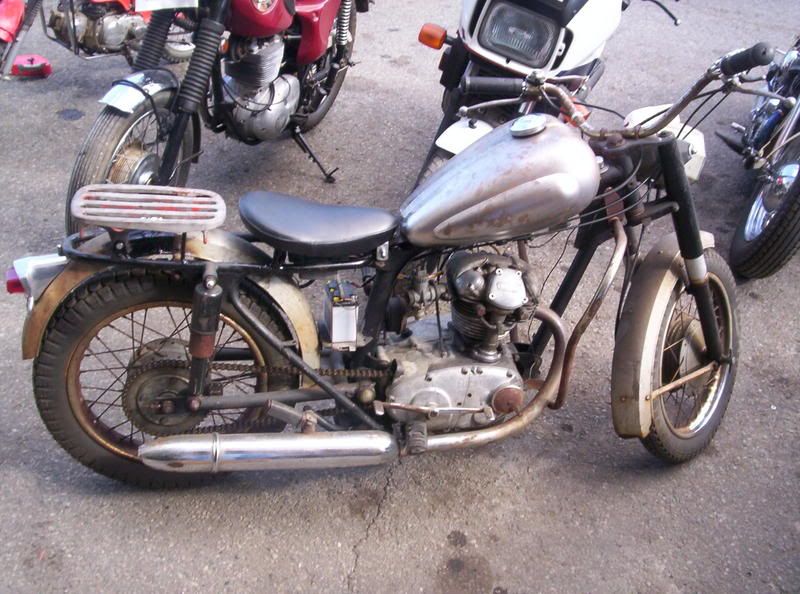 After putting on the side cover and spending sometime taking pictures of the various goodies at Bent Bike, it was time to ride again. And so off I go, heading towards Highway 1 and deeper into the Fraser Valley. Kind of cool that ride, just after I merged on the Freeway, some chick in a classic Corvair convertible was trying to change into my lane, but other cagers wouldn't let her in, so I backed off the throttle and flagged her into my lane, earned a big smile of thanks and a wave. Who says being a gentleman doesn't have its rewards?
After a bit, I switch into the fast lane and pull up beside her and we both admire each others ride, well to honest, I was admiring the look of both the Corvair and its rather pretty and well endowed driver. Who says that being a gentleman doesn't mean you can't admire (read as ogle) a pretty young lady?
Rode down to the Abbotsford area and touring around the farmland lanes, enjoying the view and ride, the smell of cow manurer and fertilizer I could of done without, but on such a nice day, it was a minor problem. Stopped off at a coffee shop for a bit of a rest and to stretch my legs for a bit, then head back south to visit my brothers and sisters along with all their wild and untamed rug rats. First time in five years we have all been in the same place, so couldn't miss it right?
I pull into my sister's driveway, the only bike in a sea of SUV's with a big grin on my face. Of course my brothers and sisters along with their spouses look at me and the Sabre with a bit of disgust and were quick to tell me I must be insane to be back on a bike after getting wiped out almost 14 years ago. Of course their rug rats had other opinions and were all over the bike. Looks like Uncle Ceemes is now the cool uncle.
Only meant to pop in and out, but food and drink was in the offering and ended up staying more then a few hours. I seemed to have picked up a new girlfriend there as well. A niece I hadn't met yet, who at the ripe old age of three was all over me and had absolutely no fear of the bike. All the kids wanted to have their picture taken on Sabre, and the oldest nieces approached it like it might bite them, but not the little one. When it was her turn to have her picture taken, she was up on it in a shot, I didn't even have time to pick her up and place her on top....Zip up she went with a big smile on her face.
She then lay down on the tank and struck a rather saucy pose, and I couldn't help but think to myself, "Oho, Kate and Glen, you two are gonna have a problem with this one in ten years or so."
Anyways, here she is, bike babe in training......
Around 9:30, I decided it was time to go home, so back to the Sabre, on with the gear and with Chris deBurge's latest album Storyman playing on the MP3 player, I went on my first night ride in 14 years. It was surreal, instead of heading to the highways, I took the back lanes and cruised. A huge full(ish) moon came up around Mt. Baker and I cruised. Suddenly it hits me, this was what was missing in my life these past years. The sound and vibration of a bike on pavement, the sound of music playing in my ears, the smell of exhaust and air, the pool of light from the headlight, the soft glow from the gages, the feeling of absolute freedom and movement....this was what I have been missing and now I have found it again......I just did not want that ride to stop, felt like that if the dawn never came up and ride never ended, I would be happy forever.
Funny when you think about it, when you get down to basics, a bike is nothing more then a mean of transportation, governed by the same laws of physics as all motor vehicles, it has no soul, it is a lump of metal, rubber, plastic, and yet.....there is something very spiritual about riding one, something you just can not get from any other land based vehicle. The only other times I have gotten that feeling was either at sea or when flying ultra lights. With motorbikes, like with boats and ultra light aircraft, its not the destination that counts, but rather its the voyage. A bit metaphysical I know, but there you have it.
Till late,
your friend and author, ceemes.