"20 Feb: Today is the warm up day, travelling with the team leaders we will take our first ride in India and this gives you an easy intro to the traffic and the bike itself."
Itinerary
– From
The Enduroindia Roadbook 2007
"Whaaaat!!!! Driving? It's a f***ing nuthouse out there!"
Gary
Yep, driving in India is a crazy experience. But that was not what was bothering me first thing this morning. (Though it would later). Everything is made more difficult in India by the rule about not drinking the water. Only the bottled water is safe - supposedly. So even cleaning your teeth in the morning is a hassle, because you have to remember - you HAVE to remember - not to rinse your teeth with water from the tap, and that is not easy when you are trying to keep up with EnduroIndia's morning timetable. Up at seven o'clock. Pack cases. Down to breakfast. Queue for breakfast. Eat breakfast (naturally pausing between mouthfuls to socialise a little with your new-found fellow Enduros). Digest breakfast. Get into bike gear. Arrange food and other supplies in tank bag (not forgetting a roll of toilet paper – essential item). Organise maps. Organize water. Get to the bikes for eight o'clock, ready for morning briefings and the off.
Curried breakfast was a new experience. It consisted of Sambhar – cooked vegetables in a watery curry sauce - all mopped up with idli - little white cakes made out of steamed rice and lentil flour. Interesting! After breakfast it was packing. I had remembered to buy loads of bottled water from the hotel bar the previous night to take with me. Single-handedly getting the water into my brand new Camelback water carrier (a water container in the form of a rucksack with a drinking tube attached) for the first time took a bit of working ou, though. The new off-roading kit all seemed to fit pretty well. (I hadn't worn it all together before.) Camera –check. Wallet -check. First aid kit – check. All OK. Confidence – now where the hell did I leave that!
Breakfast, EnduroIndia style
So, this was it – our first ride on the Enfield. I hurried over to the field opposite the hotel where the bikes were lined up (last as usual). Then came the worrying bit. Working out which was the bike's front end was manageable, but the rest was not so easy. I've got to admit it - I was really nervous. It has been years since I've had to kick start a bike and, besides, there were a lot of other things about the this little beauty that needed thinking about.
You just can't get enough of a good thing! Here's another photo of the wonderful Enfields
Yep, the Enfield has a number of interesting quirks and eccentricities. Like all pre-Japanese-era British bikes, the Indian-built Enfield has the gear change on the right-hand-side, not on the left. It has four gears: one up and three down. So its controls are not only back-to-front, but upside-down as well. Accompanying the bike's four gears are four neutrals, which are all readily available, and can be accessed inadvertently at any time.
The front drum brake is next to non-existent. This means, you have to plan your stops well ahead. (

) But the back brake (also a drum) is pretty damn good. Forget the rules of road riding in the West. I learned very quickly that it's the back brake that is gonna save your hide. The single-cylinder, 350cc Enfield Bullet packs a meaty 17 bhp. And, despite what you may be thinking, that's not to be sneered at. Let's put this into perspective. Those 17 ponies make the Enfield just about the fastest, meanest thing on Indian roads.

There is nothing it can't overtake, except another Enfield. The bike has a maximum speed of about 65mph. Run it anything above that and you are asking for trouble. (Cough! Umm! More on that later.)
So, let's get going. Key in ignition. Search for the decompressor – that looks like it! Foot pressure on the kick-start - watch the amperage – OK! On with the decompressor and –
Kick!
Nothing! And a whole lot more of nothing! A faint hint of a whir of a piston – and that was all. I just kept trying - I couldn't think of anything else to do. After about two minutes of this (it seemed like half-an-hour) an idea of genius occurred to me. I wondered if the bike had a fuel tap. And indeed it did. I sneakily hunched down and turned it on, noting gratefully that everybody else was too busy with their own machines to witness this event. No doubt I wasn't the only one. So, back to the kick start. There was a little more response from the engine now, but not much. Three minutes later the field was roaring with engines – but not mine. After another minute of increasingly erratic decompressing and kicking, a faint panic had begun to set in, accompanied by muscle fatigue in my leg. And it was then that it occurred to me:
I'm not very good at this. (
)
And just as I was beginning to give up hope of ever leaving the field, there, floating out of the grey mist that was gathering before my eyes, came an angel in an orange tabard. It was 'Sonny'. Sonny was my mechanic for the duration of the trip. With a polite Indian waggle of the head he took the bars of the Enfield out of my fevered hands, and then in one elegant, practiced movement flicked the decompressor, and gently kicked the bike into life. Hem! Thank you Sonny! (Gratitude combined with embarrassment is a difficult combination to handle.) Sonny nodded to me gravely (he was the only unsmiling Indian I met on my entire trip) and disappeared into the crowd of bikers to minister relief to some other suffering soul.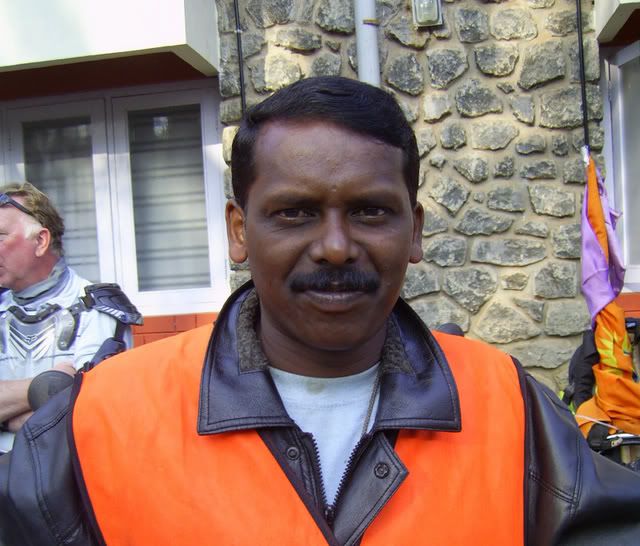 Sonny. The nearest he ever managed to a smile.
I didn't know what I was going to do if the engine died once we were out on the road. But right at that moment I didn't care. At least I wasn't going to be left behind. But my relief lasted just thirty seconds. The engine ticked over quietly, slowed – and then died. Oh! Bollocks! It was probably just cold and needed a little nurturing. Orf maybe the tick-over just needed to be adjusted. Determinedly, I tried again. Nothing! Why couldn't I do this blasted thing?
Sonny had to come to my rescue twice more that morning before we left the field. But at least I'd found the screw that adjusted the tick-over, so I was able to count one little triumph among all the morning's failures. There was one problem though. In those first nervous teenage moments of fumbling around with the Enfield, I got confused and couldn't work out which way the screw needed twisting. After that, I never did remember which way speeded it up and which slowed it down. It remained a frustration right to the end of the rally. But at least the bike was now warming up, and the engine was throbbing away happily. And my excitement began throbbing away happily too.
I now had time to relax and look round the field. The sight, and sound, of 150 Royal Enfields all grumbling away deliriously in a confined space was a joy. What a sight! What a noise! Some people think the Bullet is ugly, but I disagree. I'd already fallen in love with it the night before - especially with the gold badge on the black tank. But I never bonded properly with my own bike in the way that I imagined I would. Most of the bikes on the field were new, but there were a few, like mine, that had not been auctioned after last year's tour and were being reused. I was disappointed not to have a new bike – one that was 'all mine!' (Sad?) In practical terms, having a couple of thousand km on the clock was an advantage. It meant that I didn't have to run it in at 35mph for the first couple of days (a real bonus) and with the engine bedded down, the kick-start was not quite as lethal as on some of the new bikes – as others would discover, quite painfully, in the first few days of the rally.
All the bikes on the field were 350cc Bullets, except for two. These were 500s. One of these 500s belonged to Simon, the guy who owns the EnduroIndia company and who always leads the tour, and the other was specially provided for John. John, who was in his late 20s, was taking part with an artificial leg. Simon and his team had modified the 500cc bike for him so that all the controls were on the right hand side. This tells you a lot about the friendly and accommodating nature of the organisation. Its heart is very much in the right place. Riding pillion with John was Julia, his carer. Julia was in her fifties and as impressive and formidable a woman as you could hope to meet. I suspect Britain would never have lost the empire if Julia had been around at the time. It is probably women like Julia that kept it going for as long as it did. More on John and Julia later.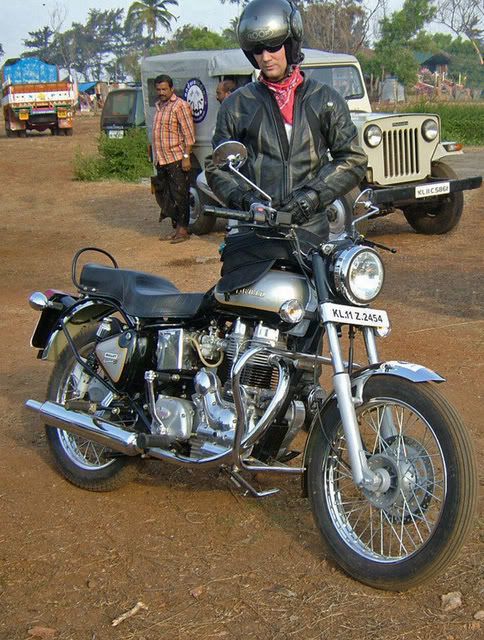 John and his 500cc Bullet
But suddenly, Simon was shouting over the tops of the engines for everyone to switch off and gather round. I looked dubiously at the key in the ignition and reluctantly did as I was told. The morning briefing was mostly just about the day's ride, but it was also the time when the winners of the previous day's awards were announced and presented with their trophies. These awards were given by the Enduro Team in recognition of outstanding contributions to bar-room conversation the night before. There were generally three awards: the 'Spirit of the Day' award; the 'Dick of the Day' award; and the 'Fiery Pants' award. As this was only the first day, no-one yet had shown the required 'spirit' or the proper degree of 'inflammation'. However, a first 'Dick of the Day' had already emerged.
This was Russell who had fallen asleep at Colombo airport while we were waiting for our transfer to Goa. He had missed the plane. Despite the flight being delayed by half-an-hour while the ground crew identified his luggage and took it out of the hold, Russell had slept on soundly in a warm and comfortable corner of the transfer lounge, oblivious of the confusion he was causing. But I can't help thinking the award ought to have been a communal one. He must have had a lot of help missing the plane, as anything up to 129 other Enduros must have quietly tiptoed around him when the flight was announced.
The team managed to help him find him a couple of emergency airline tickets (he had to fly up to Bombay and then transfer and fly back down to Goa). Two flights and a long taxi ride managed to get him to the hotel just in time to kit up for the first day's ride. His snooze in the airport lounge was the only sleep he had had for nearly 72 hours. From that moment on, Russell lost his name and was known thenceforth only as 'Colombo'.
This first day was not really part of the rally; it was just a short ride (38km) round the local area to get used to the bike and to Indian roads and traffic conditions. We would be back at the hotel by late morning and then had the afternoon and evening to ourselves for more relaxing and the opportunity to get to know each other a bit better before the real riding began tomorrow.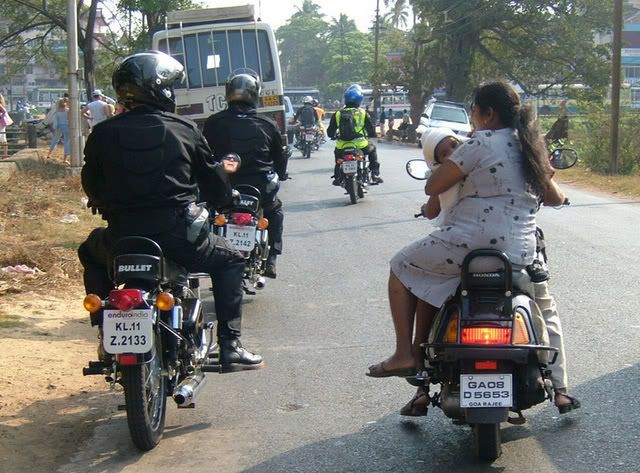 Entire families travel like this by bike or scoot
I don't remember much of our first hour's ride out of the field, except that, despite my best efforts with the throttle, the engine died on me again on a steep slope just five hundred yards from the hotel. Ye gods! I remember those minutes. My brain was a kaleidoscope of panicky misinformation. Where was the brake? Left or right? Where were the gears? Was I properly in neutral or just one of the tricky little fakes? (There was no light to tell me.) Why couldn't I start the bloody engine? Oh yes… that's why! Sweat started to pour out of my armpits. BUT AT LEAST I GOT THE BIKE TO FIRE UP ALL BY MYSELF! Hurrah! That meant I was not going to find myself stranded somewhere in some Indian village for the rest of my life living on chapattis and curried breakfasts.
I loved the little Goan country roads and the endless villages and their people. Indians are amazing. Adults would stand on street corners and wave and cheer and point out the way to us when we stopped to look at our maps, or when we started to make off in the wrong direction. Children lined up along the roads with hands out demanding high fives from every passing motorcyclist. When you have been high-fiving with kids at twenty mph all day long your hands get to become quite red and sore. It really hurts! But it was too much fun not to do it. The friendliness and enthusiasm of people everywhere buoyed us up. I haven't felt as light hearted and free in spirit since I was an early teenager.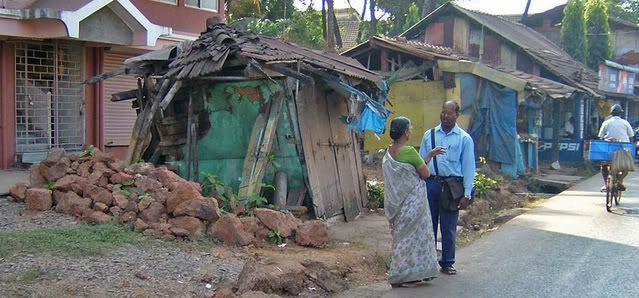 We must have looked very odd to the villagers. Most of us had taken up EnduorIndia's suggestion and were wearing off-roading gear. It is much cooler than leathers or Cordura in the Indian heat and provides adequate protection from the spills that were all but inevitable on a trip like this. In these first few days of riding, when most of our gear was brand new I kept thinking we must have looked as though we had just escaped from the set of a Sci-Fi film.
So, I got the bike started again, and from that moment of mastery, the Enfield grew on me like moss on a wall. It is a lovely bike and perfect for Indian conditions. It is not phased by potholed Indian roads or by Indian miles. It just rumbles along and can cope with practically anything. It handles beautifully and it needs to, to deal with the Indian traffic. Its distinctive grumble still reverberates inside my head whenever I think back on the trip. Lovely!
The traffic though, was every bit as crazy as we had been led to expect. (Though, in fact, what we saw on this first day was really nothing to what we were to face later in the ride.) I'm told that until very recently, the driving test in India, required drivers to prove that they could start the engine, move the vehicle forward, swerve to the left, swerve to the right, and then do an emergency stop. That's was it! And it shows on the roads. That's what they do. Start, stop, swerve to the left, and swerve to the right. Apparently, the test has been changed, but I doubt that there will be any results for another generation at least.
The rule on Indian roads seems to be that you just do your own thing and it is everybody else's responsibility to miss you. Everyone has right of way in India, it seems, except the person who is travelling straight down the road. If an Indian driver is in front of you and decides suddenly that he wants to turn right, he will swerve across the road without looking. If he is parked and wants to turn onto the road, he will pull out right in front of you knowing full well that there is no way you are going to miss him without taking serious avoiding action. But that's your job, so you had better get on with it. The Indian pedestrian is just as bad. I'm told the rule here is that if you wish to cross the road on foot, you set out in your own time, looking neither left nor right, but keeping up a steady pace until you reach the other side. The steady pace is important. Because it means that any oncoming traffic will be able to judge where you will be by the time it reaches you. Only then can it take steps to miss you. If you freeze or suddenly hurry, you – and everybody else on the road - are in trouble. Indians have a crazy sort of discipline, I'll give them that!
But nothing travels very fast on Indian roads (courtesy of a lack of cc's and an abundance of potholes) so this all seems to work, up to a point. And I will admit all this hands-of-the-god stuff does slow the traffic down quite effectively. The amazing thing, to a Westerner, though, is that it is all carried on without the slightest hint of rancour or even competitiveness. If someone cuts you up, it is just because he wants to get ahead, and everyone accepts that without fuss.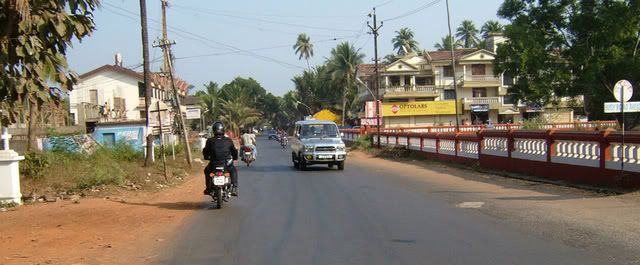 But what does it all mean? In the nineteenth century the British stiffened up their imperial resolve by developing a theory of racial essences. Some races, they believed, principally European ones (and most specifically the English, of course) had a superior racial essence which fitted them for empire and allowed them to 'direct' other races who were otherwise incapable of governing themselves in a civilised manner. (I have an old schoolfriend, a New Yorker, and a romantic Anglophile, who still believes this in a woolly headed, good-humoured sort of way.) Indians, of course, did not have a superior racial essence which meant they were only fit to be ruled by the British.
Despite all this, the governing Brits of the day, discovered that Indians were extremely good in the head department. Indian philosophy and mathematics in particular just stunned them. In consequence, they had a sneaking respect for the people of the sub-continent and their abilities. You can find odd references in nineteenth-century British literature to the quiet belief that Indians were much more intelligent than 'us'. I spent the entire tour entertaining myself with the question of whether Indian road manners proved this to be abundantly true, or abundantly false. You can reason it both ways, if you think about it and observe it carefully. Mostly, this chaos seems to work, and once you get used to it, it all makes a crazy kind of sense. There are inevitably a lot of accidents, but it seems that it's a price the Indians are willing to pay for this sort of crazy freedom. Is it lack of organisation, or just a different set of values?
Fortunately for British East India Company profits (in case any of you were concerned!) having a superior racial essence had nothing to do with intelligence. Intelligence is something, to this day, that the British are seriously suspicious of. We don't like it very much. It's actually something rather French, and therefore not very highly regarded.
Private cars are far and few between on Indian roads, and those that you do see, are of the flash variety, and kept in gleaming condition, more obviously symbols of status and wealth than a means to get you from A to B. By far the most numerous vehicles are motorbikes and scoots, mostly 50cc or 100cc jobs. Anything bigger than that becomes too expensive to run for most people. Bicycles are very common too. There are a lot of busses and trucks – a hell of a lot – and a fair number of vans and pickups. And Everywhere you see Tut-tut's (motorised rickshaws). And then occasionally, you see cars, elephants and carts drawn by Brahma bulls.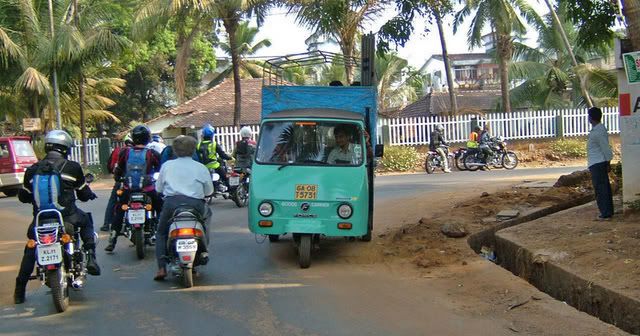 It is the larger vehicles you have to watch if you want to survive. On Indian roads, the more wheels you have, the more authority you have to claim right of way. On six wheels, you can sweep magisterially through the traffic, caring nothing for the small fry to left and right. On four wheels (or legs) you can treat bikes and scoots and bicycles with disdain. There are legal rules, of course (very similar to the British Highway Code), but these appear to be advisory only, as no-one takes any notice of them. The Indian government seems to have taken a fatalistic attitude to all this and produces a leaflet for foreign visitors which warns that any attempt to follow the rules of the road is extremely dangerous and may even be fatal. On an Indian road, a driver or rider's main responsibility is to keep his eyes on the guy in front. Nothing else seems to matter (You can leave the guy behind to look after himself!)
But none of this legal stuff really matters anyway because the only policemen I saw the entire time I was there were occupied trying vainly and bad temperedly to direct the traffic at busy inner city junctions. And there are no speed cameras.
That first morning of riding in India, we were given 16.4 km of country roads till we hit our first decent-sized town. Those 16 and a bit km were our first taste of Indian driving. It was 'interesting' at times, but the traffic was relatively light and slow, and our ordinary habits of self-preservation seemed enough to keep us alive. 16 km was just about long enough for me to start getting complacent. I felt cheated. I expected something much more dramatically awful than this. Sixteen km out we hit the outskirts of the aptly named town of Madgoa.

My first lesson in the foolishness of complacency was the roundabout on the outskirts of town. It was not so much a traffic junction as a wild Darwinian experience - no rules remember. Only the fittest, the fastest and the nippiest were likely to survive. If you can squeeze a metre-wide bike into a space half that size, and weave your way through erratically moving traffic with less than an inch of room on either side of you then you stand a chance of coming out the other side intact. If not, then the god be with you!
Beyond the roundabout lay the town itself. Madgoa was a baptism of fire for me and many others. The traffic was madcap. And on top of that it provided me with any number of interesting personal challenges. Here's a summary.
1. The traffic followed no discernable logic except that of 'making progress by any means foul or fair.' And there was a hell of a lot of it.
2. I couldn't read the instructions on the route plan under the transparent cover of my tank bag, because I'd reached the bottom of the page, and with my lid on I couldn't bend my head far enough down to see it. I had no idea where I was meant to go.
3. I couldn't get to the side of the road to stop and look at it because I was hemmed in by traffic.
4. I couldn't see the plan clearly anyway without my reading glasses.
5. I was losing sight of the Enduros in front.
6. My engine kept threatening to die any minute because of the problem with the tick-over. At standstill, I was trying to operate the front brake lever while continuing to hold open the throttle.
7. The thought of having to kick-start my engine back into life in the middle of all this brought me out in a sweat.
8. I had drunk quite a lot the previous night. As I don't normally drink I was still trying to deal with a vicious hangover.
9. In all the confusion, I kept going blank and couldn't remember which side the gears were on or which gear was up or down.
10. I had no idea what I was supposed to be doing.
11. I was getting cramp in both my hands.
12. I needed the loo, badly.
I don't think I can be accused of exaggeration if I say that riding into Madgoa was not the most comfortable moment in my life - but in a strange way it was exhilarating. A small Indian lad on the pillion of a HeroHonda bike in front was entertaining himself by making faces at me because I had lost control of the gears momentarily and lurched towards his dad's bike.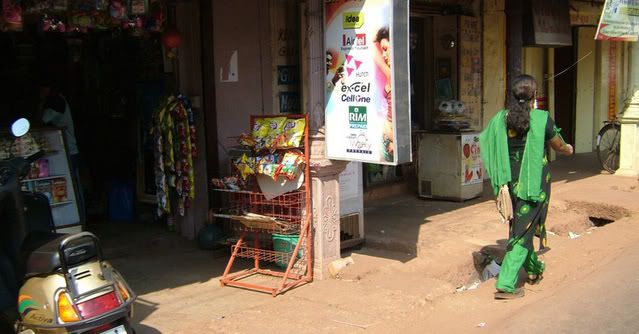 At precisely17.40 km from the hotel according to both my tacho and my route plan, a fuel station appeared on my right. I fought my way across the oncoming traffic, found a loo, got into the queue and quietly collapsed.
For ten redeeming minutes I got to stand quietly waiting for petrol while I calmed myself down. After filling up, I fiddled with the tick over screw and then accosted one of the mechanics to give me a quick lesson in kick-starting the bike. Why couldn't I do it? I used to manage all right on my BSA. The Mechanic, one of the Team Leaders and an Enduro all crowded around and gave me the benefit of their various experiences. They all had different (and contradictory) notions of how it should be done. After a heated discussion, they went off together discussing the matter among themselves and left me to get on with it. Gradually, though, I was getting the hang of it. It took me just two minutes this time.
I waited around at the garage for a while, waiting for some other Enduros to set off in from of me. The plan was to tag along behind them to make up for my inability to read the route plan. They fired up and pulled out. I followed, and immediately lost them in the traffic. At one moment I thought I saw a Bullet turning right round an ornamental garden ahead and blindly followed. It was a Bullet, but not one of ours. That left me going the wrong way in a one-way system that circumnavigated the entire town. It took me ten minutes to find my way back to Darwin's roundabout, back past the garage and ready to try again.
Somehow, the fact of having survived two complete runs through the centre of Madgoa, had put a bit of focus back into me and my confidence was returning. (Either that or the hangover was wearing off and the bleariness was disappearing.) I sorted my plan-reading problem, navigated my way out of town and found myself bowling along an open road, between graceful palms and wide paddy fields. Great! I was actually relieved to be alone for a bit, even though I was still dubious about my ability to work our where I was going, because apart from the problem of reading the plan, it was laid out in a rather odd way. (And, as we all were soon to discover, it was seeded with the occasional 'deliberate mistake' just to keep us all on our toes.) I rode on happily for another 10 km before I caught up with some of the Enduros taking a break by the side of the road, and pulled over.
A section of the routeplan. The first figure gives the number of kilometres travelled from the start of the day, the second gives the number of kilometres travelled since the last instruction. Good basic maths and an ability to multi-task are required. The process goes something like this: Thinks - "I started out with 247.2 km on the clock. The next turning is... let's see... (squinny down at routeplan) yeah, it's 38.6 km from the start - that's 247.2+38.6 which is err... um... roughly 286 km. The clock now reads 279.7 km. So allowing two km for taking the wrong road back there, I'll reach my turning in... Sh1t!!!!! Bloody truck! Where did that come from? OK! Calm down! OK! OK, hmmm! So, let's get this right! I started out with a bit over 247 km on the clock. Or was it 237 km? Aaarrgh...!
The rest of the ride as we rolled along together was relaxed and easy. Even the ferry crossing at 34 km posed little problem. When we arrived, the ferry was on the other side of the river so we had to wait. I turned the Enfield's ignition off with a flourish to indicate to myself that I now had no concerns about my ability (eventually) to kickstart the bike back into life. Two young kids were trying valiantly to sell ice creams from boxes welded to the back of their bicycles. Several people kept out of the sun by huddling under a couple of Christian shrines made out of bathroom tiles. Someone discovered he had sprung an oil leak. There was always a mechanic on hand for any crisis and he fixed it temporarily by stuffing a bit of polythene into the hole which he found by the side of the road. The sun was shining through the leaves. People were taking photographs. It was a lovely day.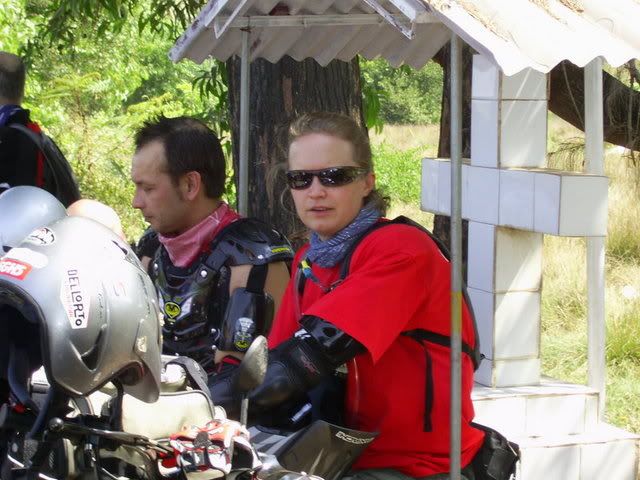 A multi-purpose shrine made out of white bathroom tiles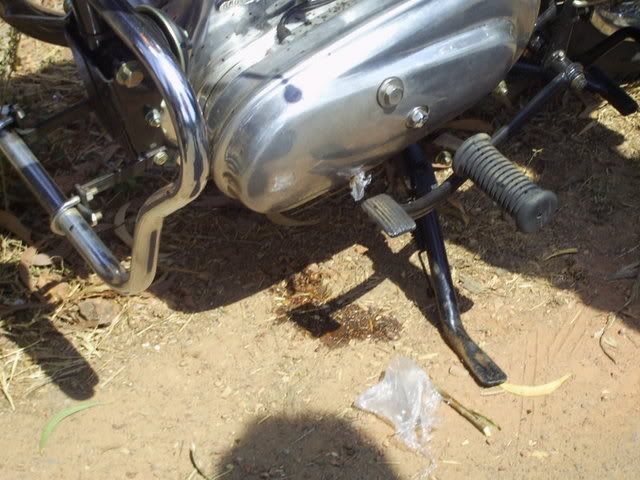 Roadside repairs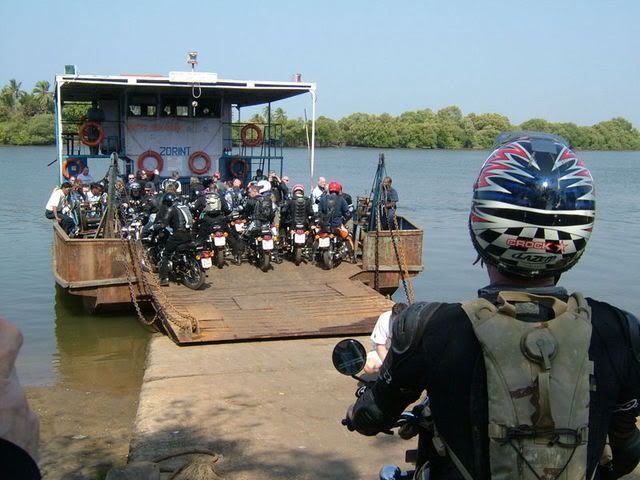 The ferry crossing
The final section of the ride beyond the ferry was short and very straightforward. On getting back to the hotel I was relieved and pleased with myself – relieved that I had come through it unscarred, emotionally or physically, pleased because I was starting to get the hang of the bike, the roads, and India. Others were saying what a great day it had been as well. I didn't hear of any major incidents among the riders, which was good, though Mary had seen an Indian guy on a moped go down under a bus. Sobering!
Anyway, it was time for a shower and some heavy socialising.