Total Motorcycle also includes a an ATV section so what the hell

Most of us who live for adventure on two wheels, can surprisingly appreciate exploring the back country on an ATV. If you can't, then you likely haven't tried it and you should. Below are a couple of quad rides that I have been on in the past couple of months that I thought I would share.
As Calgary is quite close to the foothills of the Rockies there are lots of great quad trails close to home. The kids both have thier own dirtbikes and we are pretty much a camping/ dirtbiking and quading family. We've been doing this for a few years now, and we are just getting to the point where both boys can go for decent sized rides on thier own bikes. As a kid, most of my time was spent riding dirt-bikes on the farm and I would still be riding them if the body could take it. A few really bad wrecks set me up with permanent back troubles that followed me from my teens to my early thirties. I seem to be able to handle my back problems these days but dirt-biking can't be part of the picture.....not the way I like to ride them anyway. I started off thinking that a sport quad would be the way to go. Way back when I rode ATVs as a kid they had 3 wheels, and I was pretty confident that I could go most places the "old guys" could go with the 4X4s by riding harder. After buying and riding one, this too worked the back over however and now I am one of
them
(old guys riding 4x4s). The sport quad is still in the picture but I usually just ride it on the family rides when the Kodiak is taken...or my back is feeling up to it.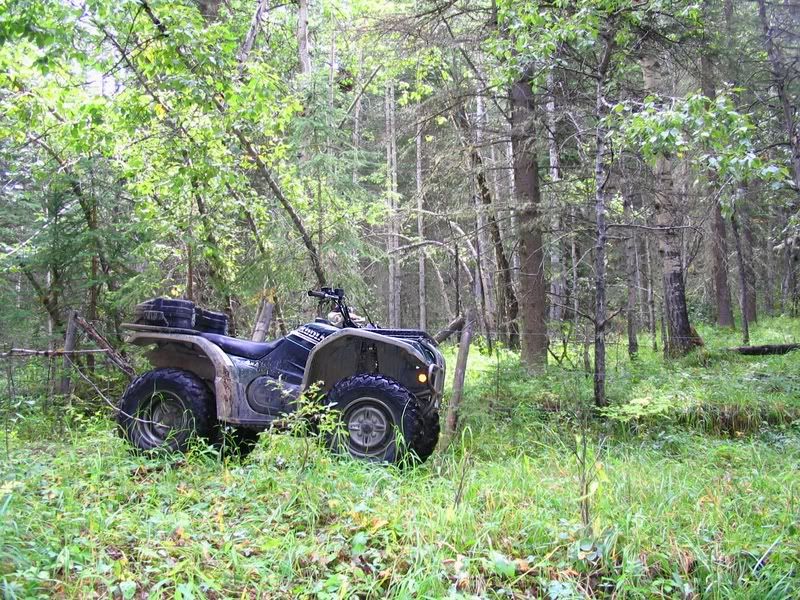 Speaking of the Kodiak, this machine is really all I would ever need in the back-woods. We bought it used, a couple of years old and it works awesome. On trails where I used to have to rail on the gas and pick my way to the top on my dirt bikes, this thing will effortlessly carry me up at low speed without the drama,(although admittedly, with less drama is a little less fun). There are lots of 700s on the trails, running on taller tires and their only real apparent advantages are in the deepest mudholes and opening it up on the fire roads. The Kodiak though is lighter to get out of the mudholes, easier to manouver and 2/3 the price (if they were both bought new). Like I said, good enough for what I am using it for, and it helps get me to places like this: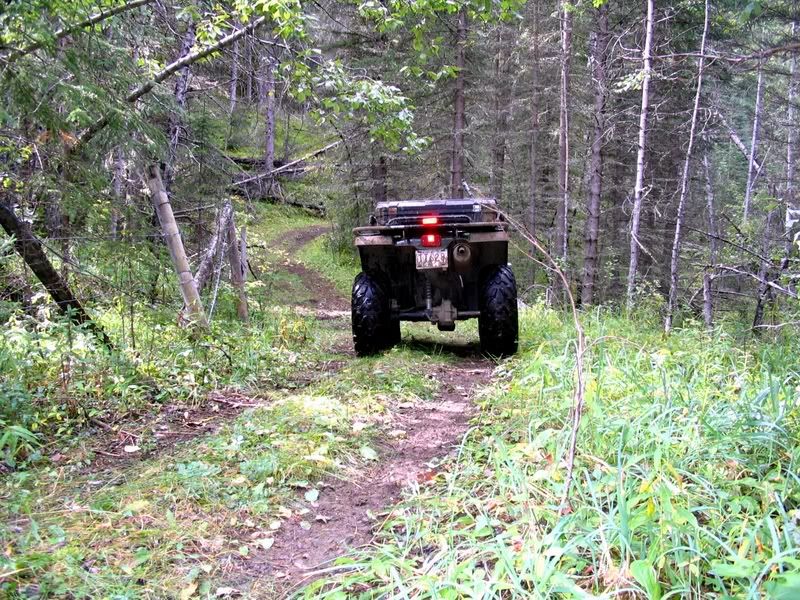 The above pics were taken at a riding area called Burnt Timber, about an hour North-West of Calgary. As all of our normal camping spots were taken (being the September long weekend) we ended up a little farther down the road than usual. After setting up camp we discovered the above trail head begining in a hidden spot behind our campsite. It was starting to become overgrown as it looked like nobody had been down the trail this year (the tracks in front of the quad are my own). As I went over the second range of foothills the trail grew tighter and tighter until it turned to this: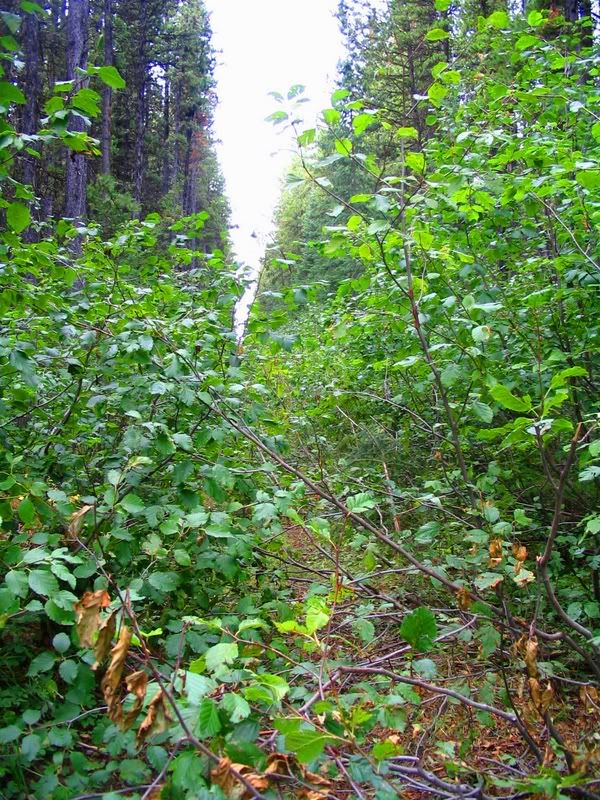 I pushed through for a ways but going any farther would require hedge trimmers. After getting deep enough in to it I decided to turn back after things started to look the same behind me as in front.
The view behind me as I slowly get eaten by the forest: