Then next morning I awake to sunshine and warm temps. I head downtown to get pictures of what the digital wouldn't take the night before. All of the pics you see are by the Legislature Buildings downtown Victoria taken within one block:
The British Columbia Legislature Building....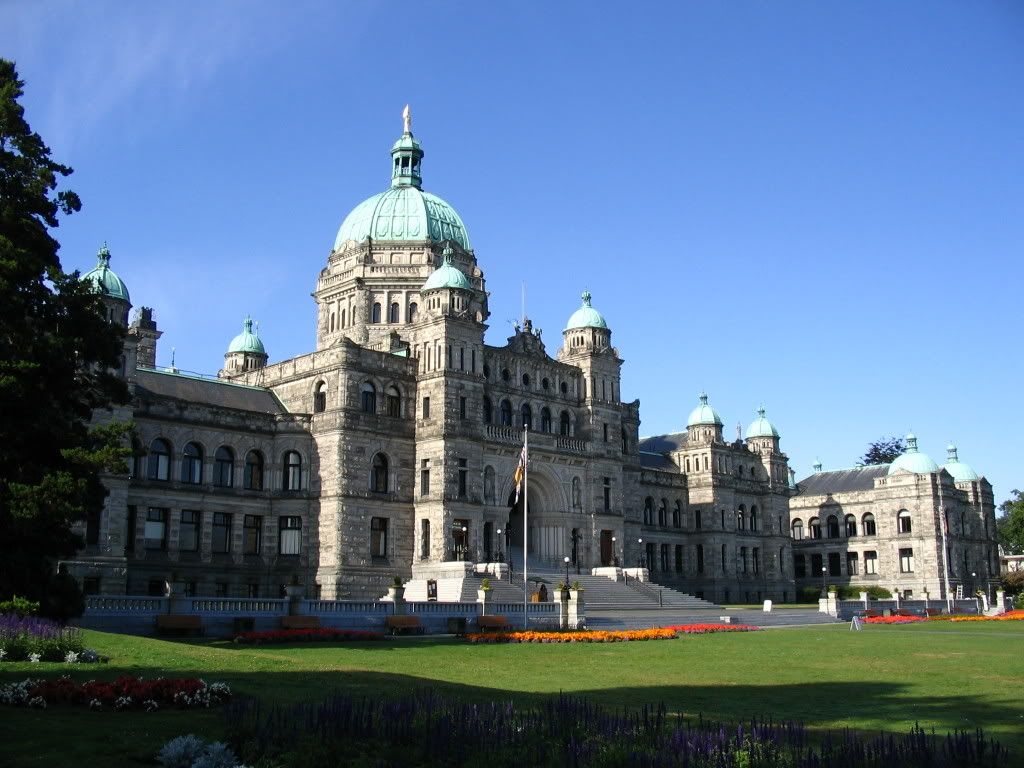 A shot of the harbor
The historic Empress Hotel....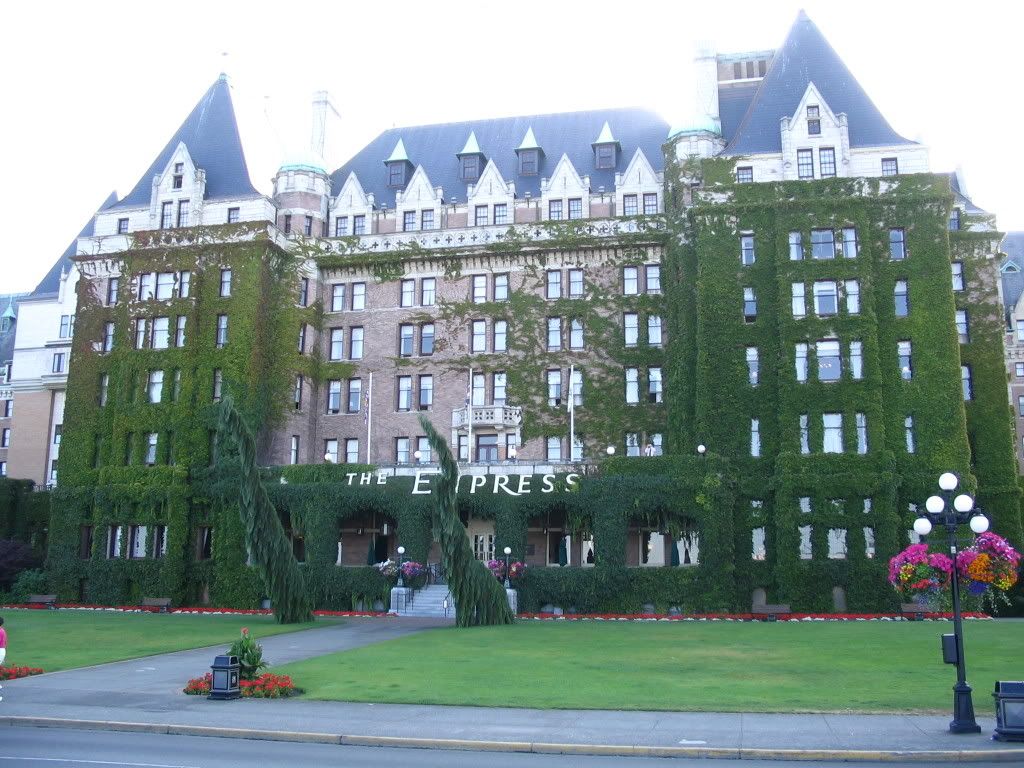 Yet another shot across the harbour....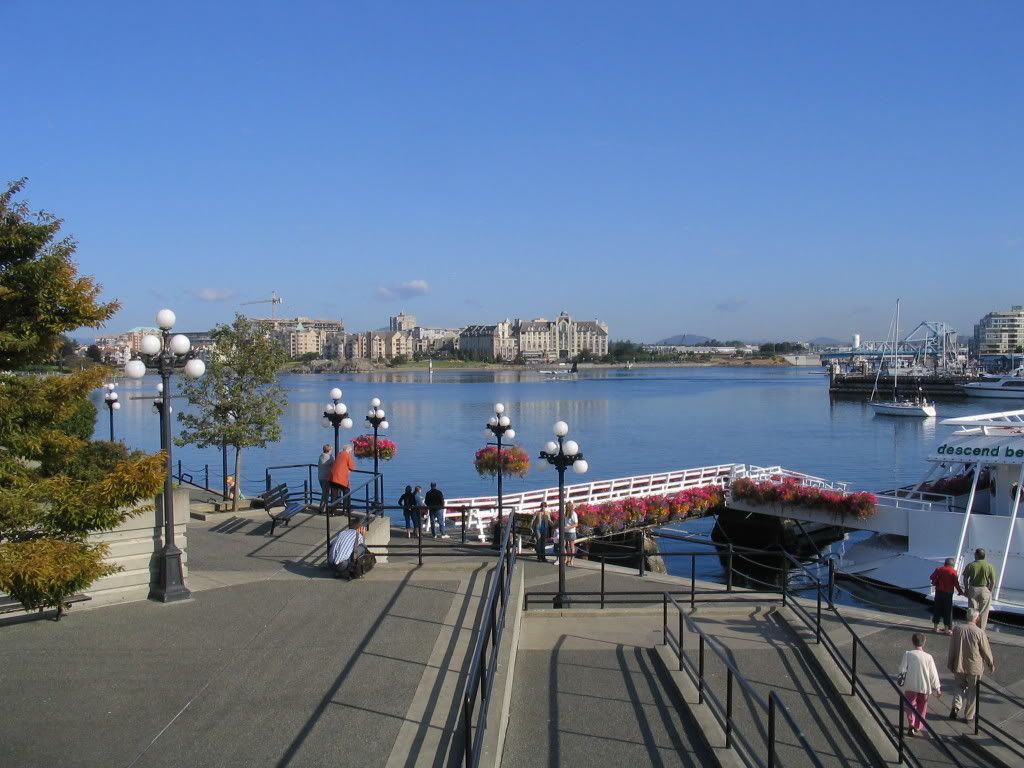 I then proceed to blast outta town bound for Tofino. This road was also a damned good bike road but covered with too much construction and traffic. At one point I pass a Pontiac GTP (or some other shite GM car...

) who seemed to take offence to the fact that he had been passed. He then used a couple of the straights to catch up to me and ride right up my azz. He was nearly drifiting the thing to stay on me through a couple of corners all while a was riding at a moderately fast pace. THese kind of boneheads don't need to be egged on so I took the opportunity to use a pull out and let him pass. As I pull back out right on his azz I can see his wife giving him an earfull right in front of me! Priceless. I then repass as he is back at the speedlimit and he sheepissly stay well clear of me even at construction stops form there onward

As I role in to Tofino the cloud and fog roles in and threatens rain. It is cool once again but it doesn't deter then hundreds of tourist who are waling around and hanging out on Longbeach. I had hoped to kickback on the beach for an hour or two but instead just stop for a couple of pictures before heading down to Ucelet. I narrowly missed getting an awesome pic of a floatplane flying at the same altitude as my bike as I set it up for a shot on the peer.....DAMN!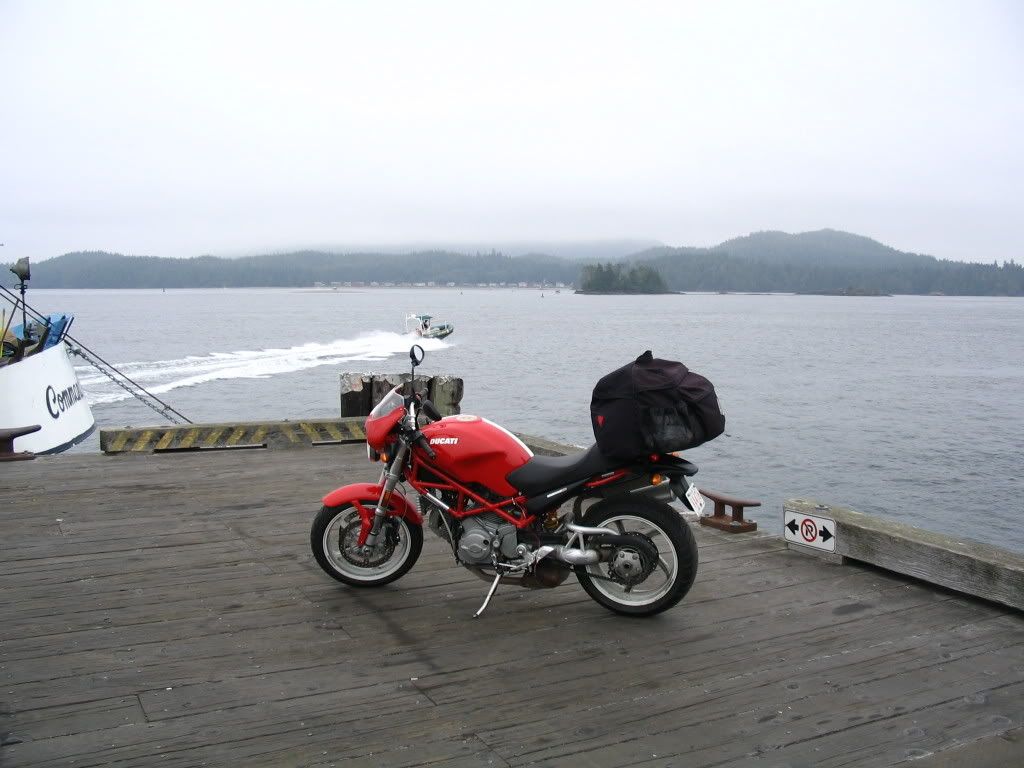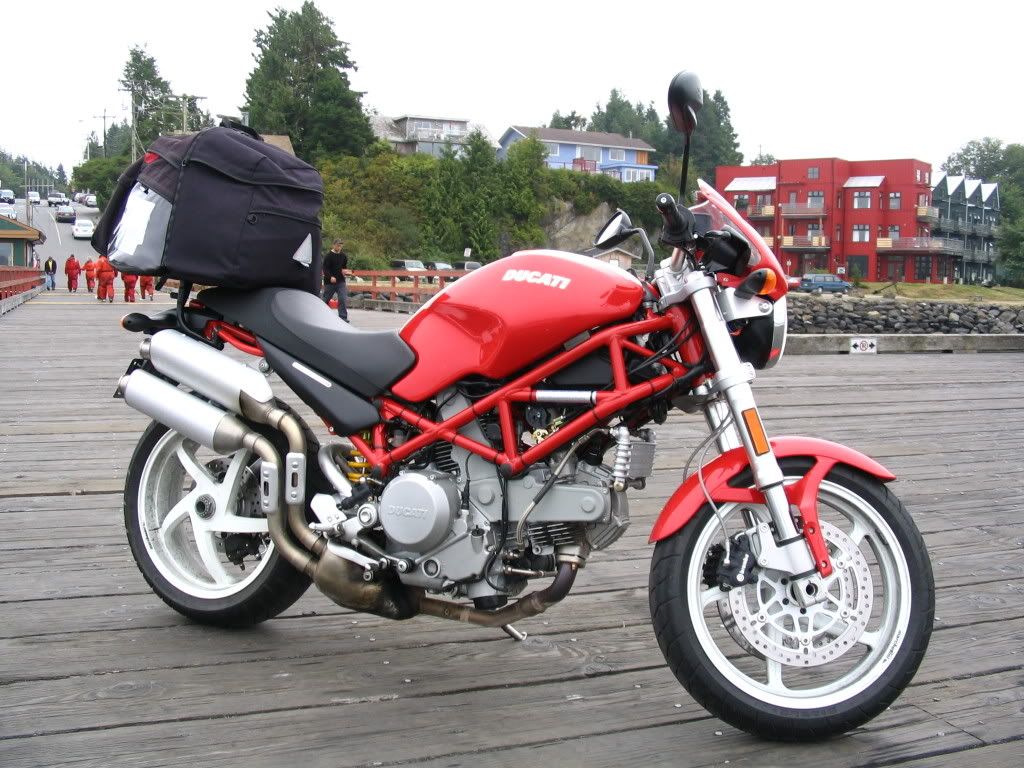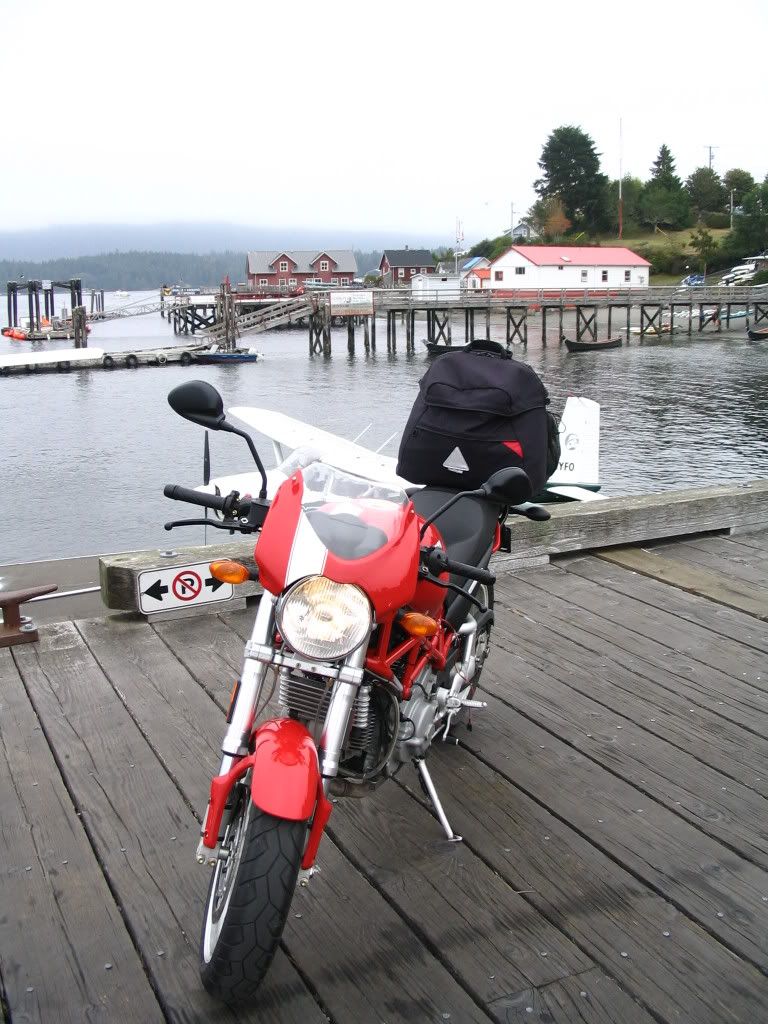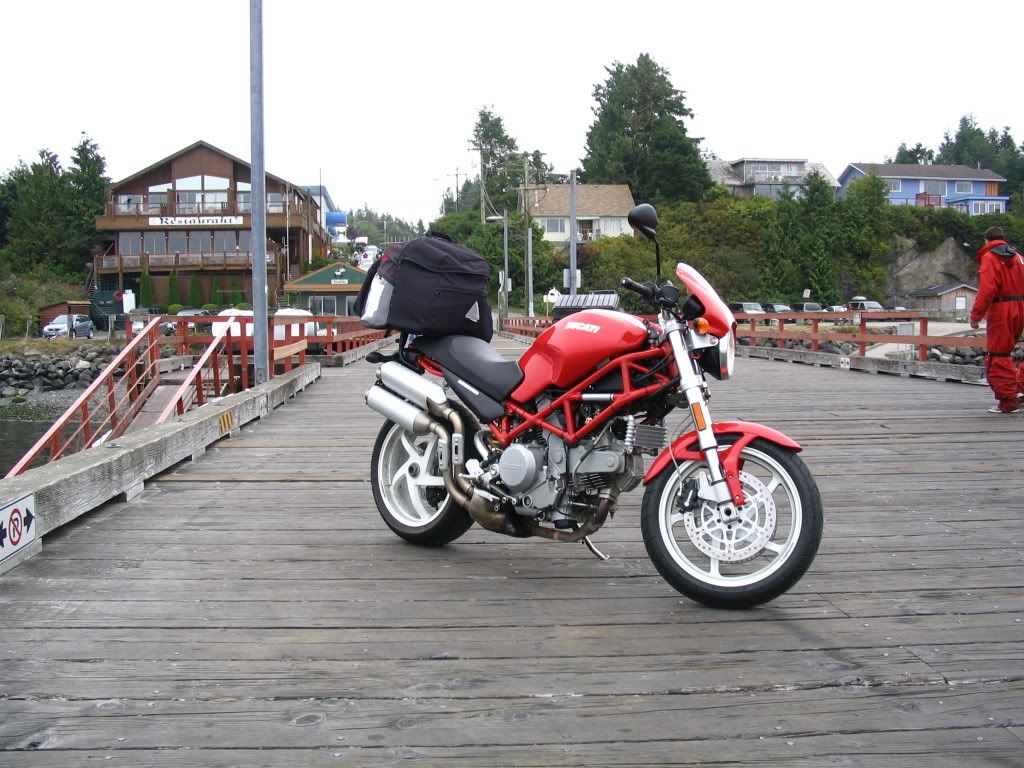 I then work my way back to the east coast where I take the old costal hwy #19A. It's a nice ride along the old motels before I come across this old abandoned "boat-restaurant". Hey this would look cool behind the bike.....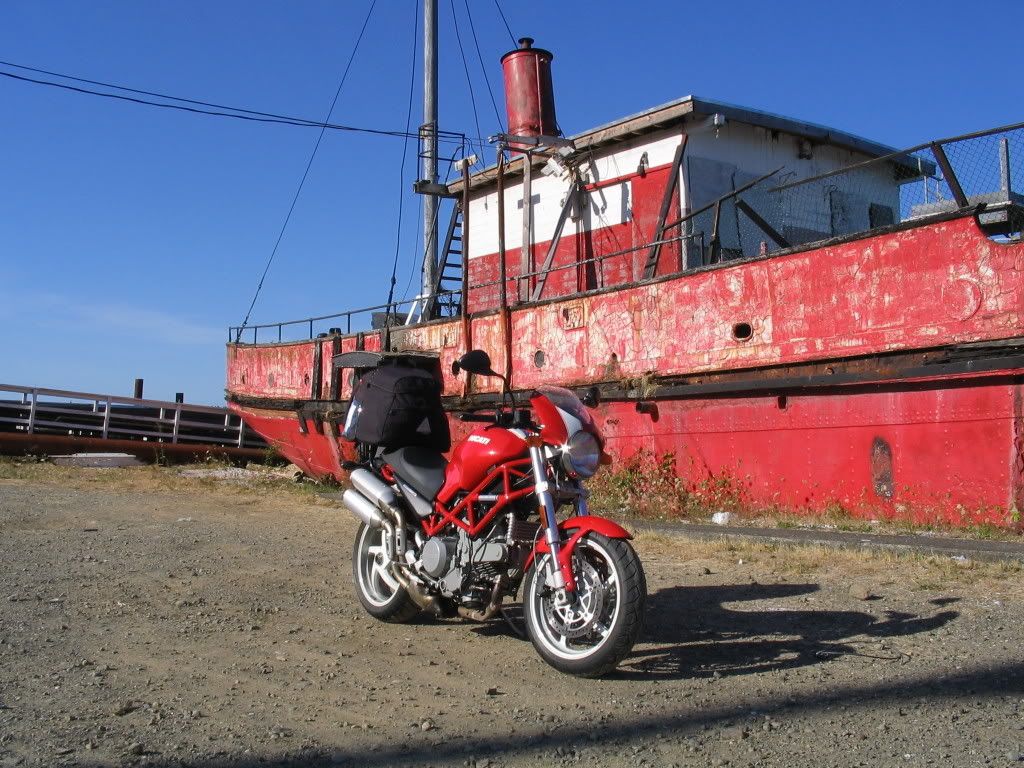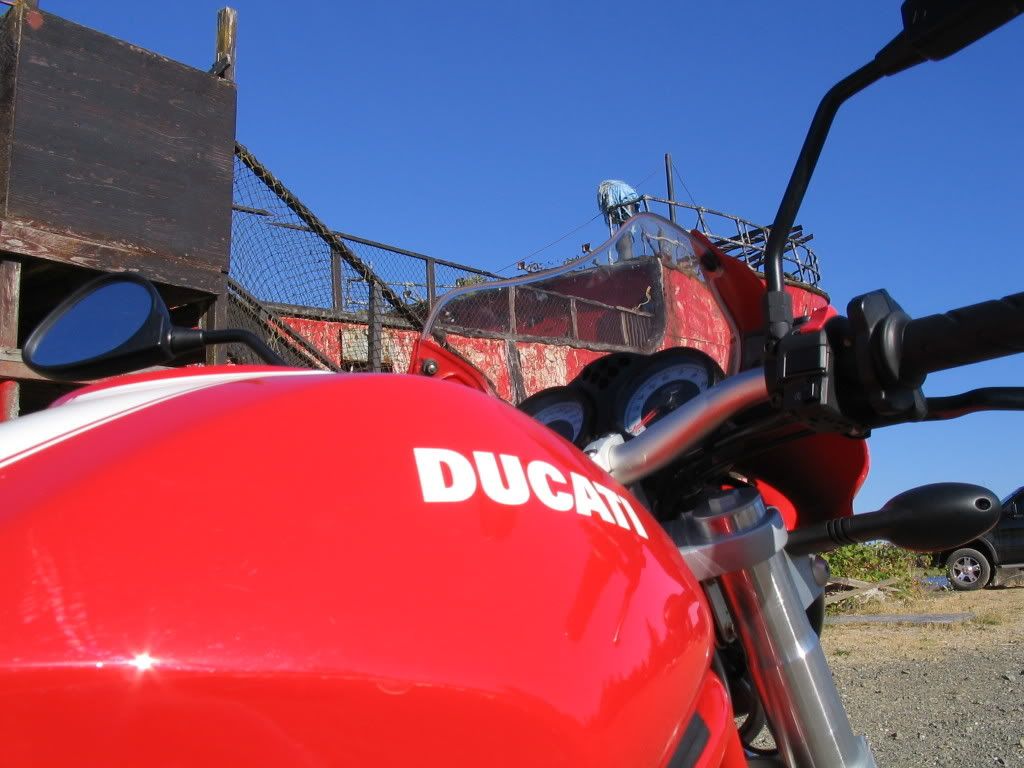 I get back to Campbell River in early evening just in time to hang out with the boys for an hour before they head to bed. The next day will be the long haul across the ferry and on to Kelowna. I opt to take the Hope-Princeton-5A route on the way which is a great ride. I've been through Princeton before but the 5A is a low traffic great ride. They were just finishing laying down a fresh coat of pavement so NEXT year it should be truely great. I haul Azz down the 97C before getting back to Kelowna. I'm getting damed tired and as I role in to town I stop for gas to be ready for an early morning get-away. I role up the hill toward the relatives when reached down to re-set my trip meter. As look backed up there was a crew-cab Chevy turning left right in front of me catching me completely off gaurd. The truck then stops half way in to my lane as I slide right through in front of where it was just going to be. I then catch a glimpse of a truck load of teenage girls laughing and not realizing how close they had just come to taking away the dad of a couple of small kids. I had ridden all this way and then nearly get taken out a few blocks from my destination. It was a rooky-style msitake that should never have come to pass that I can only blame my own fatigue on. Even though I didn't feel uncomfortable on the Duck I had let my mental state lapse to where I was missing the obvious ones. Later that night as we sit around having drinks with the relatives I look at my boys and realize how close I had actually came....
The rest of the ride was pretty uneventful which was a good thing considering the day before. Eight hours after I leave Kelowna I land back in Calgary with the Duck slightly overdue for a valve adjustment....
Cheers,
High_Side