I have some more time, so I'm going to give some more history of my . uhm, "crumb".
My first bike was a 78 or 79 Honda CX500 Custom.
This is not the bike, but it looks just like it minus the cargo rack. I purchased this bike while in college for $400 and I used it for commuting. I was living in downtown Philadelphia, where parking was a nightmare, so I would put it on the sidewalk in front of my apartment. The bike made a bit of noise at idle, and always seemed like it was going to die, but it never did. I drove the bike for about a year, then sold it for what I bought it for so i could purchase a Nissan 300zx:
super fun car, 6cyl, weighed about 4 pounds, rear wheel drive, t tops. I would power slide it around every corner. I cant believe I still had a license after owning that car. Eventually it died and I bought a 96 mitsubishi eclipse:
i drove this care for 5 years, but it mets its end with a bang about a month after I paid it off. I was on the 2nd or third date with my current gf, and we decided to drive down to Baltimore, which is about 90 miles away. I let her drive, which is very unlike me. The short story is, there was a freak storm in the middle of the day which greatly effected road visibility, and we ended up in a 90 car pileup on i95. We hit a mini cooper, then someone hit us, then an 18 wheeler just missed us, and took out a jeep grand cherokee behind us.
The car was driveable afterwards, although the insurance company totaled it. Unbelievable, in all the 90 cars involved in the accident, no one was killed.
So after that I got a 2001 Jeep Grand Cherokee that I have now. I wont post a pic of that as all you have to do it drive home, and you'll see 100 of them

. I basically use it for hauling things like groceries, motorcycles, furniture, things like that.
Somewhere in the middle of all that I purchased a wrecked 93 CBR 1000f:
I ended up replacing the motor in it, buying a bunch of very expensive plastic for it, then selling it for my current CJ before I ever even drove it

So that brings me to my CJ, which i've posted before:
everything on it has been replaced, upgraded, then beat to death, then replaced again. More details on it can been seen here
http://www.bustedgroove.com/machine/cj.asp
. I wont post more about it here because it would take up an entire page. Unfortuantly, these days motorcycles take up more of my time, are more practical, and easier to store. I've been bringing myself to terms with selling my CJ sometime in the fairly near future, but im not ready quite yet.
I picked up a 76 Honda Cb360T last fall for very cheap, and i've been slowly getting it back to roadworthy:
it will be a backup city bike, and my gf will probably tour on it occationally. Right now I just need to locate a decent front caliper and it should be ready to drive and get insured.
I've also got a 76 Vespa Rally 200.:
my gf tends to ride it more then i do. Its actually eally fast, wheelies very easily, and goes up to 75 mph. Its a load of fun! My gf also has several of these, and we're fairly active in our local scooter community. OH and in that pic is my 84 Honda Nighthawk which i've been commuting on the past year, but gets sold this week to make room for an FJ1200.
recently i've picked up a Puch Magnum MKII 40cc Moped: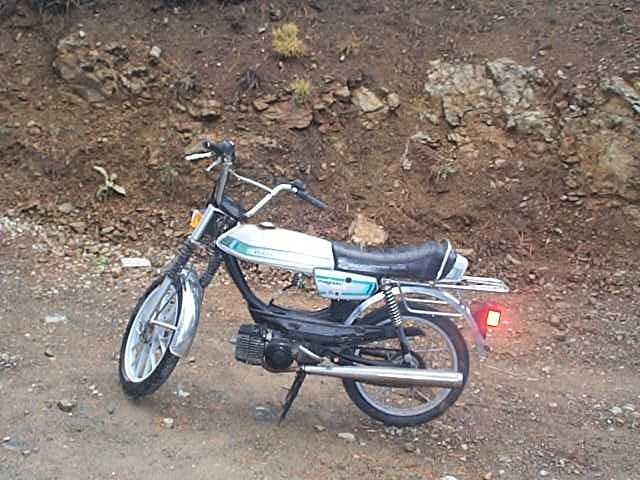 that one is not mine, but looks just like it. They are a blast to drive around town, super easy to work on, and you can kit them up to 70cc and make them go 60 mph or so. I admittedly look rediculous on it being 6'3", but you have to have a sense of humor to own some of the bikes I do. This particular moped is actually fairly sought after and I've been offered more then I paid for it several times, so I dont know how long it will be around

i also have several bikes. I had a titanium frame Litespeed roadbike, but I didnt ride it much anymore after I got this:
its a recumbent bike. You may or may not be familiar with it, but if you've ever toured on an upright bike, 8 hours a day, after 5 days or so, no matter who you are, your butt is killing you. On this bike, I can ride all day and get to camp at night and be ready to party. I've ridden this bike from Montreal - Philly, Chicago-Philly, Philly to Virginia beach and Back. I normaly ride with my father (who is the one that got me into these bikes) and we load them all up with camping gear and just ride for a few weeks at a time. Its one of the most challenging, and favorite things I've done. One day when we both have the vacation time we'll take a month off and ride to California.
I guess thats it for now!