Inspiration Friday: It was the Best of Times, it was the Worst of Times
Read the full article on TMW:
https://www.totalmotorcycle.com/inspira ... -of-times/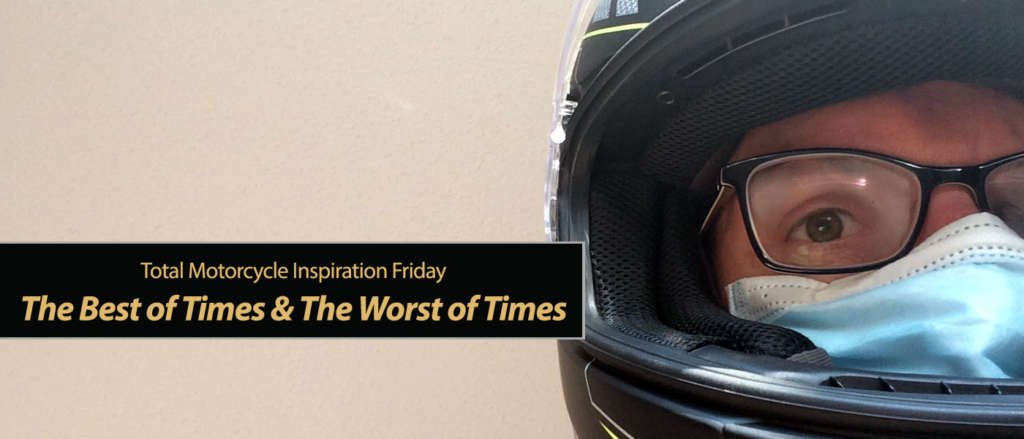 The Chinese Curse, "May you Live in Interesting Times" and "It was the best of times, it was the worst of times" (A Tale of Two Cities, by Charles Dickens) seem to sum up 2020 frighteningly well. Here in North America, the crisis grows ever more ominous each day and we have a smorgasborg to pick from, health, jobs, finance, debt, justice, equality, foreign relations and many others; pick your passion. Peaceful protests that turn into violent looting arsonist mobs destroying any good that remained. Citizens giving up their liberty for perceived security based on hope and trust in politicians that are wrapped up in the same smorgasborg of issues. Technology will save us the people cry, or will it just shift jobs and cause systemic unemployment and uncertainty? What a world we live in today! I wish I had the answers to give you (see below).
On the other side of the coin, we also live in the best of times. This crisis has brought out millions of unsung heroes, not just the health workers but good everyday common people. The silent majority who help each other, bring food, take care of a friend and family that is there for each other; those that donate their time, skills and passion in millions of small countless ways. We have found new companionship in strangers, build stronger family ties, found who our real friends are in times of need and even found peace with oneself. We have learned the citizens of Earth are not only incredibly connected globally to each other but those bonds are deep, long and fragile.
Humans have incredible talents in creation and innovation in times of need. Plato said "Necessity is the mother of invention. A need or problem encourages creative efforts to meet the need or solve the problem." Today we all have critical needs, we need balance to return; our spinning top is on it's side, let's hope and pray the Chinese Curse, "May you Live in Interesting Times" soon passes.
For those that never read A Tale of Two Cities, by Charles Dickens (free@Project Gutenburg), it is a classic and one I would recommend. The old English it is written in is tricky today to read smoothly but it is well worth the effort. Here is the first paragraph of the book:
"It was the best of times, it was the worst of times, it was the age of wisdom, it was the age of foolishness, it was the epoch of belief, it was the epoch of incredulity, it was the season of Light, it was the season of Darkness, it was the spring of hope, it was the winter of despair, we had everything before us, we had nothing before us, we were all going direct to Heaven, we were all going direct the other way…"
Before I finish off this week's Inspiration Friday, I wanted to mention that I teach, mentor and do presentations on Financial Literacy. While Financial Literacy is not motorcycle related I feel I should share some generalized "nuggets of wisdom" to help my readers during these times of uncertainty.
Pay off any and all debts as soon as possible and do not take on any more debt. This includes anything you cannot pay cash for, mortgages, credit cards, lines of credit, new cars, anything you owe or will owe. Buy only what you need right now, save cash as much as possible, protect your investments, be frugal. No one knows what the next 12 months will look like, 30 million Americans and 5.5 million Canadians are collecting jobless benefits. Economic stimulus $6 Trillion in the USA (added 50% of total gov't debt) and $350 Billion in Canada (added 50% of total gov't debt) so far in 5 months. All this debt has to be repaid by taxpayers either by higher taxes, devaluing the currency or raising inflation (interest rates). Being on the wrong side of debt today could be disastrous for your and your families future.
Re-skill, upgrade your education, look to the future jobs. Telecommuting is "fun and cool" right now, but the big picture is companies are learning, very quickly, this is a GLOBAL job market. Without the high overhead costs of downtown office buildings and retaining local employees, companies are "laying off" local workers while looking internationally as labor rates are DRASTICALLY cheaper. To compound this further, artificial intelligence (AI), machine learning (ML) and robotic technology will create less demand for "human" workers in repetitive and direct contributor jobs. Don't be the one with job skills that are not needed anymore or your job has been sent overseas! Use this free time wisely.
Investments. If you are luck enough to be invested in the stock market, take a financial risk-assessment test today. How did you feel about March's 43% stock market crash? With a 40% rebound in the market, your equities are now overweight in your portfolio, time to re-balance and get ready for when the stimulus runs out and a 2nd and 3rd wave comes.
Read the full article on TMW:
https://www.totalmotorcycle.com/inspira ... -of-times/