Spotlight: 10 Coronavirus (COVID-19) Recovery Stories
https://www.totalmotorcycle.com/spotlig ... y-stories/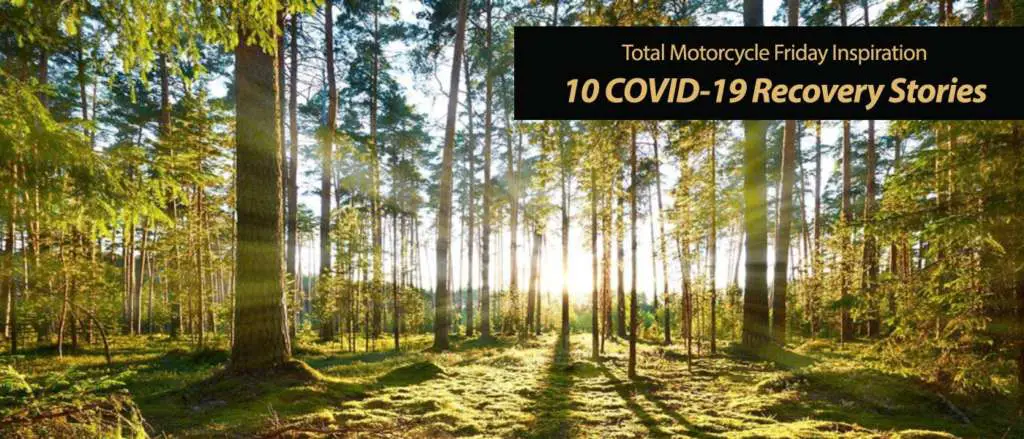 Maybe it is just me but I have wondered, why isn't the general media talking to or sharing stories from those who have had COVID-19 and survived it? Wouldn't that help us all to understand better what to expect? Instead, the media has led with sensationalized, fear-based stories to grab your attention. For Inspiration Friday on Total Motorcycle, I am going to do the opposite to the general media and instead share with you 10 Coronavirus (COVID-19) Recovery Stories to inspire, inform and reassure you. I will also include WHO facts and Government information to give you a more well-rounded picture, instead of sowing the seeds of panic and concern over the unknown.
Let's look a stories of survivors. How were you feeling? Did it get worse before better? How long did you have it? How did you recover? What helped you? Today, I cover these topics with inspirational stories from 10 survivors that I found helpful. I want to thank the different media outlets for posting and sharing them to their readers (Government of Canada, Mirror UK, Business Recorder, Glamour and World Health Organisation (WHO)).
I have tried to avoid posting Coronavirus news as there is so much fear and uncertainty out there but I wanted more solid information to come out rather than concern and uncertainty. COVID-19 has affected so many people in our industry and our industry itself. Many events have been canceled or postponed, companies are and will be adversely affected, employees and their families are worried, even websites like Total Motorcycle have had large traffic hits as people focus on their health and sifting through the piles of news.
I want to be firm and say, this is all temporary, we will all get better, this will pass and life will go back to normal once again. We did this with SARS and MERS, even EBOLA (a much worse virus) and we will do this as well with COVID-19 too. Humans are resistant and our best qualities, like those of co-operation and caring for each other, will help us to win this war.
Thank you for visiting and supporting Total Motorcycle. I, my family and my staff appreciate your support in these tough times.
https://www.totalmotorcycle.com/spotlig ... y-stories/